One of my favourite things about travelling to new destinations is trying out the new types of food and drink that I haven't previously experienced. Or even if it is something I have tried before and enjoyed, being able to experience so many different varieties and far cheaper than back at home. Istanbul is a great city for food, and you don't need to go to hip and expensive restaurants to try the best food. (Although having dinner on a rooftop should not be missed.) When you visit Turkey, try some of these cheap eats in Istanbul.
Note: Not all of these options are not dog-friendly, always check in advance.
1. Baklava
On the main street in Sultanahmet, the main tourist area in Istanbul, are a couple of baklava shops with huge window displays of different types of baklava. They are very hard to walk pass without stopping and staring, and going inside and ordering just one or two or half a dozen pieces to feast on. Whilst I can find baklava easily in Sydney, where I live, the sheer variety here was astounding, and the prices were excellent too.
2. Köfte
It would be hard to visit Istanbul and Turkey without at least once feasting on köfte. A type of kebab, minced meat is mixed with herbs, then grilled. Think of it as the Turkish version of a meatball, but usually elongated rather than a ball shape.
One of the best places to buy köfte in Sultanahmet is at Tarihi Sultanahmet Koftecisi. Located at Divan Yolu 12, not far from the tram stop, order köfte and piyaz (a mix of beans and salad), plus the traditional side of an ayran (a yoghurt drink) for about 15 TL (about €5). Definitely one of the best cheap places to eat in Sultanahmet!
3. Grilled Fish Sandwiches
Nearly everyone returning from Istanbul these days recommends trying the grilled fish sandwiches, and for good cause. Both cheap (5 TL or less than €2) and fairly unique, there are multiple shops selling these underneath the Galata Bridge, that links the Sultanahmet district with the centre of Istanbul.
Try one or two for lunch after taking a cruise on the Bosphorus (most of the boats leave next to the Bridge). Heap them up with lemon, salt, raw onions and pickles for a delicious but simple feed, just be careful of the odd bone.
4. Wet Burgers
Another trendy food in Istanbul these days are "wet burgers". Found in a couple of shops next to Taksim Square, on the side where İstiklal Avenue starts (the main pedestrian shopping mall), these burgers consist of a wet, sauced up garlic-tomato bun with just a meat patty, no cheese, lettuce or pickles, for only 2 TL (about €0.70).
They're a weird incongruous flavour, that you would think doesn't work, but does in a moreish way. The best wet burger shop is Kizilkayalar, located at Siraselviler Caddesi 6.
5. Turkish Tea
I've always been more of a tea drinker than a coffee drinker, but the tea in Turkey is far removed from the English Breakfast black tea that I normally drink, with a little milk and no sugar. Tea in Turkey doesn't come with milk, and is one of the sweetest drinks you can try.
My favourite tea location near Sultanahmet was a garden cafe located halfway down the main road to the Grand Bazaar, but I cannot find out the name of it, if it still exists. Alternatively, just sit back and relax in one of the many tea houses found all around, where you can usually also try a hookah if you want.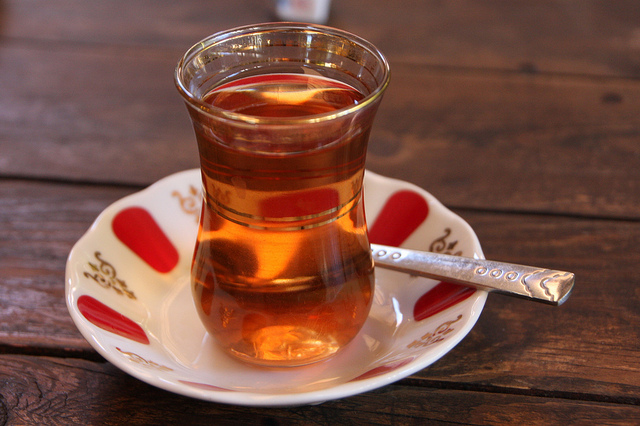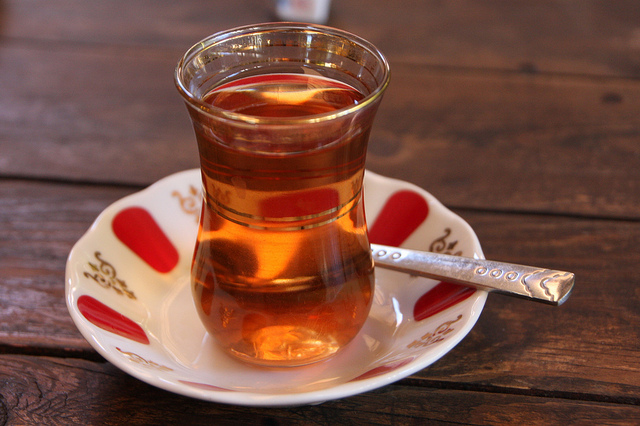 Inspired? Pin this to your Pinterest board