One of my favourite things about travelling in Europe with my dog is that in most European countries dog are allowed to join you inside restaurants, thanks to friendly local regulations. Although this isn't the case in my home country of Australia, at least dogs are usually allowed outside, and the weather is often warm enough for year-round outdoor dining.
But what about if your dog can't join you when dining out at a restaurant or cafe? What if the restaurant doesn't permit dogs inside, and either dogs are also not allowed outside on the patio or the weather is too cold or wet for dining outside? These are some of the alternatives that I've turned to when travelling with my dog.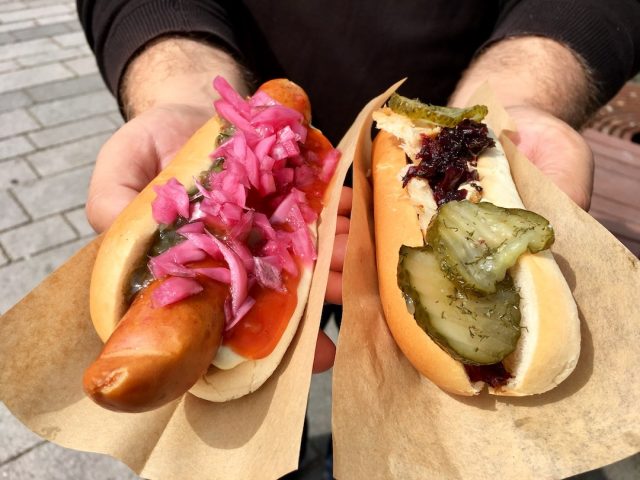 1. Cook Up a Storm in Your Kitchen
One of the main reasons why I often stay in Airbnbs when I travel with my dog (in addition to Airbnbs less frequently charging extra for my dog), is that I usually have my own kitchen to cook in.
It's great to cook for yourself sometimes, and my dog is generally more relaxed and doesn't require my attention when we're dining in rather than out at a busy restaurant. Plus, it's the best solution when you can't dine out with your dog.
Even if the facilities are limited compared to your own kitchen, it's still easy to whip up something simple, once you get past the adventure of shopping in a foreign supermarket. I try to cook local cuisine, from endless types of pasta in Italy to fresh packets of pierogi in Poland and tortilla (Spanish omelette) in Spain.
2. Or Put Together a Cooking-Free Meal
If you're staying in a hotel, you're unlikely to have your own kitchen. (Although I've sometimes found apartment-style hotel rooms for about the same price as regular hotel rooms.) It's a bit trickier to put together your own meal without a kitchen, but it can be done.
I particularly love the options in Europe for a simple cooking-free meal. Buy a baguette or delicious local bread, add some sliced meats (such as jamon iberico in Spain), some local cheeses, and whatever else is available at the delicatessen. Ideally add some wine (ask at reception for glasses or get some plastic glasses at the shop) for a classic European light meal.
At budget dog-friendly hotel chains in the USA, I found that some hotel rooms come with a microwave and fridge, more frequently if you pay a little extra. If you've got access to a microwave (also check the common area), then there's a wide variety of microwave meals you can heat up. Alternatively, check out the ranges of ready-made salads from supermarkets.
3. Order Out Takeaway
Instead of dining out at a restaurant, check out the takeaway menu instead. While not all restaurants and cafes offer takeaway, there's usually at least some options that do.
For instance, when I stayed in Strasbourg in France, one of our local favourites was a kebab shop with extra-fresh (and cheap!) kebabs. However, the owners didn't allow dogs at the restaurant, even the outdoor tables (the only time we came across this in France), so instead we got takeaway.
If you're visiting Naples, there's no need to head out to a pizza restaurant to sample to-die-for pizza. Just down the end of our street was a simple takeaway pizza restaurant, serving up wood-fired pizzas ready in about 10 minutes, that was still far better than most pizzas anywhere else in the world.
4. Or Check Out the Delivery Options
With the plethora of food delivery apps, a far greater range of food options are on the menu for dining in, whether at your hotel room or Airbnb, without heading out to a restaurant.
Depending on where you're located in the world, some common options are Uber Eats, Deliveroo, Foodora and GrabFood. If in doubt, just google "food delivery service" or see what food delivery cyclists you spot on the streets. Browse through the available options for some dinner inspiration.
5. Enjoy a Picnic
Finally, one of my favourite alternatives to dining out at a restaurant, is to have a picnic. Although of course the weather needs to be in your favour (unless you opt for a picnic in your car, which I have resorted to in the rain in Scotland, to feast on fish 'n' chips).
Whether you turn to cooking-free options from the supermarket, takeaway or even a special picnic hamper, there's plenty of options available. Just find a beautiful location outdoors, that allows dogs, whether a grassy park or a bench next to the seaside. It may be one of your most memorable meals!
You May Also Like
Inspired? Pin this to your Pinterest board!