You likely already have a bucket list for yourself, even if you don't call it a bucket list, but instead a list of things you want to do someday and dream places to visit. But what about your dog? What about having a doggie bucket list?
I've put together a list of travel ideas for you to do someday with your pup, to be added to your dog bucket list. Keeping in mind that not all dogs can as easily travel around the world as humans, I've mainly picked out fun experiences that should be accessible to most dogs, even if you don't head overseas.
1. Visit the Beach
Do you remember the first time you visited the beach? A visit to the beach is likely to be a fun and exciting experience for all dogs, even if they're not that fond of water or only want to get their feet wet in the shallows. All those smells to sniff on the sand, not to mention the chance to chase balls in the water! It should be at the top of a bucket list for dogs.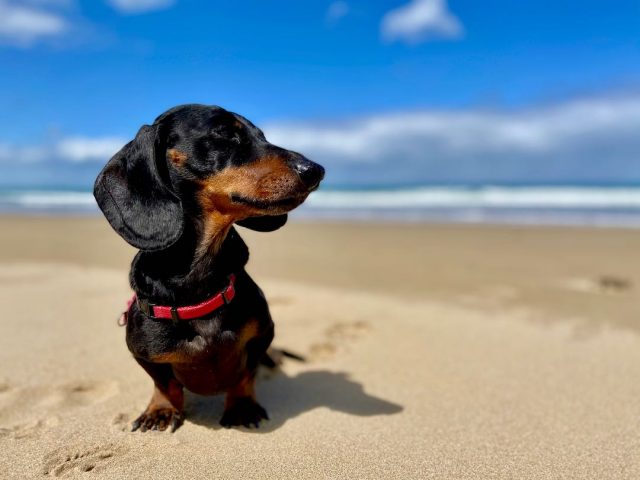 While not all beaches permit dogs, there's usually a least a handful of off-leash dog beaches in most destinations, such as these beaches in Australia and the United States. Alternatively, wait until the end of the summer season, when restrictions often ease.
2. Climb a Mountain
There's no real reason for us humans to climb mountains, except for the thrill of reaching the pinnacle. While your dog is not likely to understand the need to summit mountains, they're sure to still be excited to undertake a hike, especially if they can walk off-leash. And not all mountains are that tough to climb.
One of my favourite experiences with my pup, Schnitzel, in the United Kingdom was climbing to the top of Mt Snowdon, the tallest mountain in Wales. It was a tough day out for a dog with such short legs, but together and with a little carrying we all made it. Although of course the clouds rolled in for our selfie at the top!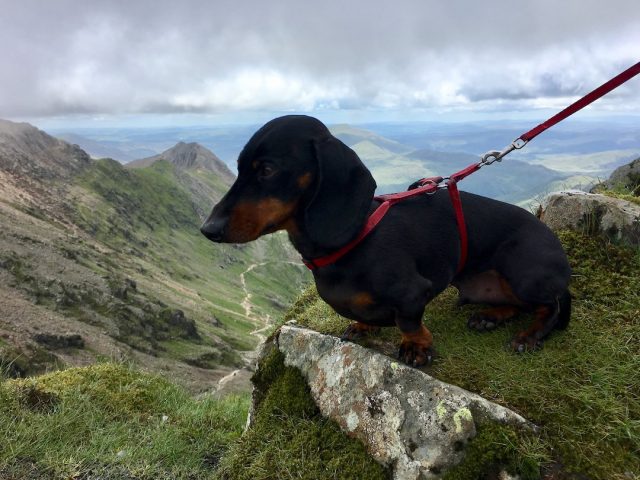 Check out more tips for hiking mountains with your dog.
3. Ride on a Train
Most of the time a train trip is just a way to get from A to Z, but for a dog riding on the train for the first time, it's quite an adventure and perfect for their doggie bucket list. Depending on where you're located in the world, dogs of all sizes might be allowed on the train, such as many countries in Europe, or perhaps only smaller dogs in a carrier bag are permitted, such as on Amtrak in the US.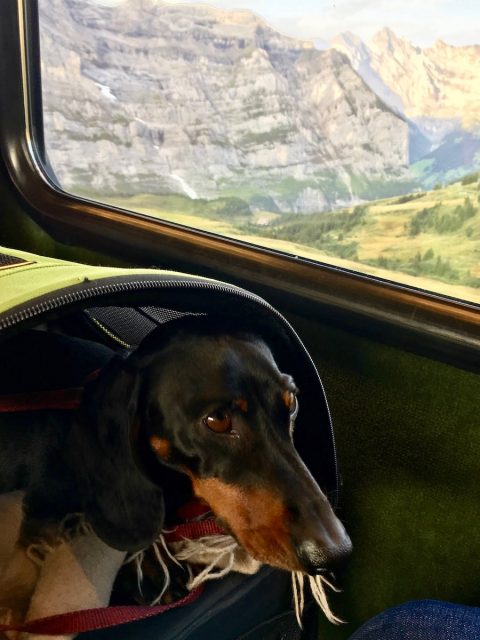 Make sure you read up firstly on the local rules, before heading out on a train adventure with your dog. A ride on the train may be a great way to head out to a fun destination, or perhaps the train ride may be the main focus of the day, such as taking a dog-friendly historic train ride in Australia.
4. Stay in a Dog-Friendly Hotel
Whether it's a beachside resort, a stay in a beautiful country B&B, or a staycation near home in a luxury hotel, a hotel stay can be a fun experience for the whole family, including your pup.
There's an increasing number of pet-friendly hotels around the world. Even in Australia, the last couple of years has seen a significant increase in the number of hotels welcoming four-legged family members, especially at the luxury end of the market.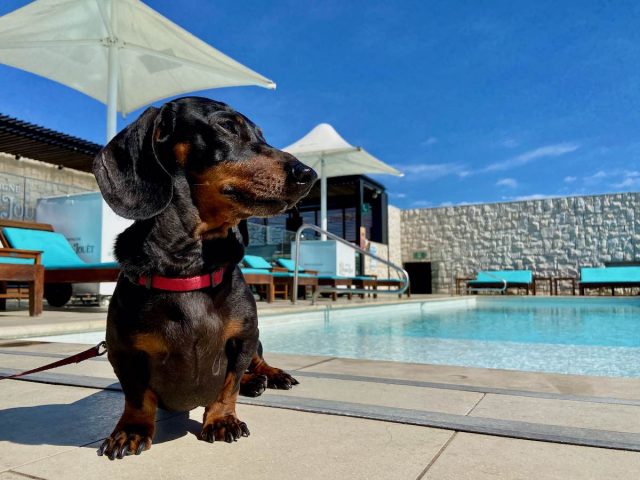 So, next time you're considering splurging on a hotel stay, make sure you choose a dog-friendly hotel, especially one that goes out of its way to treat pups, perhaps even with their own room-service menu. Check out these tips for staying in a pet-friendly hotel first.
5. Dine Out at a Restaurant
Whether or not you're staying in a hotel, find somewhere dog-friendly to dine out with your dog. While many restaurants in Europe allow dogs inside, there's also plenty of dog-friendly outdoor dining areas in Australia, plus many American states permit dogs to dine on patios.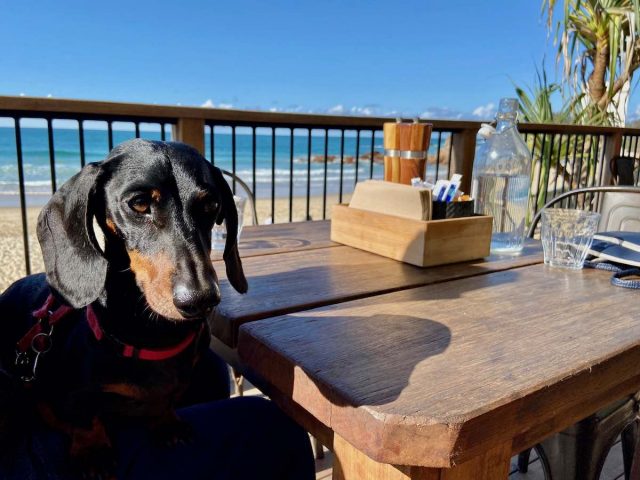 It's great to introduce dogs who are still young to dining out at cafes and restaurants, so that they get used to the experience. Consider bringing along a blanket or towel for your pup to sit or lie on. Treats are always handy, or ask if the restaurant has a menu for dogs.
6. Try an Agility Course
For many active dogs, agility training is a way of life. But even if your dog isn't up to becoming a pro at agility courses, a visit to an agility course is a fun challenge for both your pup and yourself and a perfect addition to their dog bucket list.
Hunt down an agility course close to home or when you're travelling with your pup. Or else find a park that has some agility equipment or even make your own course at home. Make sure you have plenty of treats on hand to help tempt your pup forward and of course as rewards.
7. Ride on a Ferry
Even if other forms of public transport where you live don't welcome pets onboard, luckily there's many pet-friendly ferries and short cruises. Spend an hour or two out on the water with your pup taking in the sights.
In New York City, head out on the State Island ferry, with views of the Statue of Liberty, as long as your pup is leashed and muzzled. In Scotland, take a cruise on Loch Ness. Even in Australia, there's multiple dog-friendly boat trips available.
Interested in a longer cruise with your dog? While in Scandinavia, we discovered a terrific option for a multi-night pet-friendly cruise on the Baltic Sea.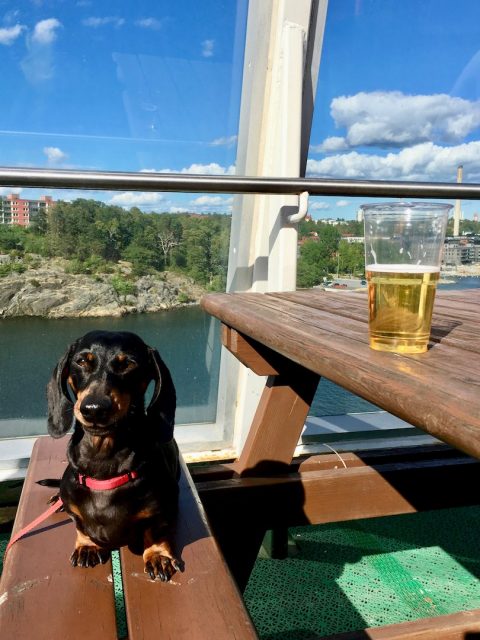 8. Visit a Beautiful Garden
While not all gardens allow your dog to join you on your visit, there's plenty of beautiful gardens around the world that are dog-friendly, whether it's a formal garden or informal garden, a garden of natives or a cactus garden.
In Canada, head to the world-famous Butchart Gardens with your pup, which even has five canine water fountains. In France, dogs are permitted to visit the enchanting Château de Chenonceau, including its beautiful formal French gardens. In New South Wales, I've dug up a number of dog-friendly gardens. Before visiting, find out the best time of year to visit.
9. Visit a Castle
Just like many famous gardens will permit your dog to join you on your visit, there's also a range of castles that are dog-friendly, although often your dog will only be allowed around the castle grounds, not necessarily inside the rooms.
Chenonceau in France that I mentioned above is one of the most dog-friendly palaces in Europe, that permits small dogs to be carried inside. In Scotland, visit the dog-friendly grounds of Culzean Castle, home of the annual Culzean Dog Jamboree. In Prague, explore the grounds of Prague Castle, the largest ancient castle in the world.
10. Explore a National Park
If you'd prefer a natural excursion rather than a cultural one, add a visit to a national park to your dog's bucket list. Although this is unfortunately something that Australian dogs will have to skip, with dogs prohibited from almost all national parks in the country.
In other parts of the world, check the rules for dogs visiting the national park you have in mind in advance. For instance, in the United States what dogs can and can't do varies from park to park, with some parks far more dog-friendly than others. I recommend visiting the dog-friendly South Rim of the Grand Canyon, with dogs permitted along the Rim Trail and its many lookouts.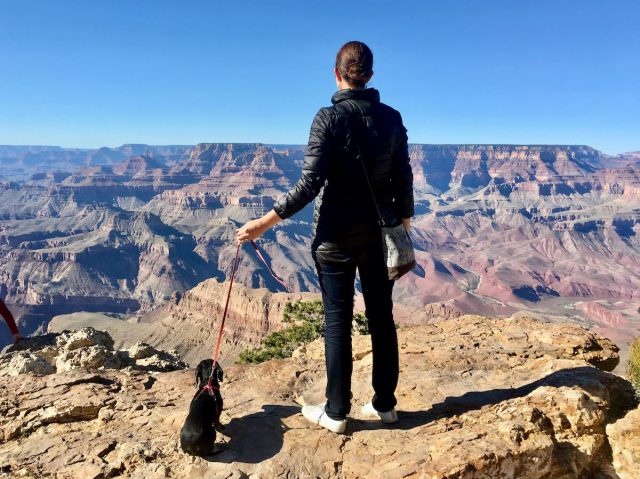 11. Hike in the Forest
For another fun outdoor adventure with your pup, consider a hike through the forest. You don't need to visit a national park to go hiking, with many of the best dog-friendly hiking opportunities located outside of national parks.
In the United States, don't forget to check out the options available at state parks and national forests, with many offering more dog-friendly hikes than adjacent national parks. In Australia, consider the many state forests, with all state forests in NSW welcoming pups.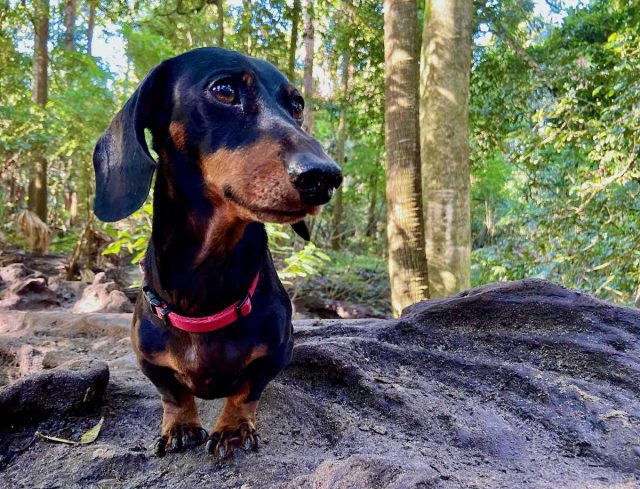 Make sure you pack everything your pup needs for a hike, from collapsible water bowls to poop bags and treats. Don't forget to carefully examine your dog for ticks afterwards, if they are an issue in the area.
12. Camp in a Tent
What better way to truly experience the outdoors with your pup than spending the night under canvas? Whether you're staying in a national park or at a private caravan park, there's plenty of dog-friendly camping grounds where you can pitch a tent for the night along with your dog.
Don't have the gear or not quite up for the full camping experience? Look out for dog-friendly glamping experiences, with plenty scattered around the world. Always plan in advance where your dog will be sleeping, whether you bring along their dog bed or buy their own sleeping bag.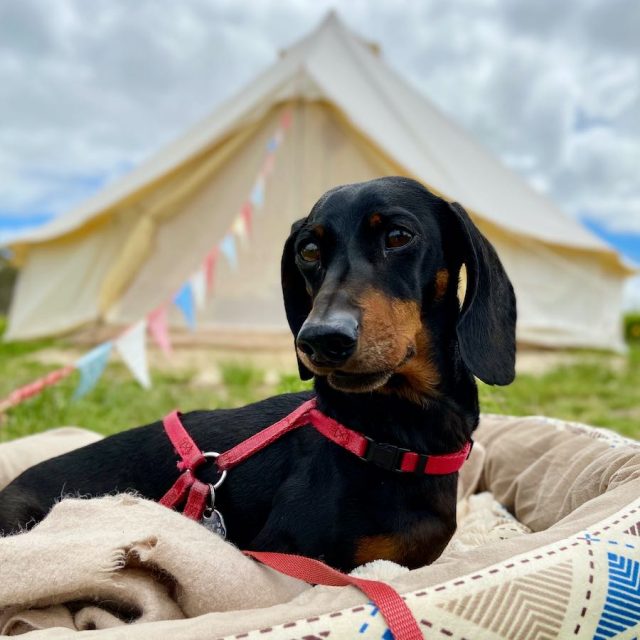 13. Try Canoeing or Stand-Up Paddleboarding
For the brave and water-loving dogs out there, add the adventure of canoeing or stand-up paddleboarding to their doggie bucket list. If you don't have your own equipment, many hire companies are happy to permit dogs in rental canoes and on rental paddleboards – just check in advance!
Even for the best dog swimmers, it's always wise to put a dog life jacket on your pup. Rental companies rarely have these, so invest in your own, suitable for the size of your dog. Don't also forget water and treats for your pup, especially during warmer weather.
14. Travel Overseas
Unless you live on an island country with strict biosecurity rules, it's easier than you'd expect to travel internationally with your dog. While humans need passports and visas, pet dogs often only require a rabies certificate and health certificate or pet passport.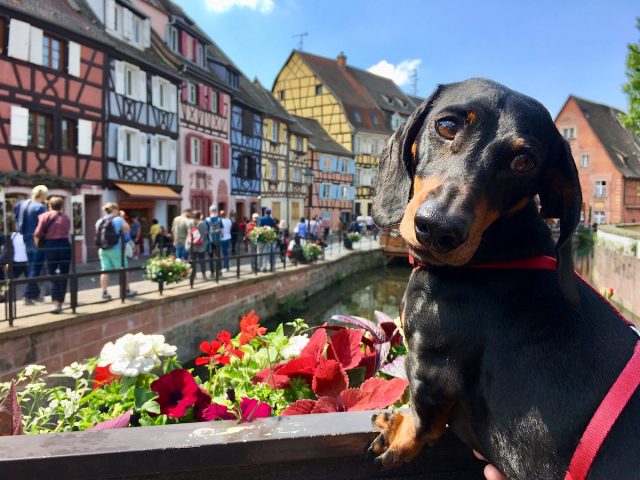 If you're in the USA, it's fairly easy to visit Mexico or Canada with your dog. In the United Kingdom, head across the channel to France with your dog or take a road trip around the Republic of Ireland. Check out the rules of your destination country, find some dog-friendly accommodation and start preparing.
15. Fly on a Plane
Of course, sometimes travelling overseas or even long distances in your own country is best done by flying. If your dog is small enough to fly in the cabin of a plane, one of the biggest adventures you can have is to fly with your dog to a special destination.
Note that I don't advise flying with your dog in the hold for just a short, fun trip, although the conditions for dogs to fly in the hold are better than you expect with well-regarded airlines. It's also best to only fly with your dog in the cabin for fun if they're okay with travelling in a carrier bag for an extended period of time.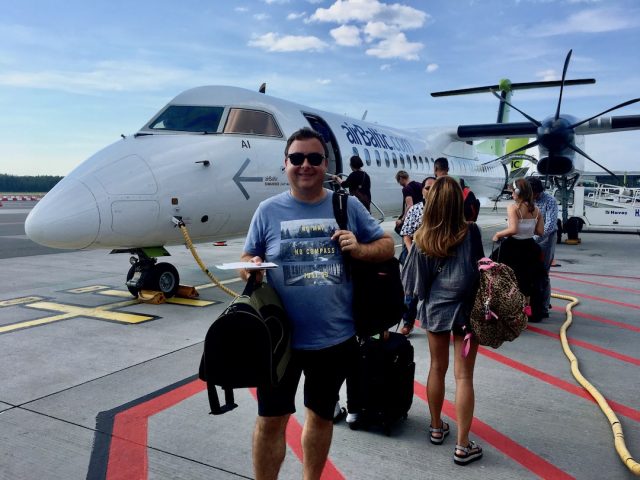 But otherwise, add a trip in a plane to the bucket list of your dog, plus your own travel bucket list.
You May Also Like
About the Author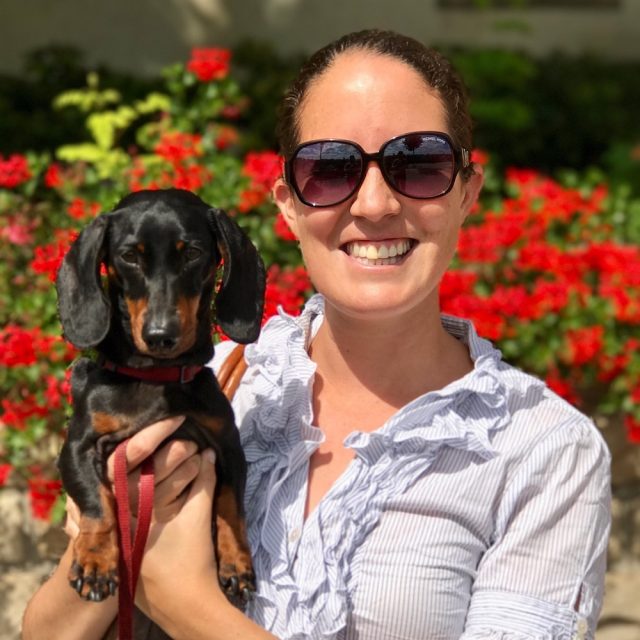 Shandos Cleaver is the founder of Travelnuity: Dog-Friendly Travel. She has travelled extensively with her Miniature Dachshund, Schnitzel, including to 33 countries across Europe, every state and territory of Australia except Tasmania, and 10 of the United States. She's passionate about providing inspiration and information to others wanting to travel with their dogs, whether close to home or internationally.
Inspired? Pin this to your Pinterest board!