If you're looking for a bush camping spot on the beach in Southeastern Australia and also travelling with a dog, unfortunately there's not many options available. Most basic beach campgrounds are located in national parks, where dogs are generally not allowed. However, there are a few options. Check out these dog-friendly beachfront campgrounds in Queensland, NSW and Victoria…
1. Inskip Peninsula, QLD
The Inskip Peninsula is a long, sandy peninsula immediately south of K'gari (Fraser Island), about a 3 hour drive north of Brisbane. As well as the departure for one of the barges to the island (where dogs aren't permitted), it's also home to a popular beachfront camping spot, where leashed dogs are permitted.
The Inskip Peninsula Recreation Area has facilities for both day visitors and campers. There are seven different campgrounds scattered around the peninsula, fronting onto either the ocean or the calm waters of Tin Can Bay. Fees are reasonable (currently $7 per person per night, or $28 per family). Only toilets are provided, with no showers, water or power available.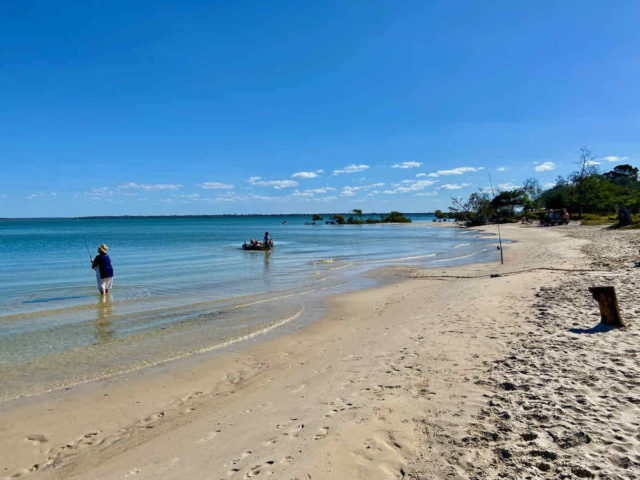 The majority of camp sites are recommended for access only by high-clearance 4WD drive, although the road to the Recreation Area is fully sealed. There are a limited number of sites that should be accessible by 2WD, depending on the weather. We also noticed some 2WD vehicles parking on the verge of the road, immediately outside their campsite.
It is essential to book a permit before setting up camp, with bookings well in advance necessary for peak periods.
2. North Stradbroke Island, QLD
Closer to Brisbane but only accessible by ferry, North Stradbroke Island is a dog-friendly island that is another terrific destination for dog-friendly beachfront camping in Queensland.
If visiting with your vehicle, catch the car ferry operated by Sealink. It departs from Toondah Harbour in Cleveland and takes about 50 minutes for the crossing. There's no charge for pets on the ferry, who should either remain in your vehicle or be leashed and muzzled.
There's multiple foreshore camping areas on North Stradbroke Island, with dogs permitted in the camping areas at Flinders Beach and Main Beach. Note that both of these camping areas are only accessible by 4WD and have limited facilities. Additionally, there's a limit of two dogs per site, and they need to be kept on a leash.
While on North Stradbroke Island, some of the other dog-friendly activities to do include 4WD driving on the beach and fishing. There's an off-leash dog beach at Home Beach, located in between Rocky Point and Rocky Headland, opposite the Point Lookout Hotel. There's also an off-leash dog park at Barton Street Park. Or walk along the dog-friendly Gorge Walk.
It's essential to book in advance and print your tent tags prior to arriving. To access both Flinders Beach and Main Beach, a 4WD Permit is also required.
3. Delicate Campground, NSW
There's not many dog-friendly camping grounds along the NSW coastline, but one of the only and a frequently recommended option is Delicate Campground, north of Port Macquarie.
The campground is located in the Goolwah Regional Park, where leashed dogs are permitted. Dogs are also allowed on the adjacent beach. Note that the regional park is next to the Goolwah National Park where dogs are not permitted, so be aware of the boundary lines and follow the signs.
At Delicate Campground, there's 40 unpowered campsites. Facilities include a mix of flushing and drop toilets, cold beach showers and unpotable bore water. There's also a campground manager onsite, who you can hire you a brazier. While bookings were not previously possible, these days bookings are required, with the campground quickly booked out for peak periods. The current rate is $24 per night for up to two adults.
The best access to the campground is via Crescent Head. Up until recently there were some short unsealed sections on the road, but it has now been fully sealed. Note that the apparent "direct" route from Port Macquarie involves a ferry and 4WD-only track, so it's better to spend an hour looping around via South Kempsey and Crescent Head.
4. Mystery Bay, NSW
Another beautiful dog-friendly beachfront camping spot in NSW is Mystery Bay, just south of Narooma on the South Coast, about a 5 hour drive south of Sydney or 3 hours from Canberra.
The Mystery Bay Campground is run by the Euobodalla Council and is located right next to Mystery Bay Beach, a timeshare beach. Dogs are allowed on the beach before 9am or after 5pm from November to April, plus all day long during the cooler months from May to October.
Just make sure you don't walk with your dog past the end of Mystery Bay Road, where the Eurobodalla National Park starts (and is clearly signposted).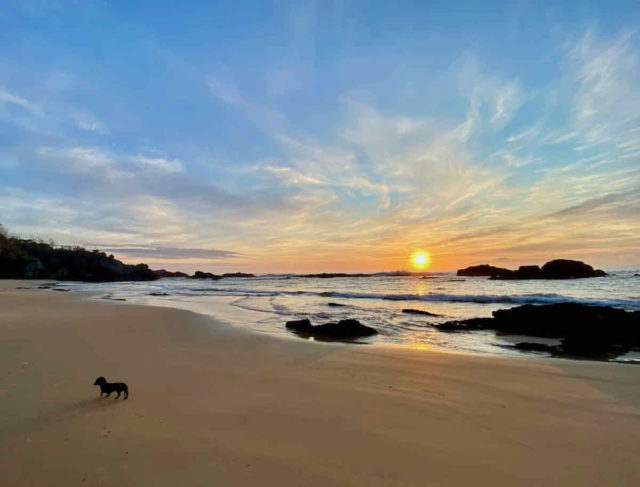 The facilities at Mystery Bay are basic. There are only pit toilets and cold showers, plus no powered sites.
The rates charged are a touch higher than some of the other parks listed here, at least during peak periods. During peak periods (Christmas holidays, Easter long weekend and October long weekend) it costs $18 per adult per night, while it is $12 per adult the rest of the year.
This is still far lower than other parks along this popular stretch of coastline. Plus there are discounted rates for weekly stays and pensioners during off-peak periods.
Up until recently bookings were not available, but now it's possible to book online in advance, although sites are unallocated. During peak periods the campground will be closed once it's at capacity.
5. Cape Conran, VIC
Cape Conran Coastal Park is located in East Gippsland, just over 5 hours drive east of Melbourne and about 90 minutes from the NSW border. Dogs are allowed in this park, including to camp in the Banksia Bluff Campground, next to East Cape Beach.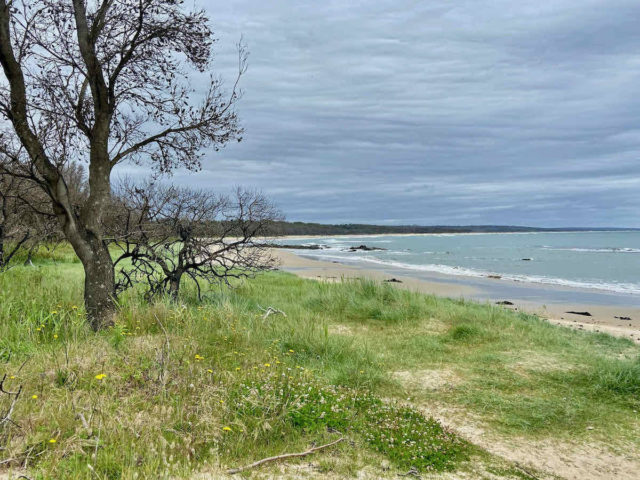 The entire park was badly affected by the 2020 bushfires. However, the campground has now fully reopened, and many of the previous facilities rebuilt, although some work is still ongoing during 2023.
Facilities are basic at this campground, with only flushing toilets, cold-water showers and unpotable bore water available. It's essential to bring virtually all your supplies, as the closest town, Marlo, is a 17km drive away, while the closest supermarket in Orbost is 34km away. The onsite campground office however has ice, gas and firewood for sale.
Just over half of the campsites allowed leashed dogs. At the moment advance bookings are required, so make sure you refer to the map before booking, to ensure that you have selected a dog-friendly site. Over the Christmas holidays a ballot system is used to allocate sites. Site fees vary depending on date, but are generally around $20 per night, at least outside of peak periods.
The adjacent East Cape Beach is dog-friendly, although dogs need to be kept on a leash. There's a number of dog-friendly bush walks available in the area, although some still may be closed following the bush fires. It's also recommended to check your dog daily for ticks in the area.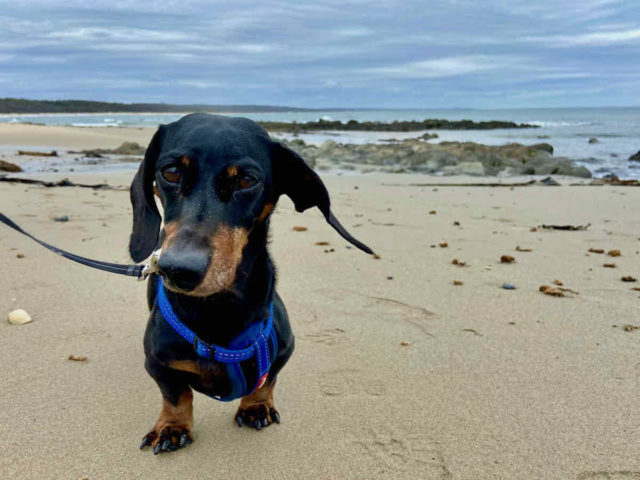 6. Johanna Beach, VIC
While dogs are not allowed in almost all national parks in Australia, one of the few places in a national park that dogs are allowed is Johanna Beach in the Great Otway National Park, located along the Great Ocean Road.
As well as being a popular surf beach, Johanna Beach is also home to the Johanna Beach Campground, with 25 unpowered sites. There are no showers provided and only non-flushing toilets, plus you'll need to bring your own drinking water. Dogs are required to stay on leash both in the campground and on the beach.
The campground is just west of Cape Otway, not far from the world-famous Twelve Apostles. It's a three hour drive from Melbourne along the direct inland route, or allow four hours if you follow the Great Ocean Road.
Advanced bookings are available, and are essential during the busy summer months, particularly during the Christmas holidays and on weekends. Campsite fees vary depending on the date, but are generally around $15 per night, at least outside peak periods.
You May Also Like