At the southwestern tip of England you'll find the fabulous beaches and wild moors of Cornwall. Particularly popular as a summer holiday destination, what can you do together with your dog when visiting Cornwall? Check out my recommendations for this part of the United Kingdom, plus tips for visiting dog-friendly beaches and pet-friendly accommodation.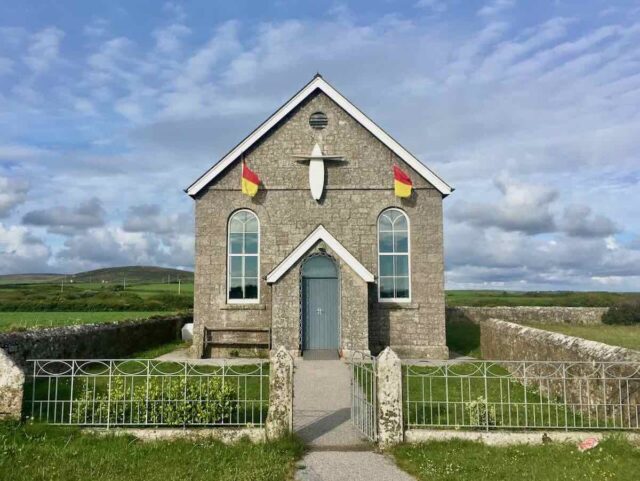 Dog-Friendly Sightseeing in Cornwall
If you're heading to Cornwall with your dog, consider adding some or all of these dog-friendly attractions to your itinerary.
#1 Head to Land's End
One of the most well-known spots in Cornwall is Land's End, the westernmost tip of the county and all of Great Britain. However, be warned that the site is quite a tourist trap, with multiple pricey "attractions" including 4D movies and indoor golf on offer. Additionally, there is a hefty fee for a photo to be take of you and the iconic sign.
If you just want to pay a quick visit to Land's End with your dog, I recommend holding off until the evening after the other attractions have closed, like we did. I'm pretty sure the car parking was free, plus we were able to take our own photo next to the famous sign. Sure, it wasn't personalised for us, but we didn't want to pay for the privilege. (Just be aware I've heard of some reports of the sign being removed after-hours.)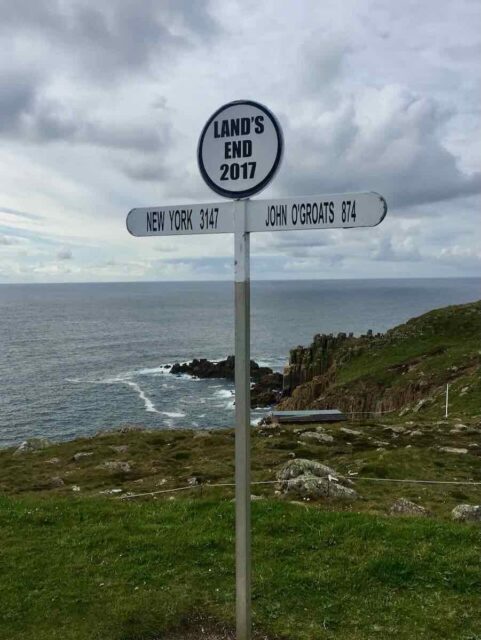 Land's End is also a great spot to enjoy a walk with your dog. There are a number of walks available in the West Penwith Area of Outstanding Natural Beauty. One popular option heads along the northern coastline to Sennen Cove, three miles away. It's also possible to park in Sennen Cove and walk to-and-from Land's End. Just keep your dog on a leash, particularly around the cliffs.
#2 Visit the Eden Project
At the other end of Cornwall is the equally popular Eden Project. This attraction is dominated by two huge biomes devoted to the Mediterranean and the Rainforest, with the latter containing the world's largest indoor rainforest.
It's possible to visit the Eden Project with your dog, but with a catch. While dogs are allowed to join you in exploring the huge Outdoor Gardens, they are not allowed go inside the Biomes, only assistance dogs.
If there's two or more of you, it would be possible to take turns heading inside the Biomes, while the rest of the party explores the Outdoor Gardens. However, make sure you allow extra time. At least there's no charge for dogs, plus water bowls and an undercover dining area for dogs are provided. Check out the full guidelines for dogs.
#3 Or the Lost Gardens of Heligan
A better garden attraction in Cornwall to visit with your dog might be the Lost Gardens of Heligan, not far away from the Eden Project. Well-behaved dogs are allowed to join you in visiting the gardens and their miles of paths year-round, with no off-limit areas.
These magnificent gardens were only restored in the 1990s and amongst their 200 acres contain pleasure gardens, productive fruit and vegetable gardens, woodlands and even a wild area filled with subtropical tree ferns known as the "Jungle".
Just make sure you keep your dog on a leash, and use the dog waste bins marked on the map. Dogs are also allowed to join you in both the Heligan Kitchen and The Steward's House, both of which feature locally sourced produce, including some straight from the Heligan gardens.
#4 Explore Cute Mousehole
One of the cutest villages in Cornwall is Mousehole, a fishing village a few miles south of Penzance in the Cornwall Area of Outstanding Natural Beauty.
Famed for the narrow entrance to its harbour that led to this being a significant fishing port in days past, the calm waters of the harbour are surrounded by a labyrinth of narrow streets, these days home to countless quaint cottages and boutiques. Just be warned the village is not pronounced "mouse-hall" but more so "mowzel"!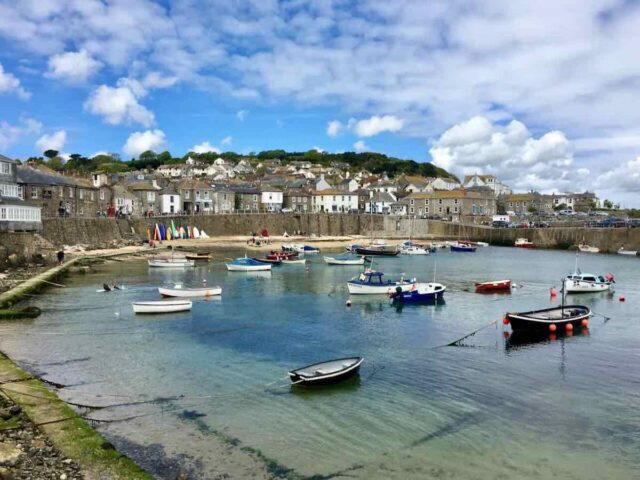 Make sure you allow plenty of time to navigate the narrow roads and find a park (a difficult situation during the summer months), then head out for a wander around the cute streets and harbour. Make sure you stop off for a cream tea or perhaps some traditional Stargazy pie.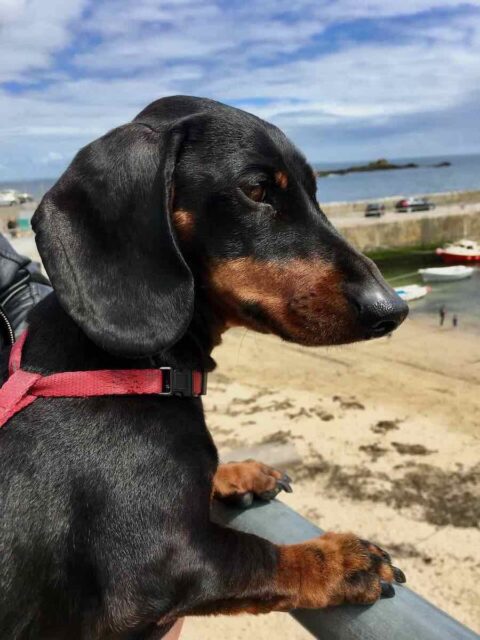 #5 Head to Tintagel Castle
On the rugged northern coastline of Cornwall lies Tintagel Castle. This medieval fortification has long been linked to the legend of King Arthur, and has been a tourist destination since the 19th century, thanks to its alchemy of history and dramatic location.
Dogs are welcome to join you in visiting Tintagel and are allowed throughout the site, including on the secluded beach down below, Tintagel Haven. However, thanks to the dangerous cliff edges, many steps and nesting birds, it's requested they are kept on a leash.
Note that you need to park in the nearby Tintagel Village, 600m away, then walk to the castle. If you dog needs some water, ask for a bowl at the cafe.
#7 Or Visit St Michael's Mount, Perhaps
On the other side of the peninsula lies the medieval St Michael's Mount. This island is often compared to the similarly named Mont-Saint-Michel in France, which is also located on an island connected by a causeway, although St Michael's Mount is much smaller.
The mount is home to an historic castle, garden and island community. It lies just off Marazion, close to Penzance, and is only accessible between low and mid tides.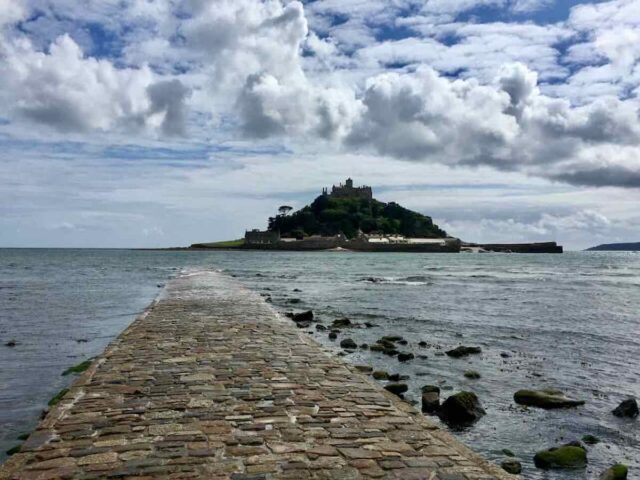 Currently, it is not possible to visit St Michael's Mount with your dog during the summer months. Dogs are only allowed to visit the island between 1st October and 31st March inclusive, and are barred during the busier months, when you'll need to be satisfied with glimpses from the beach.
Note that dogs are not allowed inside the castle, its grounds and paths, the Steward's House and the gardens any time of the year. They are restricted to only visiting the village and harbour on the island. So even if visiting during the off-peak season, you would need to skip the castle or take turns if not visiting alone.
Note that dog restrictions apply on Marazion Beach, where the causeway starts, during the months of July and August. During these months dogs are only allowed on the beach before 10am or after 6pm, plus all day long the rest of the year.
#6 Explore the Ruins of Botallack Mine
In centuries past Cornwall was home to a flourishing tin and copper mining industry. Although most of the mines have long closed, these days their remains along with those in neighbouring West Devon have been inscribed as a World Heritage Site.
One of the most interesting mining sites in Cornwall to explore is Botallack Mine, not far from Land's End and Penzance. The ruins of the mine are scattered along a hillside steeply sloping down to the treacherous rocks and wild sea below, paths criss-crossing the slope.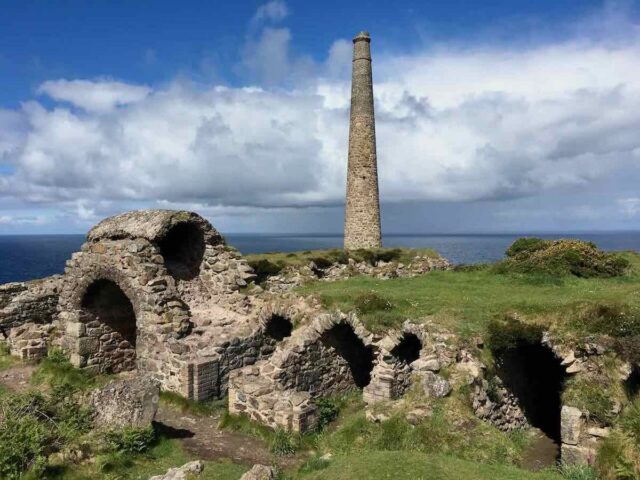 Dogs are welcome to join you in exploring the site, which is these days looked after by the National Trust. Parking is available next to the old Count House, along with a cafe and toilets. It's best to keep your dog on a leash, due to the dangerous cliffs, plus stick to footpaths. Don't miss admiring the remains of the precariously located engine houses, albeit from a distance.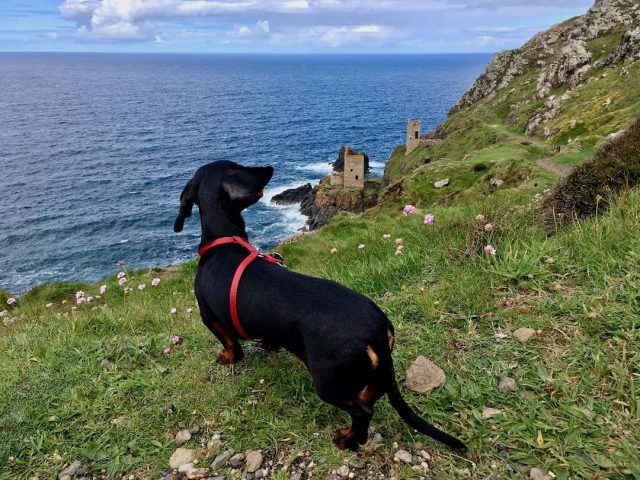 #8 Fly to the Isles of Scilly
For a unique experience, consider heading to the Isles of Scilly. This archipelago of five inhabited islands that are part of the Ceremonial County of Cornwall are located south west of Land's End.
There are two ways of reaching the Isles of Scilly. The Scillonian passenger ferry departs from Penzance Harbour to St Mary's and takes 2hr 45 minutes, while the quicker option is to fly on the fixed wing Skybus aircraft, which only takes 20 minutes from Land's End.
Pet dogs are welcome to join you in either option. In fact, the Skybus is one of the only airlines in the United Kingdom that allows dogs in the cabin – either one large or two small dogs can fly in their RSPCA-approved crate, which measures 90 x 60 x 60cm. An additional fare applies to dogs both on the Skybus and the ferry, with early bookings recommended.
While dogs are restricted from some beaches on the Isles of Scilly over the summer months, dogs are welcome on multiple beaches around St Mary's year-round, including Town Beach.
Dog-Friendly Beaches in Cornwall
Just like on the Isles of Scilly, restrictions for dogs on beaches in mainland Cornwall vary.
For instance, dogs are permitted on Marazion Beach all day long from September to June, but they are prohibited from the beach between 10am and 6pm during the warmer months of July and August.
In contrast, nearby Longrock Beach is one of the most dog-friendly beaches in the area, with dogs allowed on the beach year round, in between the carpark and Penzance.
Alternatively, hike to the dog-friendly Pedn Vounder Beach, one of the most stunning beaches in the region, accessible from the South West Coast Path near Porthcurno. Dogs are allowed on the beach throughout the year.
For a list of all major dog-friendly beaches in Cornwall, check out The Beach Guide, which lists 57 beaches in Cornwall where dogs are allowed. (Note that some more inaccessible beaches are not included.) Although always double check the signs at beaches – the rules can change.
Or check out my guide to the best dog-friendly beaches in the UK, including some in Cornwall.
Dog-Friendly Accommodation in Cornwall
Note: This post contains affiliate links, which means I may receive commission if you make a purchase using the links. See my full disclaimer.
There's a wide range of dog-friendly accommodation available throughout Cornwall, including plenty of charming holiday homes plus B&Bs and boutique inns.
One fabulously dog-friendly B&B in Lostwithiel near the Eden Project is Penrose Bed & Breakfast. Chris and Heidi welcome guests, including children and dogs, into the six guest rooms of their Victorian home, with a full cooked English breakfast included.
There is no charge for pet dogs at Penrose B&B. A copy of the dog friendly beach guide is available, along with extra towels. They can dog sit in the evening if you want to dine at a restaurant.
If you're looking for somewhere to stay in Penzance, consider the Artist Residence Cornwall. A former Georgian coachhouse, the boutique hotel features a range of quirky, unique rooms, some with sea views, and a three-bedroom cottage. Downstairs is an all-day restaurant and bar.
Dogs are welcome in selected rooms, as well as the cottage – double check the room descriptions, and if necessary check before booking. Up to one dog is permitted per room, and two in the cottage, with an additional charge of £15 per dog, per night. In return your pup will be pampered with their own bed, bowls and organic dog treats. Well-behaved dogs are welcome in the restaurant and garden.
For something different, considering staying on a farm in Cornwall with your pup. We enjoyed a delightful stay on a farm not that far away from Penzance, staying in a spacious room in an historic farmhouse. Just check with the owner what rules you should follow for leashing your pet, especially around livestock.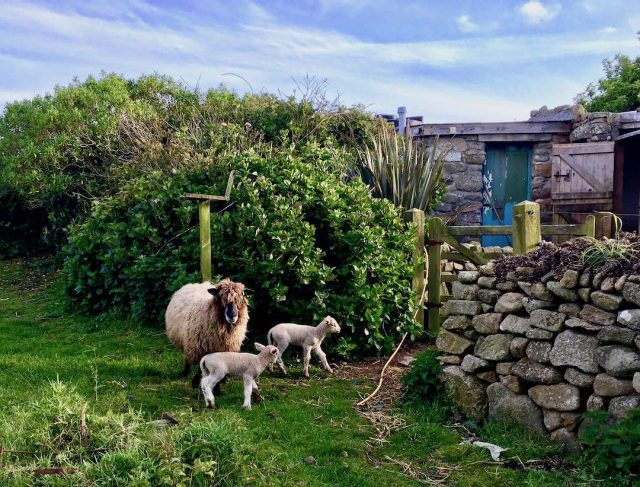 You May Also Like