Love history and heading to Spain with your dog? If you want to visit some of the many UNESCO sites scattered throughout the country (45 in total!), you don't need to always leave your dog behind (or miss visiting the sites altogether), as there's plenty of dog-friendly Spanish UNESCO sites.
Sure, you won't be able to take your dog into any museums. And I haven't found a church that officially allows dogs either. Plus some sites where you would expect dogs to be allowed (such as the un-ticketed gardens in Aranjuez Cultural Landscape) don't let them in also. (At Aranjuez, I couldn't protest, but some Spanish ladies with a cute little pup sure did complain boisterously!)
However, there's plenty of other sites to choose from. For instance, there's no shortage of beautiful old towns where you can at least wander around and admire the exterior of the buildings. After spending two months in Spain visiting nearly every UNESCO site on the mainland, with my dog Schnitzel in tow, here's my pick of the best seven sites to visit, with your furry friend.
1. Works of Antoni Gaudí
No, they haven't started letting dogs into the Sagrada Familia or the other historic houses that are included in this UNESCO listing. But, if like me, you don't have a spare €100 or more euros to visit every site, there's nothing stopping your dog in joining you in a walk around Barcelona to view their exteriors. Plus, Park Güell is completely dog friendly! As long as they remain on a leash, take as many dog selfies as your want next to the salamander and other popular spots.
2. Pyrénées – Mont Perdu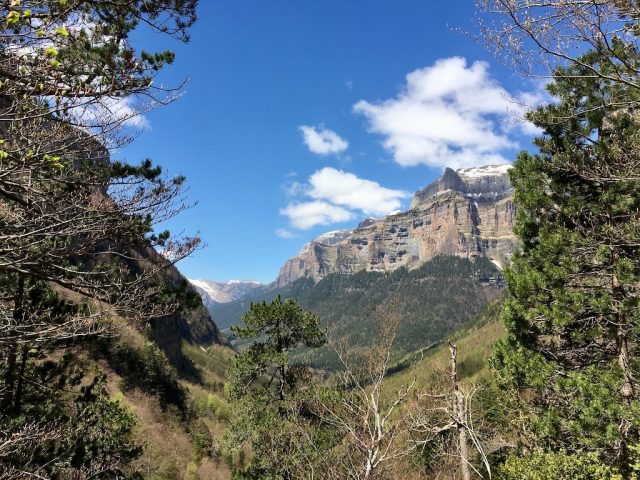 Coming from Australia, I'm used to national parks having a blanket ban on dogs. However, Spain is completely different. As long as your dog remains on a leash in the Pyrenees and Monte Perdido National Park on the Spanish side of this UNESCO site (this site also extends into France which is likely equally dog-friendly), they're welcome to join you on your hike. One of the most popular options is the hike to Cola de Caballo in the Ordessa Valley. But if your dog isn't up to a 16km hike (like our Schnitzel), just head as far as you can, visiting the closer waterfalls and cascades, then return.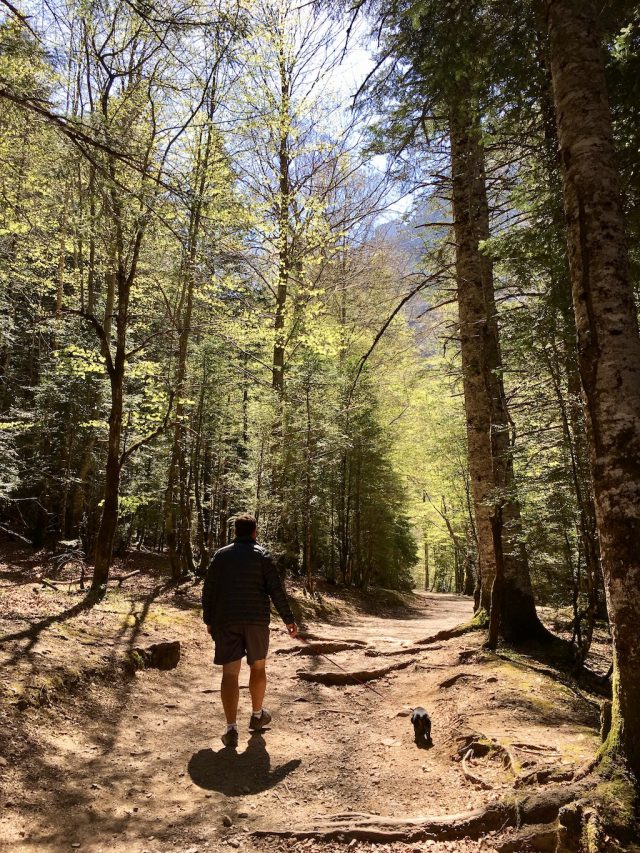 3. Las Médulas
The landscapes of Las Médulas are stunning and virtually unknown outside of Spain. The result of intensive gold mining by the Romans (the technique is literally translated as "destruction of mountains"), it's a beautiful spot to visit with your furry friend. My biggest surprise? If you pay to enter the old Roman mining tunnel near the Mirador de Orellán, hard-hat on head, your dog is also welcome to join you for free. Not that they need a hard-hat, as it's mainly to protect your head on sections with low roofs (and Schnitzel has never been described as being tall in his life!) Dogs are also welcome on the other walks around the area.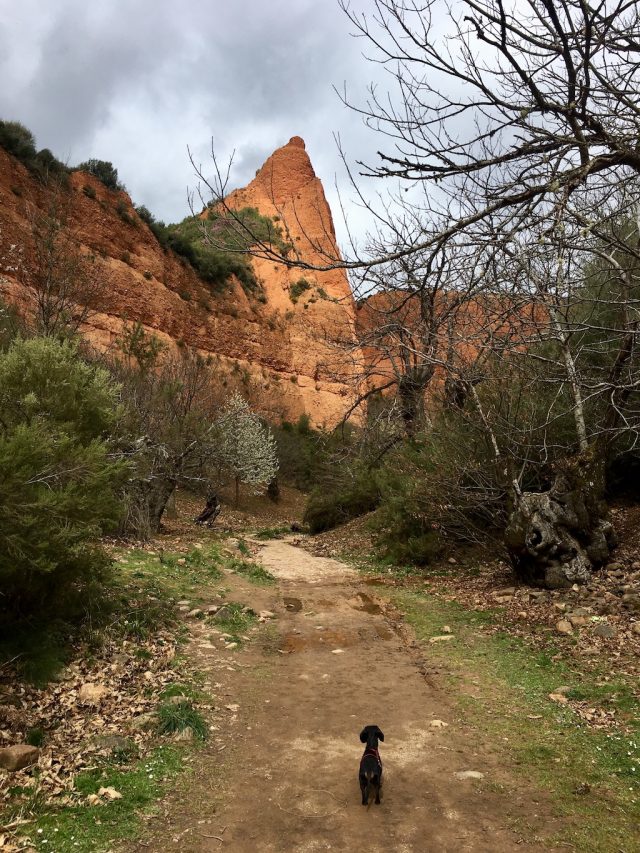 4. Roman Walls of Lugo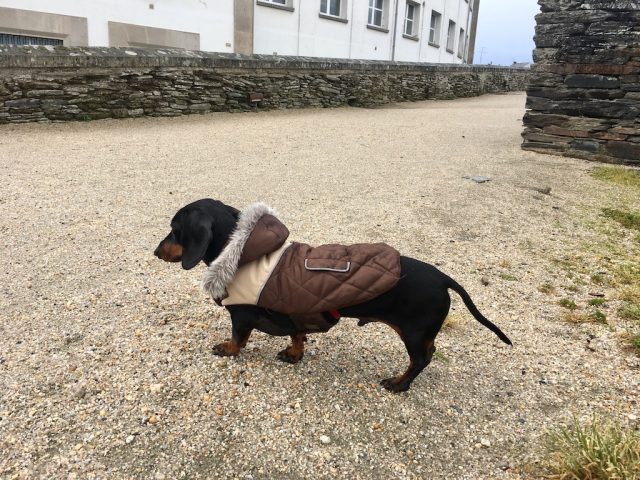 The walls that surround the Old Town of Lugo date from the Roman era. They're UNESCO listed as they are the only intact circuit of Roman walls still in existence. And best of all? It's completely free to walk around the walls, and there's nothing stopping your dog joining your either. (In contrast to the medieval-era walls surrounding Avila, which both cost and don't allow dogs.) Schnitzel wasn't too happy with the rain on the day we visited, but the 2km loop on the walls is a fun walk to do with your dog.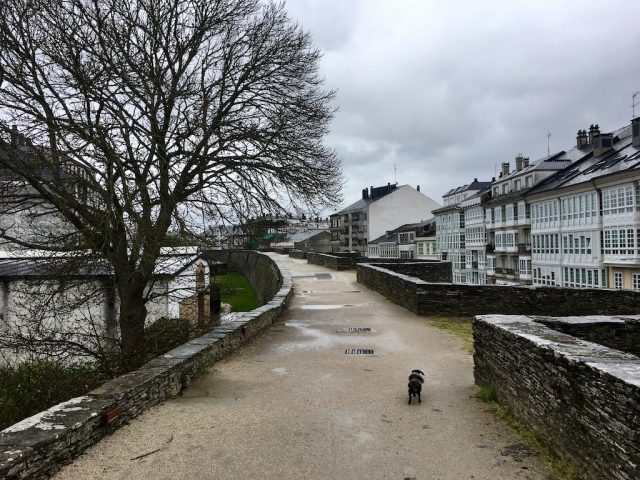 5. Historic City of Toledo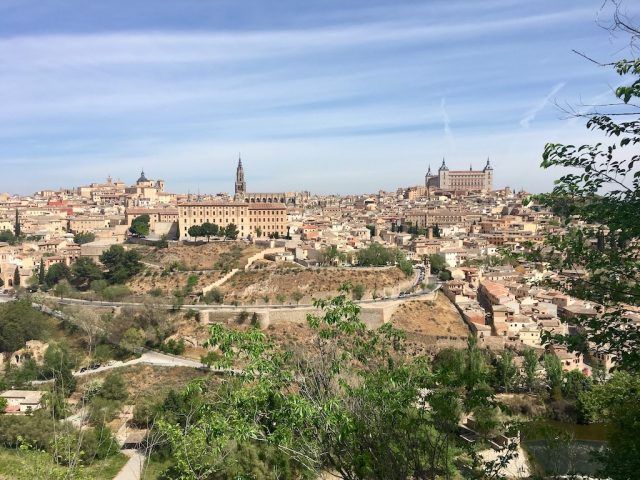 Toledo is one of the most beautiful old cities within day-trip distance of Madrid. (Although I fully recommend spending a night or two!) And while your dog won't be allowed inside the impressive Cathedral or other sites such as the oldest Synagogue that exists in Europe, it's worthwhile just to wander the streets with them. Additionally, there's plenty of walking paths surrounding the city that provide beautiful views of it, that of course are perfect for a dog walk. (At least earlier in the morning before the day heats up.)
6. Old Town of Segovia and its Aqueduct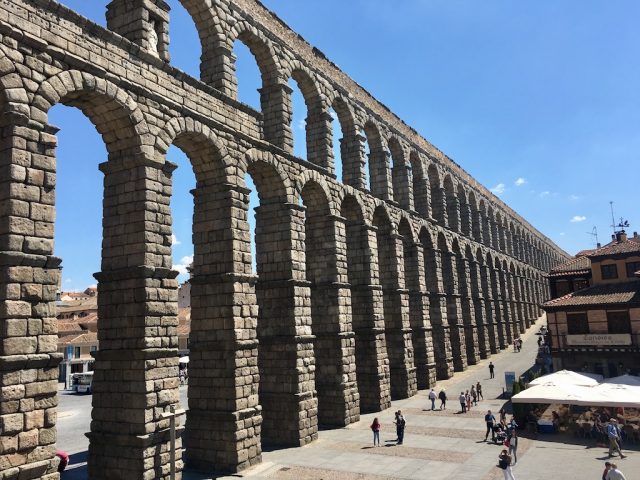 Segovia is another of the beautiful old cities within day-trip distance of Madrid. While the Cathedral and Alcazar are two of the most popular sites (and unfortunately don't allow dogs), the highlight of a visit here is viewing the Roman-era aqueduct. Cutting through the plaza in the centre of town, wander around the different vantage sights with your dog on leash. Additionally, there's a number of walks down below the town that you can take your dog on. Don't miss out on visiting the grassed park down below the Alcazar for some of the best views in town – perfect for a picnic with your dog!
7. Antequera Dolmens Site
The listing for Antequerra includes a number of prehistoric dolmens, not far from Malaga in Andalusia, plus the peaks that some of the dolmens mysteriously yet deliberately line up with. And while you're technically not allowed to take your dog to visit the dolmens (there was no sign at the gate we entered at the main site, and another dog was also visiting), El Torcal allows dogs on a leash. This is an area of stunning limestone formations that one of the dolmens lines up with. It has a few great shorter walks, that will surely leave you feeling as impressed with the area as our prehistoric ancestors must have been.
NOTE: When visiting these sites, be a responsible dog owner. Follow any signs that apply to dogs (such as keeping them on a leash) and always clean up after them. Being a good dog owner means that all of us dog owners are more likely to continue being allowed to take our dogs to these wonderful sites. Plus hopefully we might be able to visit more in future.
Inspired? Pin this to your Pinterest board!