The more time I spend travelling with my dog, the more dog-friendly destinations that I hear people recommending. Sure, there are some places that are not dog friendly and you shouldn't (or can't) visit with your dog (Iceland and Bali being two that spring to mind), but in most parts of the world, there are some wonderful places to visit with your dog!
As I'm just one small person (and dog) in this huge world, I asked some fellow travel bloggers to nominate their favourite dog-friendly destinations that they'd visited with their dogs. From Australia to Europe, the Middle East to both North and South America, here are their recommendations. I hope this gives you some ideas for your next holiday with your dog!
Stumers Creek, Coolum, Australia
Recommended by: Jan of Budget Travel Talk
Coolum Beach on the Sunshine Coast of Queensland in Australia is mid-way in a sparkling line-up of surf beaches stretching from Caloundra to Noosa. The best place to walk and play with your dog is Stumers Creek.
This dog friendly beach area extends a kilometre either side the creek and has a sealed car-park, amenities block, plastic doggy-doo bags and dog washing area. Watching the crazy happiness of dogs of all breeds running, digging and chasing around on the sand is wonderful. Families enjoy the quiet water of the creek while surfers and kite surfers ride the waves.
Coolum's dog loving community is an inspiration. This inclusive atmosphere fosters cafes with doggie drinking bowls and a selection of dog-friendly holiday accommodation options. Coolum ticks all the boxes to ensure a dog-friendly beach holiday.
Macedon Ranges, Australia
Recommended by: Jean of Traveling Honeybird
Living in Australia there are a lot of places that you can and can't take your dogs. We seem to be the land of no pets. Whenever I can I love taking my two little rescue dogs out in the Macedon Ranges, where we hike up Mount Macedon.
The area is famous for it's great food and wine and very few people know about the hike up the mountain. It's a great place to enjoy the Australian bushland and let the dogs have a decent adventure without being too far away from Melbourne.
San Juan de Gaztelugatxe, Spain
Recommended by: Facundo of Pie y Pata
San Juan de Gaztelugatxe became a trending topic among Game of Thrones fans in 2017, as it was the place chosen to give life to Dragonstone, the birthplace of Daenerys Targaryen. But long before her dragons came back to their castle, our personal small black dragon (although it looks more like a dog) fell in love with this magical place in northern Spain, more precisely in the Basque Country.
You start your descent on foot through a stone path until you reach the cliff. You keep going with the ocean on your right until you get to the incredibly winding stairs, with 241 steps that will guide you all the way up to the church.
After ringing the bells three times by pulling from a hanging rope, you will just sit down with your little dragon and watch the immensity of the sea on one side and the majesty of the mountains on the other.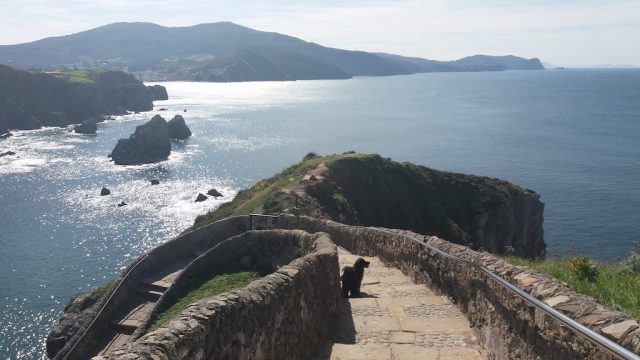 Cabanas

do Barranco, Galicia, Spain

Recommended by: Imma of A World to Travel

We recently spent one night in a Galicia glamping site I had been wanting to stay for a long time: Cabanas do Barranco, in Serra de Outes. Really close to our base, I cannot believe it took us this long to uncover its gorgeousness!

Carefully brought to life by Addomo architecture studio, the design took into account the intimacy of each building and the views of the nearby mountains of the Barbanza peninsula, Tremuzo, A Pena and Muros and Noia estuary.

Every construction respected the existent forest trees and their roots, with come even more alive as the building shapes, lights and shades are defined by them. In short, they will delight any design and sustainable architecture enthusiast as well as every animal lover out there! See how our dog liked it?

Find out more about visiting Spain with a dog
Switzerland
Recommended by: Gigi of The Ramble
If you and your pup are into the outdoors, Switzerland is one of my favorite places to travel with a dog. Trails, national parks, and even paid natural attractions are open to dogs (just watch for leash signs, as leash rules vary trail to trail). Hotels and hostels are often dog-friendly (though you'll have to ask; they don't always list the rules on their websites).
Trains are pet-friendly, as well, with dogs in carriers traveling free and dogs on leashes traveling at half fare. And, as with most of Europe, dogs are welcome in restaurants, cafes, bars, and shops (unless you see a no-dogs sign, which is rare).
Read more from Gigi about dog-friendly Switzerland.
Tel Aviv, Israel
Recommended by: Trisha of P.S. I'm On My Way
Tel Aviv has gone barking mad – dog massages, parlors, salons, and even restaurants are very popular if you are a dog-owner in Tel Aviv. Everywhere you go, you will see people walking around with one or more dogs on leash.
You can enter any restaurant (including the famed Dizengoff Mall) and they will have dog plates for all the pets. Dogs are very popular parading the Tel Aviv nightlife – owners even bring them to drink out!
There are also dog festivals every once in a while in Tel Aviv and oh, this is something you should know: dog gardens. I own a dog myself and I'm not having a difficult time to walk my dog because of the dog parks that are equipped with toys and playing ground!
I've never seen a city care so much about their dogs. I really believe Tel Aviv is the craziest dog city in the world!
Quito, Ecuador
Recommended by: Jen of Long Haul Trekkers
Seemingly just about everywhere in Ecuador allows dogs! Quito is especially dog friendly with tons of cafes and parks that allow your four-legged pal. Ride the TeleferiQo to the top of Pichincha where you can hike to the top of the mountain at 4,784m and overlook expansive Quito below. After the hike, grab a bite to eat at Café Mosaico, which includes a dog menu.
For a day trip, head to La Mitad del Mundo where you can high five your pup across the equatorial division and try your hand at fun science tricks on the equator. For a weekend adventure, visit the Black Sheep Inn and hike down to Lake Quilotoa where you can rent a kayak and paddle in the emerald green waters of the crater lake.
Bend, Oregon, United States
Recommended by: Tarah & Tip of Fit Two Travel
Bend, Oregon is one of the most dog-friendly cities in the United States! Bend has plenty of dog-friendly hiking trails, breweries, restaurants, and hotels, your four-legged friend will be welcomed anywhere! Bend has eight off-leash dog parks including a park with 14-acres for your dog to roam freely.
Bend is so full of dogs (nearly half the people in Bend own a dog) that you'll be the one missing out if you don't bring a dog!
You May Also Like
Inspired? Pin this to your Pinterest board!