If you're heading to Madrid, the capital of Spain, with your dog, you'll need to sort out some dog-friendly accommodation pronto! While there are plenty of hotels that will accept you and your dog, needing to find pet-friendly hotels will limit your accommodation options somewhat, with under 20% of hotels in city listed as pet-friendly.
When looking for pet-friendly hotels in Madrid, I recommend staying close to the city centre, so that you can easily explore the historic streets on foot with your dog. Alternatively, at least make sure you are by a metro station, with dogs of all sizes allowed on the metro with some restrictions. Here are my top picks…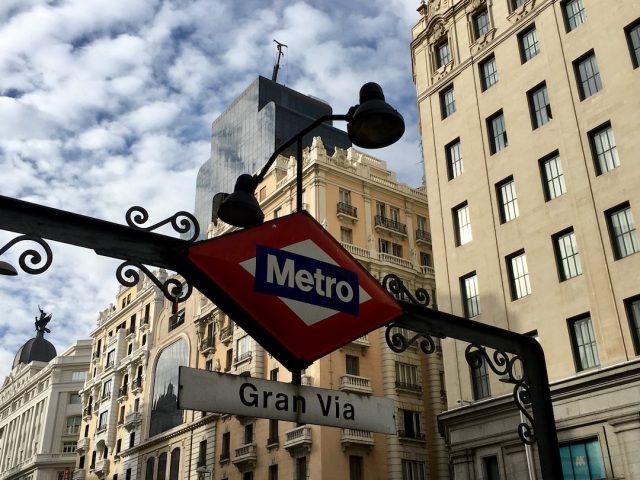 Note: This post contains affiliate links, which means I may receive commission if you make a purchase using the links. See my full disclaimer.
Petit Palace Tres Cruces
A Pet-Friendly Boutique Hotel
Petit Palace is a fabulous chain of boutique hotels to stay at in Spain with your pup, thanks to their pet-friendly policy. At most (if not all) locations dogs and cats are welcome, with no size restrictions. Unfortunately though, they have started to charge for pets, with a €25 charge per pet per stay.
I stayed at this hotel on my very first night in Europe with my dog, after emailing first to check he would indeed be allowed. ("They cannot be snakes or similar" was the only restriction!) We were supplied with a dog bed and bowl for our stay, and the staff were very friendly.
This hotel is just metres from the Calle Gran Via and the Gran Via metro station and not far from Puerta del Sol in the Sol neighbourhood, one of the best areas to stay in Madrid. I recommend asking for a quiet room, as rooms located next to the lift can be noisy.
Petit Palace Arenal
An Historic Building Near the Palacio Real de Madrid
Petit Palace Arenal is another great option from the Petit Palace chain in the centre of Madrid. It's located not far from the Petit Palace Tres Cruces, just closer to the Palacio Real de Madrid.
Located on a pedestrian street, it's set in an historic building, with original features retained, including the French windows and marble reception, but the rooms are bright and contemporarily decorated.
The facilities are similar to the Petit Palace Tres Cruces, including the pet charge of €25 charge per pet per stay, so I recommend checking out both, and seeing which one is offering the best prices for your dates.
Catalonia Las Cortes
A Sumptuous Stay Near the Prado Museum
This sumptuous hotel set in a beautiful 18th-century building features classically decorated rooms with Nespresso coffee machines, and even antiques in selected rooms. Plus, it's just a short stroll from the Museo Nacional del Prado.
A single pet is allowed per room, only dogs or cats under 20kg (44lb), with an additional charge of €25 per night. You need to make a request in advance (take advantage of the free cancellation period to message the hotel and confirm).
A €200 deposit is also required at check-in for those staying with a pet, which will be fully refunded upon inspection of the room at check-out.
NYX Hotel Madrid by Leonardo Hotels
A Hip Hotel with a Rooftop Pool
Okay, this hotel isn't quite in the centre of Madrid, but it's still less than 500m from multiple metro stations and a railway station with trains from the airport. And best of all, it has a gorgeous rooftop pool and sunbeds, perfect for hanging out at the end of a long day.
I can't guarantee your dog will be allowed in the pool area (and do check if it will be opened during your stay – generally the season is from May to November), but pets are allowed in rooms on request. There is a weight limit of 20kg (44lb) per pet, plus an additional charge of €25 per pet per night.
B&B Hotel Madrid Centro Fuencarral 52
An Affordable Yet Central Stay
I've stayed in multiple B&B hotels around Europe, and found that they are a reliable yet affordable pet-friendly option, with modern rooms and everything you need.
This B&B Hotel is located at Fuencarral 52, a fashionable street in the centre of Madrid to the north of Calle Grand Via. It's only 300m from the closest metro station, Chueca, and still within walking distance of Puerta del Sol. Rooms feature soundproofing and there's even a rooftop terrace with views of the city.
All pets are welcome to stay with your at the hotel, with no size restrictions. There is a small charge of €10 per night.
You May Also Like