I'll be up front about Paris: it has some of the most expensive accommodation prices across Europe. While there are plenty of hotels, if you're looking to stay within the city proper (within one of the 20 arrondissements) hotels are usually quite pricey.
The other concern, particularly if you're sharing your room with your dog, is that the rooms are quite small, often with not much space around the bed. Not to be deterred, I've rounded up a selection of pet-friendly hotels in Paris, ranging from luxury to affordable, all of which welcome dogs.
Before making a booking, check with individual hotels for additional charges and any size restrictions, which are common in Paris.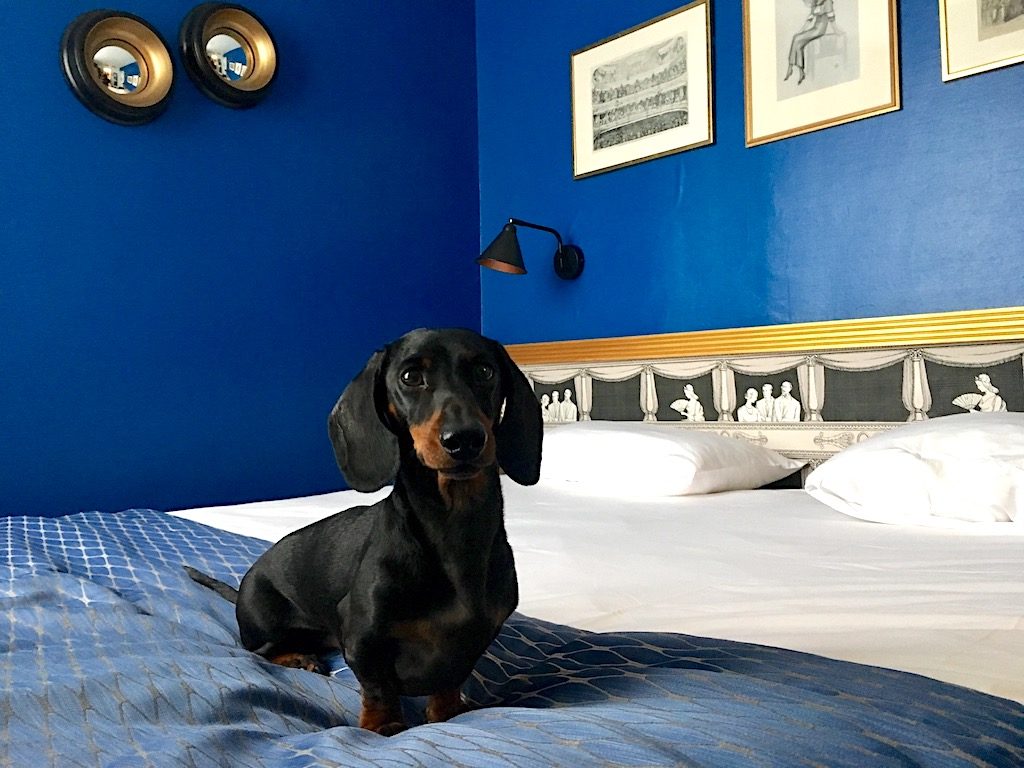 Note: This post contains affiliate links, which means I may receive commission if you make a purchase using the links.
Hotel Plaza Elysées
A Luxury Parisian Hotel
If you're looking to stay in style in Paris, you can't go past the district around the Champs Elysées. If you stay at the Hotel Plaza Elysées, you'll be located only 200m from this famous boulevard and the Arc de Triomphe. Perfect for hitting up all the luxury boutiques, where your dog will probably be fussed over just as much as yourself.
Rooms at this 4-star hotel are spacious and elegantly decorated in the style of a Parisian apartment. At this hotel, dogs are allowed on request, and charges will likely apply. However, your dog will be permitted in the breakfast lounge and bar areas, as is common in Paris.
Mercure Paris Pigalle Sacre Coeur
Close to the Moulin Rouge
Now I must admit that dogs are probably not permitted to visit the Moulin Rouge with you. Although a photo opportunity during the day is not to be missed, plus there is also the beautiful Sacre Coeur and its wonderful views nearby. This four-star Mercure Hotel is located close to both of these attractions, in a great central location for exploring Paris.
Rooms at this hotel are reasonably priced, with stylish and modern touches, although a little on the small side. Room service is available, if you're exhausted from exploring Paris all day long. Pets are allowed, although a charge will likely apply.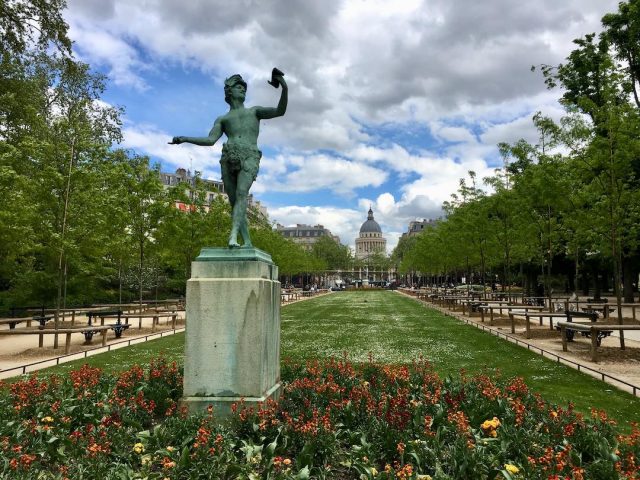 Motel One Paris-Porte Dorée
A Hip Stay in Paris
I love the interiors of this hotel, although it doesn't look like much from the outside. The bar and lounge area in particular looks gorgeous, and the hotel has been highly rated by previous guests. It's right on the edge of Paris proper, although just metres from the Porte Dorée metro station, so it's easy to get anywhere in Paris.
The room rates are amongst the best you'll find in Paris, with rooms that are stylishly decorated and average in size. Make sure you request a pet-friendly room, plus a small additional charge per pet per night applies.
Campanile Paris 19 – La Villette
Affordable Yet Dog-Friendly
I stayed multiple time in Campanile hotels across France, and despite being a budget chain, was impressed with their cleanliness and service. Once you've stayed in one, you know basically what most other locations are like.
This hotel is again located close to the edge of Paris, although close to the Corentin Cariou metro station, for easy transport around the city. Like all Campanile hotels, a small charge will apply for staying with a dog.
All Suites Choisy Le Roi
Near Orly Airport
Now if you're really want to save on the cost of a hotel, stay well outside the city centre of Paris at a hotel like this one. It's actually a practical location, if you're flying in or out of Orly Airport, and want somewhere to stay near by, like we did. It's just a short Uber drive from the Airport, plus near a train station that will take you directly into the centre of Paris.
The rooms here are large and apartment-style. That means a decent kitchenette for you to cook in, plus self-service laundry facilities downstairs. There was also a great burrito shop next door when we stayed in 2018, if you don't feel like cooking. Pets are allowed for a small additional charge per night, in selected rooms. It's best to request a pet-friendly room in advance.
You May Also Like