This is a guest post from Jacqueline Lambert of World Wide Walkies
Stand Up Paddle Boarding, or SUP for short, is the fastest-growing water sport in the world. This is because it is relatively easy to learn and requires minimal equipment.
It is accessible – you can SUP on rivers, canals, lakes and the sea, so long as you are safety conscious and obey any local rules. It is a fantastic full-body workout, particularly for your core – and is also a great sport to enjoy with your dog.
Whole books have been written on the subject of paddle boarding with pups, which might be helpful if you want to take things further. However, in this post, I am going to look at how to get started to SUP with your dog.
Preparing Your Pup to Paddle Board
Follow these tips to get started on SUP with your pup:
Be Patient – Our four pups are bright, adaptable and love water, so they were happy to join us on our boards straight away. You know your dog; take the time necessary to get them used to sitting or lying still on a board.
Try A Dry Run – Getting your hound used to the board on land will make things easier on the water.
Commands – Make sure that your dog will 'sit' and 'stay' on the board. Teaching a command for getting on and off the board is also worthwhile.
Treats – Reinforce training with treats to make the board a happy place.
Burn Off Extra Energy – Wear out energetic dogs before expecting them to sit still on the board for long periods.
Paw Care – Keep claws trimmed to help with grip and reduce the risk of scratching the deck.
Practise – Find some safe, shallow water to practise and stay close to shore for your first outings.
Safety Position – Although they are called Stand-Up Paddle Boards, it is more stable to sit or kneel at first. This is also the 'safety' position.
The Launch, Land and Leap! – Launch and land in the safety position and prepare for the leap. Be aware that your pup might jump off the board as you approach land, which can upset the board and throw you overboard.
Stay Centred – Try to keep all weight to the centre of the board, while giving yourself room to paddle. This is easier with smaller dogs.
Get Wet! – Experiment with falling off and getting both yourself and your fur baby back on board, so that you both know the drill and what to expect.
Size Matters! Choosing the Right Board
SUP is all about balance and flotation on a long, relatively narrow board. We SUP with four small Cavapoos, who weigh less than 10kg each. If we have all four on one board, they won't sink it, even if they all run to the nose or the tail.
With a larger dog, this may not be the case. The size of board that you choose will depend on your weight, your dog's weight and your skill level.
Small dogs are fine on boards of any size. For medium to large dogs, consider a longer and wider SUP.
Wider boards are more stable, but are more difficult to turn. A wider SUP is consider to be 32" or more, although 30" will be easier to steer. Longer SUPs are 11' or more in length.
Solid or Inflatable Board?
Although users of inflatables report that dogs' claws do not damage the inflatable boards, I would recommend a solid board unless storage and transport considerations preclude this, for these reasons:
Ease of Paddling – Inflatables will never be as rigid, so are more difficult to paddle than solid boards, particularly in rougher water.
Large Dogs – If you are heavy and/or have a large dog, an inflatable may not be sufficiently rigid to support your combined weights satisfactorily.
Convenience – Inflating the SUP is a faff, so in practice, many users leave them inflated. So, they might as well store and transport a solid board!
What About Grip?
What about grip? SUPs usually have a partial rubber deck for grip. If your pup is sliding around or his claws scratch the deck, extra traction pads can be purchased. Alternatively, you could get him to stand on a damp towel or rubber bath mat. Note that these might not stay in place if you capsize!
Try Before You Buy: Hiring a Board
Before you invest in equipment and safety gear, it might be worthwhile to find out whether SUP is the sport for you and your pooch.
A hire company may offer lessons, or at the very least, give you some pointers on technique. Hiring should also give you the peace of mind that you are launching in a safe location for your first time on the water.
Not all SUP hire companies welcome dogs, since dog claws can scratch boards. Double check with companies in your local area. One option in the UK is Stand Up Paddle Board UK, who offer Doggy Paddle Boarding sessions on sheltered waters near Llangollen, North Wales.
Note that not all companies supply doggy life vests, so it pays to check what equipment is included.
Choose a Safe Location to SUP
As with all watersports, check conditions, such as weather, winds and tides before you head out. Joining a local SUP club or hiring from a company will help you find somewhere suitable in the early days.
Choose Calm, Flat Water – This will make balance much easier for your first time out.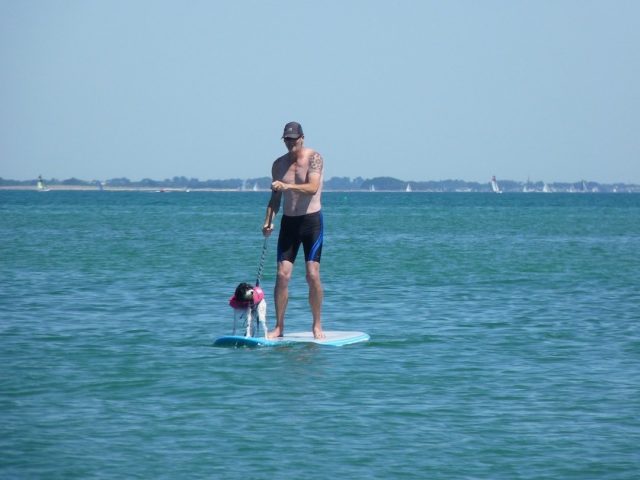 Find a Quiet Corner – Find somewhere where there is not a lot of other boat traffic.
Beware of the Cold – Note that lakes and the sea can be very cold in some parts of the world, even in summer. Cold can really sap your energy, so you may need a wetsuit (See 'What Safety Equipment is Required?' below). Also, make sure that your pup doesn't freeze!
Tips for the Sea
Avoid Offshore Winds – If the wind is blowing away from the shore, it will make paddling back difficult or impossible, particularly if the wind strengthens, so do not launch in these conditions.
Tides and Rip Currents – You may not be able to paddle hard enough to make headway against an outgoing tide. The same goes for rip currents. Like the tide, they can carry you out to sea, so seek advice and check tide times locally or on the internet.
Don't Get Stranded – If you are exploring tidal creeks, don't get left high and dry when the tide goes out!
Tips for Rivers
Choose a Calm River – Whitewater SUPing is a 'thing', however it requires skill and comes with significant risks. Choose a river that is deep enough, has a slack current and is not full of underwater obstacles.
Paddle Upstream First – That way, the current will carry you back home once you are tired of paddling against the flow.
What Safety Equipment is Required?
Note: This post contains affiliate links, which means I may receive commission if you make a purchase using the links. As an Amazon Associate I earn from qualifying purchases. See my full disclaimer.
Doggie Life Jacket
This is a MUST. "But my dog can swim!" I hear you say. However, there are multiple advantages to your dog wearing a life jacket.
Firstly, handle on the back of the life jacket makes getting your dog back on board very simple. Your dog will probably be unable to clamber out of the water and on to a slippery board.
Secondly, will keep your dog afloat if he hits his head or gets too exhausted to swim back to you. Additionally, brightly coloured jacket is easy for you (and other water users) to spot in the water.
We use the Outward Hound life jackets, which are available in several sizes and are very reasonably priced. They have the essential handle on the back, strong clips and a chin float to keep your Fur Baby's head above water. Ruffwear also supply excellent outdoor pooch performance equipment.
Doggie Leash
This is generally a NO! Your dog's leash can become tangled with you or the board safety leash while on the board or on debris in the water, which is very dangerous for both you and your pooch.
If you must keep your dog on a leash, attach it to your dog's life-jacket and keep the loose end well out of the way. Then, if the leash does become entangled, it is not around your dog's neck.
Board Safety Leash
The board safety leash attaches your ankle to the board. If you fall off, it will keep you and your main flotation device from being parted. A board safety leash is a must.
Human Safety Equipment
Consider each of these:
Wetsuit – In windy, cold weather or when SUPing on cold water, a wetsuit may be necessary to protect from cold water or wind chill. A wetsuit also provides a slight amount of extra flotation.
Wetsuit Booties – These can protect feet from cold and injury from underwater rocks etc, however many purists paddle barefoot for the extra 'feel'.
Life Vest – This is a matter of judgement. If you wear an ankle leash, you are connected to a large flotation device, so personal flotation may not be necessary. A bulky life-jacket might make it difficult to paddle. Personally, I choose to paddle in very safe areas and do not wear a life jacket.
Mobile Phone – A mobile phone in a dry bag may be useful in an emergency. If not, you can use it to take photographs of you and your pup on the SUP! I use a small dry bag for my phone and car keys.
Other Equipment
Also pack the following:
Sunscreen: Pack this for yourself. What about your dog? Dog sunscreen is not usually necessary, unless you are in the sun for a long time or your dog is hairless, has a thin coat or hair loss. Watch your dog's nose and ears, especially if they are pink. Note that human sunscreen can be toxic to dogs.
Water: Pack this for all, especially if you're out for a long period on the sea and in the sun. A foldable silicone bowl is a very useful accessory for SUP trips, as well as walks.
Scooby Snacks: Perfect for giving you and your pooch an energy level boost.
Taking SUP Further
Once you have mastered the basic skills, there is life beyond flat water. SUPs offer many possibilities; exploring, catching waves, running white water, racing, endurance, fishing, touring, multi-person boards to accommodate the whole family – and even SUP Polo, Yoga and Pilates.
Some boards have a mast track, which allows a sail to be added. This converts your board into a WindSUP, a contraption very like the original windsurfers, which were stable, easy to ride and lots of fun in light winds.
For further information, check out these books:
I hope that you and your pups have great fun on your SUPs!
Inspired? Pin this to your Pinterest board!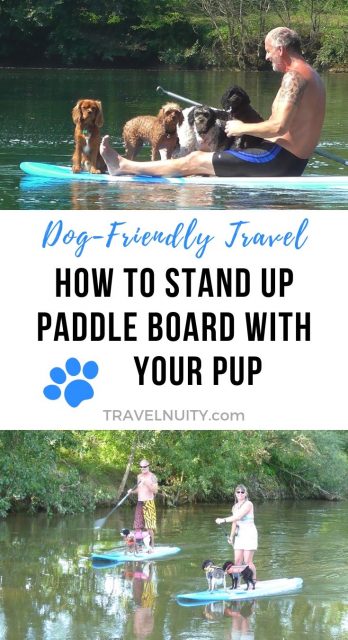 Author Bio
Jackie Lambert is an author and blogger. Jackie's books, "Fur Babies in France" and "Dog on the Rhine", have received five-star reviews on Amazon. They are available worldwide as both eBooks or Paperbacks. "Dogs 'n' Dracula – a Road Trip Through Romania" will be available at the end of July 2019. Her blog World Wide Walkies details her travels in Europe with her husband and four dogs.
You May Also Like