Western Australia (or WA for short) is home to some of the most stunning scenery in Australia, not to mention some epic road trips. No matter if it's crossing the Nullarbor (from South Australia), taking a quick jaunt to the Margaret River wine region, cruising up the coast to Broome or exploring the Kimberley region, there's plenty to do. Here's all the Western Australia posts on Travelnuity collected together in one place, to help you plan a fabulous visit.
Note: Unfortunately, the majority of these ideas are not dog-friendly.
Epic Road Trips
No matter what else you do, you have to include at least one road trip in your visit to Western Australia. Here's some of the best.
Want to explore more of Australia by 4WD? Add these awesome 4WD tracks, Brisbane, Queensland to your wish list.
Bucket-List Experiences
Western Australia is home to some awesome bucket-list experiences, whether it's epic hiking, magnificent beaches to visit or underwater adventures. Consider ticking off one of these on your visit to Western Australia:
Visit Ningaloo Reef during whale shark season and swim with whale sharks
Or go swimming with the manta rays year-round
Go hunting for Mud Crabs on the Dampier Peninsula, north of Broome
10 Best Day Hikes in Australia – Don't miss hiking the gorges of Karijini
Travelling to Western Australia
If you're heading to Western Australia, unless you're wanting to drive to the state as part of an extended road trip, most visitors fly into Perth Airport. Direct domestic flights from all around Australia are available, plus many international connections, including the new Qantas direct flights from London.
If you're not immediately picking up a hire car, consider a private Perth airport shuttle such as Link Airport Perth to take you directly to your accommodation after your long flight. Unfortunately no train connections are available, although there is a bus service.
Affordable Accommodation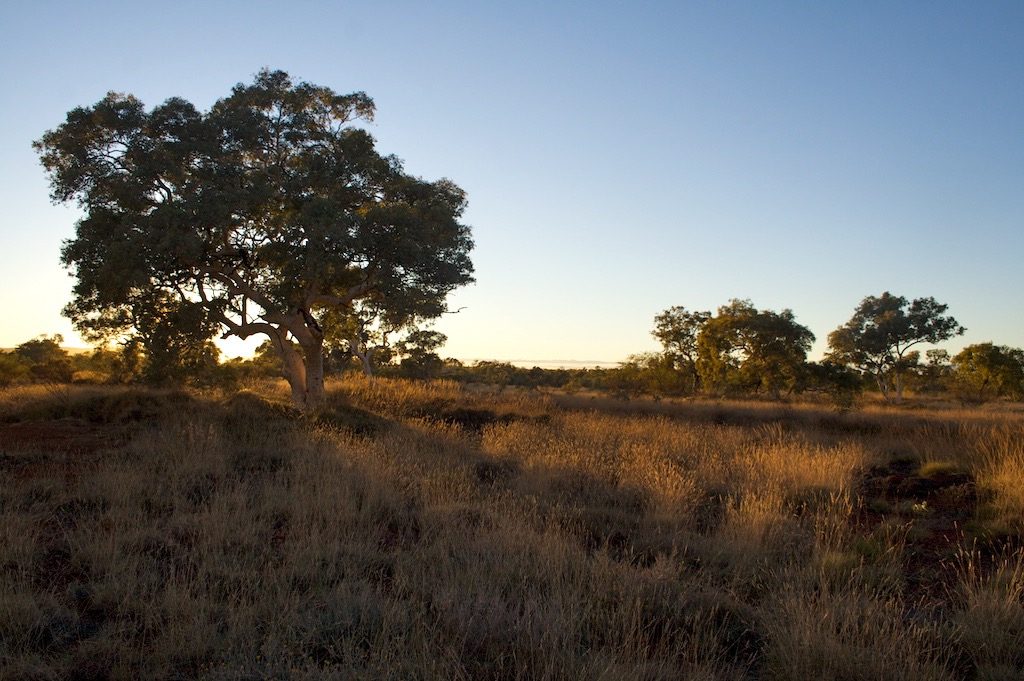 Some of the best places to stay in Western Australia are at the many camp grounds dotted around the state, often located in national parks. Check out my top five recommendations below, plus find out more about camping around Australia in my ultimate guide.
1. Camp on the Beach Front at Ningaloo Reef
Exmouth is a must-stop location along the Western Australian coast, famous for swimming with whale sharks (in season) and being the jumping off place to Ningaloo Reef. If you travel onwards from the town of Exmouth, past the boat launching ramps for Ningaloo Reef diving and snorkelling trips, you enter into the beach front section of Cape Range National Park. Here there are some great snorkelling spots for exploring Ningaloo Reef directly from the beach, including Turquoise Bay, without a 60km plus drive around from Exmouth to reach them.
There's also a large number of small camping grounds. It's a bargain to stay here, costing just $10 per adult per night, but be aware that demand is extremely high during the peak season, from April to early October. It's a must to book in advance, via this website. The website also has details of the facilities at each camp site.
2. Park Up at Karijini National Park
Karijini National Park is famous for its gorges, with some great hiking opportunities. Just near Dales Gorge, with its magnificent swimming holes including the Fern Pool (pictured above), is the Dales Gorge Campground. This location of the pool is perfect, as there are no showers and only bush toilets.
Camping fees are again $10 per adult per night, although at this camp ground it is advised to not be camping in a tent on the ground, due to the hard ground and gravelly surface. It's better suited to camper vans, caravans or roof-top pop-up tents.
If you want slightly more facilities, there is also the Karijini Eco Retreat located in the eastern part of the park. Campsite here are $20 per adult per night, but include flushing toilets, solar-heated showers, and access to the restaurant and bar (try some of the BBQed crocodile!)
3. Camp at Kooljaman
One of my disappointments of my trip to North West Australia was that I didn't book far enough in advance to stay at Kooljaman – so book well in advance! Located at the tip of the Dampier Peninsula, 200km north of Broome along a 4WD-only road, this is such a beautiful, untouched spot, run by the local Aboriginal community. Relax and swim at the beautiful beach, or head out on one of the many tours, including mud crabbing.
If you don't have your own tent, it's excellent value to stay in a ready-erected Dome Tent including a futon bed and linen, for just $85 per night. Alternatively, powered campsites cost from $45 per night based on a 3 night stay. However, my pick would be to book well in advance for one of the unpowered sites with special sunset views, costing either $50 per single night or $40 per night for a 3 night stay. (All prices are for up to 2 adults.)
Note that if you miss out, there's plenty of other places to stay on the Dampier Peninsula, and day visits are welcome at Kooljaman.
4. Camp at El Questro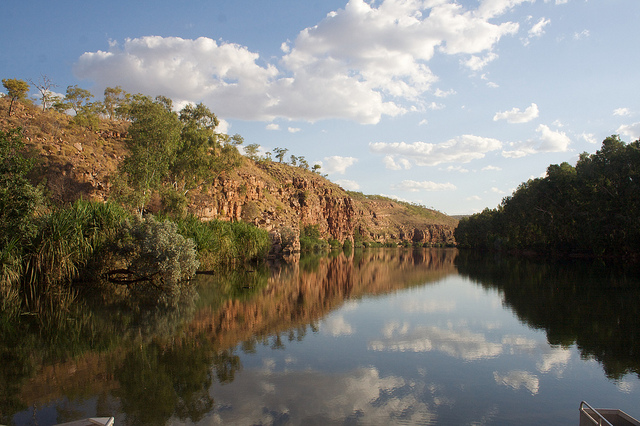 El Questro's tagline is that they have more than 1 million acres of untamed beauty, in the far northern Kimberley region, so it's no surprise that they have some room for camping. While it may be most famous for its luxury homestead, where Nicole Kidman stayed while filming "Australia", the option of camping is far cheaper, affordable to mere mortals. Choose between camping at private riverbank spots ($28 per adult per night), or in the general camp ground ($20 per adult per night for unpowered sites during shoulder season or $22 during peak season, extra $22 per night for a powered site, make sure you book).
Facilities include a store, that in the evening transforms into a bar and grill, and is a great spot to sit and swap stories, an all day restaurant overlooking the Pentecost River, a laundry and wi-fi (for a fee). Note that you'll also need to pay for a Wilderness Park Permit ($12 per adult per day).
5. Camp at Home Valley Station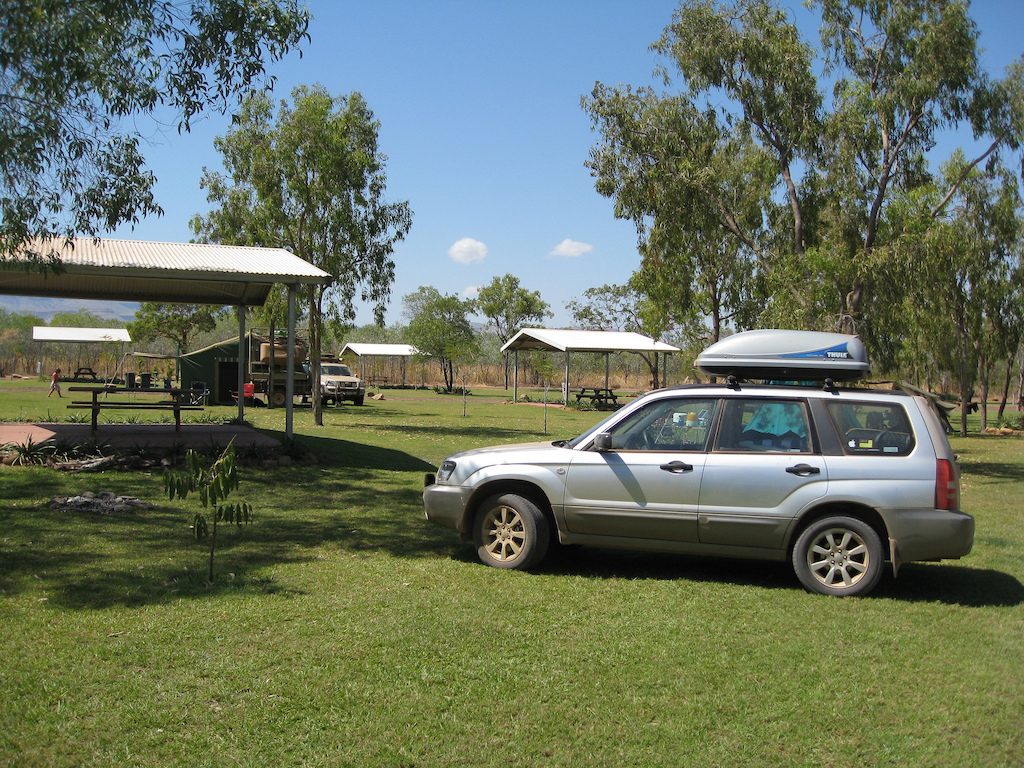 50km to the west of El Questro and across the mighty Pentecostal River is Home Valley Station, an Aboriginal owned enterprise that is a brilliant and authentic example of indigenous tourism in the area. It's a wonderful oasis for camping along the Gibb River Road, with its beautiful green grassy camp sites and a swimming pool. Alternatively, if you would prefer to rough it, camp at the Bush Camp down on the river banks, especially if you want to spend your time fishing for barramundi.
Camping costs $20 per adult per night (for an unpowered site). Power pole hire is an extra $20, if required. Alternatively, splurge on an Eco Tent for $155 or $165 during peak season (sleeps 2 people), which is still a step below the luxury option of the Grass Castles. Next to the main campground is the Dusty Bar and Grill, with free entertainment most nights. There's also the option to head off on a 1 1/2 hour horse trail ride, riding through the mighty Kimberley ($110 per adult).
Inspired? Pin this to your Pinterest board