Hi, I'm Shandos Cleaver and this is Schnitzel, my 10-year old Miniature Dachshund. We're both originally from Australia, but since 2017 we've together travelled all over the world, including Europe and the USA, as well as a six-month campervan trip around Australia.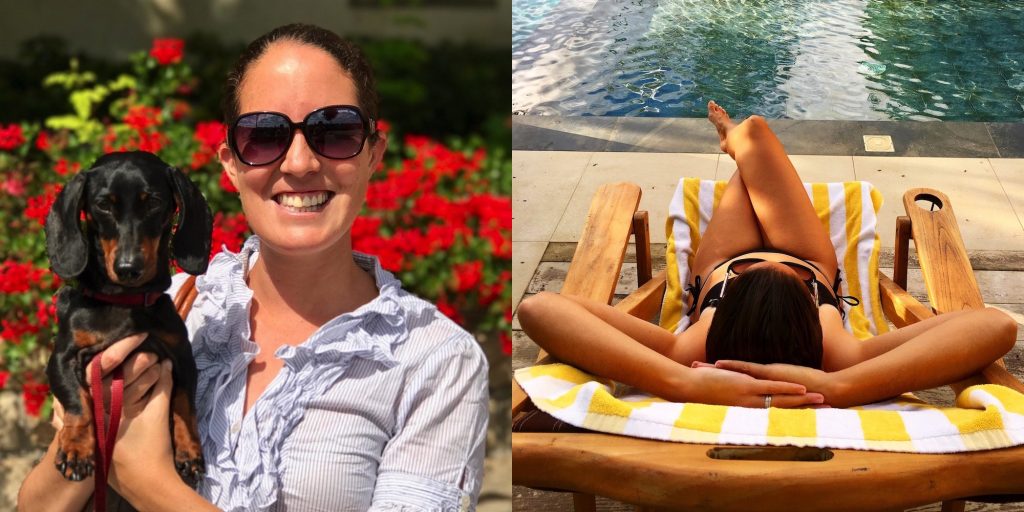 Originally I didn't take Schnitzel along when I travelled. It's difficult to head overseas from Australia with a dog, and I thought even in Australia it was too hard to travel with a dog. But I took the plunge and we both loved it – Schnitzel is a born traveller!
Many people we have met along the way were amazed that we were travelling with our dog. But an equal number of people asked us for advice, wanting to do the same with their pets.
My travel blog, Travelnuity (short for travel ingenuity), was founded in 2015. In late 2017, I repositioned it to focus on dog-friendly travel, partially to provide information, but also just to inspire people to do the same.
In recent years though we haven't travelled as much. In March 2022, Schnitzel was diagnosed with IVDD, or Intervertebral Disc Disease, and required spinal surgery. He has since fully recovered, but due to the chance of a relapse, his globe-trotting days are probably over.
These days, Schnitzel and I are based in Sydney, Australia.
Countries We've Visited
Schnitzel has managed to visit an impressive 36 countries! Together we've visited the following countries (and states) around the world:
Australia (Australian Capital Territory, New South Wales, Northern Territory, Queensland, South Australia, Victoria, Western Australia)
Europe: Andorra, Austria, Belgium, Bulgaria, Croatia, Czech Republic, Denmark, Estonia, Finland, France, Germany, Greece, Hungary, Ireland, Italy, Latvia, Liechtenstein, Lithuania, Luxembourg, Malta, Monaco, Netherlands, Norway, Poland, Portugal, Romania, San Marino, Slovakia, Slovenia, Spain (incl. Canary Islands), Sweden, Switzerland, Turkey, United Kingdom (incl. England, Wales, Scotland, Northern Ireland)

United States

(Arizona, California, Colorado, Nevada, New Mexico, New York, Oregon, Texas, Utah, Virginia, Washington, D.C.)
Schnitzel also had a stop-over in the United Arab Emirates on his way to Europe.
Along the way we've visited many UNESCO World Heritage sites, as part of a goal with my husband to visit every World Heritage Site.
More About Travelnuity
Travelnuity provides hands-on information (backed up by experience) to other travellers with dogs, including dog-friendly things to do, places to stay and the best transport options. Plus it inspires more people to travel with their dogs.
During 2022, Travelnuity was visited by just over 800,000 users, with 998,000 sessions and 1,241,000 page views. Just over 300,000 users were from Australia (about 7.5% of all dog owners in Australia!), along with around 160,000 users each from the United States and the United Kingdom.
The majority of the content on Travelnuity is about travelling with a dog in Australia, Europe including the United Kingdom, and the United States. I also provided guides on travelling internationally with a dog.
Travelnuity has been listed as one of the 20 Best Dog-Friendly Travel Blogs & Websites by Feedspot and the Best Dog-Friendly Travel Blogs to Follow by Petraveller.
Media Appearances
Travelnuity has been featured in the media multiple times, plus I have provided quotes and written guest posts for multiple outlets.
TV Appearances
Interview on Newsday, BBC World News (9 May 2019)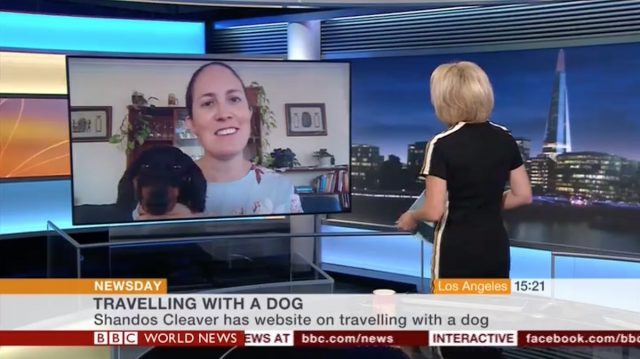 Book Appearances
Radio and Podcast Appearances
Guest on dogs in shopping centres segment on Breakfast, ABC Adelaide (10 July 2023)
Interview on Tuesday Drive, UUU FM (25 May 2020)
Day 137 – Travels with a Dachshund episode, 365 Days of Travel Podcast (Sep 2018)
Newspaper and Magazine Appearances
How to travel with pets and where to go with pets, Explore (20 Aug 2023)
RVing With Pets: What You Need to Know-Tips from the Experts, Porch (16 Nov 2022)
Canine cruises, 'yappy hour': Is Australia coming to heel in pet-friendly travel?, Good Weekend (newspaper lift-out) (7 Oct 2022)
5 top tips for holidays with dogs in Australia, Escape (newspaper lift-out) (3 Mar 2022)
Hotels Adjust Accommodation Strategies for Pandemic Pet Boom, Skift (9 Feb 2022)
The Very Best Car Seats and Harnesses for Dogs, NY Mag (Sep 2020)
Travelling internationally with your dog from Australia, ABC Life (May 2019)
Travelling Together, Baltic Outlook (inflight magazine of Air Baltic) (Oct 2018)
Guest Posts
The Best Hikes in Sydney with a View, The Backpacking Site (Dec 2022)
What's It Like to Travel with a Dog in Europe, The Nomadic Network (Dec 2020)
The Ultimate South Coast NSW Road Trip for Foodies, Untold Morsels (Nov 2020)
Best Dog-Friendly Instagrammable Spots in the USA, Travelling with a Dog (Nov 2020)
How to Visit Sydney with Your Dog, Sydney Expert (Jul 2019)
7 Tips for Importing Dogs to Australia, Londoner in Sydney (Mar 2019)
Visiting Italy's Vill d'Este with a Dog, Go Pet Friendly (May 2018)
How to House Sit With Your Own Pets, Nomador (Nov 2018)
6 Tips for Travelling to Spain with Your Dog, Our Spanish Life (Apr 2018)
Competitions
I won the Great Eastern Ranges Photography Competition – My Escape Category in 2009, with my winning photograph (pictured below) published on a full page in Australian Traveller magazine, Apr/May 2010, and forming part of a travelling exhibition in Australia.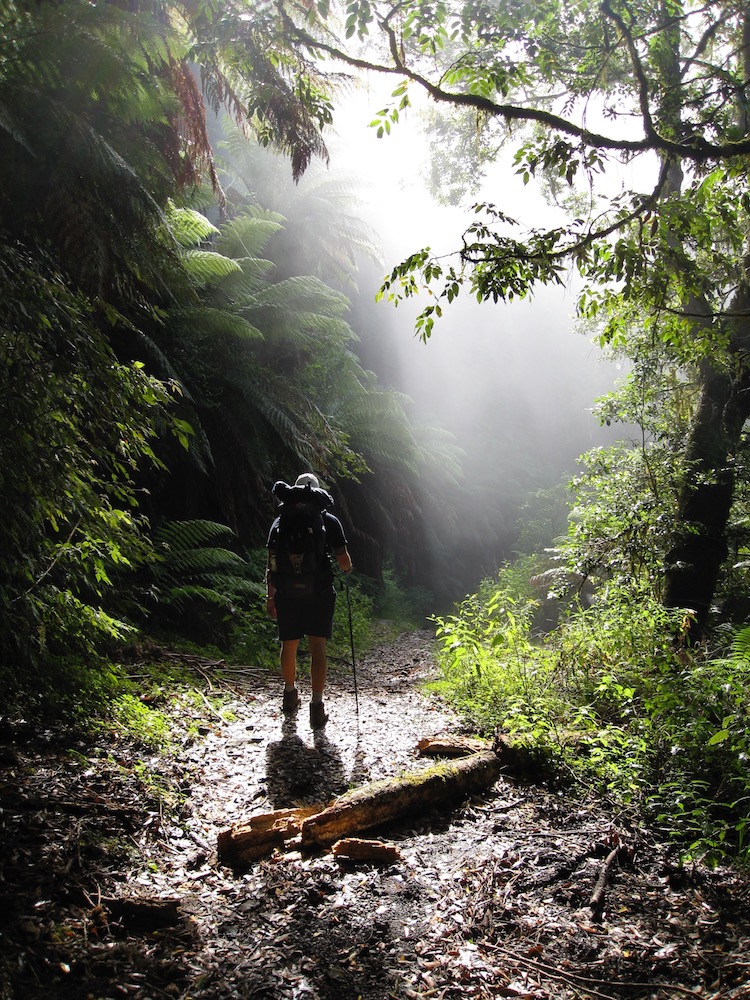 Member of ASTW
As of 2023, I'm a member of the Australian Society of Travel Writers, the peak body for Australian travel media.
The Fine Print
All content on Travelnuity is personally written by either myself, Shandos Cleaver, or the occasional guest blogger.
A very small amount of the content on this site (less than 1%) is based on sponsored stays and tours, but this is always clearly disclosed.
Nevertheless, everything is based on our own opinions: I will never publish favourable reviews in return for payment!
There are referrals in place to a number of travel services that I like to use (such as hotel and ferry booking sites), that I hope you also find useful.
Any Feedback?
Please let me know if you have any feedback or suggestions, by sending an email to [email protected] or contacting me through our social media accounts.
Shandos Cleaver, Founder & Blogger-In-Chief