One of the joys about travelling in Europe with a dog, is that most hiking trails allow dogs. Although many require dogs to be on a leash, it's a small measure to take compared to my home country of Australia, where most national parks don't allow dogs.
So when visiting the UK in 2017, after seeing photographs of the stunning Snowdonia National Park region in Wales, we started to plan to climb Mt Snowdon (or Yr Wyddfa) with Schnitzel, our Miniature Dachshund.
While Schnitzel is just a small dog, he has plenty of stamina. We'd previously done a few long hikes with him in Australia (outside of national parks) and completed a 12km-long hike in the Pyrenees. Plus, we'd recently spent a lot of time walking around historic towns and city centres with him, including a long walk along the Seine in Paris.
Another reason we set our heart on climbing Mt Snowdon is that it's part of the "Three Peaks Challenge", a common goal in Great Britain hiking, due to being the highest mountain in Wales.
The other two peaks are Scafell Pike in England and Ben Nevis in Scotland, with Mt Snowdon reputably the easiest of the three, at least for a dog. (The boulder fields on the shorter Scafell Pike in particular aren't advisable for dogs.)
While climbing Snowdon with a dog promised to be a challenge, with plenty of hiking experience I felt up to the challenge of the tough (but not too tough) hike.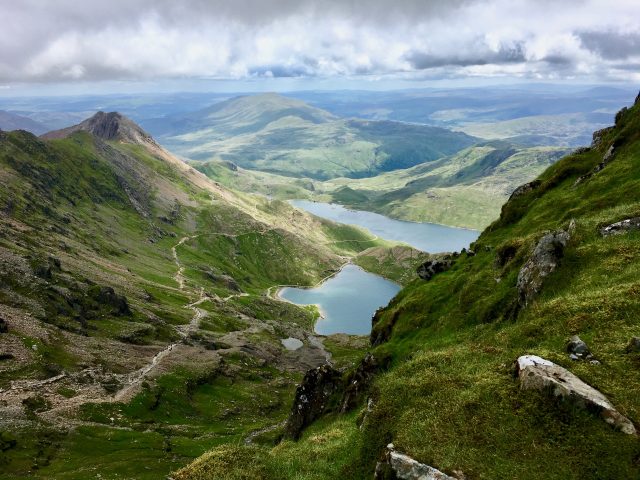 Preparation for the Hike
Climbing Snowdon is fairly easy to prepare for, as it's just a single day hike and isn't located in a remote region, instead located close to many towns in North Wales.
The main concern we had was the weather. In the lead up we regularly checked the weather forecast, which seemed to promise no rain, and then were very relieved that the day dawned sunny with a forecast of clear skies for most of the day. If it had been raining or there was a forecast for bad weather, we would have probably skipped the hike to stay safe.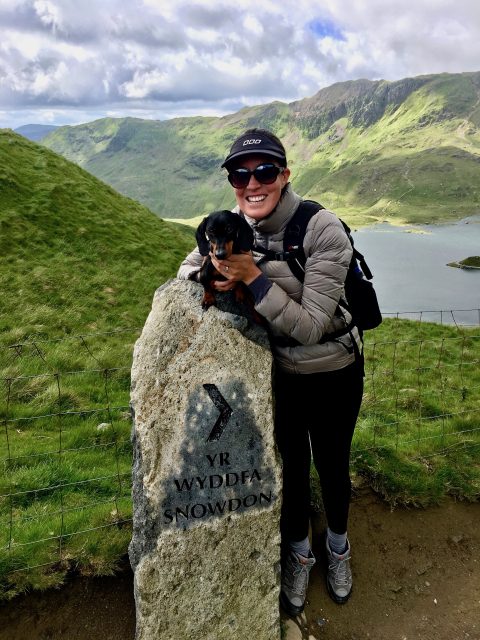 To carry our gear, my husband and I shared a 35L backpack, which had a rain cover (which we hoped not to need given the forecast, but still a must for hiking in the often rainy Great Britain). We packed these specific items for our dog:
Collapsible water bowl (that could be filled from our bottles holding plenty of water)
Plenty of treats (both to reward and provide additional energy)
Dog coat (either for cold or to help protect him in rain)
Towel (a repurposed backpacking small quick-dry towel, in case we needed to dry/clean him on the way or on return to our car)
Poop bags and an extra zip-lock bag (for extra packaging to cut down odour when carrying out dog waste)
Harness and leash (that he would be wearing from the start)
Climbing Snowdon Up the PYG Track
We choose to hike up the PYG Track, one of six main routes up Mt Snowdon, as I'd read while researching that it was one of the easier routes, being both one of the shortest and with the least ascent.
Distance was an important consideration for us, as the return length of the hike on the Pyg Track (11km or 7 miles) was about the maximum distance that Schnitzel had hiked. As Schnitzel's just 5kg in weight, we're happy to carry him for stretches to give him a rest, but not too far!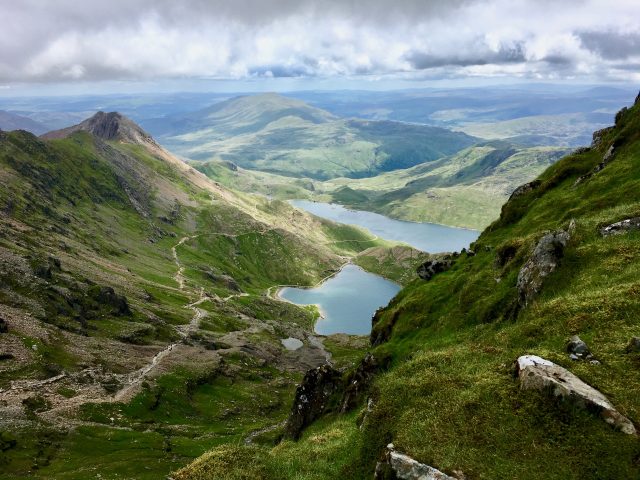 The PYG Track departs from the Pen-y-Pass carpark. After reading that the car park often fills up later in the morning, we made sure to arrive around 9am. Note that in recent years, it's now essential to pre-book parking at this carpark, at least one hour beforehand – but ideally well in advance!
It was also a good idea to arrive early on the day of our hike because the weather that day was forecast to change late afternoon (which it did, with plenty of rain, but after we had finished). Car parking in 2023 costs £20 for 8 hours, £30 for 12 hours or £40 daily, although there's no other fees for entering the park.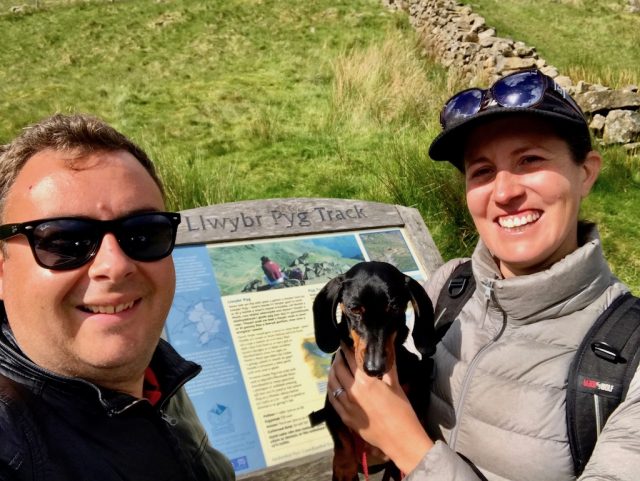 Reading the sign boards at the start of the route, they described the PYG Track as one of the harder routes, not an easier route that we'd earlier read, because of it's ruggedness underfoot. We were already committed though and set off.
Ascending the trail, we agreed with the assessment of the roughness. There were sections that involved a fair amount of clambering, which was tougher for me as I often carried Schnitzel during those sections. At least we didn't turn off to Crib Goch!
The roughest section was the final ascent up until the ridge line where you meet the railway track route (more about that later).
At least in comparison to the Miner's Track, that leaves from the same carpark, the ascent is broken up and not done in one go, making it somewhat easier. And upon reaching the ridge line, we discovered that our track had been protected from a rather fierce wind to our right, that roared up on top.
Plus, along the way we'd been treated to beautiful vistas of the mountain lakes down to our left, and Mt Snowdon rising up in front, occasionally peaking out from behind the clouds.
Do Many Dogs Climb Snowdon?
While ascending the PYG Track, we met quite a lot of other dogs, both ascending and descending. Many of the dogs were with Welsh locals, who regularly climb the mountain. (They were usually the ones already descending, having started early to beat the crowds!)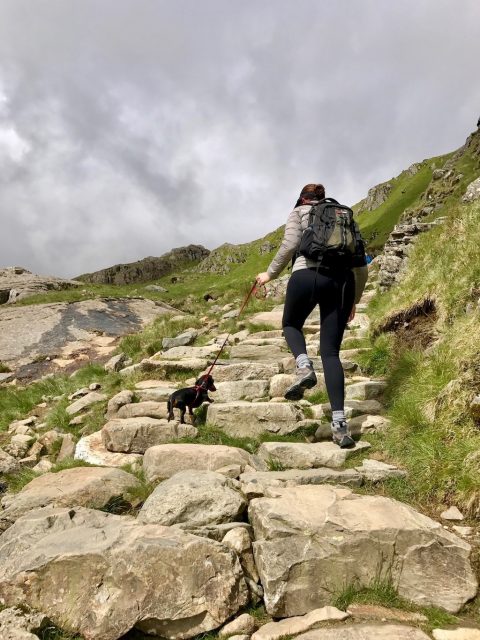 Schnitzel was, however, the smallest dog out of all the dogs we met. The mountain climb would have been far easier for some of the excitable long-limbed dogs also on the track, than for him.
Interestingly, some of the other hikers that we met during our descent and were struggling a little, were inspired to declare that if Schnitzel could get to the top with his short legs, they could manage, too!
Facilities at the Top of Mt Snowdon
Remember that mention of a railway track earlier? Yes, there is a railway line complete with tourist trains that ascends to the top of Mt Snowdon, the Snowdon Mountain Railway! It takes a different, more gradually inclined, route up the mountain. Along this route runs another alternative track up Mt Snowdon – the Llanberis Path (see below).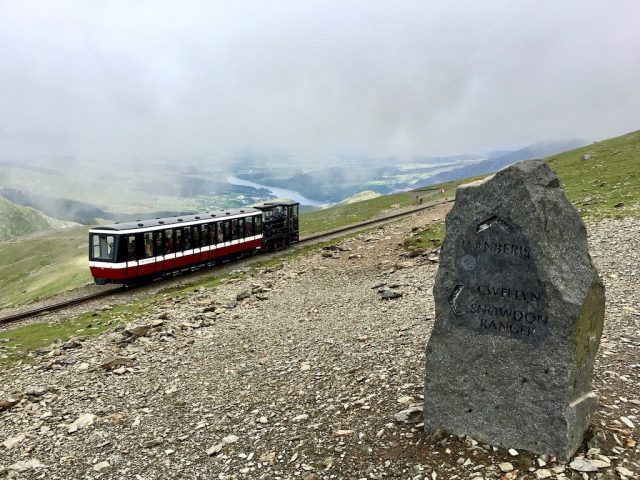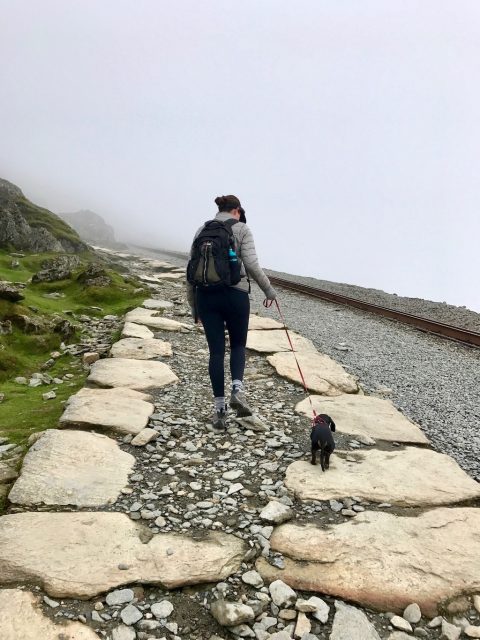 Because of the railway, there's many more people at the summit of Mt Snowdon than just the ones that hike up, even combining all six alternative routes. And naturally there's a cafe and public toilets at the top known as "Hafod Eryri" – not something that you usually find at the top of a hiking trail!
It's not cheap to take the railway (which only permits assistance animals on it), so of course those visitors (unlike typical hikers) want somewhere they can shelter outside of the wind and have something to eat and drink.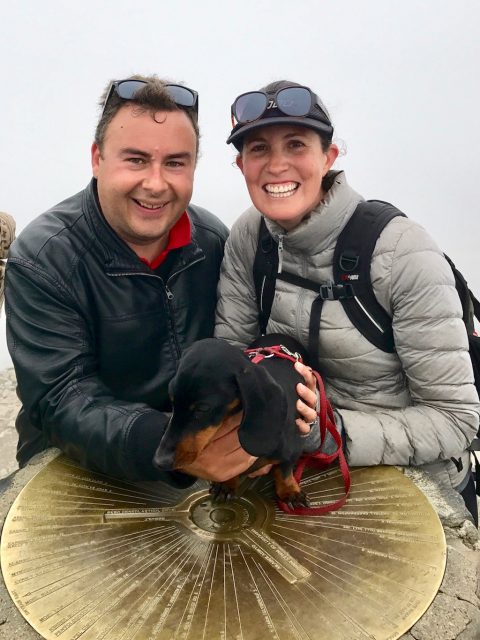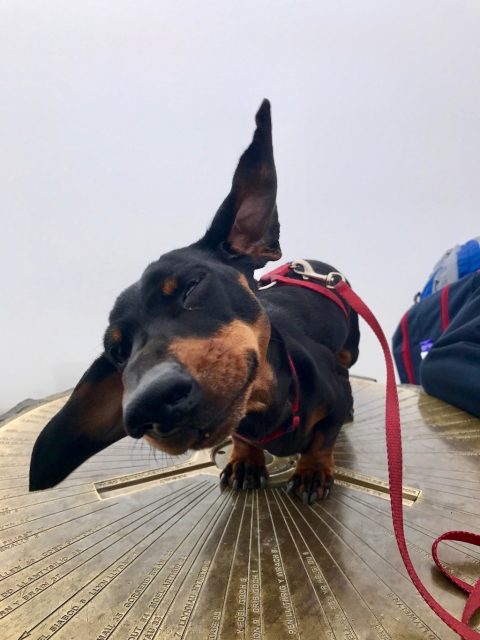 The downside though, is that no dogs are allowed inside the cafe. Alternatively, what us and other dog owners did was stand just inside the entrance to the building, but outside the actual cafe (near the doors to the toilets), for somewhere to shelter and have a bite to eat.
We'd packed some sandwiches, but the hot pasties from the cafe were a far more delicious alternative for lunch, and not too expensive either. But no pasties for Schnitzel; he snacked on some of the treats we'd brought along for him.
Note that Hafod Eryri with its cafe and toilet is only open during the months the train is running, from late Spring to the end of October. Additionally, on bad weather days and days when access to the summit by train is not possible, it is closed.
Descending the Miner's Track
We had originally planned to return down by the same route, the PYG Track. However, we'd also noticed the route of the Miner's Track while we were ascending. The Miner's Track leaves from the same carpark and merges with the PYG Track when the latter starts to steeply ascend.
It looked from above like the Miner's Track was fairly flat and easy under foot, it's downside being that it ascended all the way in one go. But when we were descending, this wasn't such an issue and we turned onto it and kept descending to the lake and flatter section of track below.
For much of the descent, I cradled Schnitzel on one arm – those short legs were no match for the large steps and clambers!
The best thing about descending by the Miners Track ended up being able to see different scenery than on our ascent that morning. There's some ruins from old mining walks, plus pretty views across the lakes that it follows for much of the way.
It didn't end up being as flat as we had expected, with some long stretches of gradual downhill walks at first, but it was a lot easier under foot than the rough PYG Track, especially towards the end where it was most appreciated.
At the end of a long day of hiking it's a relief to just be able to amble along, without working out where to place your feet.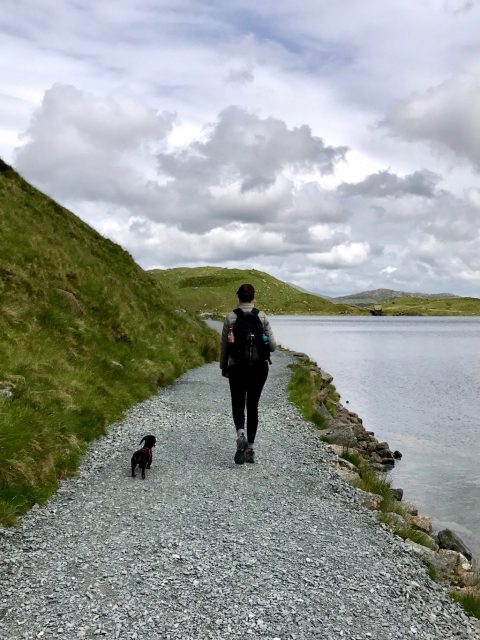 Schnitzel also found it far easier to walk on the Miner's Track after the main descent, and didn't need to be carried. As there wasn't a strict rule that he needed to be on leash (unless sheep were close by), we let him off for parts of the walk, and he trotted happily alongside, especially on the sections of grass.
The Miner's Track is about 1/2 km longer in each direction, and we felt it. But finally, after a few false bends, we finally made it back to the car park. It was a moment of joy for all of us, including Schnitzel, to have finished the hike and be able to chill out on the drive back to our Airbnb.
But it was awesome to know that we had managed to hiked to the summit of Mt Snowdon with our dog!
Alternative Routes to Consider
While we climbed Snowdon up the PYG Track and returning along the Miner's Track, there are four other routes to choose from when climbing Mt Snowdon: Llanberis Path, Rhyd Ddu Path, Watkin Path and Ranger Path. It's difficult to choose what is the best route for walking with a dog.
The most popular route up Mt Snowdon is the Llanberis Path. While the longest route up Snowdon at 14.5km or 9 miles return, it's generally consider the easiest route to its more gradual ascent, as it follows the railway track.
The gradual ascent and less rocky ground would be easier for most dogs. So if you think your dog is up to the distance, I would recommend consider the Llanberis Path. There are multiple carparks in the village of Llanberis to park to start your hike.
Another route that I've heard some recommendations for taking with your dog is the Snowdon Ranger Path. This route is 13km or 8 miles long, the same as the Miner's Track. However, this track is less popular, making for a quieter walk.
Want more information on hiking in Snowdonia? Check out this great guide, including details on hiking up the PYG Track and down the Miner's Track
You May Also Like
About the Author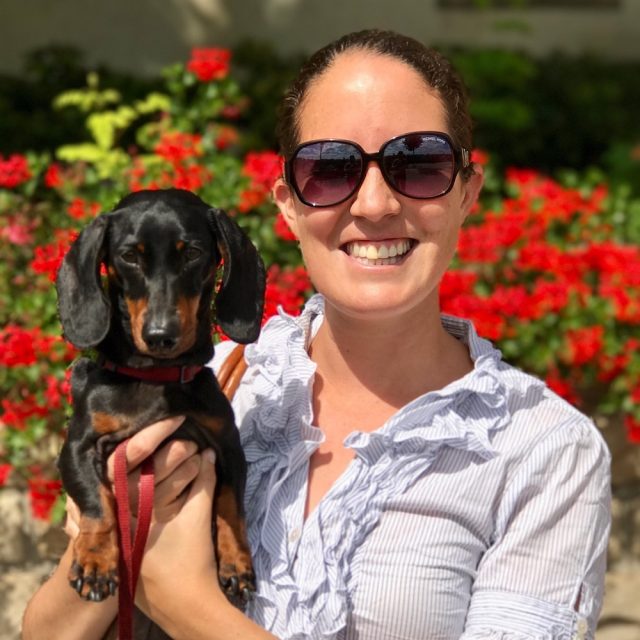 Shandos Cleaver is the founder of Travelnuity: Dog-Friendly Travel. She has travelled extensively with her Miniature Dachshund, Schnitzel, including to 33 countries across Europe, every state and territory of Australia except Tasmania, and 10 of the United States. She's passionate about providing inspiration and information to others wanting to travel with their dogs, whether close to home or internationally.
Inspired? Pin this to your Pinterest board