Created in conjunction with Evisa Express
During her exploration of central Ontario, the writer Anna Brownell Jameson express, "the seemingly interminable line of trees before you; the boundless wilderness around you; the mysterious depths amid the multitudinous foliage, where the foot of man hath never penetrated…the solitude in which we preceded mile after mile, no human being, no human dwelling within sight."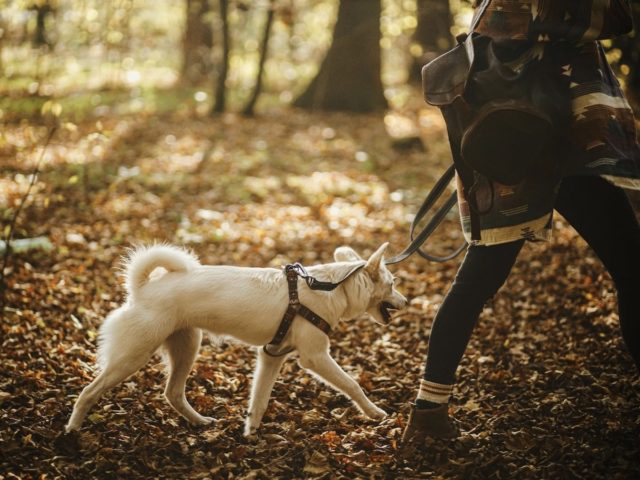 The landscape and solitude paint the perfect picture of beautiful vastness, and nothing is better than enjoying Canadian landscape with a walk with your beloved dog. Walking your dog is not only necessary for your pooch's daily routine, but it also benefits both your dog's and your own health. Not to mention, the mental and emotional state of both of you will improve with regular walks.
If you plan a trip to Canada and are wondering how you can spend valuable time with your dog to satisfy the travel needs of both of you, find out more about some of the top dog-friendly walks in Canada.
Formalities Before a Trip to Canada
It's a fairly straightforward process to take a dog to Canada. Dogs travelling to Canada don't need to be quarantined. The main requirement for dogs is to be vaccinated against rabies, or in the case of some rabies-free countries, a veterinary certificate can be presented instead. The rabies vaccine should be documented on a rabies certificate or in a pet passport.
For more information, see the guide to Importing and Travelling with Pets on the Government of Canada website – fill in the fields to see the guidelines for your dog. Additionally, your airline may require a health certificate.
eTA to Canada
While your dog can travel with just a passport (or rabies certificate), you'll also need a visa to Canada to enter the country. For tourists entering Canada by air, Canada has introduced an electronic system enabling the smooth flow of tourists. You can cross the Canadian border with an eTA, or Electronic Travel Authorisation. An eTA serves can be used for tourism, transit or business travel.
As long as your are an eligible applicant, you can visit an online service like https://passportvisa.org/ and apply for an eTA to Canada. You'll need to do it at least three business days before setting off for your dream Canadian trip with your pup!
Dog-Friendly Walks in Canada
Once you are in Canada with your dog, grab a leash and prepare to make your pup happy by hitting one of these top recommended dog-friendly trails around Canada.
1. Sherwood Park, Toronto, Ontario
Dog owners who don't enjoy long car rides will have no problem visiting this lovely spot in the middle of the city. The vibrantly green park is located on Sherwood Street in the North York district of Toronto and offers off-leash dog parks, as well as free parking. If you wish to let your dog off the leash in an open area, this park is perfect for it. Release your dog and enjoy the moment!
The park offers you a chance to use 5km of paths to exercise your pet without being too strenuous. This is the perfect place for a weekend stroll or playing catch with your dog because it has various trails with beautiful boardwalks and diverse areas to explore. To cool off, there is a wading pool at the site where you can put your feet in, and your dog can splash around to have a bit of fun!
2. Confederation Trail, Charlottetown, Prince Edward Island
A great option for serious hikers and their dogs is the Confederation Trail. The trail is a long route and can be accessed conveniently. With stops at both ends of Prince Edward Island, this trail follows a path that runs among forests, hills, and spectacular ocean vistas.
This trail is excellent for all skill levels, as it is flat and offers many convenient spots along the way to grab food, water and take a rest break. These spots are ideal for your dog to meet others, and you can rest a little, too. There are historical and picturesque views along this parkway so that each stop will bring something new for you and your pet.
3. Hall's Creek Trail, Moncton, New Brunswick
Hall's Creek Trail is located within the city of Moncton, and it's a terrific place to get some exercise with your dog. The looped trail has a gorgeous river along with some elevation changes, so you and your dog will get an excellent workout.
As the track is 5.5km long, you can take your dog along for about two hours of walking, but note that your dog needs to be kept on a leash.
4. Hemlock Ravine Park, Halifax, Nova Scotia
Although it is situated in an urban area and surrounded by streets, you will quickly forget that you are at all in the city when the hemlock trees surround you on. This route in Halifax is surrounded by hemlock trees that are over three centuries old and stand higher than eighty feet, making it a stunning route to explore.
The trails are stunning, and it's a reasonable length of 4km. When you find out you can let your dog run off the leash in the off-leash area, you will both have the best time together.
5. King Mountain, Gatineau Park, Ottawa, Ontario
Known as King Mountain for its spectacular views of the Ottawa Valley, once you've climbed to the top, you will get a full look at the entire valley. Having your dog next to you as you look out over the city will be an unforgettable experience. In the northwest part of Ottawa, this circle route can be found west of Gatineau.
6. Glenmore Reservoir Trail, Calgary, Alberta
There is nothing better than Glenmore Reservoir Trail since it is a fairly easy loop that is great for all breeds and ages. The valley boasts spectacular views and plenty of sunshine and is only a short drive south of Calgary.
Even though this is an ideal spot for walking your dog, make sure they're on a leash at intersections since there's a paved bike trail nearby.
In Conclusion…
Walking your dog regularly can be beneficial for both of you, even more so when it is done on an adventurous trail with breathtaking views of Canada! Explore some of these top Canadian walking routes with your best travel companion following you at every step, making for an incredible bonding experience.
You May Also Like