This is a guest post from Karen Weiler of Posh Pets® Photography
Toronto loves its dogs. By last count, there are approximately 230,000 licensed dogs in the city. On any given day, you can walk down the street and meet tens of happy canines and their dog-loving humans, all out seeking the next great urban adventure. Which could be as simple as grabbing a coffee from the local spot.
So, what is a well-travelled pup and his human to do in a great city like Toronto? Well, grab your leash and collar, your treats and your poop bags and check these things off your list.
1. Take a Hike…in High Park
Not to be confused with Hyde Park (which is in London, UK), High Park is a beautiful oasis in the middle of Toronto and a dog-friendly spot. Boasting dozens of gorgeous cherry blossoms that appear each spring, it features a beautiful waterfront, hiking trails, a zoo and a fenced off-leash dog park for your favourite canine to romp in.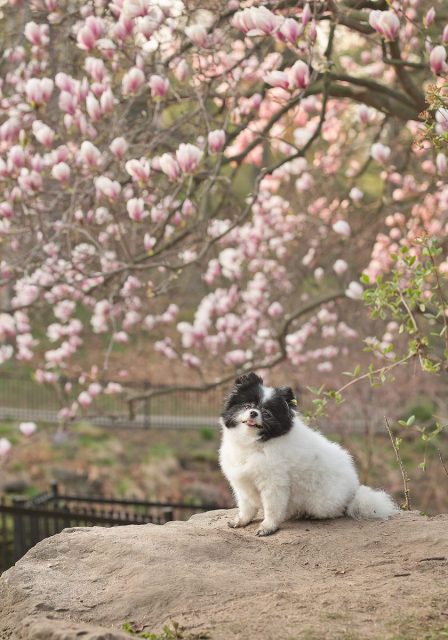 Toronto has a number of other green spaces where you can go to enjoy the scenery with your pup. Just remember, Toronto's bylaws require that your dog is required to be on-leash at all times, unless you are in a designated leash-free area. Those are clearly marked.
2. Go Island Hopping
This island – yes, Toronto has it's own islands! – is actually designated as Toronto Island Park and is a part of the park system of the city. It is accessible by ferry – one that you can travel with your dog. Once ashore, your pup is welcome to accompany you as you explore the trails of the island.
There are restaurants, cafes, a farm, beaches, a boardwalk, a small amusement park and a glorious view of one of the most recognizable skylines in the world. The islands are also home to some of Toronto's residents, so be sure to be respectful when you come across private property.
3. Enjoy a Beer with your Dog
Generally speaking, dogs are not allowed in restaurants due to Toronto's health regulations. However, tap houses are able to welcome them because they do not sell food. (Many of them work with food trucks on a pop-up basis to ensure that patrons have something yummy to eat while visiting.)
One of these is the aptly named Black Lab Brewing. Come and enjoy the in-house brewed craft beer, with dog-inspired names such as: Kennel Sour, Sticky Paws Oatmeal Stout, and Needs More Dog Munich Dunkel. On a good day, you will also have a chance to meet Snoopy (IG: @blacklab_snoopy), who is the black lab behind the name.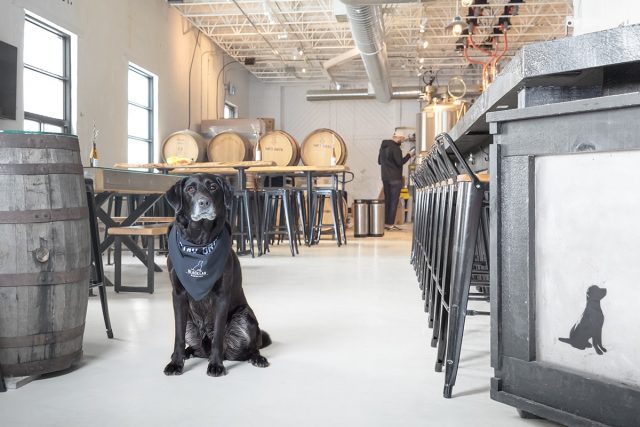 4. Get your Caffeine Fix
With a name like Dogs and Coffee (IG: @dogsandcoffeeto) it is not too hard to guess what these guys are about – a great spot to have a coffee, and a snack with your pup. They feature locally made dog accessories, treats and are licensed, so you can enjoy a glass of wine or beer with your dog.
Located in the eclectic neighbourhood of Queen Street West, the very popular Trinity Bellwoods Park is steps away where you can meet all of your best fur-buddies for a walk.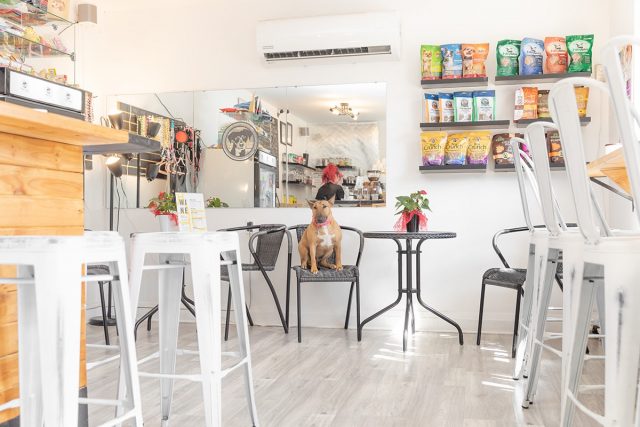 5. Get a Good Night's Sleep
If luxury and dogs is your thing, look no further than Hotel X Toronto. They welcome dogs on designated floors and your pup will receive a water bowl, a bed and treats during their stay. They are close to the waterfront and Trillium Park and even have an on-site art gallery where you can sit and contemplate the meaning of an image with your dog by your side.
Insider note: Posh Pets® Photography is Hotel X's designated pet photographer for dogs who visit Toronto.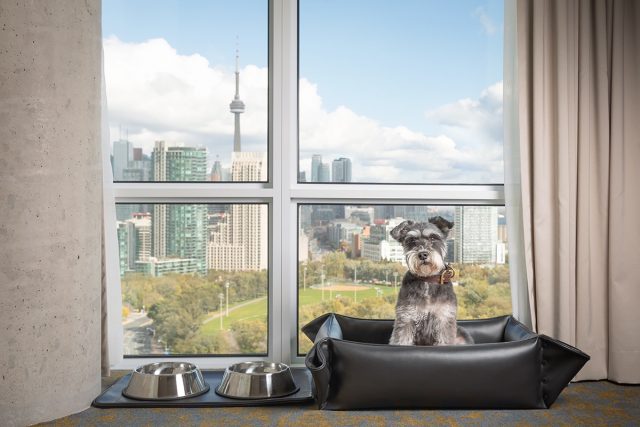 For other hotel's that cater to the visiting pup, you can check out our Toronto dog-friendly hotel guide.
6. Attend a Festival
It seems like every weekend there is a dog or cat-centric event in the city. Woofstock bills itself as the largest dog festival in North America and draws thousands of dogs during its annual May weekend. Paws in the Park is also held in August of each year and raises money for the Toronto Humane Society.
There is quite literally a dog festival or event of every size and theme, so choose one that will make your pup feel most comfortable. Double check whether the festivals are currently being held, with some postponed in recent years.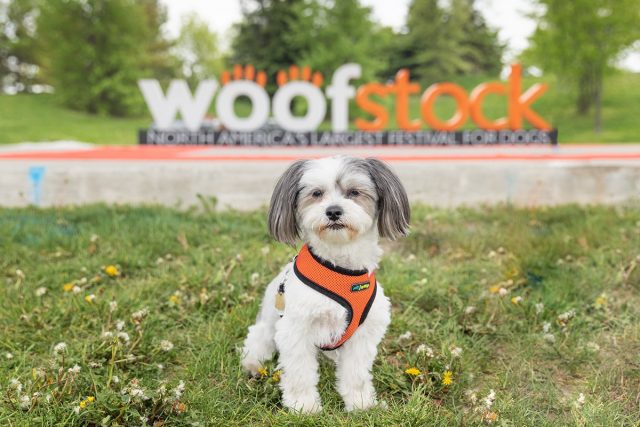 7. Go for a Run
If you are a runner, you have probably participated in mud/obstacle runs. Well, there is now one you can do with your dog.
RuffMudder takes place on a beautiful property outside of Toronto. If you have ever dreamed of a place to build confidence and solidify the bond you have with your dog, while conquering dog-friendly obstacles, you should consider joining the hundreds that come from all around the world to run this course.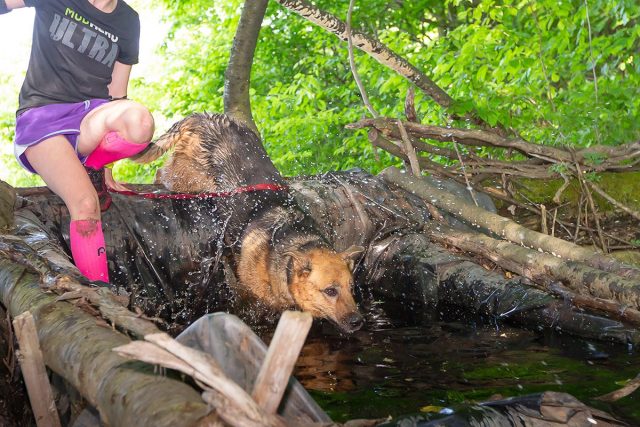 A small vendor's market, a leash 'finishers medal', and a host of volunteers to ensure everyone is safe, make this annual event a great adventure.
8. Take in the Skyline
Of course, no visit to Toronto would be complete without taking a moment to watch the sun rise over the city and photograph your dog along with the CN Tower.
There are various vantage points from which to do this, but generally speaking, go down to Lake Ontario and west of the city; Sunnyside Park is a favourite. But, if you have a clear sight line and you get up early enough, it will happen.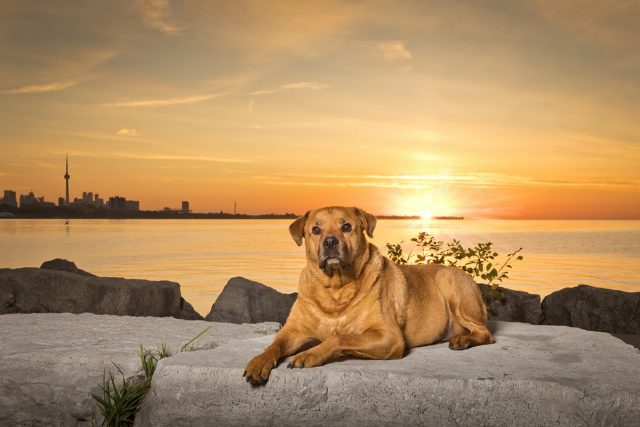 Author Bio
Karen Weiler is the photographer behind Posh Pets® Photography and flydographer™. She specializes in custom portrait sessions for posh pets, as well as documentary travel sessions for those who #travelwithdog. She loves to travel the world (52 countries and counting!), but calls Toronto home. Her husband and two adorable felines are part of her daily adventures.
Follow Karen on IG at @dogphotographer and @flydographer.
You May Also Like
Inspired? Pin this to Pinterest!