This is a guest post from Roger Dutta
The US state of Oregon is a fantastic place to travel with your pet, thanks to the state being home to numerous pet-friendly travel destinations and parks.
Oregon is also home to many pet-friendly RV parks. If you're RVing with your pet, many parks now provide pet-friendly spaces all year round – so there's no excuse for leaving your pup behind as you embark on your road trip.
The next time you get on the road, bring along your four-legged buddy and take on these seven cool dog-friendly experiences in Oregon.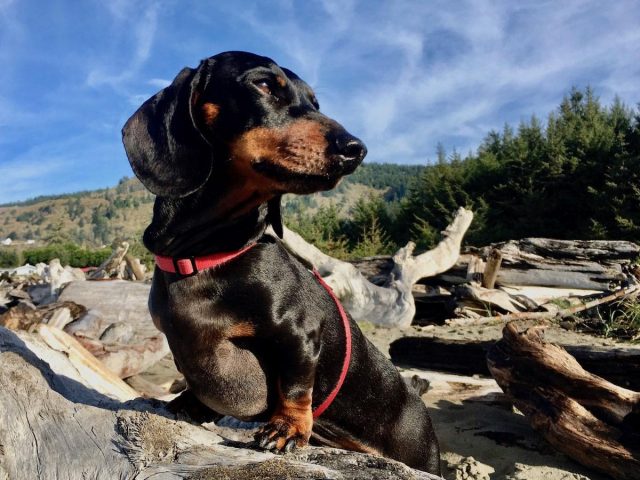 1. Head to the Sandy River Delta
Troutdale is the home of Sandy River Delta, a beloved multi-sport space with a system of trails, which receives cyclists, hikers, four-legged friends, and horseback riders.
To locals, Sandy River Delta is simply referred to as Thousand Acres – a suitable name for the 1400 acre-complex of open meadows, wooded trails, and off-leash access, which lies along the Columbia and Sandy River. It's a fantastic spot for fetching, enthusiastic tail wagging, and swimming.
Make sure you follow the dog regulations for the area, by keeping dogs under control, not letting them dig holes, and keeping them leashed in the few locations requested, including along the Confluence Trail.
2. Hit the Oregon Coast
Technically, it's not a dog park, but if you want you and your dog to enjoy thrilling off-leash freedom, Oregon Coast is the place to be. While private interests own most of the US shoreline, the 363-mile stretch of Oregon's coastline (which consists of coastal forests, rock headlands, and pristine beaches) is free for all.
The beaches of Oregon's are a dog's paradise. However, note that you may need to leash your dog under certain circumstances and in certain locations. Plus prohibitions against dogs may apply at some beaches during particular seasons for the safety of local wildlife.
3. Hike the Grizzly Peak Trail
Head to the mountains instead with your pup, by hiking the beloved Grizzly Peak Trail in Cascade-Siskiyou National Monument. The 5.4-mile long loop trail hits a maximum elevation of 5,922-feet at Grizzly Peak.
At the zenith, you'll be mesmerized by the panoramic views of Ashland and the Cascade Range. Make sure you continue on the loop past Grizzly Peak for the best views.
In early summer, the columbine, paintbrush, and lupine that pop in the wildflower meadows provide a beautiful backdrop. Note that dogs need to be kept restrained at all times, on a leash no longer than 6-feet.
4. Ascend Through the Mt Hood National Forest
Alternatively, ascend to stunning views in the Mt Hood National Forest along the Chinidere Mountain Trail. The 4.5-mile-long trail will take you through beautiful wildflower meadows, and offers up splendid Mt. Hood views and lake vistas.
If you get there on a clear day, you'll get to see the five glaciated volcanoes. To make it better, at the end of your hike you can dive into the Wahtum, an emerald-green lake, to unwind. Make sure you keep your dog on a leash on this dog-friendly hike in Oregon.
5. Hike from the Charming Wallowa Lake Trailhead
Hike into the largest wilderness in Eastern Oregon using the picturesque Wallowa Lake Trailhead. This trailhead is located close to Joseph, a small but artistically potent town.
The surrounding region is often referred to as the 'Alps of Oregon'. It's distinguished by its pristine glacial lakes, soaring snow-capped peaks and alpine tranquility, which makes it an incredible place to hike for both you and your pup.
6. Bicycle a Stunning Scenic Bikeway
Oregon is home to one of the finest bikeway systems in the country, and the first scenic bikeway to boot. The Willamette Valley Scenic Bikeway is 134-mile jaunt through charming scenery and fertile farmlands. Choose to ride the entire length or just one leg, with your pup joining you on the excursion, using one of the many bike trailers for dogs.
As you ride along Willamette River you'll pass loads of dog-friendly farms and vineyards, even hops fields. And, you'll get to sample delicious farm-to-table meals, craft beers, and wines, right from the source.
7. Join the Peterson Ridge Rumble
The Peterson Ridge Rumble is an ultra-distant but low-key race in Oregon that you can participate in along with your dog. The event takes place each April in Sisters, a small town in Central Oregon. Runners get to ascend the moderate trails and soak up the stunning views of the Three Sisters Mountains.
Dogs are permitted to join you in the shorter 20-mile race. Multiple aid stations supply water and snacks for both dogs and humans. The top dog even receive a bag of doggy goodness!
In Conclusion..
When traveling with your pet, there are a few essential things you need to do to ensure a delightful trip for all. For instance, adhere to leash regulations to keep wildlife, delicate flowers and plants and your dog safe while in public places.
You should also leave no trace and be aware that some of your fellow travelers may not be as enthusiastic about your dog as you are, so be considerate. But above all, have a blast!
You May Also Like
Inspired? Pin this to your Pinterest board!