Visiting a dog-friendly winery isn't always as simple as rocking up at the cellar door with your pup by your side. There's a number of things to consider first. Additionally, in Australia, there's been a shift in the experience of visiting wineries in recent years. Read on to find out about how to best enjoy visiting dog-friendly wineries in Australia with your dog.
#1 Double Check the Winery is Dog-Friendly
Before heading to a winery, first find out whether it is dog-friendly. The rules regarding visiting wineries with a dog vary greatly.
While many wineries allow dogs to join you at their cellar door, there are some wineries that don't allow dogs at all, for various reasons.
And when it comes to wineries that allow dogs, the policies vary greatly. Most wineries only allow dogs outside, including outdoor tasting areas, but some wineries also allow dogs inside. Check the winery's website or enquire directly.
#2 Check if a Reservation is Required
When I first started visiting wineries in Australia, it was common to just turn up at the cellar door during opening hours and taste their range. However, this is increasingly not the case.
A growing number of wineries in Australia prefer that you make a reservation first. This is often the case if you want to visit mid-week when the cellar door is quieter, but as likely to be required during busy weekend periods.
When making a reservation, mention that you are bringing a dog along. Some wineries have an option to tick this on the booking form, otherwise include under special requests.
#3 Find Out the Tasting Fee
Another change when visiting Australian wineries in recent year is the introduction of a tasting fee. While in the past tasting was generally free, but most visitors bought bottles of wine, this is no longer the case.
The majority of wineries change a tasting fee of between $10-15, although sometimes this can be higher. Some wineries offer multiple tasting options, including premium packages.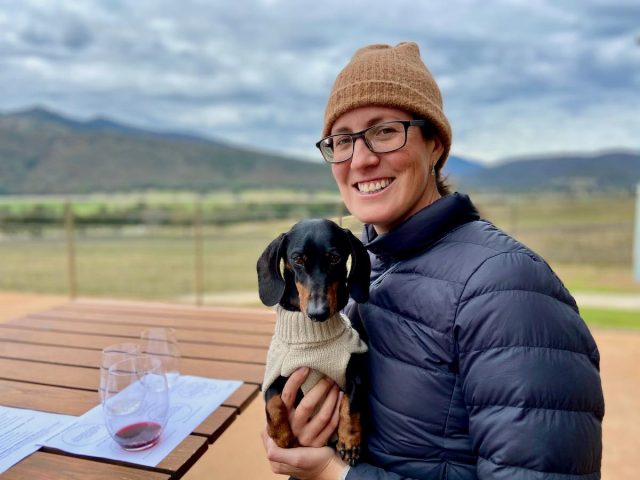 Some wineries will credit this tasting fee towards purchases at the cellar door, but not all wineries – after all, it's quite reasonable for a charge to cover the wine poured and the time spent taking you through their range.
#4 Look After Your Dog
When visiting pet-friendly wineries with your dog, make sure that you look after your dog. Don't get too distracted by the wine tasting, even if it's not your first for the day!
Keep your dog on a leash and by your side, and make sure your dog doesn't disturb other visitors or be a nuisance. Bad behaviour is likely to result in dogs no longer being welcome.
#5 Wineries Have Dogs, Too
Many wineries have their own dogs, generally known as wine dogs or winery dogs – definitely a fabulous lifestyle if you're a dog! They may be mentioned on the winery website, or be regulars on their social media account.
Be considerate towards winery dogs if visiting with your own dog. If your own dog is not sociable or reactive towards other dogs, reconsider bringing along your dog, especially as many winery dogs are off-leash. Plus make sure your own dog is vaccinated and follows the rules.
#6 Buy Some Wine
The best part about visiting wineries, with or without your dog, is the chance to buy some fabulous wine, that you've already had the chance to taste, often that's not available elsewhere.
Even if you aren't a regular wine drinker, it's always courteous to buy a bottle or two. Although the present situation with tasting fees may alleviate the guilt if you decide not to.
#7 Consider a Dog-Friendly Winery Tour
To remove the complications from visiting wineries with your dog, consider taking a dog-friendly winery tour. They'll know in advance what wineries are dog-friendly and their rules. Sometimes they'll even help with looking after your dog when you become distracted.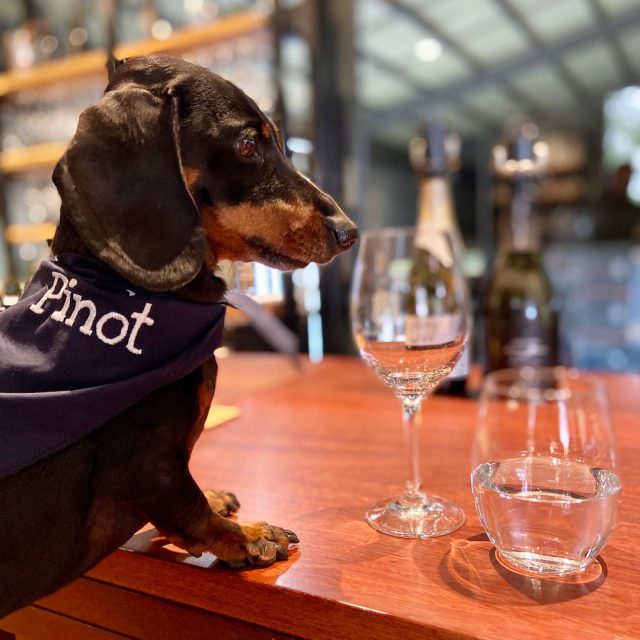 When visiting the Yarra Valley, I take a luxury Pooches and Pinot private winery tour with my dog and had a fabulous day out. I've also included tips for dog-friendly winery tours for the Hunter Valley, Mudgee, Orange and Margaret River.
You May Also Like