Who would have thought that one small chain of islands would have so many delicious, cheap meals and treats to try, many not common anywhere else, mostly scattered along the side of the road in small shacks and food trucks?
On my recent visit to Hawaii, I made sure that I didn't fill up too much on breakfast, so that I could stop and try everything that I wanted! No matter if I was on Oahu, Maui, Kauai or the Big Island.
At least the fresh air and outdoor activities help to work up a hearty appetite (and burn off the calories in some of the more unhealthy choices!)
Here're my recommendations for the top cheap eats in Hawaii that you can't miss.
Note: Not all of these options are dog-friendly. Instead, consider getting take-away and enjoying a picnic with your dog!
1. Fish Tacos…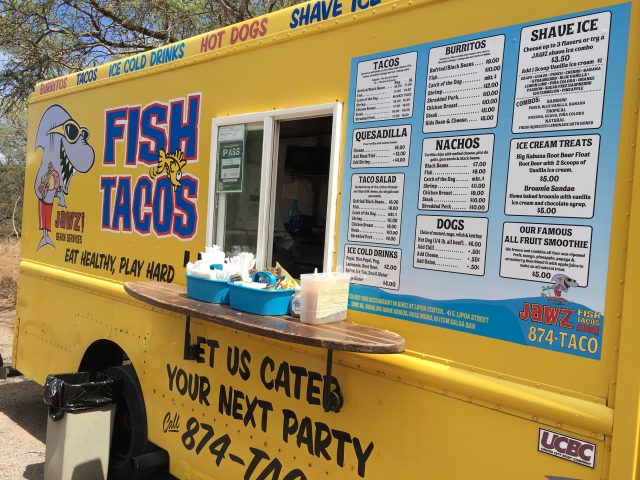 Fish tacos are everywhere throughout Hawaii! Whether at a cheap Mexican restaurant, the local pub or one of the many food trucks, you won't have to look far. The type of fish varies, plus the style of cooking, ranging from grilled to crispy and fried, plus extra hot options.
My Pick: Look out for the Jawz Fish Taco vans at the beaches south of Kihei, on Maui. (We found them just near Makena Beach.) The tacos are huge, but with lots of salad and are grilled rather than fried.
2. …or Fish Burritos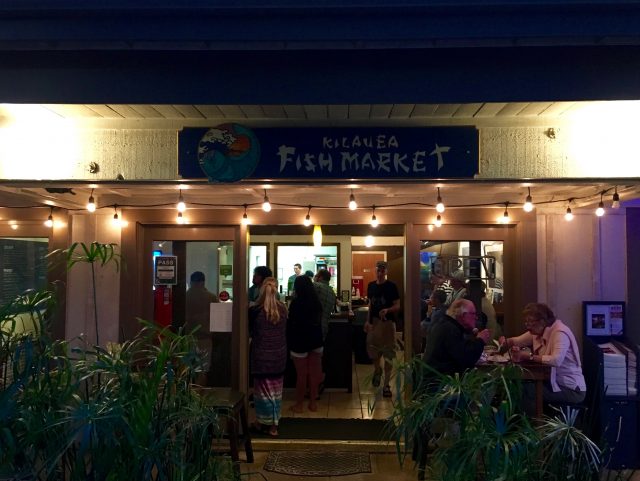 When you've had too many fish tacos, it's time to switch to fish burritos. On the plus side, they're a lot easier to eat without dropping the contents everywhere!
Just like with the fish tacos, the burritos are huge on Hawaii – one will definitely fill you up!
My Pick: Head to Kilauea Fish Market, located in both Kapaa (pictured above) and Kilauea, Kauai. There's tables to eat in.
Otherwise, head back to your accommodation with your meal and some beers from the supermarket. One of the best cheap eats on Kauai!
Update: The Kilauea Fish Market in Kapaa is now called Sleeping Giant Grill, but the menu looks the same.
3. Garlic Shrimp…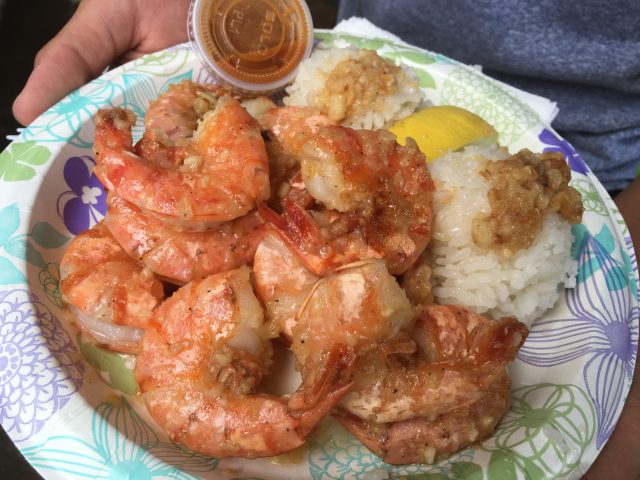 If I had to choose one favourite meal out of everything I had on Hawaii, I'd have to choose the garlic shrimp that I had for lunch on my final day. They were just so delicious!
They were pretty messy to eat, as you needed to shell the shrimp, but licking the saucy goodness off your fingers and sopping up the extra sauce with the rice is half of the fun!
My Pick: Giovanni's shrimp trucks, located in both Kahuku (pictured below) and Haleiwa, on the North Shore of Oahu, are highly rated and very popular. Don't let the queue deter you – it moves quite fast! It's worth the trip from Waikiki.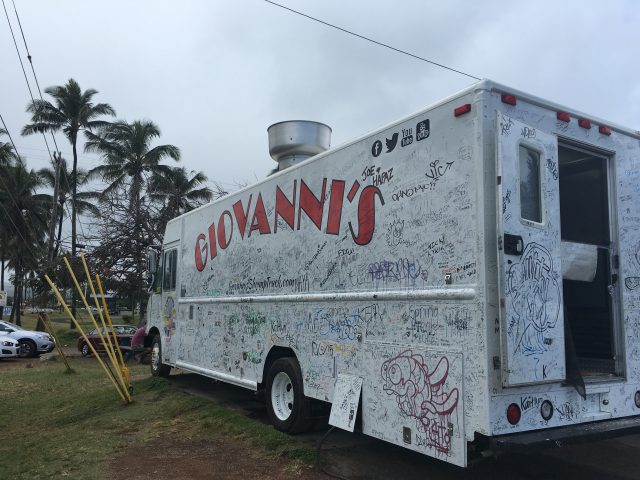 4. …or Coconut Shrimp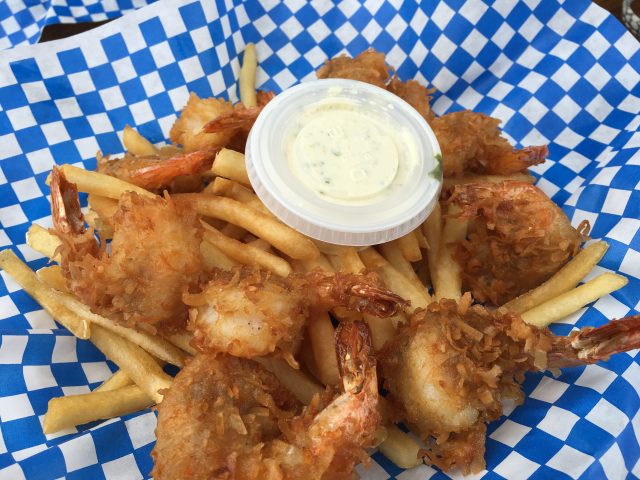 Coconut shrimp is also very popular in Hawaii, and was a very close second for favourite shrimp in Hawaii for me, after the garlic shrimp. (I think it was just the finger licking that pushed the garlic shrimp over the line for me, so go for this option if you prefer less mess.)
You're likely to find it in many restaurants, but I reckon it tastes far better in the open air, from a roadside shack or van.
My Pick: Head to the Shrimp Station in Waimea on the south shore of Kauai. It's the perfect lunch stop before or after heading to Waimea Canyon.
5. Poke Bowls
Now for something a little healthier… Poke is most commonly diced, yellowfin tuna (known as "ahi", but sometimes other types of fish or octopus are also used), served raw with different marinades.
It's similar to sashimi, the raw fish served in Japanese restaurants, and shows the Japanese influence on Hawaiian food.
The poke is generally served with rice and one or more side salads in a bowl, or on a plate (as pictured above, enough for two people). It tastes so good!
My Pick: Da Poke Shack is located on the southern side of Kailua-Kona (south of the main town centre) on the Big Island, and is one of the highest rated restaurants in Hawaii on Yelp. There's two picnic tables out the front, or head to the nearby beach
6. Barbecued Chicken & More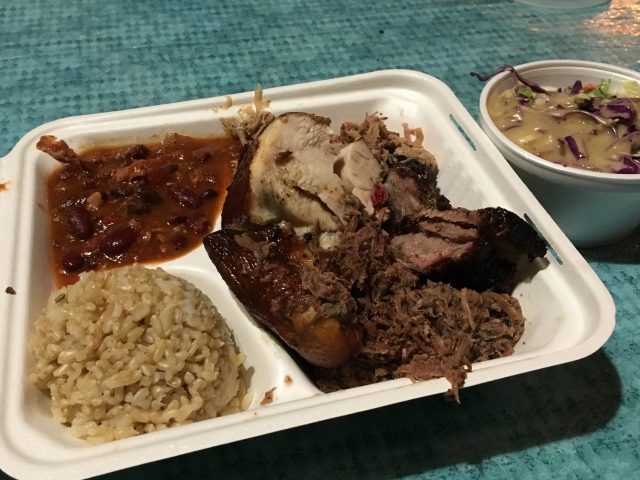 While driving around Kauai, it's hard to not notice the chickens everywhere on the sides of the road. I didn't hear of any enterprising locals who were harvesting the chickens and serving them up for lunch and dinner, but I did come across a great small shack that does delicious chicken and more…
Perfect for when you want a change from fish and seafood dishes!
My Pick: Chicken in a Barrel is located in both Kapaa (pictured below) and Hanelei on Kauai, and despite it's name serves up more than just barbecued chicken (which barbecued right in a barrel next to the picnic tables).
My husband and I weren't that hungry, so ordered the sampler plate to share, with barbecued chicken, ribs, pulled pork and beef. Everything was really tasty, but the stand outs were definitely the chicken and ribs.
7. Udon Noodles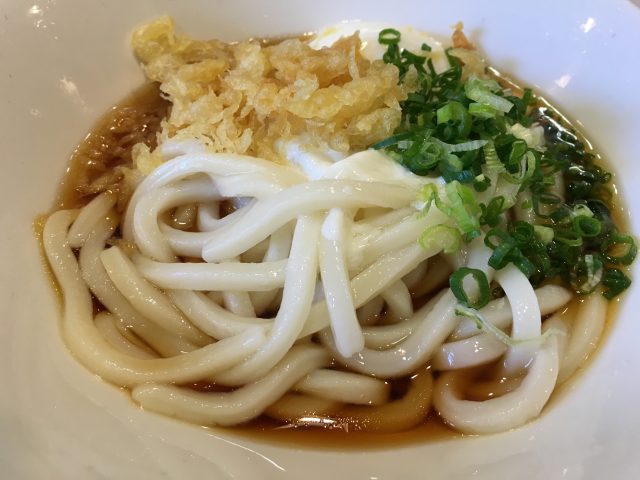 Hands down, the cheapest "proper" meal that I ate in all of Hawaii were the Udon noodles that I had in Waikiki.
Just like udon noodle restaurants in Japan, you choose your flavour of noodle, including whether to have regular or large, hot or cold, then add some tempura and sides, then pay and finally take a seat (with the etiquette not to reserve tables).
My Pick: Marukame Udon is located on Kuhio Avenue in Waikiki, just one and a half blocks back from Waikiki Beach and Duke's.
It's open all day, from 7am to 10pm, and nearly always has a queue out the front (expect to wait at least 20 minutes). By far the cheapest eat in Waikiki!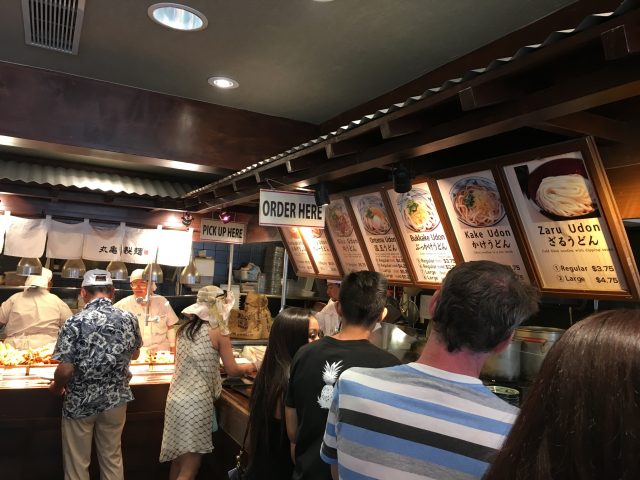 8. Banana Bread
With all of the bananas growing over Hawaii, it's no surprise that there's plenty of stores selling banana bread over the islands. Grab some for breakfast or a snack, or share one of the small loaves between two for a simple lunch, along with some fresh fruit.
My Pick: I'm not sure whether it's really the "original" home of banana bread in Hawaii (although it was established in 1983), but the bread available at the Halfway to Hana shop is certainly delicious and a must-stop on the famous road trip.
9. Malasadas
Malasadas are a Portuguese-style of doughnut, made without a hole in the centre. They were brought to Hawaii by Portuguese sugarcane plantation workers in the 19th century, and are still popular in the islands.
My Pick: Just south of Waikiki, Leonard's Bakery on Kapahulu Avenue was established in 1952 and is the place to head to for your malasada fix, all day long.
As well as different sugar coating options, there's also filled puffs available, such as custard, chocolate and coconut. If they have the macadamia cream one – grab that!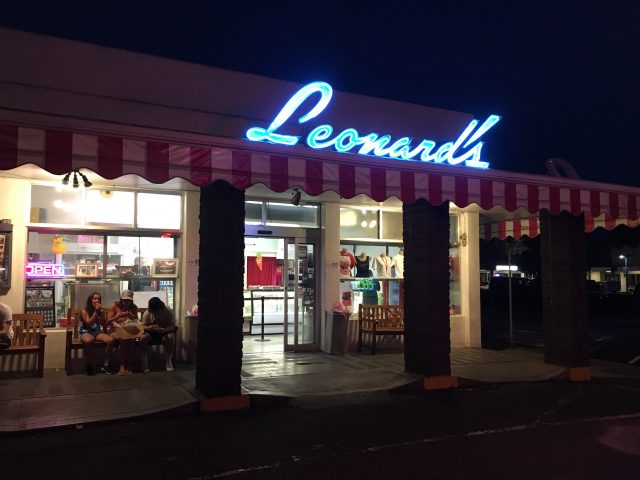 10. Shaved Ice
The official dessert of Hawaii is probably shaved ice. It's so simple: big bowls of shaved ice with different flavour sauces drizzled over, sometimes with a scoop of macadamia ice cream or nuts sprinkled on the top. But it's just perfect, especially on a hot, sunny afternoon.
My Pick: Ululani's Hawaiian Shave Ice has branches all over Maui, included at Lahaina. Be prepared for a wait, and be warned that the largest size is simply huge! My husband and I shared the medium sized option, and I preferred the tropical fruit flavours.
11. Pineapple Soft Serve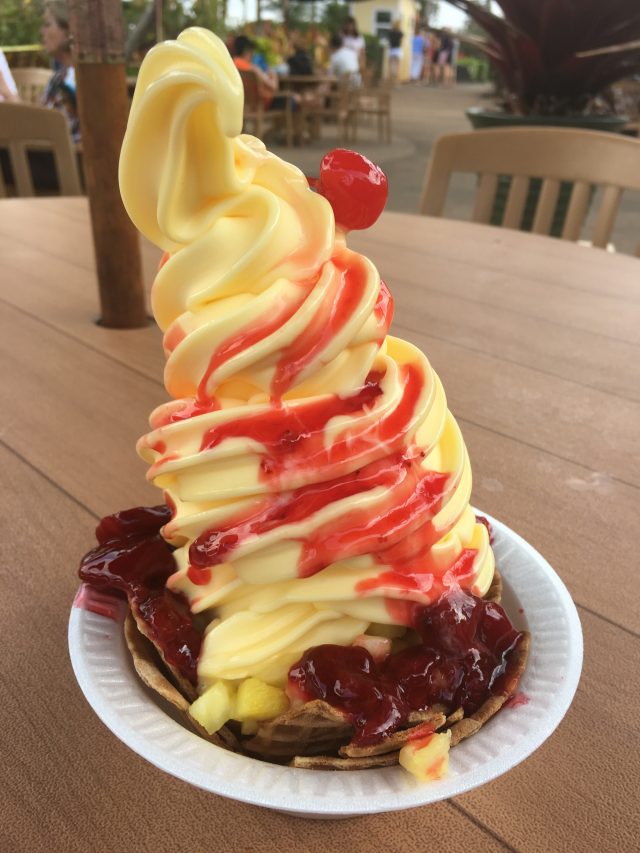 Okay, I only saw this at one place in Hawaii, at Dole Pineapple Plantation on Oahu. I swear the entire Dole Plantation Grille restaurant was set up around pineapple soft serve, or at least that's what everyone was ordering late in the afternoon.
My Pick: Dole Plantation is located at the centre of Oahu, on the way to or from the North Shore. There's also a train tour and maze, but my husband and I arrived too late for anything but the pineapple soft serve.
We shared the above waffle concoction, including some fresh pineapple, which was so huge that multiple people stopped us to take a photo.
12. Fresh Fruit
Okay, time for something healthy! If you don't end up eating plenty of fresh fruit in Hawaii, you must be wandering around with your eyes shut. There's plenty on offer as part of most buffets any time of day, or stop at one of the roadside fruit stalls.
My Pick: I found roadside stalls were most frequent on Maui and Kauai, especially along the Road to Hana. Alternatively, head to one of the many farmers markets dotted all over the island.
In Hilo on the Big Island, the Hilo Farmers Market is held on the main street every day, but with a bigger version on Wednesdays and Saturdays. As well as plenty of fresh fruits and vegetables, towards lunch time some of the stalls switch over to offering lunch meals.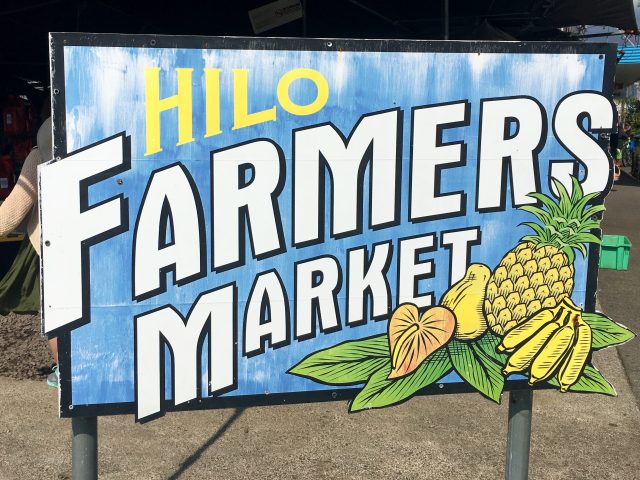 BONUS: Craft Beers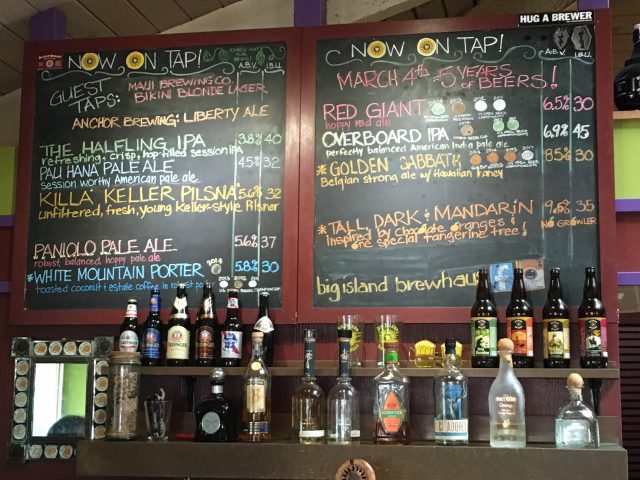 On each of the different Hawaiian islands, there are different craft breweries located, including the Waikiki Brewing Company on Oahu, Mauai Brewing Co on Maui, Kauai Island Brewery on the south coast of Kauai, and both Kona Brewing Company and Big Island Brewhaus on the Big Island.
Many of the locally produced beers can be found in the local supermarkets, but there's nothing better than heading to the actual brewery to sample one or the whole range in a flight.
My Pick: My favourite brewery was the Big Island Brewhaus (pictured above), located in Waimea at the northern end of the island. It's also a good Mexican restaurant, making it a great lunch stop.
You May Also Like
Inspired? Pin this to your Pinterest board!