The Sunshine Coast is home to many stunning beaches, from Noosa in the north to Caloundra in the south. Fortunately, there are plenty of dog-friendly beaches that you can enjoy with your dog. Choose between these Sunshine Coast dog beaches for a fun day enjoying the sand and water in the sunshine!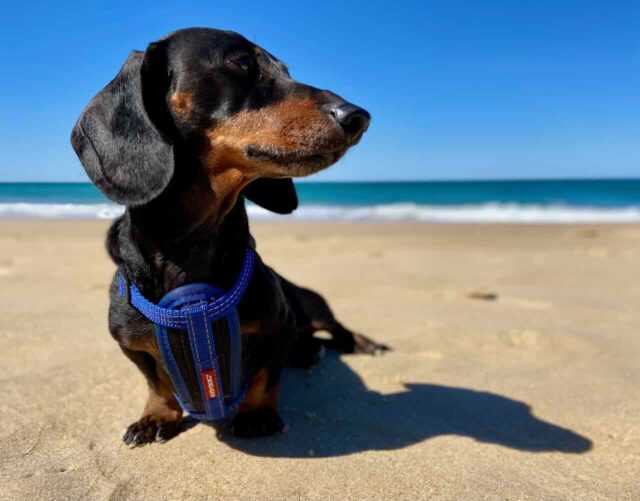 Noosa Spit Dog Beach, Noosa Heads
If you're visiting Noosa, one of the most popular dog beaches in the area is the Noosa Spit at Noosa Heads. Lying just behind Noosa Main Beach, where not surprisingly dogs are prohibited, dogs are allowed off-leash on a whole section of the spit extending into the Noosa River and the beaches on either side.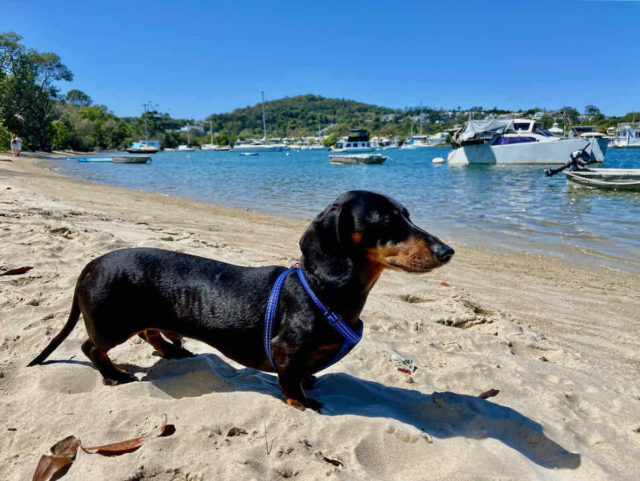 Probably the most popular option is on the northern side (search for "Doggy Beach" on Google Maps), although I found the section of sand larger on the southern side when I visited.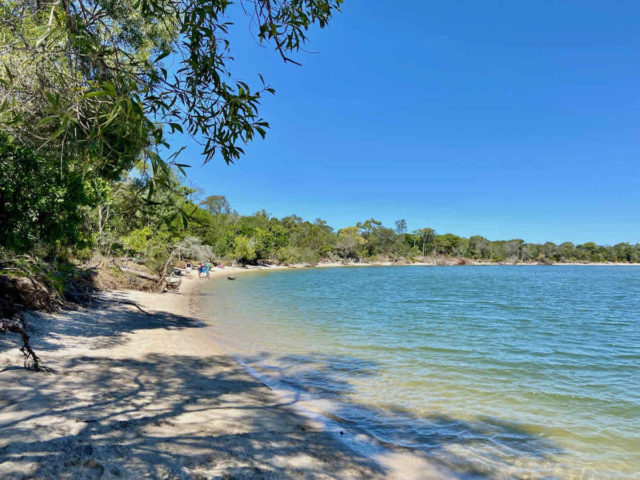 Double check the map on the council website to find out which area is off-leash, or look out for the cute Dog Exercise signs when visiting, although it would be good if there were a few more erected.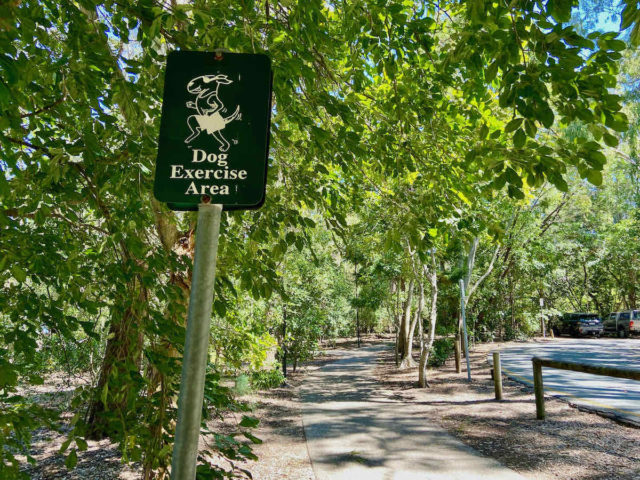 Sunshine Beach Dog Beach
Another fabulous off-leash dog beach near Noosa is at Sunshine Beach North. The off-leash exercise area starts at Seaview Terrace North, near the small carpark, and extends north to the Noosa National Park boundary, after which dogs are prohibited. Search for "Sunshine Beach Dog off leash area" on Google Maps.
This dog beach is a particularly good beach when the wind is from the west, as it stays sheltered, although the water is too rough for most dogs to swim. On the day we visited multiple locals were hanging out on the sand with their dogs.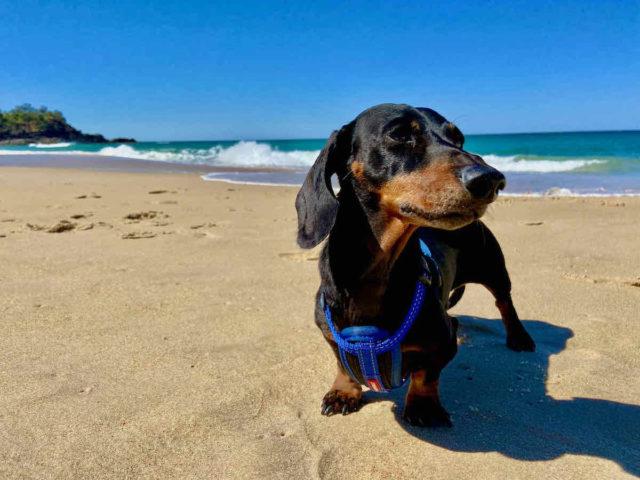 Castaways Beach & Marcus Beach Dog Beach
Further south along the Sunshine Coast, there's a long stretch of off-leash beach running alongside the suburbs of Castaways Beach and Marcus Beach. It extends from beach access 38 (near Orient Park South) through to beach access 47 (at Tasman Trespasser Park), nearly 4km in length.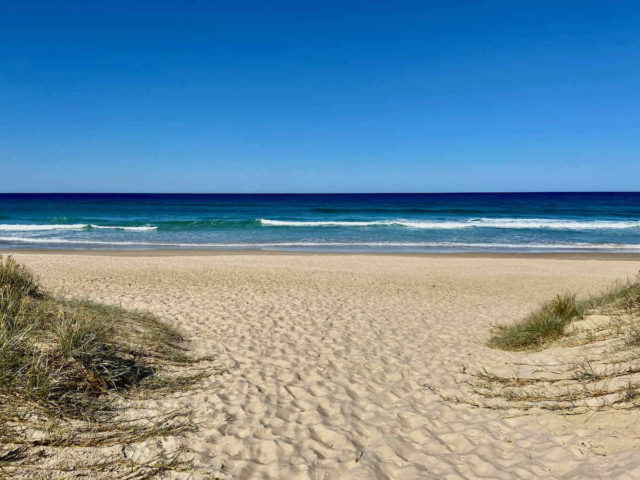 This Sunshine Coast dog beach is a great spot for long off-leash walks with your dog. Just be wary of the often rough surf if you have a small dog.
Stumers Creek Dog Beach, Coolum
One of the most popular off-leash dogs beaches along the whole of the Sunshine Coast is Stumers Creek, on the northern side of Coolum. Dogs are allowed off-leash in between beach access 67 and 72, between the Coolum Beach Caravan park and 1km north of Stumers Creek, plus the waters of the adjacent lagoon.
The highlight of this dog beach are the calm waters of the lagoon, perfect for doggie paddling. There's also a convenient dog wash down area in between the lagoon and carpark, a great spot to rinse off your sandy dog before you climb back in your car.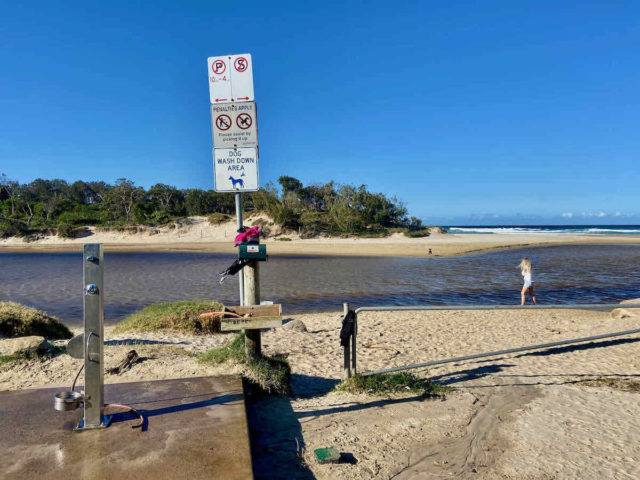 North Shore Beach, Twin Waters
Another great spot along the Sunshine Coast with calm waters for dogs to swim is at Twin Waters. At Twin Waters, dogs are allowed off-leash at North Shore Beach, from 140m north of beach access 132 down to beach access 136, including the calm waters at the entrance of the Maroochy River.
To find this dog beach, head to the carpark at the end of North Shore Road or search for "Dog Beach Mudjimba" on Google Maps.
Mooloolah River Foreshore, Buddina
At Point Cartwright in Buddina, there are two areas where dogs can go off-leash on the beach. The calmer spot is on the western side of the point, next to the Mooloolah river entrance.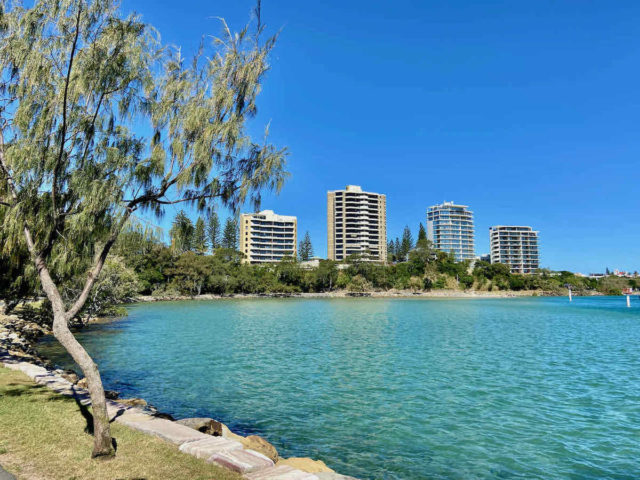 Dogs are allowed off-leash between the entrance of La Balsa Park and the river mouth, between beach access 196 and 197. However, this is restricted to only before 8am or after 4pm.
When we visited earlier in the afternoon, people were still letting their dogs paddle on-leash in the water. There's a handy sand bar that means the water is relatively shallow and great for dogs.
Note that there are currently plans to remove the off-leash hours – check the latest signs, or else I will provide an update once this change is made.
Buddina Beach
On the other side of Point Cartwright, there is also another off-leash dog beach. Dogs are allowed off-leash at the northern end of Buddina Beach, from beach access 198 to 201 (near Gulai Street), with no time restrictions.
However, on the day that we visited, the beach was quite rough, so I can understand why the Mooloolah River Foreshore is often more popular.
The ocean-facing beach in Buddina is also home to a second off-leash area, in between beach access 210 and 217, roughly from Mawarra Street to Talinga Street. This long stretch of beach has lots of room so it's never crowded, plus easier parking.
Kawana Beach
South of Kawana Surf Club, there is another off-leash dog beach at the southern end of Buddina. Dogs are allowed off-leash in between beach access 226, close to Maloga Street in Buddina, past Warana, to beach access 245, near Blue Haven Court in Bokarina.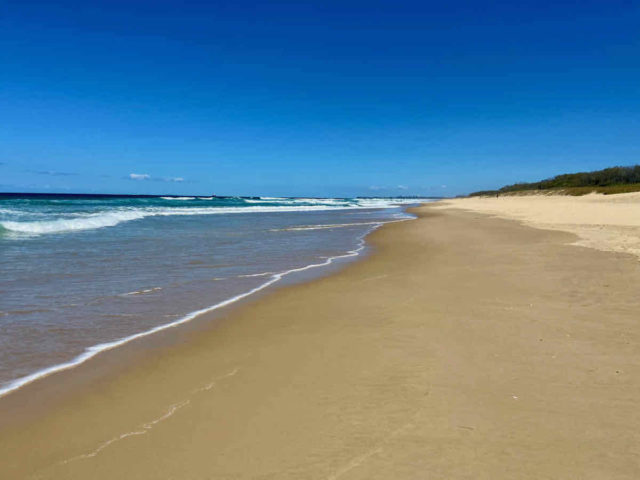 This long 4km stretch of beach is a relatively quiet stretch of sand to visit with your dog, largely backing onto the Warana Foreshore Bushland Reserve and Bokarina Foreshore Bushland Reserve. There's plenty of access points – take your pick.
More Off-Leash Dog Beaches on the Sunshine Coast
The above beaches are not the only dog-friendly beaches on the Sunshine Coast. Dogs are also allowed off-leash on these other beaches, from north to south:
Town of Seaside – Beach access 97 to 98, but only between 5-am and 4-8pm
Bokarina Beach – Beach access 245 to 249, from Blue Haven Court, Bokarina to Moondara Drive, Wurtulla, but only from 5pm to 8am
Wurtulla – Beach access 249 to 253, from Poatina Street to Currimundi Creek
Currimundi Beach – Beach access 255 to 262, from Gothic Parade to Ann Street
Moffatt Beach – Beach access 269 to 276, from Cooroora St, Dicky Beach to Russell St, Shelly Beach, but only 4-8pm
Shelly Beach – Beach access 276 to 281, from Russell Street to Victoria Terrace, but only from 4pm to 8am from May to October (On-leash only over the summer)
On-Leash Dog Beaches on the Sunshine Coast
The Sunshine Coast is also home to a handful of other beaches where dogs are not prohibited, but they need to stay on leash. Check out these on-leash dog beaches on the Sunshine Coast, from north to south:
South Peregian Beach – Beach access 59 (near the shops) to beach access 67 (at Pitta Street)
Coolum Beach – Beach access 72 to 97, southern end of Lions Park, David Low Way
Yaroomba – Beach access 98 to 131, Beachway Parade, boardwalk access from Marcoola
Maroochydore Beach – Beach access 137 to 145, Cotton Tree Parade near swimming pool and western end of caravan park
Maroochydore Beach – Beach access 147 to 156, Alexandra Parade opposite Muroy Court
Alexandra Beach – Beach access 163 to 171, Alexandra Parade north of Surf Club
Buddina Beach – Beach access 201 to 210, 30m north of Gulai Street
Shelly Beach – Beach access 276 to 281, from Russell Street to Victoria Terrace, between November and April (Time-restricted off-leash access over the winter)
Kings Beach – Beach access 291 to 295, car park at Kings Beach from Dingle Avenue
Golden Beach – Beach access 302 to 304, Short Street boat ramp
Golden Beach – Beach access 320 to 322, opposite Churchill Street
For the latest details on off-leash and on-leash dog beaches, check out the Noosa Council website for the northern end of the Sunshine Coast, plus the Sunshine Coast Council website for the remainder.
You May Also Like