One of the most wonderful destinations in southeast Queensland is Noosa. This area at the northern end of the Sunshine Coast is home to fabulous beaches, plenty of cafes and restaurants and a delightful river. Find out tips for what to do when visiting dog-friendly Noosa, from the best dog-friendly beaches and sightseeing, to where to stay with your dog.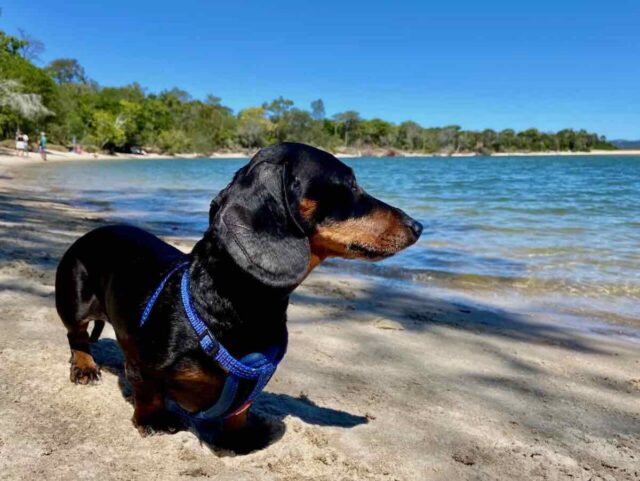 Dog-Friendly Beaches in Noosa
Noosa is home to some excellent dog-friendly beaches. One of the most popular is the Noosa Spit at Noosa Heads, which lies just behind the Noosa Main Beach (where dogs are of course prohibited). Dogs are allowed off-leash on a large section of the spit, extending out into the Noosa River and including the beaches on either side.
Probably the most popular option is on the northern side, where there is a pin "Doggy Beach" on Google Maps. There were plenty of dogs on the small stretch of sand and in the calm waters on the day I visited.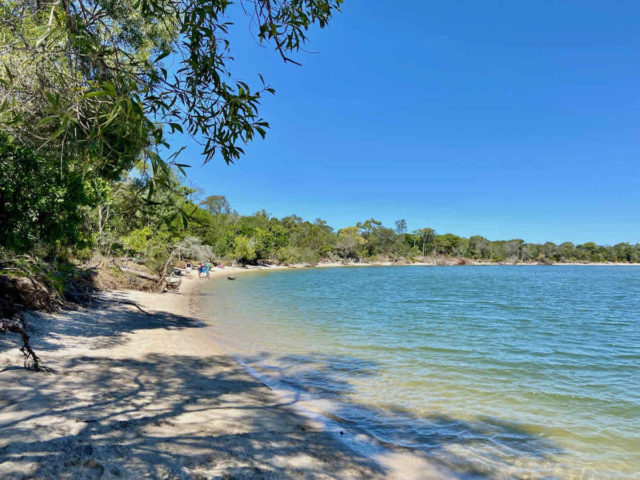 However, also check out the southern side of the spit. On the day I visited the stretch of sand was larger, so better suited to dogs that prefer to dig in the sand rather than go swimming.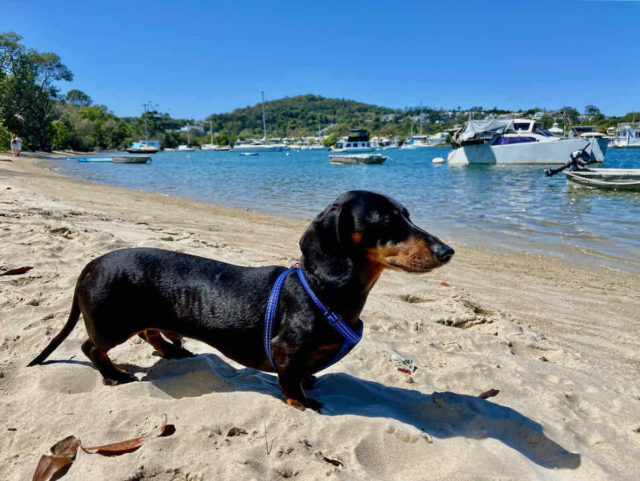 Double check the map on the council website to find out the exact area at the spit where dogs are allowed off-leash. Alternatively, keep an eye out for the cute Dog Exercise signs when visiting, although it can be easy to miss them.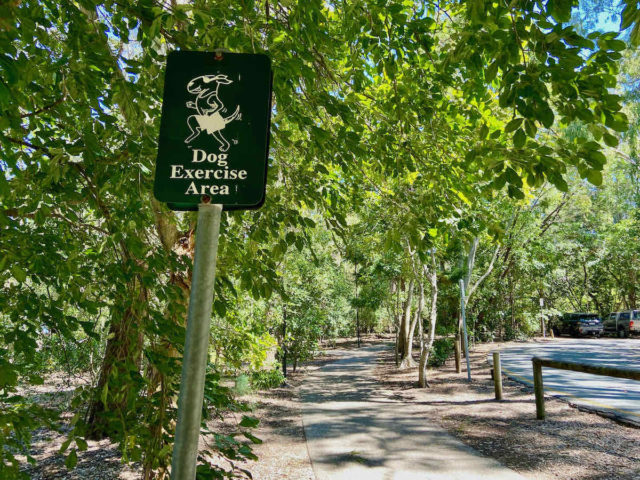 The closest dog-friendly surf beach to Noosa Heads is Sunshine Beach North. Dogs are permitted off-leash on the beach north of Seaview Terrace North, near the small carpark, up until the Noosa National Park boundary (where dogs are not permitted).
This beach is best for dogs to play on the sand or just enjoy a brief paddle in the water, with the water often too rough for all but the most confident dogs to swim. It's a particularly good beach when the wind is from the west, with the beach sheltered from that direction.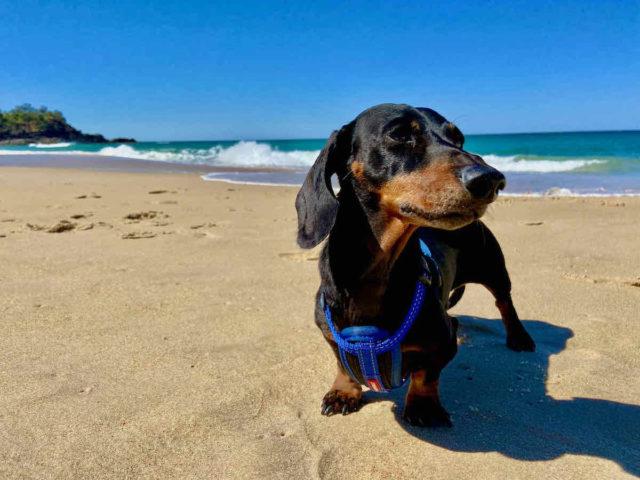 If you're looking for a long stretch of beach for walks with your dog, head further south to Castaways Beach and Marcus Beach. The off-leash dog exercise area here extends for nearly 4km, stretching from beach access 38 (near Orient Park South) through to beach access 47 (at Tasman Trespasser Park). Just be wary of the often rough surf with small dogs.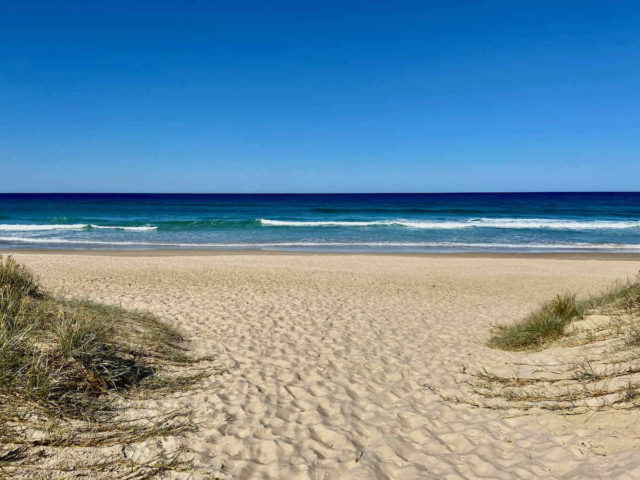 Check out my full guide to Sunshine Coast dog beaches.
Dog-Friendly Sightseeing in Noosa
While the dog-friendly beaches in Noosa are definitely one of the top attractions when visiting with a dog, there are plenty more dog-friendly things to do in the area.
#1 Catch the Noosa Ferry
Noosa isn't just about surf beaches, with the area lying along the southern bank of the wide Noosa River, a popular recreational waterway. And the easiest and most scenic way to travel to Noosa Heads is by ferry along the river, at least if you have a small dog. (You'll also skip the hassle of finding a park!)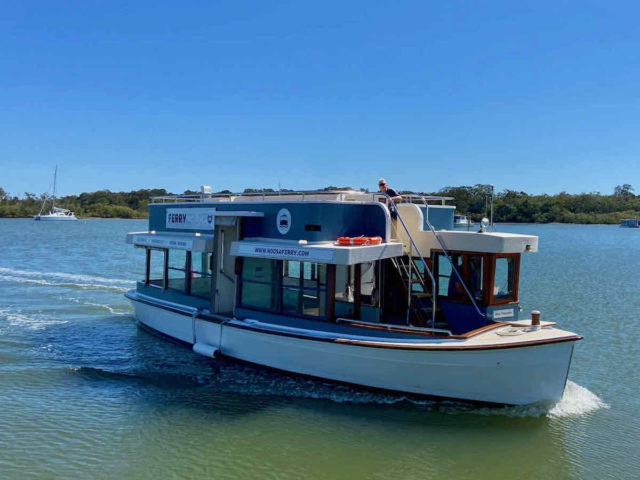 The Noosa Ferry regularly travels between Tewantin and Noosa Heads. Dogs are allowed onboard as long as they can sit on your lap (except for on the sunset cruise). There's no extra charge for dogs and muzzles are not required.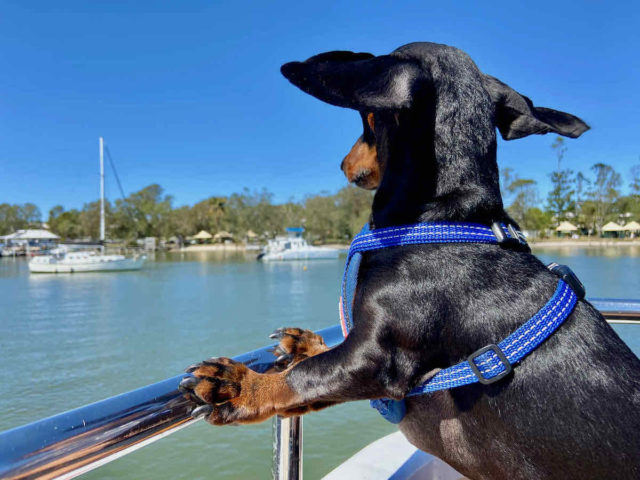 We enjoyed a beautiful trip sitting in the sunshine on the open-air top deck, accompanied by amusing commentary. It's possible to just stay onboard and enjoy a return boat cruise. But instead we got off at Noosa Heads and walked along the boardwalk to Noosa Spit and the popular dog beach, before catching a return ferry.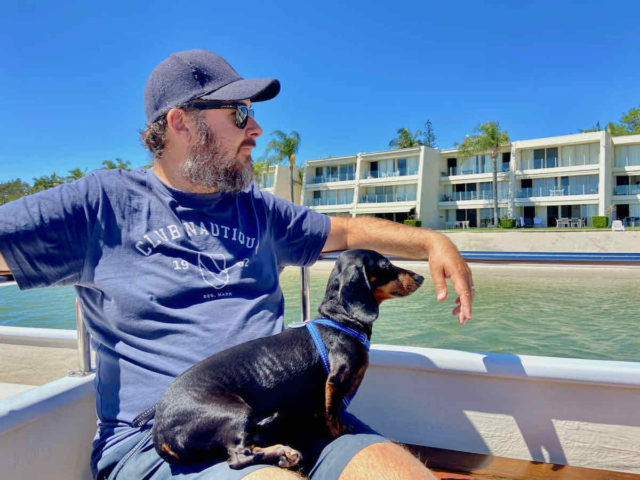 The ferry runs approximately every half an hour between Tewantin and Noosa Heads. There's a wide range of ticket options, even day passes. An adult return ticket costs $16.50 between Noosaville and Noosa Heads. Alternatively, an adult day pass covering the entire length is $28, or $22 if bought after 1pm.
#2 Or Hire Your Own Boat
If you have a larger dog or want to explore the Noosa River at your own pace, hire a boat or kayak for an hour or the day. There are multiple boat hire companies located along the river, many of which are likely to be dog-friendly.
One of the dog-friendly options is O Boat Hire, which claims to have the largest range. Located in Noosaville, their hire options include BBQ pontoon boats, kayaks and SUP.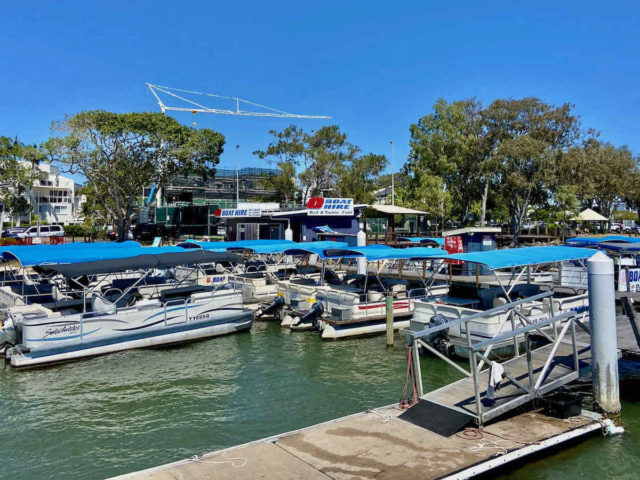 #3 Taste the Local Craft Beer
The Noosa area must surely have one of the highest concentrations of craft breweries anywhere in Australia, and luckily many of the breweries are dog-friendly, meaning that you can enjoy a tasting (and perhaps a meal) with your dog at your feet.
We visited Land & Sea Brewery in Noosaville, which was luckily open mid-week during our visit. (Many of the breweries are closed mid-week). The brewery has plenty of outdoor tables, and there was even a gas fireplace near where we were sat, just the thing for cooler evenings.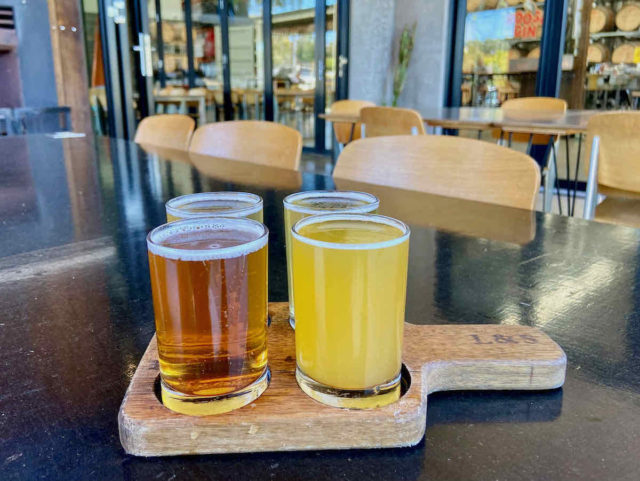 As well as a tasting paddle, consider ordering from their extensive menu. And if you're not a beer fan, the brewery is also home to Fortune Noosa Heads Distillery. Gin tasting paddles available, as well as a cocktail menu that features their own gin.
Other dog-friendly breweries around Noosaville include the taproom of Heads of Noosa Brewing (open Wednesday to Sunday) and Boiling Pot Brewing Co (open Thursday to Sunday).
#4 Head to Eumundi Markets
While outside the immediate Noosa area, it's just a short 20 minute drive from Noosa Heads to Eumundi, the site of one of the best markets on the Sunshine Coast and all of Queensland, which are of course dog-friendly.
The Eumundi Markets take place in the town of the same name every Wednesday and Saturday, between 7am (8am on Wednesday) and 2pm. Two hour parking spots are available on nearby streets for free, or else head to the paid parking lot.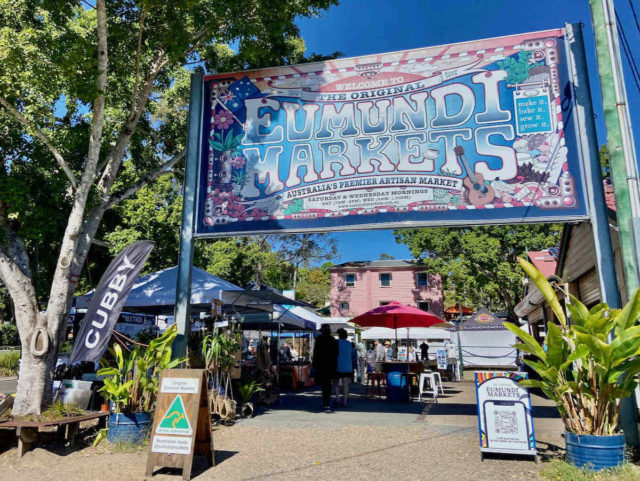 Pets on a leash are welcome at the markets, with plenty of water bowls to keep your dog cool. Your dog will probably sniff out the two pet stores that were at the market on the day we visited in 2021, Made in Noosa and 4 Your Petz. There's also plenty of pet-related things to buy at the homeware stores, such as the prints and cushions at Tracey Keller Gallery.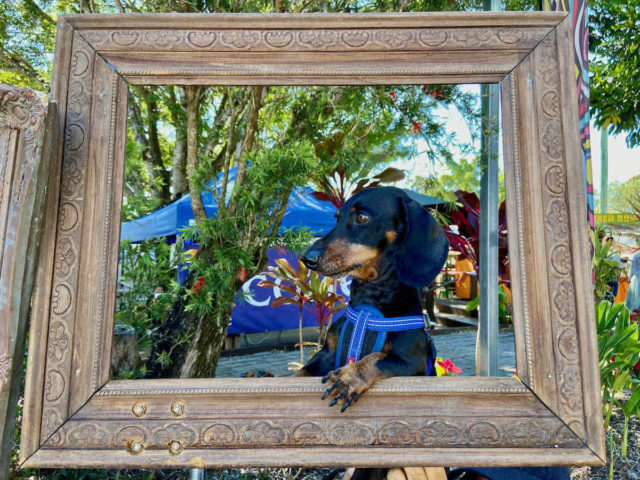 Come lunchtime, there's plenty of food stalls located just off Memorial Drive, plus more dotted around the rest of the markets. Or alternatively find a seat at one of the nearby dog-friendly cafes. The coffee at the Eumundi Coffee Roasters is highly rated.
Are Dogs Allowed in the Noosa National Park?
One of the most popular attractions in the Noosa are is the Noosa National Park, which lies in between Noosa Main Beach and Sunshine Beach. However, the park and its popular walking tracks is strictly off-limit for pet dogs, with pets prohibited. Stick to one of the dog-friendly beaches or parks in the area…
Dog-Friendly Parks in Noosa
If you're wanting some off-leash time with your dog away from the beach, head to one of the off-leash dog parks in the Noosa area.
One of the best options close to Noosa Heads is Weyba Creek Park in Noosaville. This long stretch of park follows the creek, a tempting spot for a dog paddle, with plenty of shady trees to walk under and handy picnic benches.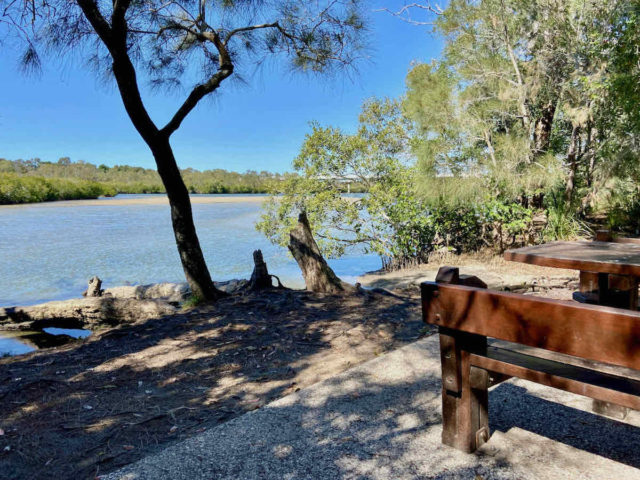 There are a number of other off-leash dog exercise area scattered throughout the towns of the Noosa area, with the full list and maps on the Noosa Council website. As far as I'm aware, none of the parks are fenced.
Dog-Friendly Cafes in Noosa
There's no shortage of cafes and restaurants on the Sunshine Coast with outdoor dining areas that allow dogs. Although of course it's always up to the individual restaurant owners, so make sure you check first, if you can't spot any other dogs around.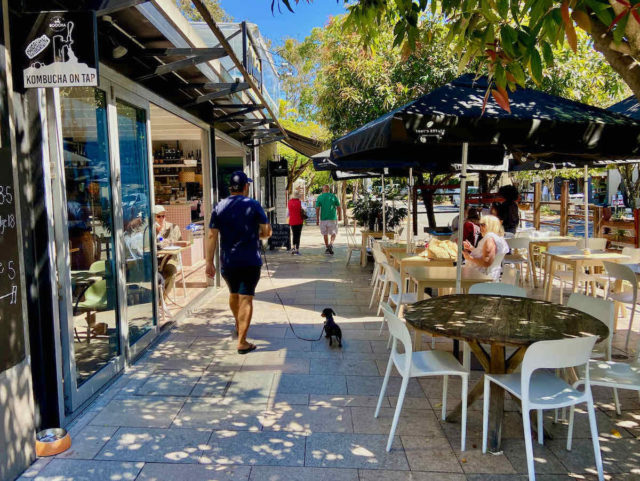 In Noosaville, Grind Cafe is a popular dog-friendly cafe close by the river, open seven days a week for breakfast and lunch. Their coffee has been voted one of the best in Noosa, while the Eggs Benedict from their all-day breakfast menu is regularly praised.
Dog-Friendly Pubs in Noosa
During our visit to Noosa we also visited the Land & Sea Brewery for lunch. While there aren't any water views, it's open daily for lunch and dinner from Tuesday to Sunday (plus Mondays in school holidays), with a wide-ranging menu and both beer and gin tasting paddles. I highly recommend the Roast Field Mushroom Burger if it's still on the menu!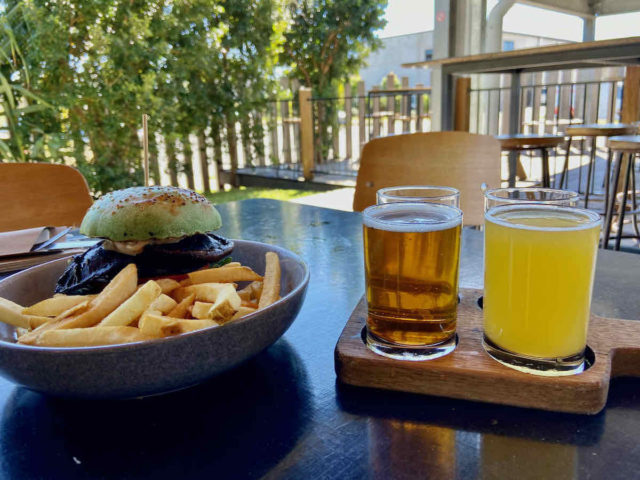 Dog-Friendly Accommodation in Noosa
One of the best pet-friendly accommodation options in the heart of Noosa is At the Sound. This small complex contains 22 boutique-style studio apartments, some with spas. It's located on the Noosa Sound in Noosaville, close to the Noosa River and ferry stops.
Make sure you notify the management in advance you'll be bringing a dog, with only selected apartments pet-friendly. Also, a once-off cleaning fee of $25 applies.
If you're looking to camp around Noosa, unfortunately the conveniently located Noosa River Holiday park is not pet-friendly. However, head further west to the Ingenia Holidays Noosa North park or the BIG4 Ingenia Holidays Noosa, both in Tewantin.
The Ingenia Holidays Noosa North is pet-friendly year round, with the standard Ingenia pet policy applying. As well as allowing pets on site, they also have a single pet-friendly two-bedroom villa. Best of all it's fully fenced – book well in advance to stay in it!
At the BIG Ingenia Holidays Noosa, pets are allowed on both powered and ensuite sites, with larger sites also available. There are no pet-friendly cabins. Double check there are no blackout dates – there are previous reports that pets are only allowed seasonally, but no dates listed on their website.
For something different, head to the Sunshine Coast Hinterland for a pet-friendly stay at the Noosa Hinterland Escape. Located 25 minutes inland from Noosa Heads in Black Mountain, this family-run B&B in an original homestead offers a country setting complete with lovely facilities, including a saltwater infinity pool and indoor fire.
Up to two pets are permitted per room, with no size restrictions, although it's essential to call and discuss a pet booking in advance, as the total number of pets on the property is limited. Locally made dog beds from Indie Boho are scattered around the property, with pet treats available for purchase.
Head Next To
About the Author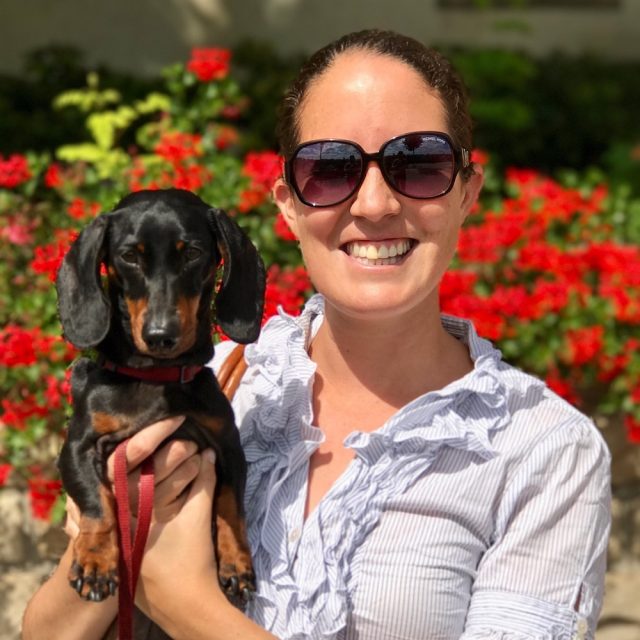 Shandos Cleaver is the founder of Travelnuity: Dog-Friendly Travel. She has travelled extensively with her Miniature Dachshund, Schnitzel, including to 33 countries across Europe, every state and territory of Australia except Tasmania, and 10 of the United States. She's passionate about providing inspiration and information to others wanting to travel with their dogs, whether close to home or internationally.