The state of Utah is renown for its stunning natural beauty. And there's no need to leave your dog behind to see some of the most gorgeous sights around the state. From southern Utah to northern Utah, there's plenty of spectacular natural wonders, amazing hikes and gorgeous lakes that you can experience with your dog. Take your pick from this selection of the best dog-friendly things to do in Utah!
#1 Take in the Views at Bryce Canyon
Recommended by Shandos Cleaver of Travelnuity
Utah is home to multiple magnificent national parks, including Bryce Canyon National Park in southern Utah. While not the most dog-friendly national park (dogs aren't allowed on most hiking trails), you can still see the magnificent hoodoos that the park is famous for with your pup.
Start your visit with a hike along the paved Rim Trail between Sunset Point and Sunrise Point – one of the few trails that dogs are allowed on. It's an easy one mile return walk, but allow plenty of extra time for photos!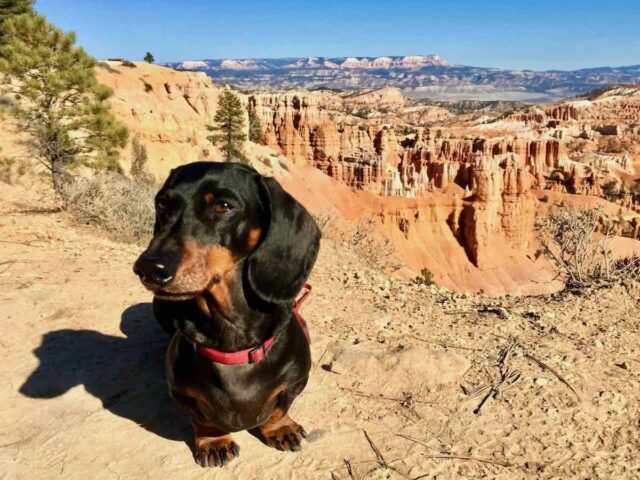 Afterwards, hop in your car and follow the 17-mile long scenic drive south to Rainbow Point, stopping at the viewpoints along the way. Pet dogs are allowed to join you at all of the viewpoints except Piracy Point. Don't miss the spectacular Bryce Natural Bridge, one of the most unique stops.
Pets are not allowed on the shuttle that operates during the peak season, from April to mid-October. However, private cars are still permitted to drive into the park – just note that it might be harder to find a park, particularly on weekends.
#2 Hike to Lower Calf Creek Falls
Recommend by Stephanie of USA Adventurer
Lower Calf Creek Falls is located in Grand Staircase-Escalate National Monument, and is a gorgeous trail to an impressive waterfall. This hike is 6 miles round trip, and the trail goes through a canyon with red and white walls above you. Calf Creek runs through the canyon, creating a veritable oasis in the middle of the otherwise very dry Utah desert – for southern Utah, there's a lot of greenery and vegetation in the small valley.
The trail is often very sandy, and there are small hills throughout the hike. In the early morning and late evening the canyon walls block the sun (and a lot of the heat). For most of the day, however, the trail is almost completely exposed to the sun (with a few shady spots here and there), which makes it very hot in summer.
However, it's all worth it when you reach the waterfall! The falls are 126 feet high, falling over tan-orange rocks to drop into a calm pool of water that you can swim or wade in. The pool is surrounded by a little sandy beach and a ring of trees, and is a really relaxing place to spend some time.
Dogs are allowed on the trail, but they must be on a 6-foot leash and you need to pick up after your dog. Additionally, be sure that your dog can handle the long distance and exposure of this hike.
#3 See the Toadstool Hoodoos
Recommend by David & Intan of The World Travel Guy
The Toadstool Hoodoos is a short and easy hike in southern Utah, near the town of Kanab and the Arizona state border. If you're looking for a nice little trail that's dog friendly and family friendly, this is one of the best hikes in Utah!
The hike is a bit less than a mile long in each direction, and when you reach the end you get to see some mushroom-shaped 'hoodoos' and other neat rock formations. It's a fantastic desert landscape that seems like something from another planet.
Dogs are welcome on the hike, but they have to be kept on a leash. Thankfully, there's very little elevation gain, so depending on your pace you can finish the whole hike in 45 minutes or less, although you'll probably want to stay longer to explore the rest of the area and take lots of pictures. This place is well worth a visit!
#4 Go Hiking at Red Canyon
Recommended by Janae of Adventures With TuckNae
Red Canyon, with its vibrant red rock formations and stunning hoodoos, is a fantastic destination for hikers, especially those bringing along their dogs. Unlike other nearby hiking locations, Red Canyon welcomes dogs, making it an ideal spot for pet owners to hike. However, please note that dogs must always be kept on a leash, ensuring their safety and that of local wildlife.
We hiked the Pink Ledges Trail on our recent visit with our two energetic dogs. The trail wound through the pink-hued rock formations, and we really enjoyed it! This trail offers a moderate hike that's a lot of fun without being overly strenuous.
Our dogs thoroughly enjoyed the hike and loved exploring the surrounding beauty and new scents. The experience was made all the more memorable by sharing it with our pups! So, if you're seeking one of the best pet-friendly things to do in Southern Utah, Red Canyon should be high on your list!
#5 Hike the Corona Arch Trail in Moab
Recommended by Adam and Kathryn of Adventures of A+K
If you're wanting to visit Arches National Park but are sad that you can't bring your pup along the trails with you, then the Corona Arch Trail is just the thing for you! Located in Moab, hiking the Corona Arch Trail is one of the best dog-friendly things to do in Utah!
We travel with our pup, Kona, and while we loved our time at the national parks, we also really wanted to be able to enjoy hikes with Kona as well. So this hike was the perfect option to add to our Southern Utah road trip!
The hike is only 2.3 miles and has 462 feet of elevation gain, so it's super doable for anyone. Plus you get to see 3 beautiful arches along the way. It looks just like Arches National Park but with dogs!
Dogs are required to be on leash, for their own safety, as you do pass over an active railroad track during the hike! The hike is in a lambing area for bighorn sheep, so this is another reason that it's super important to keep your dog on leash.
There is one short ladder on this hike, but there's an easy way around it to avoid having to carry the dog up!
#6 Enjoy a Soak at Meadow Hot Springs
Recommended by Jessica Schmit of Uprooted Traveler
Meadow Hot Springs is located in the teeny town of Meadow, along Interstate-15, making this the perfect pitstop if you're leaving Salt Lake City for a road trip to Utah's national parks.
Meadow Hot Springs consists of a series of three fairly deep pools that are on a sprawling cattle farm. The water in the pools is clear and offers a variety of temperatures, ranging from lukewarm bathtub to hot tub-like temperatures. Beyond just the cozy water, the views in the surrounding landscape are stunning, with wide open meadows and beautiful rolling mountains.
Dogs are permitted near, but not in, the hot springs, so long as they remain on a leash. Remember to bring a long lead with you to be able to tie your dog up as you enjoy the water. Additionally, the springs are on private property, which can be closed at any time if people are not treating the land respectfully, so please remember to bring along bags to clean up after your pet.
If you want to make an adventure out of it, you're actually even welcome to camp on the property, so long as you leave no trace. What could be better than watching the sunrise, from Mother Nature's version of a hot tub, as your pup sits nearby?
#7 Wind Through Buckskin Gulch
Recommended by Catherine Xu of Nomadicated
Utah has many dog-friendly outdoor spots, and one of the most exciting options is hiking Buckskin Gulch. Located in southern Utah, Buckskin Gulch is renowned for being the longest and deepest slot canyon in the world.
This trail is not only a scenic adventure for hikers but also welcomes furry friends to join in on the fun. Wind through towering sandstone walls as the path leads you deeper into the stunning slot canyon. The one-of-a-kind geological formations, narrow passages, and colorful rock formations create an atmosphere you will revel in.
To get to Buckskin Gulch, start by heading to the town of Kanab, a base for many hikes in the area. From there, you can access the Wire Pass Trailhead, a shortcut gateway to the best area of the hike. Dogs are allowed on this trail but must be kept on a leash as you get towards the Glen Canyon National Recreation Area.
Humans require day and overnight permits to access Paria Canyon, but dogs must also be included on the permit. Also, remember to bring bags and pack out dog waste to preserve the landscape.
Buckskin Gulch is just one section of the extensive Paria Canyon-Vermilion Cliffs Wilderness Area. Some parts of the area, such as Coyote Buttes and The Wave, have stricter regulations and may not allow dogs.
#8 Go Paddleboarding on Bear Lake
Recommended by Leigh Wilson of Campfire & Concierges
Northern Utah's Bear Lake is an excellent place to take dogs in the summer! It's also one of the best Utah paddleboarding spots, and if your dog is amenable to it, you can bring your pup on the paddleboard!
Bear Lake is located along the Utah-Idaho border, just over two hours north of Salt Lake City. It's a popular destination for Utah and Idaho families, with several beaches lining the turquoise blue lake, which is often called the Caribbean of the Rockies.
Bear Lake State Park is a hub of activity, with busy beaches, boat rentals, and a marina. The "official" beaches at Bear Lake are clearly marked, and most do not allow dogs. I like to go to the East Side of the lake as there are several places to pull off the road and launch a paddleboard. If you have reactive dogs, this is great because there is rarely anyone along the rocky eastern shore.
Garden City Utah is the gateway town to Bear Lake, where you'll find campgrounds, motels, and a few restaurants. If you are there in July, don't forget to try a fresh raspberry shake; it's a Bear Lake tradition!
#9 Explore Zion National Park
Recommended by Nikki of Inspired Routes
A really fun place to visit with dogs in Utah is Zion National Park. Although some national parks are more dog-friendly, there are ways you can enjoy this fabulous national park with your pooch!
Zion is an absolutely amazing national park to visit. With majestic mountain peaks jutting up towards the sky, the massive canyon is beyond impressive. With the Zion shuttles running most of the year, they're not dog-friendly (except service dogs of course). So to enjoy Zion National Park with your dog, you'll need to stick to the areas outside of Zion canyon.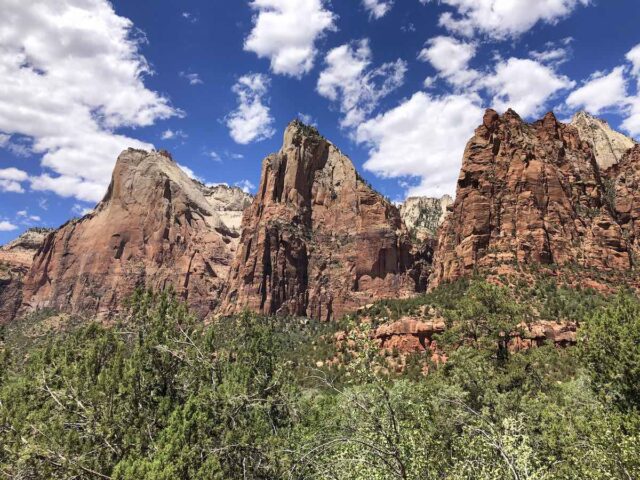 The Pa'rus Trail is a dog-friendly trail in Zion National Park. It's an easy "hike" which is fully paved and flat, and runs along the riverfront. You can access the trail from the Zion Canyon Visitor Center and take it into the canyon until shuttle stop #3, for about 3.4 miles out-and-back. Your four-legged friend will love this walk! Soak in the Virgin River and get some fun views of the park.
Alternatively, your dog may enjoy swimming and frolicking about in the Virgin River outside of the park boundary in Springdale, Utah. Remember to protect your four-legged family member from the heat and sun, especially during the summer months in Utah. You can make this trip to Zion all on its own or as a part of a Utah national parks road trip – it's such a phenomenal park!
#10 Watch the Sunset at Dead Horse Point
Recommended by Kate of Our Escape Clause
With its gorgeous and easy-to-access views, there's no doubt that watching the sunset at Dead Horse Point State Park is one of the best things to do on a Utah road trip.
… and, unlike nearby Arches National Park and Canyonlands National Park, Dead Horse Point State Park is extremely dog-friendly!
While your furry family members need to stick close to the car in the national parks, Dead Horse Point State Park welcomes leashed dogs both on hiking trails and in the campground, including at the famous sunset viewpoint.
Sunset is by far the most popular time to visit the park, but in order to make the most of your entrance fee and get settled in before the crowds arrive, consider planning on completing a hike before sunset (the Big Horn Overlook Trail is one of several excellent options).
Don't forget to pack a picnic to enjoy as the sunsets–complete with dog treats, of course!
One catch of visiting Dead Horse Point State Park is that, as part of the Utah state park system, it isn't included with the popular national parks pass–you'll need to shell out $20 per car (up to 8 people) in order to visit.
It's well worth the fee to add this to your list of Utah attractions that you've visited with your furry best friend, though!
#11 Hike the Arches National Park
Recommended by Daria of Explore Baja California
Exploring the Arches National Park is one of the most fun things to do in Utah with your pooch.
This popular national park is located just outside of Moab, Utah's adventure capital, and while hiking on trails isn't allowed with your pet, there's still plenty to enjoy. Leashed pets can walk around the Devils Garden campground, parking lots, picnic areas and unpaved roads.
One of the most scenic places for walking in this national park is Salt Valley Road, although be prepared for fast passing cars. Make sure to put on some good booties on your dog's paws and wear good hiking shoes.
This road has a pretty sharp drop down the valley, and you have to walk there and back on gravel road under the sun.
Another good spot to walk with your pooch is Cache Valley Road, which can be accessed from the Lower Delicate Arch Viewpoint. Since this is a backcountry road that crosses over the park's limits, there's not a lot of traffic, and you can let your furry friend run around after you cross over to the BLM land.
#12 Take a Selfie at Forest Gump Point
Recommended by Shandos Cleaver of Travelnuity
Despite it's name, Forest Gump Point is not a point on the edge of a cliff; instead it's the point at which the legendary film character Forest Gump stopped running on his epic run backwards and forth across the USA.
Close to marker 13 on Route 163 (and handily pinned on Google Maps), it's a beautiful spot in southern Utah to pull over and get a selfie with your pup on the highway, with a vista of Monument Valley as the backdrop.
Naturally, be very careful of other cars on the road, particularly when taking photos of your dog. It was rather quiet on the chilly November day we stopped, but my husband always kept a lookout for cars in both directions while I took some photos.
About 10 miles to the east of Forest Gump Point is Mexican Hat Rock, just after the township of Mexican Hat. While on your road trip, detour off the highway to take the best photos of this unique balancing rock formation.
You May Also Like
About the Author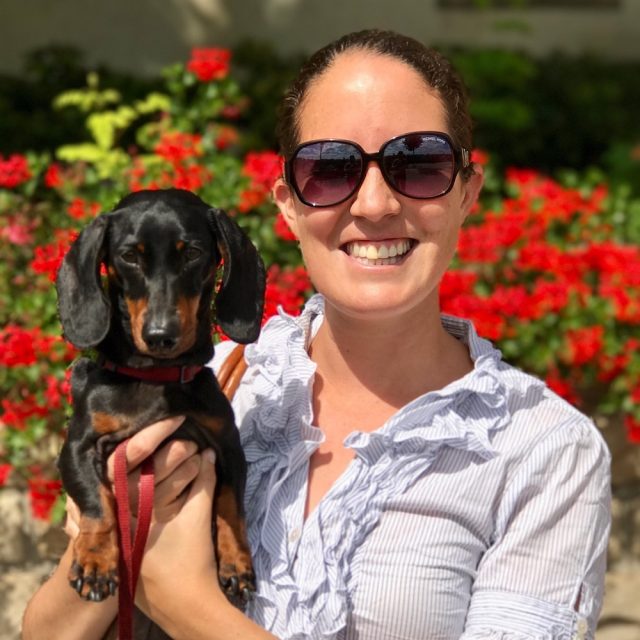 Shandos Cleaver is the founder of Travelnuity: Dog-Friendly Travel. She has travelled extensively with her Miniature Dachshund, Schnitzel, including to 33 countries across Europe, every state and territory of Australia except Tasmania, and 10 of the United States. She's passionate about providing inspiration and information to others wanting to travel with their dogs, whether close to home or internationally.
Inspired? Pin this to your Pinterest board!