Arizona is one of my favourite states in the United States, thanks to its beautiful natural scenery and many amazing places to see. And just because you've visiting Arizona with a dog, doesn't mean that your options are limited; there's plenty of attractions in Arizona where dogs are allowed, although sometimes with restrictions. On your next visit to Arizona with a dog, add some of these dog-friendly things to do in Arizona to your itinerary.
#1 Visit the Grand Canyon
One of the most stunning sights in Arizona is the Grand Canyon, in the north of the state. And luckily, it's still possible to visit the Grand Canyon with your dog, although there are some limitations on what you can do.
Top of the list of visiting the Grand Canyon with your dog is walking along the Rim Trail. This 13-mile sealed footpath is dog-friendly along its entire length. Don't miss stop at the many lookouts along the way.
And while the shuttle bus to Hermits Rest is off limit to dogs, instead drive the other direction to Desert View, stopping with your dog at the many lookouts as the canyon widens.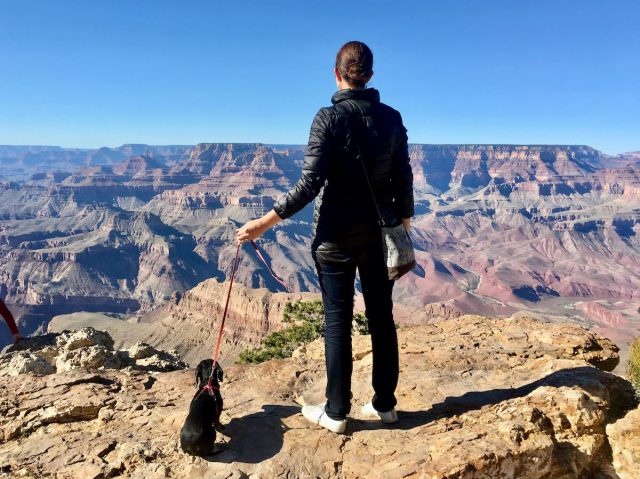 Dogs aren't allowed to venture below the rim, putting the more adventurous hikes off limits for walks with your dog. However, there is a kennel available onsite, so that you can safely leave your dog behind for the day.
Dogs are also welcome to camp with you at Mather Campground, Desert View Campground and the Trailer Village, or stay at the dog-friendly Yavapi Lodge. Alternatively, there's plenty of dog-friendly accommodation in the nearby cities of Flagstaff and Williams.
#2 Take in Monument Valley
Contributed by David & Intan of The World Travel Guy
One of the most spectacular places in Arizona would have to be Monument Valley, and it's also dog friendly! This area is home to some impressive red rock towers, as well as the famous highway from the Forrest Gump movie.
One of the best things to do right away is Monument Valley's scenic drive, which gives you a chance to see the monuments up close and admire the landscape from your vehicle. The scenic loop road is 17 miles long and typically takes at least 2 hours since you'll want to stop a lot.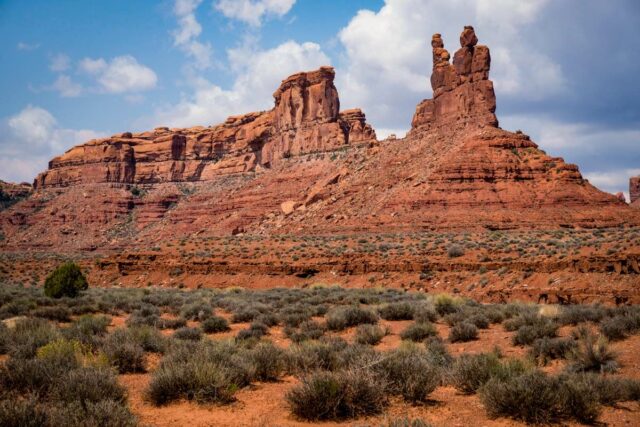 The main pet friendly hike in Monument Valley is the Wildcat Trail, which is 3.8 miles round trip and lets you see the monuments up close. The hike takes about 2.5 hours with a leisurely pace. Pets have to be leashed, and you can't leave the main trail, but it's still a great experience!
#3 Head to Petrified Forest National Park
Contributed by Catherine Xu of Nomadicated
While most US national parks have strict rules against dogs on trails to protect wildlife and natural landscapes, Petrified Forest National Park in Arizona is different. This northeast Arizona destination is one of the most pet-friendly national parks around!
Petrified Forest National Park is home to one of the world's largest concentrations of petrified wood. With an entrance fee of $10 or free with your national park pass, dogs will be welcomed with a treat and a set of rules, BARK: Bag your poop, Always wear a leash, Respect wildlife, Know where you can go.
Pack some snacks, and don't forget your pup's leash and water bowl as all Petrified Forest trails are dog-friendly. Some popular trails are the Big Logs Trail, Blue Mesa Trail, and Crystal Forest Trail. Although your pet may have free reign outdoors, save for guide or service dogs, they are not allowed in park buildings.
Dog-owners, make sure to take your pooch on the hour-long drive through the Painted Desert when traveling to this national park – they'll love sticking their head out of the car window and taking in all the colorful desert landscape!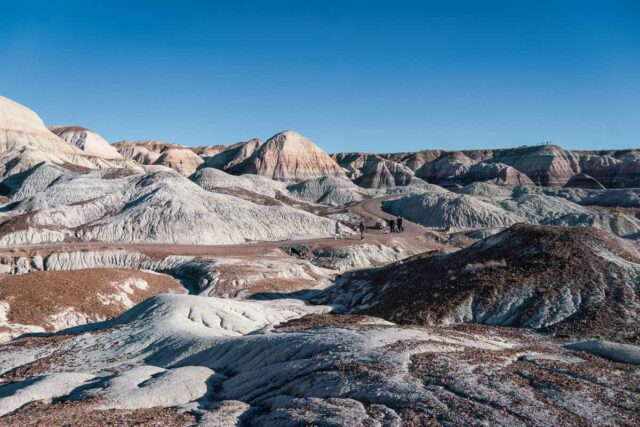 Bonus Tip: The park has recently opened the very first dog park located in a US national park, the Petrified Fur-Rest Bark Park. Located near the Painted Desert Visitor Center, just off Interstate 40, the dog run features separate areas for small and large dogs, along with shade, benches for humans and even a fire hydrant.
#4 Visit Pima Air & Space Museum
Contributed by Kara of Trying to Unwind
Pima Air and Space Museum is an extremely dog friendly attraction in Tucson Arizona. It is one of the largest non-government-funded aerospace museums in the world.
Leashed dogs are allowed on most museum property with two exceptions. Pets are not allowed in the restaurant or on the 45 minute tram tour at Pima.
The 80-acre outdoor exhibit area includes an informal 1.5 mile loop among one-of-a-kind military and private aircraft. Southern Arizona summer days are generally too hot to spend extended periods outdoors so plan accordingly. In the outdoor exhibits, don't miss Air Force One and the Firestone Gallery Boneyard, a contemporary project that utilized old planes instead of the artists canvas.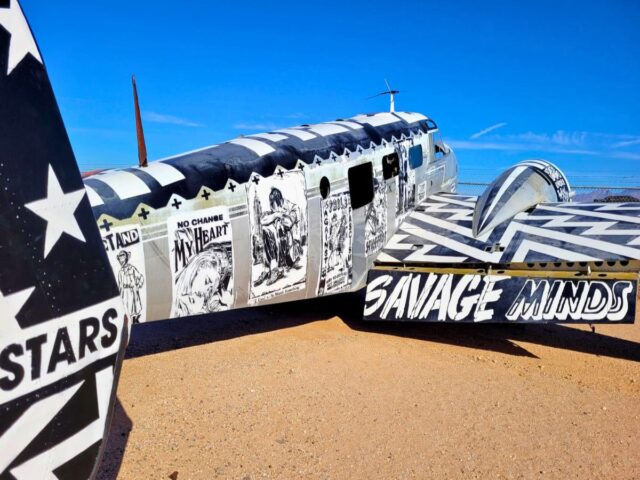 Leashed dogs and their humans will both appreciate the multiple air-conditioned hangers filled with educational displays. Exhibits include space exploration, women in aeronautics, WWII and so much more.
The main hanger focuses on iconic and pop culture aircraft, such as the Tomcat of TopGun fame. It is possible to spend several hours exploring the main hanger.
Plan your visit to not miss the 390th Memorial Museum. Volunteer WWII veterans are available to share their knowledge and experience with the aircraft on display.
Even if you are not an airplane or WWII fanatic, Pima Air and Space Museum is a great educational and entertaining destination for the whole family including your dog.
#5 Hike the Wave Hike
Contributed by Jenifer from The Evolista
Hiking the Wave is one of the coolest dog-friendly things to do in Arizona. This beautiful sandstone formation is located in Coyote Buttes North Paria Canyon, and it's one of the most popular places to hike with your dog in the state.
A permit is required to hike the Wave, and only 64 are issued per day. The recreation fee for each person and dog on the Wave permit is $7 each. The hike is 6 miles out and back, and it's considered moderate in difficulty.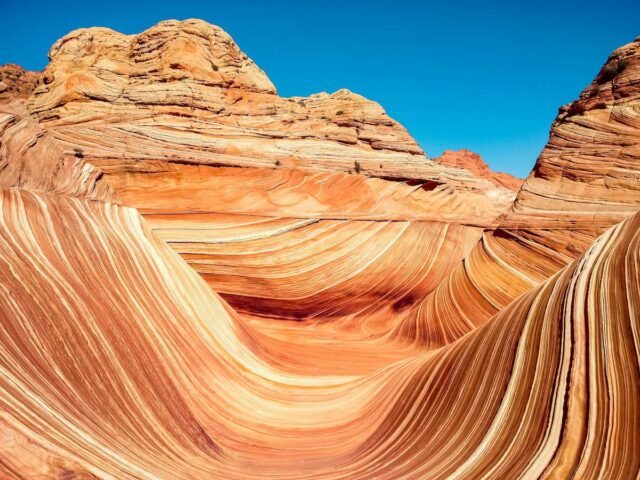 The Wave is truly a sight to behold, with its beautiful wide expanses of colorful rock. But keep an eye on your dog while you're admiring the view – this is a desert after all, and it can be easy for dogs to get lost or overheated.
Remember to pack plenty of water and snacks for both you and your pup – it gets hot out there! Be sure to clean up after your dog, too.
Before you head out, be sure to check the weather conditions – flash floods are a real issue in this area. But as long as you take precautions, hiking the Wave with your dog is an experience you'll never forget!
#6 Or Hike White Pocket
Contributed by Christine Wheeler of LiveLoveRunTravel
White Pocket Arizona is a great dog-friendly hike in Arizona. Access to White Pocket is from either Page, Arizona, or Kanab, Utah and requires a high clearance 4×4 vehicle.
This is an otherworldly landscape that has some similar features to the more popular Wave hike. However, this hike does not require a permit, so it is a great alternative.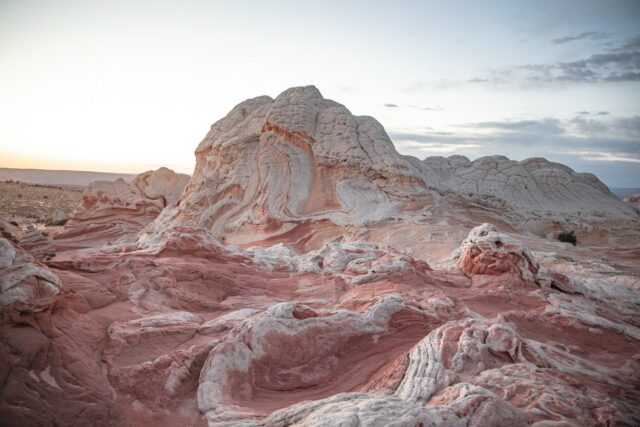 The road to get here is long and full of deep, soft sand as well as some sharp rocks. However, once you arrive, it will all be worth it.
After following a trail of soft sand for a little ways, you will reach White Pocket and can start making your own path around the rocks. There is no set trail to follow, so you can explore the area any way you please.
Dogs are allowed on the trail and to explore the area and can be off leash in some areas. Keep in mind that during the summer, the sand and sandstone you hike on will get very hot for your dog. There are no trash cans here, so you must pack out any waste as well and practice Leave No Trace principals.
#7 Gaze Down at Horseshoe Bend
Another popular destination near Page, Arizona is Horseshoe Bend. This magnificent bend in the Colorado River is awesome to view from the overlook, 1000 foot above the river below.
A visit to Horseshoe Bend is fairly easy, with no special vehicle and long hike required. Park at the Horseshoe Bend Overlook Parking Lot, pay your carpark fee (currently $10 per car or RV), then hike the 0.6 miles to the now fenced overlook. The trail is quite easy, and is ADA and stroller friendly.
Be aware that the weather can be very hot in the summer months, making early and late in the day the most popular time to visit. Pets on a short leash (no longer than 6 foot) are allowed – in fact the authorities urge you not to leave your dog in your car! Be careful to check the ground temperature, take water for both of you, and naturally keep a firm grip on your dog's leash near the edge!
#8 Take a Jeep Tour in Sedona
Contributed by Kim of Traveling Swansons
Sedona is one of the most dog-friendly cities in the U.S and one of the best ways to experience Red Rock Country is on a jeep tour.
An off-roading jeep tour in Sedona offers lots of fun and adventure for you and your favorite furry friend. You'll learn so much about the beautiful town of Sedona while taking in amazing views that can only be reached off-roading.
Not all jeep tour operators in Sedona are dog-friendly, but there are couple that are including Arizona Safari Jeep Tours and A Day in the West Jeep Tours.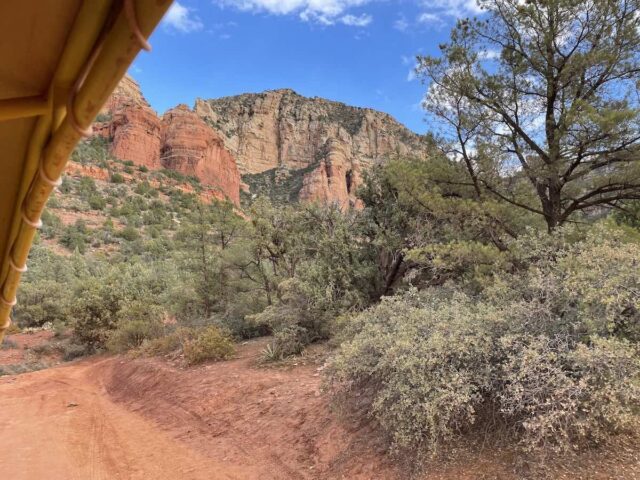 You can choose from one of many tours ranging from mild to more rugged. Make sure to choose one that's apporopariate for you and your pet. These tours usually last anywhere from 1.5 to 3.5 hours depending on the one you choose.
Be sure to check with your jeep tour operator when making reservations for any pet restrictions. For example, some allow lap dogs to ride free, but dogs that are too big to fit into a lap are charged a child's rate.
#9 Hike the Devil's Bridge in Sedona
Contributed by Candice of CS Ginger
Devil's Bridge is one of the most popular hiking trails in the Sedona area. It has stunning red rock views and only a moderate level of difficulty. Another great thing about the hike and the surrounding area is that it is very dog friendly. Many restaurants and trails, including Devil's Bridge, welcome your furry friends.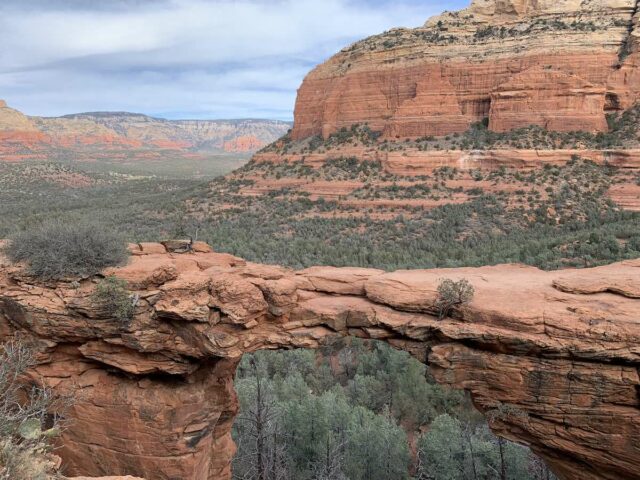 Do keep in mind your animals should be leashed and should be well trained when hiking Devil's Bridge. There are some steep drop-offs and a few places where you might need to use your hands for balance. Some people even carry their smaller dogs occasionally toward the end of the hike.
The Devil's Bridge Trailhead is located just off Highway 179, about 2 miles south of downtown Sedona. From the parking lot, the trail is pretty easy. There are two different routes to get to the bridge that eventually converge at the 4×4 parking area. Once you get to the 4×4 parking area, the trail will gradually become more difficult, but it's worth it.
The Devil's Bridge's stunning views and a moderate level of difficulty are perfect for hikers of most skill levels. Plus, leashed dogs are welcome so that you can bring your animals along for the fun.
#10 Or Hike the Soldier Pass Trail
Contributed by Jessica Schmit of Uprooted Traveler
If you're looking for another awesome hike in Sedona, Soldier Pass Trail should be at the top of your list.
This trail packs a lot into just a 4.5-mile loop – along the way, you'll pass an enormous sinkhole, called the Devil's Kitchen; a series of pools in the red sandstone, called the Seven Sacred Pools; and even a secret cave, all with the backdrop of Sedona's spectacular red rock mesas and cliffs.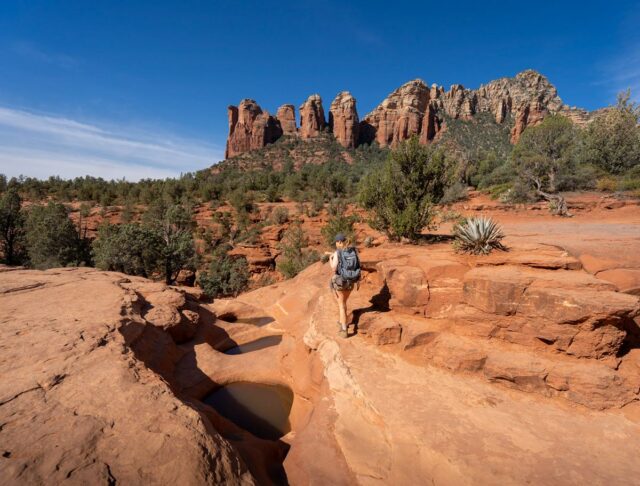 Best of all, dogs are more than welcome here – just be sure they're kept on a leash!
The hike is popular so, like lots of places in Sedona, parking can be a challenge, especially during busy periods, like weekends during the springtime.
The trailhead only has a small parking lot that holds about 14 cars and street parking is not permitted in the surrounding upscale neighborhood. The lot is gated and opens at 8am every day – so if you want to snag one of the 14 spots in it, be sure to get here bright and early!
#11 Visit Kartchner Caverns State Park
Contributed by Trijit Mallick from Dog Travel Buff
The Kartchner Caverns State Park is famous for its wild beauty and hiking trails. This large park is spread across 1536 acres. The main attraction of this place is its widespread 2.4-mile cave area. Due to its mesmerizing scenic beauty, you will feel goosebumps as soon as you step onto this area.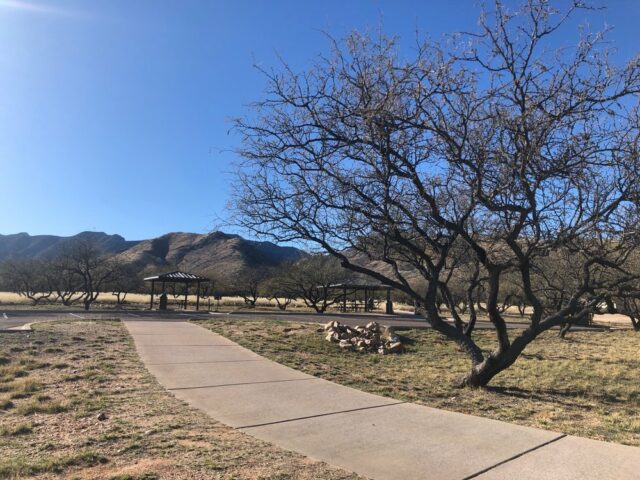 In Kartchner Caverns State Park, you and your pet will find many activities to keep both of you engaged throughout the tour. Local authorities conduct guided cave tours where you will see Discovery Center, a theater, an interactive display, and many trails.
You can take your dog with you on this tour. You don't have to pay extra money for this. But remember, your dog must be on a leash while roaming with you on this tour. Also note that you can't take your dog to the Discovery Center and the park building. So while you visit these places during the tour, you can keep your dog at the campground.
The good news is that you can take your furry pal to the camping and tent area where your dog can go wild and play. Before you plan to come back home, make sure to visit Rotunda, Throne Room, and The historic Tucson bike tour also. These are some of the best spots that attract thousands of people to Kartchner Cave.
#12 Hike the Sunrise Mountain Trail
Contributed by Alyssa of An Apple a Plane
Adjacent from WestWing Mountain and located within the Peoria Sunrise Mountain Preserve, Sunrise Mountain Trail provides a moderately challenging route hikers can take on with their furry friend in Arizona.
Sunrise Mountain Trail is formally considered a 4-mile loop, but many side routes allow hikers flexibility to change it up as they go. It can also be completed as an out and back. There is no shade so plan for the heat by packing yourself and your dog water along the way. Collapsible water bowls work great to store in your backpack and unfold when your furry friend needs it. Plan as well for roughly 700ft elevation gain with some erosion through the trail.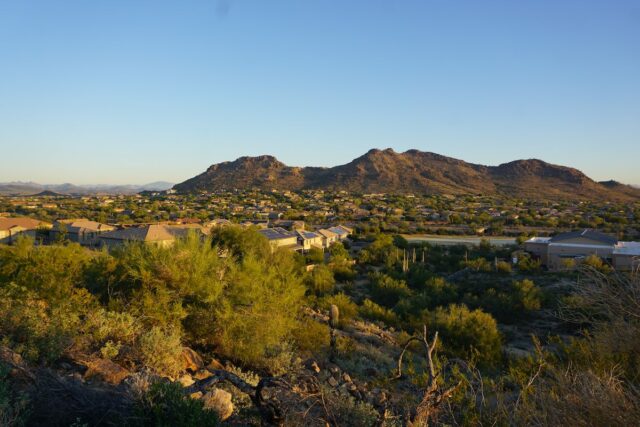 Dogs are required to be on a leash at all times. The route is heavily trafficked so expect crowds. Earlier in the day, less crowds are present. It is open year-round. At sunrise and sunset, you can even spot hot air balloons in the distance!
#13 Head to Canyon Lake
Contributed by Jen of See Mama Travel
For some outdoor fun, take your pup out to Canyon Lake, just a short drive east of Mesa, Arizona. The lake is an excellent place for dogs to run and play in the water or enjoy a lakeside picnic.
If your dog is a water enthusiast, you can take them paddleboarding, kayaking, or even boating on this expansive lake in the desert.
Looking for a more unique experience? Check out the Dolly Steamboat. Take a scenic nature cruise on Canyon Lake where you'll see desert bighorn sheep and bald eagles from the deck. And yes! The Dolly Steamboat is pet-friendly. As long as your dog stays on a leash, they are welcome to join you for this unique boat ride through the canyon.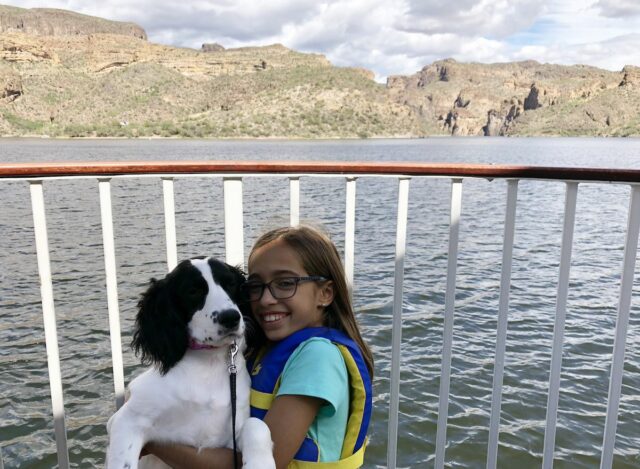 Canyon Lake even has a campground right at the lake's edge. So your pups can enjoy an overnight camping experience looking at the stars and playing in the water. The campground is pet-friendly as long as your dog stays on a leash!
#14 Discover Dinosaur Tracks
Just west of Tuba City and not far off Highway 89, you'll spot a sign for Dinosaur Tracks. Pull up into the parking lot next to a few craft stalls to view the main attraction, the Navajo Moenave (or Moenkopi) Dinosaur Tracks.
Dozens of huge dinosaur footprints were left on the exposed rock platform during the early Jurassic period, from an unknown carnivorous dinosaur. The tracks remain unprotected, rather than behind glass displays, meaning that you can get up close to them, with no restrictions on your dog joining you.
There is no entry fee to visit the tracks, but given they are on the Navajo Reservation, it's a courtesy to pay for a guided tour from a Navajo guide. Also be careful not to damage the site, so that it's left intact for future visitors.
#15 Road-Trip Along Route 66
The historic Route 66 once cut right across Arizona, before the faster I-40 interstate replaced it. In some places the I-40 was laid right across the older road, but in other places the freeway allows easy access to some of the best surviving (and most drivable) sections of the older road.
While driving across Arizona with your dog, be sure to detour off and visit some of these remnants of Route 66, including the old highway towns and the attractions that once lined it, such as Seligman and Kingman.
The town of Williams was the last Route 66 town to be bypassed by the I-40. These days, as well as being a handy gateway to the Grand Canyon, it's a great destination to relive the nostalgia of the Route 66 days.
Old-fashioned street lamps line the downtown streets, while every second shop has a Route 66 connection, with plenty of souvenirs on offer. Don't miss getting some selfies with your pup in front of some of the Route 66 signs and street art!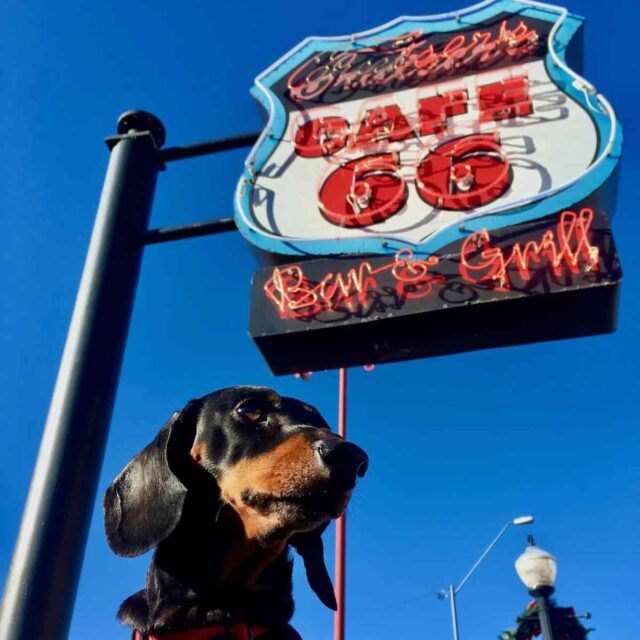 You May Also Like