Created in conjunction with Holiday Cottages.
London is all things to all men (and their dogs). With inner and outer-city parks and woodlands throughout the metropolis, there's often no need to venture beyond the confines of the M25 ring road to further afield in England.
On the other hand, even the most devoted capital city dweller will admit that they feel the occasional pull to go on a day trip beyond the suburbs. So, rally the hounds and get on the train or pack up the car, here is a list of five of our favourite places within easy travelling distance of London.
Head to the coast or further inland to the hills where the open countryside entices and offers fantastic escapes for you and your devoted pets!
1. The Royal Town of Windsor
Distance from London: 55 minutes by train from Waterloo
Best for: Big parks, green spaces and ease of reach from London
Windsor is a perennial favourite for day trippers. The royal town is directly connected to Waterloo Station, with a journey time of just 55 minutes. The great thing about Windsor is that there is a very good choice of dog-friendly parks and open spaces in the town centre.
First of all, seek out the Home Park which is a wide-open and green park (with a play park and public WCs). This park is adjacent to Riverside station and offers lots of space for your dog to hare around and children to play. Views are enhanced by Windsor Castle, which looks down over the park.
Another central park is Alexandra Gardens and the Goswells, managed gardens that line the River Thames that are a lovely place for a picnic after a stroll. There are lots of swans and ducks along the river walk, so keep your dog on its lead as a precaution. Alternatively, head across the Thames to the wild and umtamed Brocas – you can reach it via the pedestrian bridge into Eton.
At the other end of the town centre is The Long Walk, a 3-mile drive that connects Windsor Castle to the Copper Horse. Lined with trees, this is another brilliant place for a walk and a play. (Just beware of deer!) At the castle end of the Long Walk is a great pub, the Two Brewers, where you can have a refreshing drink after your adventure.
2. The Beaches of Whitstable
Distance from London: 75 minute drive from central London
Best for: Long beaches, dog-friendly pubs and restaurants, and ease of reach
Lovers of sea views and long promenades will definitely appreciate a day trip to Whitstable. Famed for its oysters, there's a lot of dog-friendly places to discover on your day trip to this seaside town, just a 75 minute drive from the centre of London.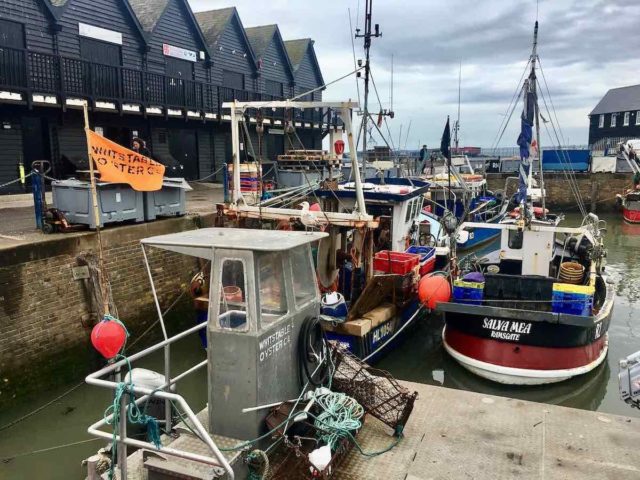 Like many UK beaches, there are restrictions for dogs at some of Whitstable's beaches. However, West Beach is great for all our four-legged friends to run free without hindrance. It's a shingle beach and is privately owned.
Further along the coast is Tankerton Slopes Beach, a grassy sloped and shingle beach. There are a few dog restrictions here but it's still a great spot for you and your dog to head to when the weather is good. Double check the signs before enjoying a scamper.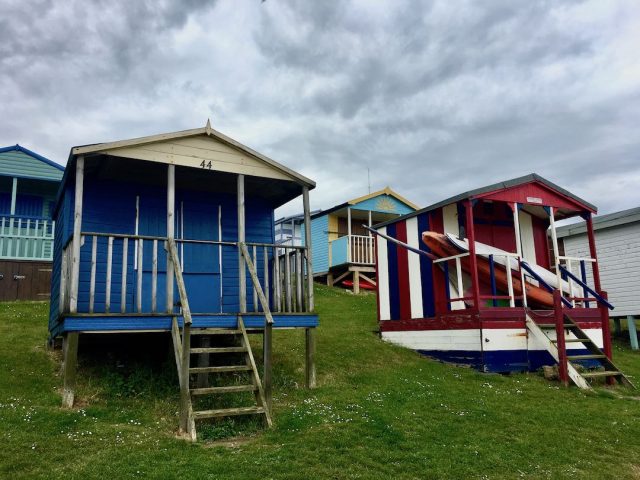 Whitstable also home to list of dog-friendly pubs and eateries as long as your arm. Don't miss sampling some of the local oysters while in town!
3. Seaside Dungeness
Distance from London: Less than a two-hour drive from central London
Best for: Open spaces, long walks and unique sights
For the widest possible contrast from the typical UK urban sprawl and lush green hillside, point the car towards the memorable seaside village of Dungeness. Situated on a vast coastal shingle bank – the largest in Europe – nature lovers will marvel at the diversity of plant and wildlife that thrive here.
Former fishermen's huts, converted train carriages, and sleek, eco-homes are dotted across Dungeness' stark landscape. It's a unique place in the UK with some great walks there and at the neighbouring Romney Marshes.
Two pubs can be found in Dungeness, both of which are exceedingly dog friendly and both (yes, both) serve some of the best fish 'n' chips you'll ever eat. High praise indeed but trust us – it's hard to pick between them.
The shingle spit is also home to Dungeness A and Dungeness B, colossal nuclear power stations that dominate the skyline to the west. Embark on a fascinating tour (advance bookings only and no dogs permitted). It's the only place in the UK where you can see a reactor (all others in England are out of sight and underwater).
Dungeness is also close to a lovely sandy beach at Lydd-on-Sea that stretches most of the way to Dymchurch in the north.
4. Dunstable Downs and Ivinghoe Beacon
Distance from London: A one-hour drive northeast of central London
Best for: Walks, views and a great dog-friendly cafe
Head to the Vale of Aylesbury and you will find the jaw-droppingly beautiful chalk grassland areas of Dunstable Downs and Ivinghoe Beacon. The London Gliding School is in the valley below the steep chalk hills that form the attractive ridge – and there is lots of open space to enjoy.
The elevation of the Downs affords expansive views across the Bedfordshire countryside and you can see forever on a clear day.
Dunstable Downs hosts a modern visitor centre, including a dog-friendly café and terrace. A programme of great events takes place here but the spectacle of kite flyers and gliders soaring overhead make sure that there's rarely a dull moment here. Ask whether they have any of their dog ice cream in stock!
For peace and quiet, head to the sunken lanes where you can spot butterflies and rare orchids when the season is right. Make sure you keep your hounds on a leash in this area as sheep graze in the surrounding fields (and there are penalties for owners of sheep-worrying dogs).
Ivinghoe Beacon is within sight of Dunstable Downs across the Vale. From the top of the beacon, you see even more brilliant views including the chalk lion on the side of the opposite hill below Whipsnade Zoo. The 95-mile long Ridgeway begins at the beacon, a long-distance trail that follows the spine of the Chilterns to Avebury in Wiltshire.
5. Eastbourne and Beachy Head
Distance from London: Less than a two-hour drive south of London
Best for: Seaside strolls and lots of traditional seaside food prospects for you and your pup
Eastbourne is found on one of the most beautiful stretches of coastline in the South East. You and your lovable pooch can enjoy never-ending expanses of the beach where your pooch can run for miles and feel the breeze.
The town is also situated on the edge of the beautiful South Downs which offers over 600 square miles of unbeatable trails for dogs and humans. There are endless streets of traditional country pubs where your dog can have a bowl of water and rest their paws after lovely country walks, while you sample the local menu.
The town has a lovely promenade to wander along with your gorgeous hound. Eastbourne has lots of places to buy ice creams or a bag of chips as you take in the trappings of this wonderful seaside resort.
Nearby Beachy Head can be seen from the town, and providing you have a head for heights and your dog can stay at heel, this is a rewarding beauty spot for all. The chalk headland towers above the sea and the sea views are world class.
In Conclusion…
All of these superb dog-friendly places can be reached by car or train from London. However, there are hundreds more places you could choose from, our selection is an inspirational primer to get you started.
A day trip can also work well as a scouting trip for a future, possibly longer visit. All of these places are great destination ideas if you're planning dog-friendly holidays with friends, family and your dear dog. Plan your dog-friendly day trip out of London today!
You May Also Like
Inspired? Pin this to your Pinterest board!