London in the United Kingdom is a wonderfully dog-friendly city, whether you're visiting London with your dog or are a local living with a pup. Find out about some of the fabulous things to do in London with a dog…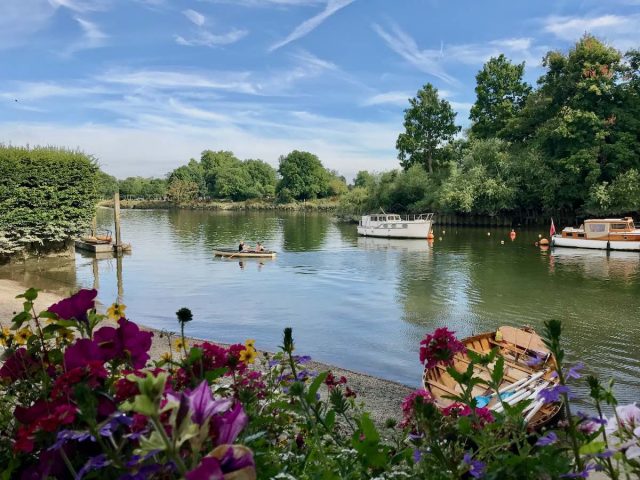 Dog-Friendly Sightseeing in London
There's plenty of dog-friendly things to do in London. While your dog might not be able to join you at many of London's famous sights, from the Tower of London to the many free museums, consider visiting some or all of these dog-friendly places in London.
1. Walk Along the Thames
Take in many of London's most famous sights on a walk along the banks of the Thames. Start at the eye-catching Tower Bridge, close to the battlements of the Tower of London. Then head along the south side of the river (perhaps detouring by dog-friendly Borough Market, just avoiding busy times), on past the Globe Theatre and the Tate Modern.
Just after the London Eye, cross Westminster Bridge to Westminster, home to the Houses of Parliament and the famous Abbey. Perhaps detour via 10 Downing Street, before walking with your dog through St James's Park to wrap up your walk outside Buckingham Palace.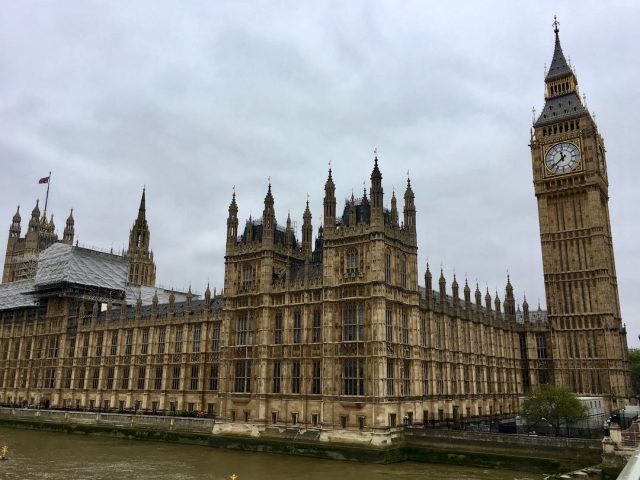 2. Take a Stroll Through Hyde Park
Not far away from Buckingham Palace is Hyde Park, the largest green space in central London, especially when combined with the adjacent Kensington Gardens. It's a beautiful spot to visit with your dog for a walk.
Dogs are allowed off-leash in the majority of the park, although there are some restricted areas. In Hyde Park, dogs need to be kept on leash in the Rose Garden and along the edge of Serpentine Lake, plus aren't allowed in the lake, the Lido swimming area or the Diana, Princess of Wales Memorial Fountain.
In Kensington Gardens, leash your dog around the edge of the Round Pond, Long Water and the Italian Fountains, plus on the South and North Flower Walks. Dogs should be kept out of the Long Water and Round Pond, plus off the popular Peter Pan statue.
3. Explore the Street Art of Shoreditch
The Shoreditch neighbourhood in the East End of London is one of the capital's hippest areas. And if you visit the area with your pup, you'll also discover it's one of the most dog-friendly, with countless people fawning over my dog during his visit.
While there's plenty of bars and restaurants to hit up, plus markets on the weekends to trawl, there's also an impressive collection of street art in Shoreditch to discover, perfect for a long walk with your dog.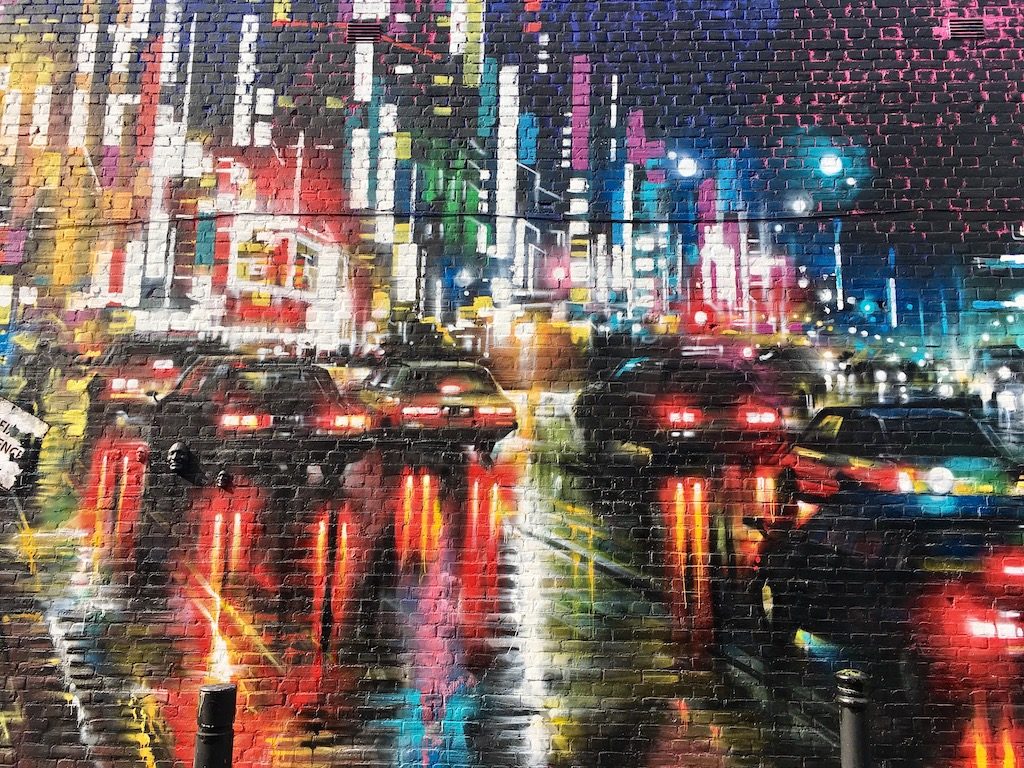 This map is getting a little old, but is still a good starting point for your explorations. Alternatively, join one of the regular walking tours, who would probably be happy to also have your dog join in. And don't forget to include your dog in some street art photos!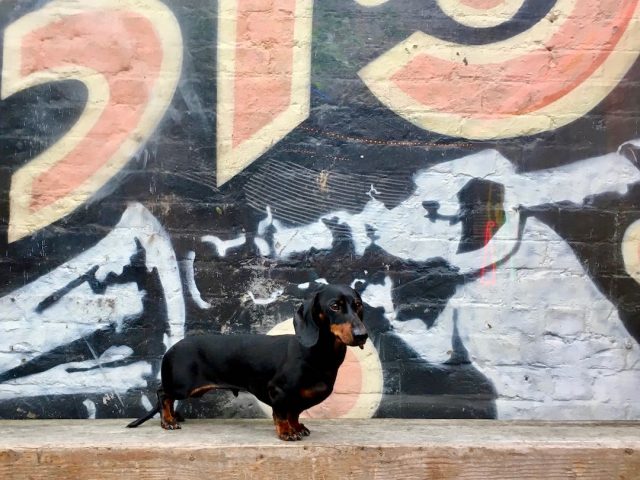 4. Head to Maritime Greenwich
The World Heritage listed neighbourhood of Greenwich is a terrific neighbourhood with plenty of history to explore. Visit the grounds of the Christopher Wren-designed Old Royal Naval College and admire the Cutty Sark, then head up to the hill to the Royal Observatory, although dogs are not allowed inside the home of the Prime Meridian.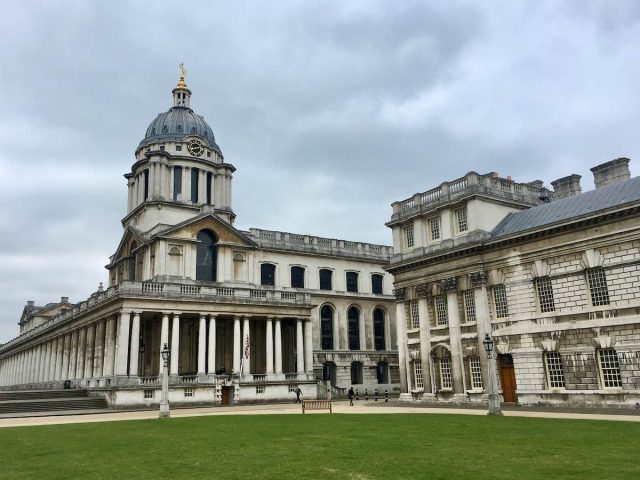 Instead, take some time for an off-leash walk and run at the expansive Greenwich Park. Dogs are allowed off-leash throughout the park, except they need to be on-leash in the Rose Garden, plus aren't permitted in the Flower Gardens, Wilderness Deer Park and Royal Observatory Garden.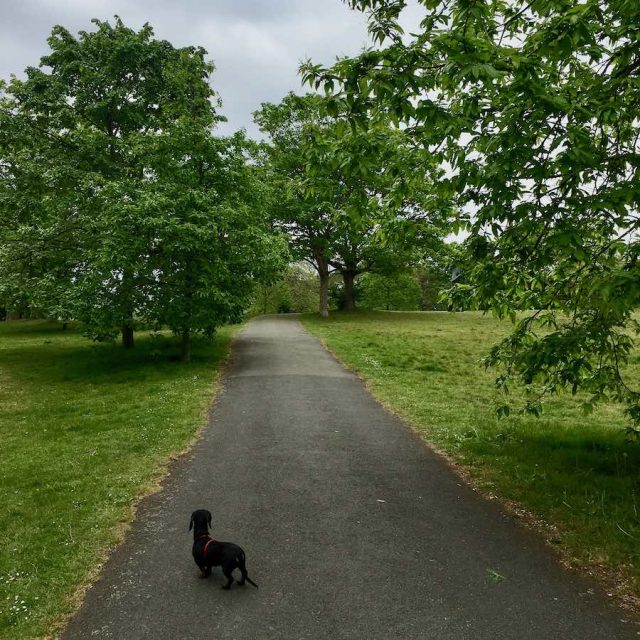 5. Browse Camden Market
Head to Camden Market for a fun day out. This market is just a short walk from the tube station, and offers up a huge array of shops, not to mention plenty of great street food. There's even street art to be explored on the nearby streets.
Just be careful on busy days to keep your dog out from under other people's feet. We found it best to carry our small dog at times, especially in the more tightly packed spaces.
6. Visit Tower Bridge
Don't miss visiting Tower Bridge, one of London's iconic landmarks, together with your pup. Dogs are allowed inside this dog-friendly London attraction, which offers up a mixture of history and views.
Together you can explore the bridge's historic towers, visit the engine rooms and pose on the glass floors in the walkways. Note that during busy times the number of dogs may be restricted, plus of course your pup needs to stay on a leash and be supervised at all times.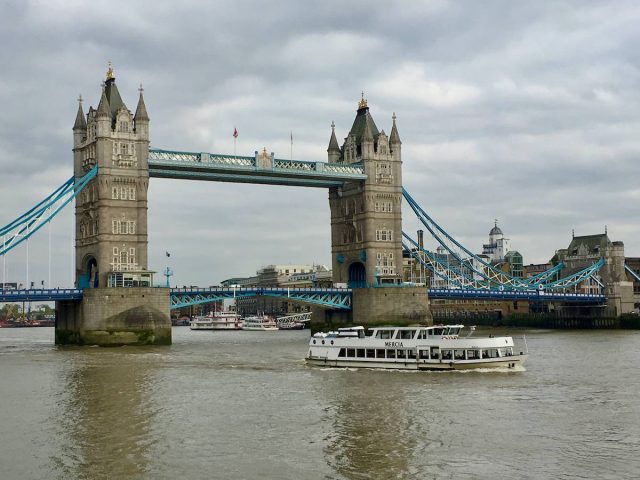 7. Head to Hampstead Heath
A very popular spot with dog owners from all over London is Hampstead Heath. With over 800 acres to explore, there's plenty of room for dogs to run off leash or play with other pups.
Dogs are allowed off leash throughout nearly all the Heath, except for a few areas near Kenwood House where they are prohibited or required to be on-leash – refer to this map.
On summer days, there's even some ponds that your dog can swim in, including Highgate No.1 Pond. Just keep your dog outside of ponds where there are signs prohibiting dogs.
8. Get Out on the Water
You can't visit London and not spend some time on the water with your pup, with the Thames River in particular a lifeline of the city. There's a wide variety of options to choose from.
The easiest option is to take a trip along the Thames on one of the many dog-friendly river boats. Thames Clippers operates in between Putney and Barking Riverside, with day passes available as well as single and return trips. Dogs travel for free, but make sure you keep it under control, either on a leash or in a carrier and off seats.
Alternatively, rent an electric boat for the day from GoBoat London. Explore the canals from Merchant Square in Paddington, the quiet stretch of the Thames around Kingston upon Thames, or explore the London Docklands from Canary Wharf. Dogs are allowed, although dog life jackets are not available.
Canal & River Cruises also offer a variety of boats for hire or private cruises, with dogs allowed.
9. Head out of London for the Day
Need a break from London? Consider one of these dog-friendly London day trips, to beautiful destinations including Dungeness and Beachy Head.
Dogs on Public Transport in London
It's easy to get around on public transport in London, even with a dog. Dogs are allowed to travel on most forms of public transport, including the underground and buses, with no fare charged. They need to be on a leash, or otherwise in a carrier for smaller pets.
The one caveat is that dogs may not be allowed "if there is a good reason to refuse it". I'd try to avoid peak hour if possible, especially on buses. Some owners of larger dogs have reported that their dogs have not been permitted on buses.
Note that when using the underground, you should carry your dog on the moving escalators, or otherwise use the stairs or lift. If only an escalator is available and your dog is too large to be carried, the rules stipulate that the escalator will be stopped if it's not "busy", but I'm not sure if this often happens. Read the full Transport for London regulations.
If you'd prefer the more leisurely pace of a ferry, most of the Thames river boats allow dogs onboard. For instance, Thames Clippers allows dogs onboard, as long as they are on a leash, at no additional charge.
Dog-Friendly Dining in London
During my multiple visits to London with my dog, we had no issues finding dog-friendly places to dine, especially many of the local pubs. However, I've also heard from others that they've struggled to find pubs where they could dine inside with their dog, so perhaps it comes down to luck. Double check previous reviews first, and be aware that some rules may have changed post-pandemic.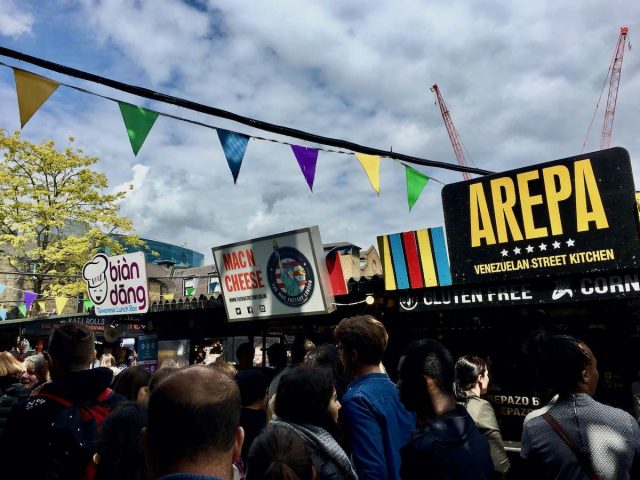 If you're struggling to find dog-friendly places to eat, consider heading to one of London's street food markets or market halls. Many of them are dog-friendly, with the best listed in this guide. There's sixteen options listed, from Borough to Mayfield to Camden.
Dog-Friendly Accommodation in London
If you're visiting the United Kingdom capital with your dog, you'll need to organise some dog-friendly accommodation. Luckily there's a wide range of dog-friendly accommodation in London.
London has plenty of dog-friendly hotels, whether you're looking for somewhere luxurious or a more affordable place to stay. For a wide range of dog-friendly hotel suggestions, check out my guide to dog-friendly hotels in London.
It's also worthwhile considering an Airbnb, particularly if you're staying for longer and wishing to self-cater. I stayed in a wonderful studio flat in Islington during my first visit to London with my dog.
You May Also Like
Inspired? Pin this to your Pinterest board!