As a popular tourist destination, the Gold Coast in Queensland has a plethora of accommodation options. However, the options available aren't as extensive if you are travelling with your pet dog, with many caravan parks not allowing pets.
I've dug up a selection of pet-friendly caravan parks on the Gold Coast, each that offer pet-friendly cabins. Read on to find out more about the options available and make a booking for your next holiday on the Gold Coast for the entire family, four-legged members included!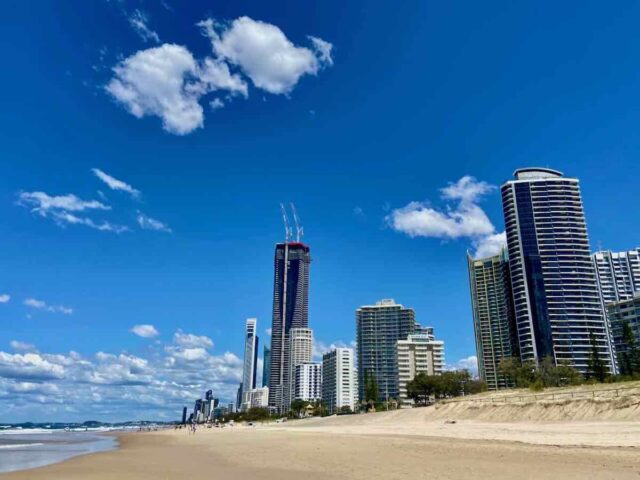 Note: This post contains affiliate links, which means I may receive commission if you make a purchase using the links. See my full disclaimer.
#1 BIG4 Gold Coast Holiday Park, Helensvale
One of the best pet-friendly caravan parks on the Gold Coast is the BIG4 Gold Coast Holiday Park. This park has plenty of facilities of dogs, including a huge fenced off-leash dog exercise park, including agility equipment, a DIY dog wash and onsite dog kennels. Dogs are also allowed at the poolside cafe.
Naturally, the park welcomes pets in their large range of pet-friendly cabins, as well as on sites. When browsing through the cabins on their website, just look for the paw prints denoting which ones allow pets inside.
Some of the pet-friendly cabins at the BIG4 Gold Coast Holiday Park include Studio Cabins, Cosy Cabins, Two Bedroom Cottages, Two Bedroom Family Cabins, Bungalows and Two Bedroom Terraces. There's pet-friendly cabins that sleep between two and six human guests.
There is no additional fee for pets, with up to two calm, well-behaved dogs allowed inside each cabin. Naturally, advance bookings are essential, and you should advise the park at the time of booking that you'll be bringing a pet.
#2 Kirra Beach Tourist Park, Coolangatta
Another dog-friendly caravan park on the Gold Coast that has pet-friendly cabins is the Kirra Beach Tourist Park. This holiday park is a great option if you want to stay right on the coast, as it's only a short stroll to the beach in Coolangatta, plus a short drive from the off-leash Palm Beach Dog Beach.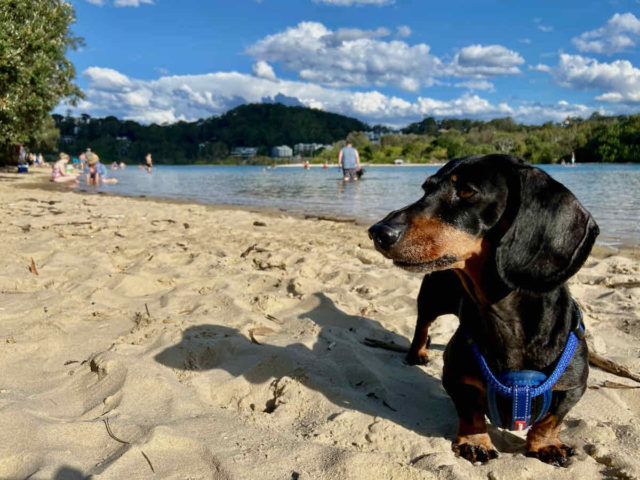 Dogs are permitted year round at this park on selected powered sites, plus in their excellent dog-friendly cabins. Two spacious two-bedroom cabins allow dogs inside. Each of the cabins has a gated balcony with pet-proof mesh around, perfect for relaxing outside and enjoying a BBQ. Inside there are two bedrooms that can accommodate up to four, along with your own kitchen with dishwasher and a bathroom.
Note that generally only one small dog is permitted per booking, and they must be up-to-date on their vaccinations. An additional flat cleaning fee of $32 also applies. At the park you'll also find a self-service dog wash machine and a pet-friendly drinking fountain.
#3 NRMA Treasure Island Holiday Resort, Biggera Waters
The NRMA Treasure Island Holiday Resort at Biggera Waters also offers pet-friendly cabins on the Gold Coast. Home to four resort-style swimming pools, a licensed bistro and regular activities, it's a great spot to relax on a family holiday.
There are two ensuite cabins at the park that are pet-friendly. Enquire directly with the park about further details. Additionally, pets are also allowed on selected powered sites, suitable for tents, caravans and motorhomes, including some premium sites. All the sites and the two cabins are grouped together on the creek side of the resort, near a small fenced off-leash dog exercise area.
Note however that pets are not allowed at the park during the busy QLD and NSW school holiday periods. Up to two small dogs are permitted per site, plus cats and birds are also allowed. Call the park directly to make a booking with a pet.
#4 River Retreat Caravan Park, Tweed Heads South
Okay, this caravan park technically isn't located on the Gold Coast, but the River Retreat Caravan Park in Tweed Heads South is just south of the border and within a short drive of the southern Gold Coast.
There are a range of dog-friendly cabins in the park. As well as Ensuite Cabins, there are also pet-friendly Standard and Budget Cabins without a bathroom, that are just a short walk from the amenities block. All cabins are air-conditioned and have at least a double bed.
Dogs are welcome at the park all year round, although final discretion rests with the manager. Naturally pets are also welcome if you are staying on a powered site in your own caravan, motorhome or tent. To make a booking, it's best to call the park directly.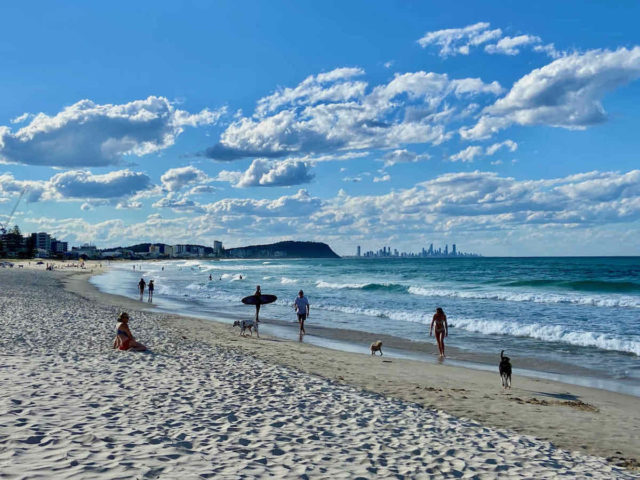 More Pet-Friendly Caravan Parks on the Gold Coast
There are also a number of other pet-friendly caravan parks on the Gold Coast, that either don't have cabins at all or don't permit pets inside any of their cabins. If you have your own caravan, campervan or tent, also consider these parks:
Coomera Holiday Village: This caravan park and campground is located close to Dreamworld. While there are no cabins or villas at the park, dogs are welcome on the powered and non-powered sites year round.
Jacobs Well Tourist Park: This park at the northern edge of the Gold Coast is a popular spot for fishing. Selected sites at the park have been designated as dog-friendly.
Southport Tourist Park: This centrally located caravan park is close to Surfers Paradise and the Broadwater. Pets are allowed on application only, outside of the peak season. Note that the reviews are not flattering.
Advancetown Caravan Park: This quiet and friendly caravan park is located a short drive inland from the Gold Coast. Enquire directly about their rules for pets, as they don't have a proper website.
Pyramid Holiday Park: This park is located just across the border in Tweed Heads. Pets are allowed on allocated pet ensuite powered sites, but not in villas or cabins. There is also a fenced dog park.
Other Pet-Friendly Accommodation on the Gold Coast
If you're not able to make a booking for a pet-friendly cabin on the Gold Coast, and don't have your own caravan or campervan to stay in, there's also some other pet-friendly accommodation options on the Gold Coast. There's also plenty of holiday homes for rent on the Gold Coast, some that allow pets to join you.
Alternatively, enquire with Quest Robina Apartment Hotel. The hotel has six pet-friendly ground floor terrace apartments. Each apartment can accommodate up to two vaccinated dogs under 20kg, for an additional charge of $49 per pet per night. Contact the property directly to enquire about availability.
If you'd like to splurge on your stay on the Gold Coast with a pet, another option is the QT Gold Coast in Surfers Paradise. Book a Pup Yeah! package, with your dog receiving their own bed, mini-bar and in-room dining menu. A 20kg weight limit also applies for dogs at the QT Gold Coast.
You May Also Like