Famous for its beaches, theme parks and high rises, what's it like to visit the Gold Coast in Queensland with a dog? Are there many dog-friendly things to do during the day and dog-friendly places to stay? Find out more about the dog-friendly side to the Gold Coast.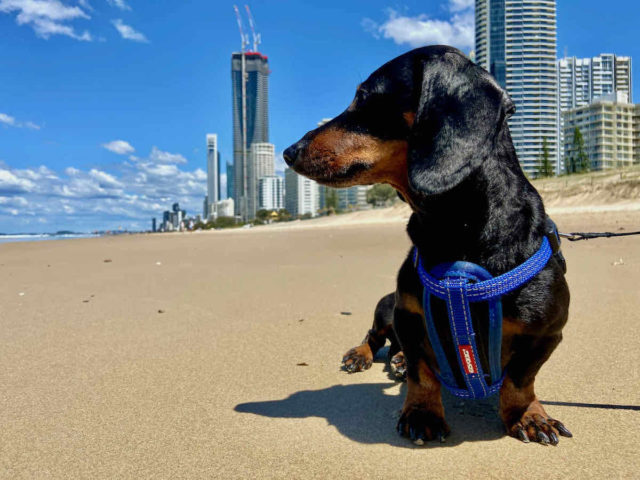 Dog-Friendly Beaches on the Gold Coast
It's a must to head to one of the beautiful Gold Coast beaches with your pup for a romp on the sand and in the water. However, keep in mind that dogs are strictly prohibited from within 200m of flagged bathing areas. There's signs reminding you of this at beach access points, plus sometimes on the sand.
Outside of patrolled sections of beaches and some other prohibited areas, dogs are by default allowed on leash on the beach. But there's also some excellent dog-friendly off-leash dog beaches to head to for unleashed fun. Consider these options:
The Spit Dog Beach: One of the most popular off-leash dog beaches on the Gold Coast, located on the ocean-facing side of the Spit in Southport. Dogs are allowed off-leash from the entrance opposite Muriel Henchman Park north to the seaway rock groyne. It was certainly busy on the sunny Saturday morning we visited!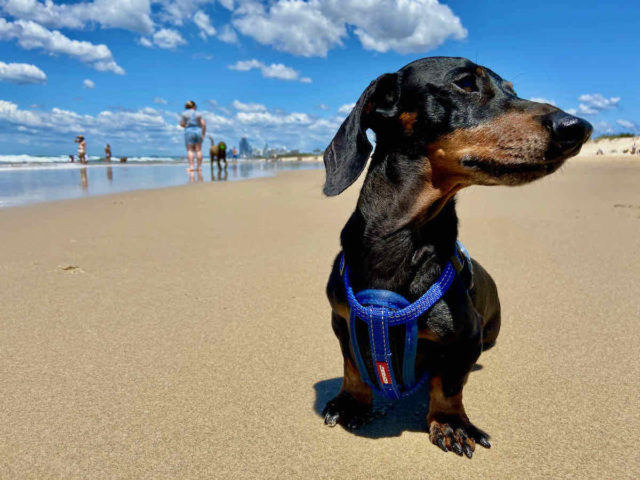 It's easiest to park in the large carpark near the Seaway Kiosk, which offers doggie ice cream – the perfect post-beach treat. Next to the walkway from the kiosk to the beach is also a convenient wash down area with hoses for sandy dogs.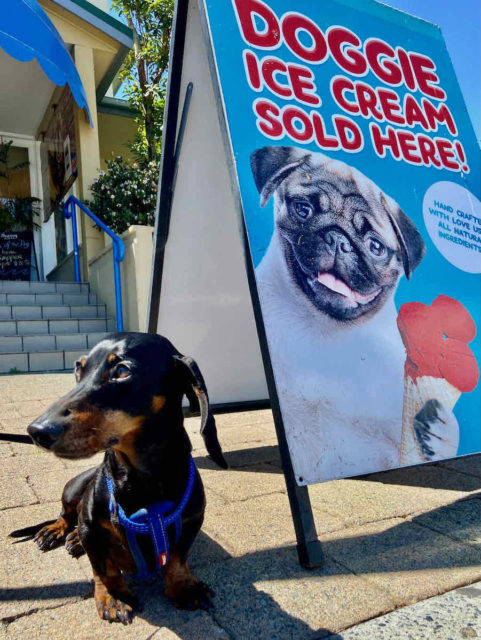 Marine Stadium: If the waves at the Spit Dog Beach are too scary for your pup, head to the opposite side of the Spit, with dogs allowed off-leash on the eastern side of the enclosed Marine Stadium, between Doug Jennings Park and Muriel Henchman Park.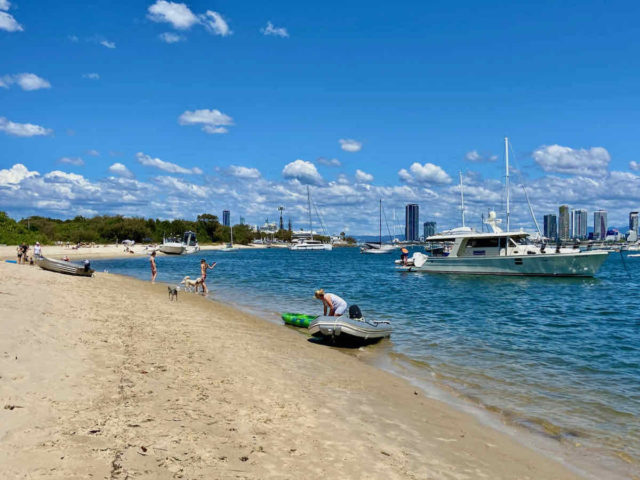 Palm Beach Dog Off-Leash Beach: Another very popular off-leash dog beach on the southern side of the Gold Coast. Dogs are permitted off-leash around much of the Palm Beach Parklands, including the northern side of the Currumbin Creek entrance, looping around to the ocean-facing beach and lifeguard tower 13.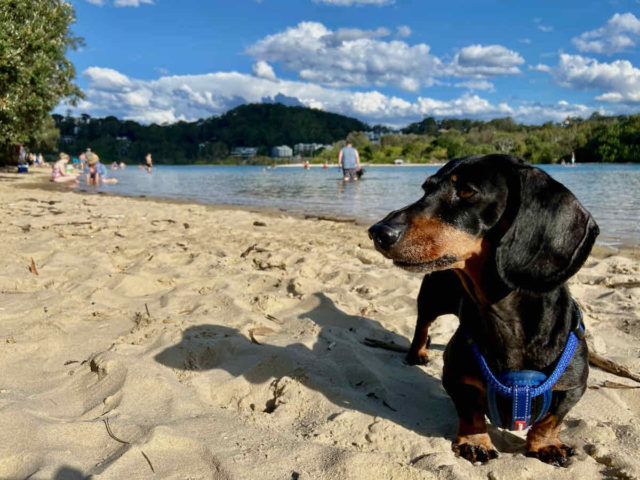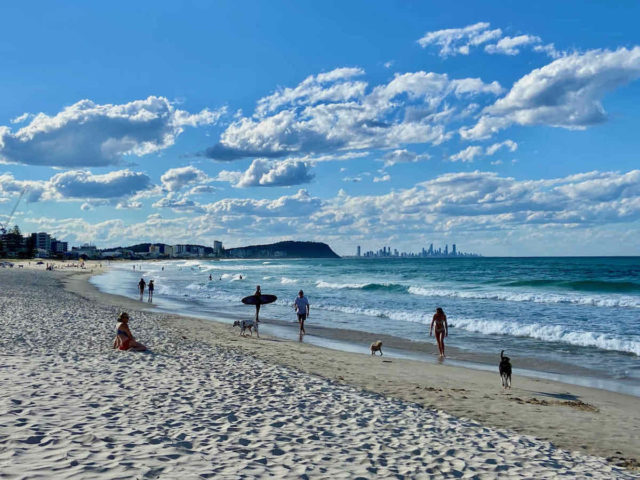 Note that dogs are not permitted on the southern side of Currumbin Creek. There's some handy maps on location showing where dogs are and aren't permitted, or follow the arrows from the carpark.
Tallebudgera Beach: This off-leash beach is located at the other end of Palm Beach. Dogs are permitted off-leash on the beach from north of lifeguard tower 16 at Ronnie Long Park to the Tallebudgera Creek entrance. Just note that currently there is a restriction that dogs need to be on leash between 7am on 6pm on weekdays until mid-2023.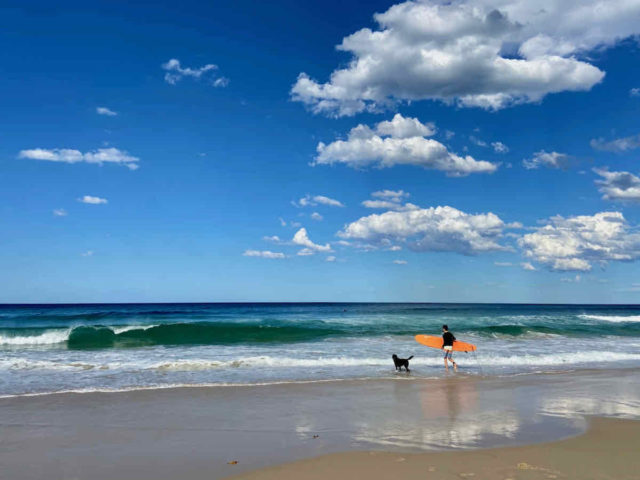 These aren't the only dog-friendly beaches on the Gold Coast, with a number of other off-leash beaches and sections of foreshore available. For a full listing, see my guide to dog-friendly beaches on the Gold Coast.
Dog-Friendly Sightseeing on the Gold Coast
It doesn't have to be all about the sun and sand when visiting the Gold Coast with your dog, although it's the perfect way to spend at least some of your time. There's also some other great dog-friendly day out options…
1. Head to the Gold Coast Regional Botanic Gardens
The Gold Coast Regional Botanic Gardens in the suburb of Benowa are a relatively recent addition to the list of botanic gardens in Queensland, only established in 2000 on the site of Rosser Park and developed in recent years.
One of the features that makes the gardens a popular destination for dog owners is the large off-leash area on the western side of the park, adjacent to the lake. It's easiest to park at the western carpark. Dogs should be kept on leash while walking over to the off-leash area, particularly for the safety of picnics and the nearby playground area.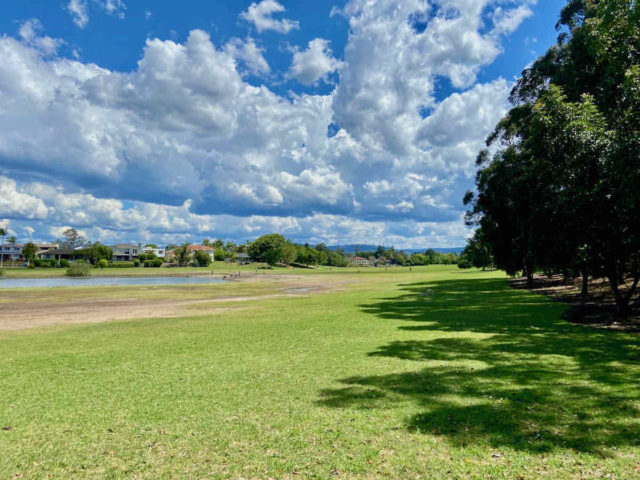 Unfortunately, dogs are not permitted in the gardens around the Feature Lake on the eastern half of the site, although there is a designated dog walking route to bypass the lake shown on maps. Instead walk part of the Mangroves to Mountains Walk, or visit the pretty Butterfly Food Plants Garden.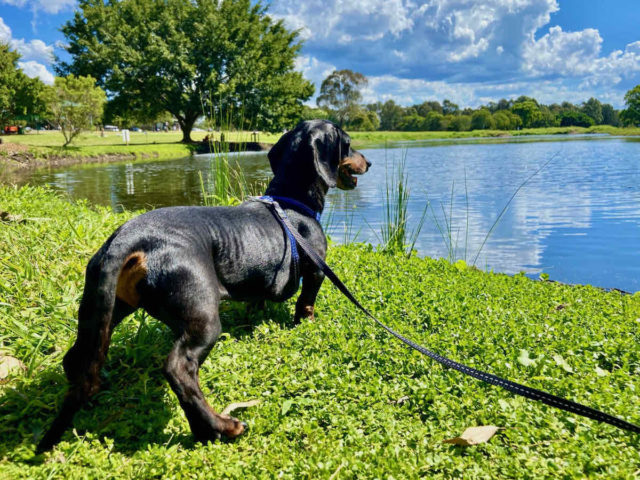 2. Taste the Local Craft Beer
There's a number of craft breweries dotted around the Gold Coast, from the seaside to the hinterland, with many of the breweries welcoming four-legged friends to join you for a session or a meal.
We headed to Burleigh Brewing, whose taphouse is located in an industrial estate inland from Burleigh Heads. Open Friday, Saturday and Sunday afternoons, there's plenty of outdoor tables to spread out at, with multiple dogs joining their owners on the sunny afternoon we visited.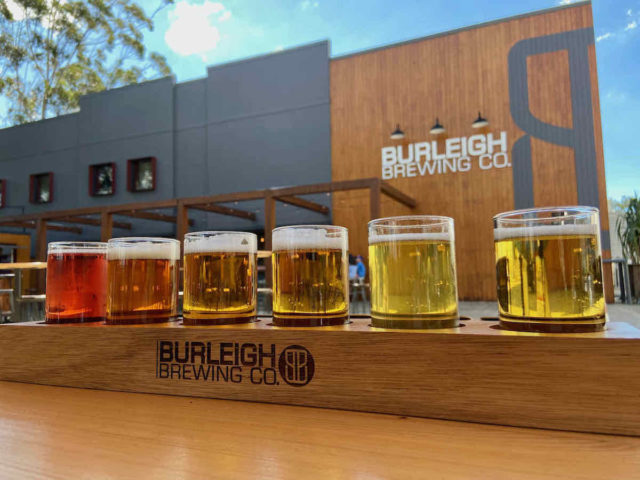 Their beers on tap changes regularly, so perhaps order a tasting paddle to taste a few. Their Wildflower beer made with Wildflower Gin's signature botanical spice mix is an unusual highlight. The Burleigh Eats stand offers snacks ranging from burgers to tacos to fries.
Another nearby dog-friendly brewery is Burleigh Barrels. Dogs are welcome in their covered beer garden, with bowls of water provided. There's 24 taps pouring fresh craft beer, plus an extensive food menu, with their low n slow BBQ offering a speciality. The taproom and restaurant is open from Wednesday to Sunday from lunchtime until late.
Beer not your thing? Instead consider heading to Granddad Jack's Distillery, just up the road at North Burleigh Beach. Make a booking for their tasting room, with dogs welcome to join you inside.
3. Head Inland to Tamborine Mountain
While visiting the Gold Coast, don't miss heading inland to the beautiful Gold Coast Hinterland, with its mountains, forests and villages. While pups will unfortunately miss out on the national parks and many walking trails, one of the best dog-friendly spots to visit is Tamborine Mountain.
At Tamborine Mountain make your way to The Gallery Walk, a strip of boutiques and cafes, many selling local products. We found the stall owners quite friendly, even permitting our dog inside some of the shops, although wait for your pup to be invited.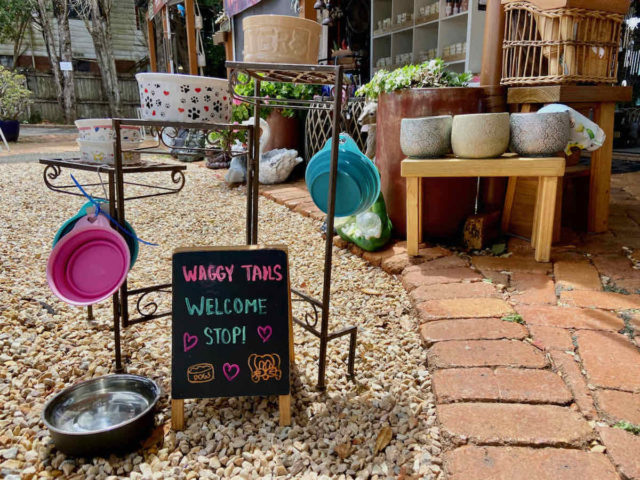 Just south of the The Gallery Walk is Fortitude Brewing, with dogs allowed in part of the outdoor seating area while you enjoy a beer or pizza. They're open daily for lunch, although check their opening hours in advance. Alternatively, for dog-friendly wine tasting head to Witches Fall Winery, which requires bookings in advance for tastings.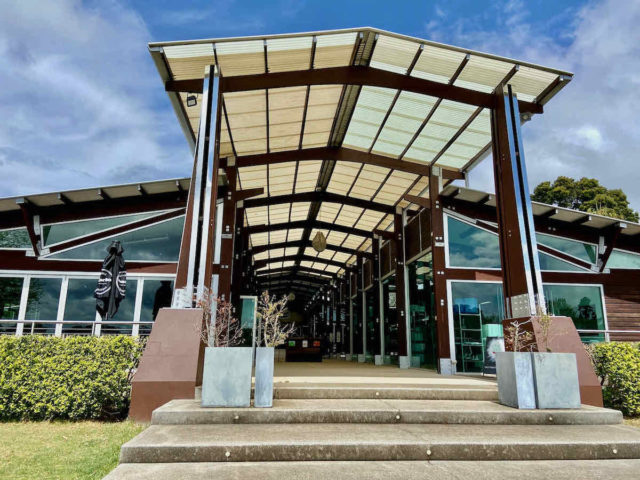 For a non-alcoholic tasting, instead head to the Tamborine Mountain Coffee Plantation. We enjoyed a delicious lunch at the cafe, which has a huge outdoor area with a variety of tables where well-behaved dogs are welcome.
For something different, consider their coffee tasting board, with Australian-grown coffee served four ways. The cafe is Thursday to Monday for breakfast and lunch, and also serves local beers and wines.
While at Tamborine Mountain, don't miss checking out the Rotary Lookout, which is situated outside of the national park (so dogs are allowed) and offers stunning views over the mountains of the Scenic Rim.
Dog-Friendly Parks on the Gold Coast
As well as off-leash dog beaches, there are plenty of off-leash dog parks dotted all around the Gold Coast. Some of the parks are fully fenced, although most are not, with some parks also offering agility equipment.
One excellent fenced dog park is the Saltwater Fenced Dog Park at Hope Island. This large fully-fenced area even has its own swimming lagoon, as well as agility equipment, picnic tables and water fountains. Dogs can also be walked on-leash on the path around the lake, although are not permitted in the western half of the park. If you're driving through the Gold Coast, it's less than a 10 minute drive off the freeway.
Another highly recommend dog park that I unfortunately didn't get a chance to visit is the Tallebudgera Off Leash Agility Dog Island at Elanora. Yes that's right, it's an island just for dogs! Located at the Eddie Kornhauser Recreational Reserve, there's two walkways connecting the island to the rest of the reserve. Dogs are allowed off-leash only on the island, which doesn't need to be fenced. There's also dog agility equipment on the island.
For a full list of off-leash dog areas on the Gold Coast, check out the council website, which lists off-leash areas by suburb. There are symbols used to denote which parks are fenced or have agility equipment.
Dog-Friendly Dining on the Gold Coast
The Gold Coast has no shortage of dog-friendly cafes to dine at with your dog, with most cafes that have outdoor dining areas welcoming dogs, although it's always best to check in advance. Alternatively, run a quick Google search for "dog-friendly cafe", to find out what the locals are currently recommending.
One popular dog-friendly cafe we visited is the Anchor Buoy Restaurant, located at the marina at Sanctuary Cove. With a pets welcome sticker on the pavement outside making it clear it was dog-friendly, there were plenty of pups joining their owners for brunch or coffee on the morning we visited.
The cafe has since transitioned to a restaurant, and is now open for lunch from Wednesday to Sunday, plus dinner from Wednesday to Saturday. Hopefully it's still as welcoming to dogs, including if you drop in for a cheeky pre-dinner drink.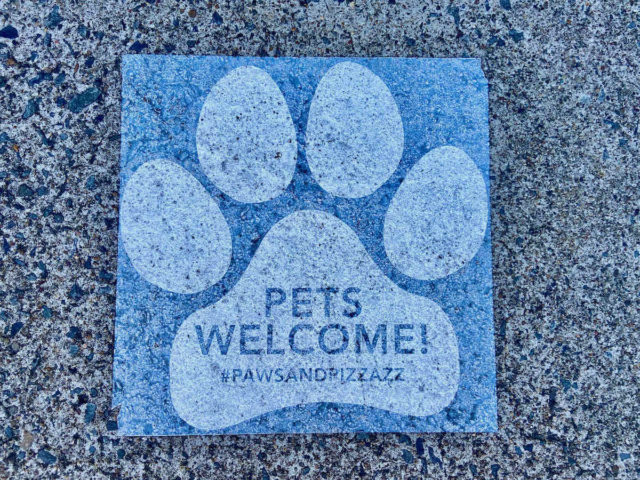 For more daytime dining options with your dog, consider Cafe Catalina at Southport, Parcbah Espresso in Southport, Alfred's Diner at Mermaid Beach, ELK Espresso at Broadbeach or Paddock Bakery at Burleigh Heads.
Cafe Catalina is also open in the evening from Wednesday to Saturday, while another great dog-friendly option for lunch and dinner daily is Miss Moneypenny's at Broadbeach.
If you'd like a treat for your pup, doggie ice cream is on the menu at Seaway Kiosk at Southport, plus Le Cafe Gourmand in Mermaid Beach.
Dog-Friendly Accommodation on the Gold Coast
Note: This post contains affiliate links, which means I may receive commission if you make a purchase using the links. See my full disclaimer.
There's a wide variety of pet-friendly accommodation options on the Gold Coast, from hotels to caravan parks.
One of the most popular pet-friendly options is the Quest Robina Apartment Hotel. Centrally located in Robina, there are six pet-friendly ground floor terrace apartments available for up to two vaccinated dogs under 20kg, with a bed, toys and treats provided. An additional charge of $49 per pet per night applies. Contact the property directly to confirm availability.
For a touch of luxury, consider staying at the QT Gold Coast, located just metres from the beach in Surfers Paradise. Also with a 20kg weight limit, enquire about their Pup Yeah! packages, that come with a bed for your pup, their own mini-bar and the option of in-room dining and a day at the spa (or just day care while you hit the surf).
By far the most dog-friendly caravan park on the Gold Coast is the BIG4 Gold Coast Holiday Park. With no size restrictions or additional charges for dogs, they offer a variety of dog-friendly sites (including ensuite sites) plus dog-friendly cabins, where up to two dogs can sleep inside with you. There's also a fenced off-leash dog park with agility equipment, a DIY dog wash, dog kennels (with bookings a must) and the poolside cafe is dog-friendly.
Alternatively, another dog-friendly caravan park is the Kirra Beach Tourist Park, located only a short walk from the beach (and a short drive from the off-leash dog beaches in Palm Beach). Dogs are permitted year round on selected powered sites (if you're staying in a caravan, camper trailer or motorhome) and in their two dog-friendly cabins (with an enclosed balcony). By default only one small dog is permitted, enquire directly if you have a larger dog or multiple dogs.
Head Next To