The Redcliffe Peninsula on the northern edge of Brisbane is home to one of the best off-leash dog beaches in Brisbane, Queens Beach North. Find out more about visiting this sandy dog-friendly beach with your dog.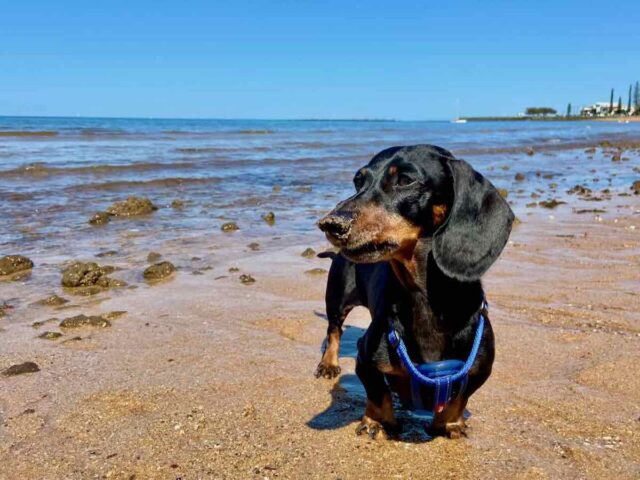 Location of Redcliffe Dog Beach
Queens Beach North is located in the suburb of Scarborough, one suburb to the north of Redcliffe itself. It's a 45 minute drive from the centre of Brisbane. At Queens Beach North, dogs are allowed off-leash to the north of the stairs, located near the Griffith Road intersection.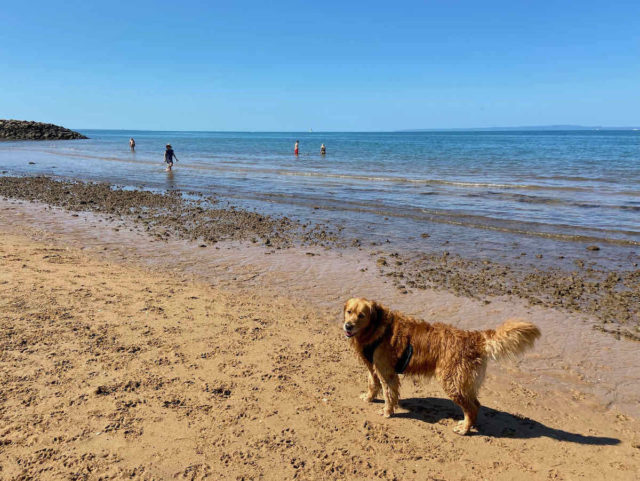 Note that dogs need to remain on leash on the southern half of Queens Beach North, south of the stairs. On busy days it's easy to pick the boundary line from the number of dogs on the northern end of the beach – clearly off-leash adventures are the point of visiting Queens Beach North!
Don't get Queens Beach North mixed up with Queens Beach, one beach to the south, on the other side of Osbourne Point. There are no off-leash areas on Queens Beach (nor at Redcliffe Beach itself).
When Are Dogs Allowed on Redcliffe Dog Beach?
There are no time restrictions for dogs visiting Queens Beach North. Dogs are allowed off-leash on the beach all day long.
Tips for Visiting Redcliffe Dog Beach
One of the best features of Queens Beach North on the Redcliffe Peninsula is that the beach doesn't consist of mudflats, as for most of the beaches along the shore of Moreton Bay. Instead, the beach is a gritty sand, plus a bit rocky around the low tide mark.
Your dog will still get mucky after a play in the water, so take advantage of the taps between the beach and the nearby road. Just remember that dogs need to be leashed once they leave the sand.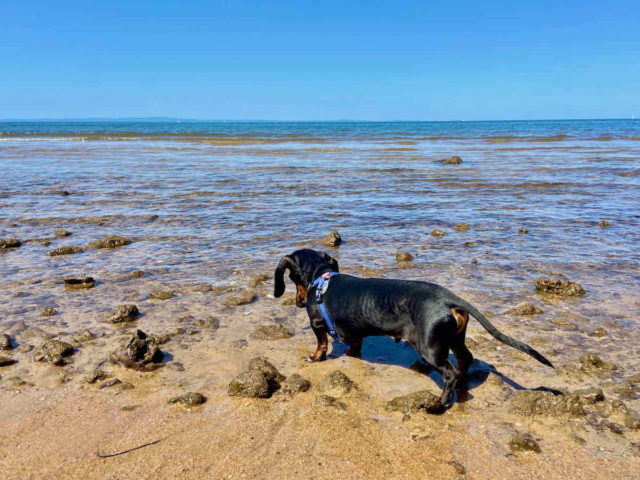 Dog-Friendly Cafes Near Redcliffe Dog Beach
While there are no cafes in the immediate surrounds of Queens Beach North, instead just take a short drive south to Redcliffe and Cafe Diversity. This extra dog-friendly cafe is perfect whether you want to enjoy a meal or just a coffee. Dogs have their own menu, featuring puppa chinos, scrambled eggs, braised beer mine and doggy ice-cream. Our pup loved his ice-cream!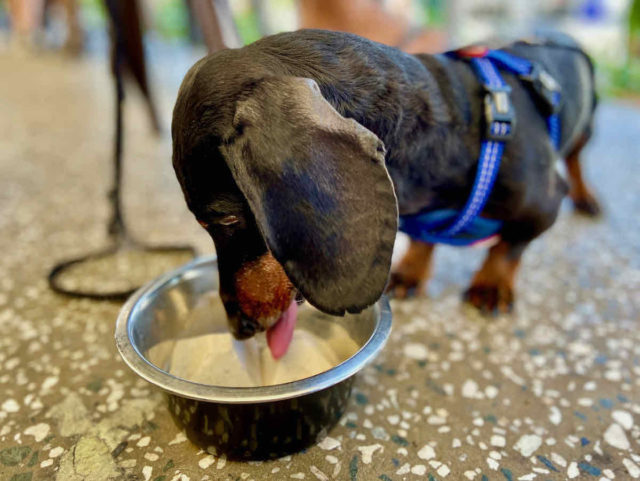 What Else to Do Near Redcliffe Dog Beach
If you're visiting Redcliffe on a Sunday, take a stroll through the Redcliffe Markets that take place on Redcliffe Parade. The markets take place between 8am and 2pm, or at the slightly earlier time of 7am to 1pm from December to February.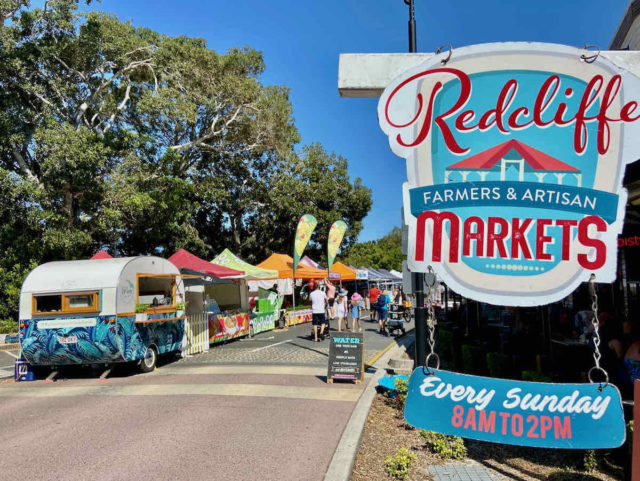 Dogs are welcome to join you, although keep them on a short leash and take advantage of the bowls of water provided, while you browse stalls selling arts and crafts, local produce and a tasty range of meals. Note that it can be difficult to find a nearby park when the markets are on.
Another dog-friendly attraction in Redcliffe that's open every day of the week (and all day long) is the Bee Gees Way. Make a visit to this laneway featuring statues and photos honouring the musical group that once hailed from Redcliffe. As it's outdoors, dogs are welcome to join you.
Alternative Dog-Friendly Beaches
The next closest dog-friendly beach to Redcliffe Dog Beach is the Sandgate Foreshore, back south across the Ted Smout Memorial Bridge towards Brisbane City.
This large off-leash dog exercise area is on the mudflats off Sandgate and Shorncliffe, in between the corners of Flinders Parade and Second Avenue and Park Parade and Zeehan Street. There's multiple staircases to get down onto the mudflats.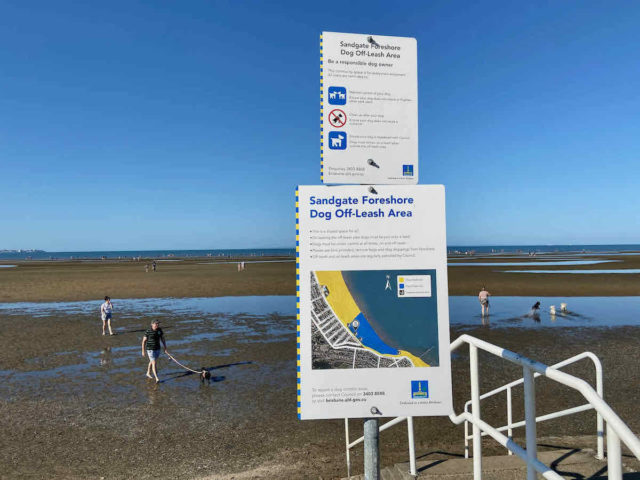 Another nearby off-leash dog beach on the edge of the Redcliffe Peninsula is Deception Bay Foreshore, or "Deception Bay Dog Beach" on Google Maps. This is also a tidal mud flat, best visited at low tide, located in between Wallin Avenue and Joseph Crescent.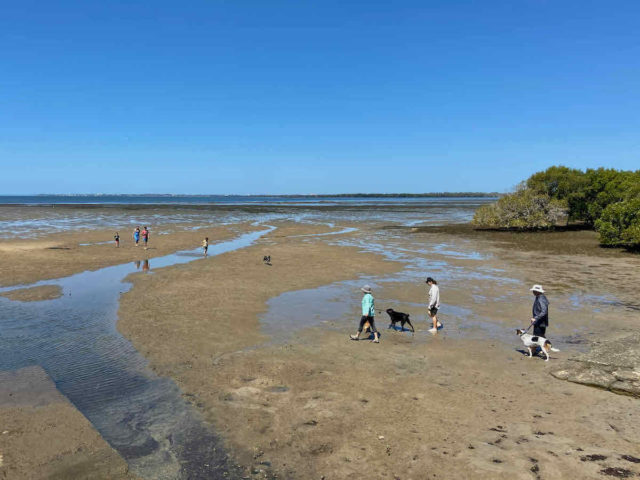 You May Also Like