When visiting Southeastern Queensland, many visitors tend to overlook Brisbane, wedged in between the popular tourist destinations of the Gold Coast and the Sunshine Coast. However, there's plenty to see and do in Brisbane, including if you're visiting with a dog. Read on to find out about dog-friendly sightseeing ideas, plus the best beaches and even pet-friendly luxury hotels in Brisbane, the Queensland capital.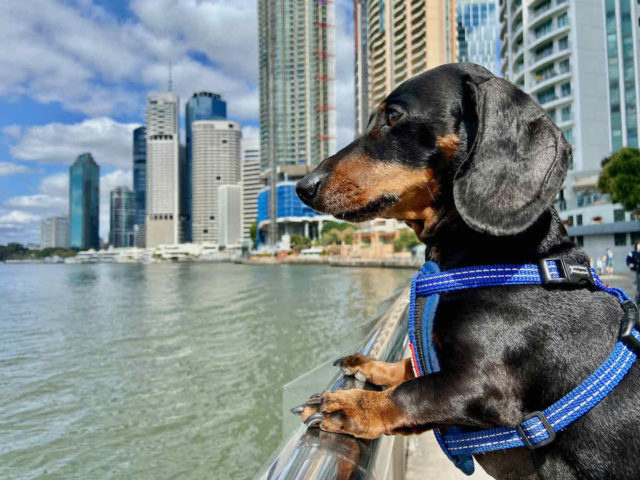 Dog-Friendly Sightseeing in Brisbane
There's plenty of dog-friendly sightseeing options around Brisbane to entertain yourself and your pup, whether you prefer the city or the outdoors and beach. Consider ticking off some of these with your dog…
1. Follow the Riverwalk
One of the best ways to experience city centre of Brisbane is to follow the Riverwalk, the suspended walkway hanging above the Brisbane River. From the walkway, take in the views of the Story Bridge, the city skyline and inner city suburbs.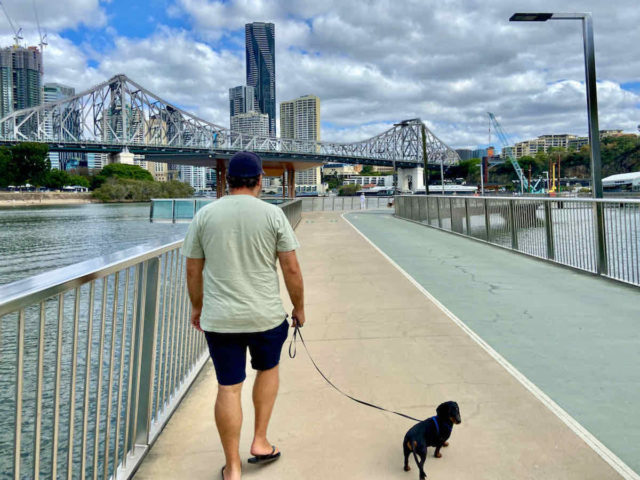 Also known as the New Farm Riverwalk, the path starts at Riverview Circuit in New Farm, then follows the eastern bank of the river until the Howard Street Wharves. From there, it's possible to continue walking along the edge of the river on the riverside boardwalk, as far as the Brisbane City Botanic Gardens.
Best of all, leashed dogs are fine to join you. Although it's requested you don't block the popular path, also shared with cyclists, joggers and regular walkers. Consider stopping at Howard Street Wharves for a drink or snack, with dogs welcome at Felons Brewing and on the comfy beanbags scattered across the lawn.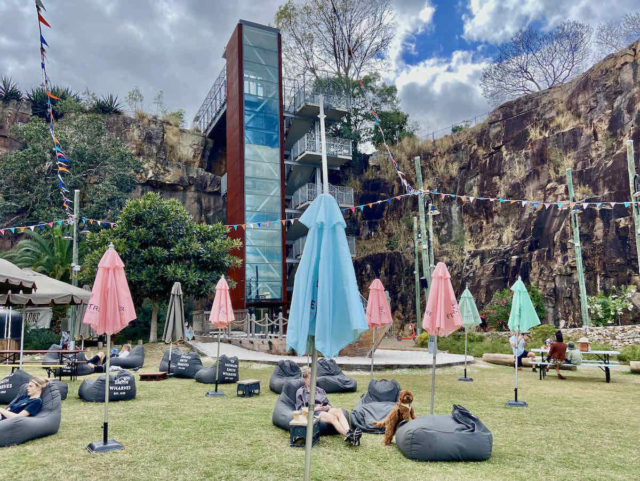 2. Visit the Brisbane City Botanic Gardens
The Brisbane City Botanic Gardens are a green oasis next to the skyscrapers of the Brisbane CBD, with the historic gardens taking up the southern end of the CBD peninsula. Unlike the larger Mt Coot-tha Botanic Gardens, at these botanic gardens leashed dogs are welcome.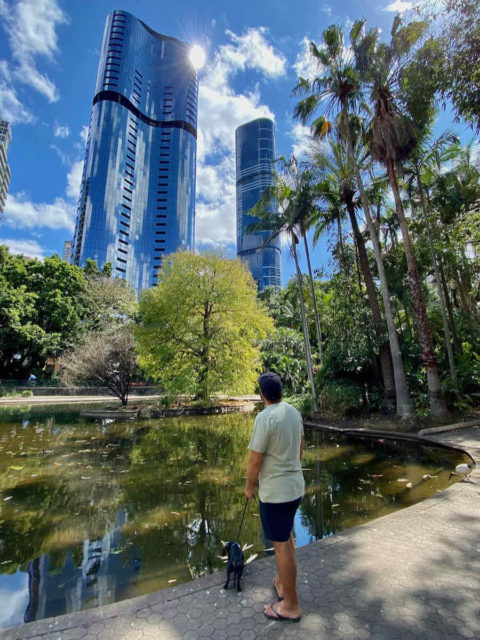 Highlights of the garden include the palm-surrounded lagoon, bamboo stand and the rainforest section. It's worthwhile wandering along the western edge of the gardens, where the impressive colonial Parliament House and Old Government House buildings are located. While pets aren't allowed to join you visiting the interior, the exterior facades are still impressive.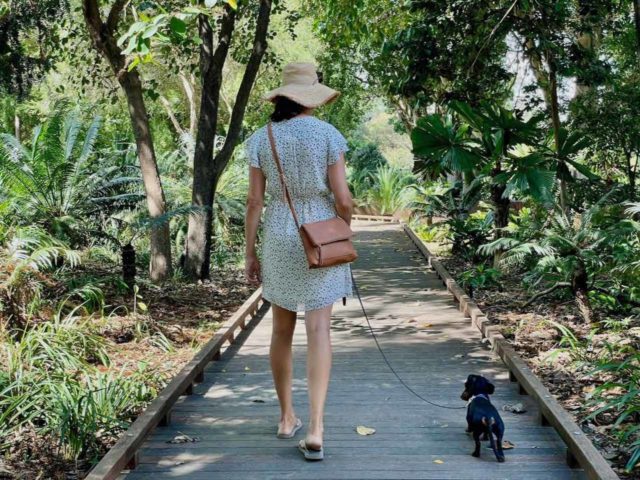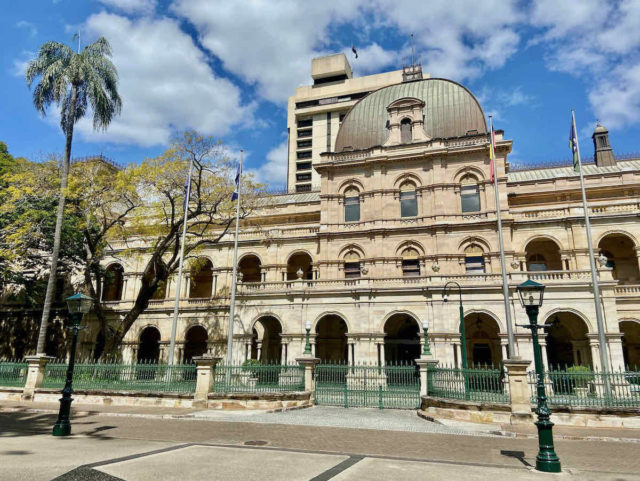 The City Botanic Gardens are easily reached on foot along the riverside boardwalk or across the car-free Goodwill Bridge from Southbank. The closest ferry terminal is the Riverside Ferry Terminal.
3. Stroll Along Southbank
Another popular pocket of parkland in the inner city of Brisbane is the Southbank precinct, located on the southwestern side of the city, across the river from the CBD.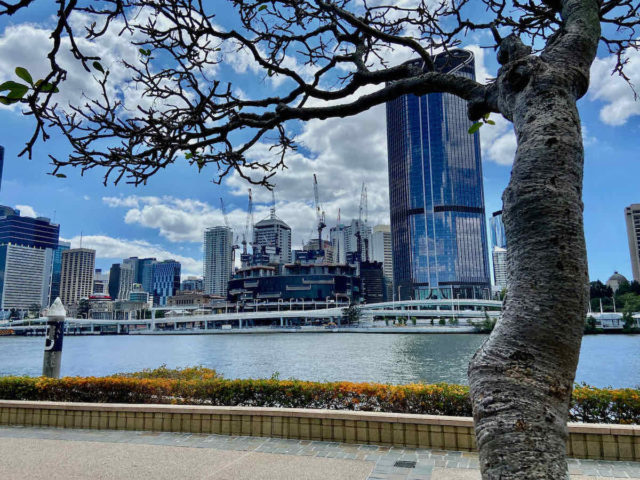 One of the most popular attractions at Southbank is the huge swimming lagoon, which is naturally off limit to dogs, alongside the multiple museums and galleries in the precinct.
Instead, when visiting with your dog, don't miss the Rainforest Walk or the adjacent Nepalese Peace Pagoda, moved to the site after World Expo 88. Plus of course stroll along the length of the riverfront. At the northern edge of Southbank is the popular Brisbane sign.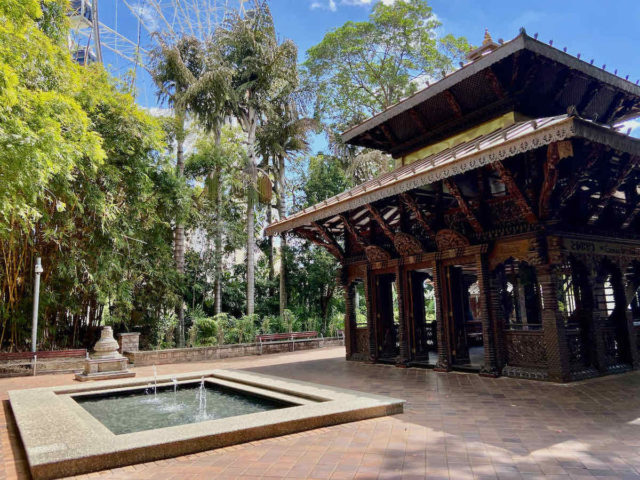 4. Ride on the Ferry
The most scenic form of public transport in Brisbane are the Brisbane River ferries and CityCats. And after a successful trial, dogs are welcome to join you on, as long as they follow some rules.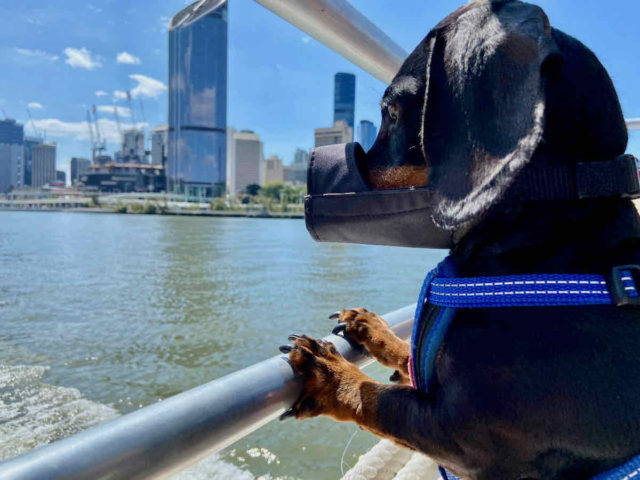 Firstly, dogs are only permitted outside of peak hours, between 6:00am and 8:30am then 3:30pm and 7:00pm on weekdays. It's best to ride on the ferry between 8:30am and 3:30pm or any time on weekends. Your dog will also need to be leashed and muzzled, or alternatively in an enclosed carrier, and sit on the outside deck.
Best of all, this extends to the CityHopper service, a free ferry that runs roughly every half hour in between North Quay and Sydney Street, and makes it easy for tourists to move between the sights of the inner city.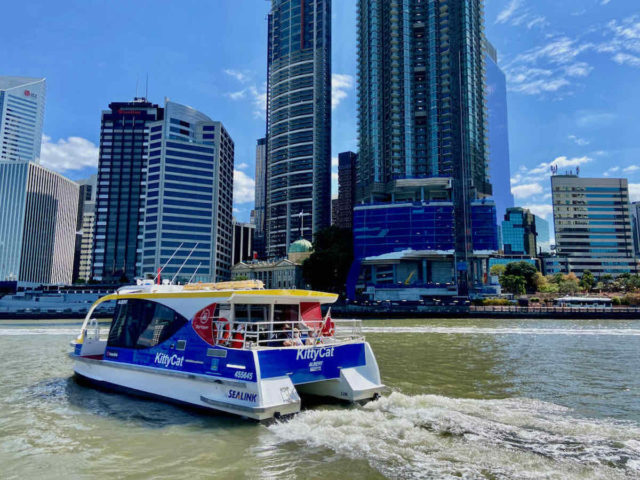 A great way to combine together the dog-friendly sights of inner city Brisbane is to park in New Farm close to the start of the Riverwalk, head out on a stroll along the Riverwalk, through the Botanic Gardens and to Southbank, then return for free on the ferry to the Sydney Street ferry stop.
5. Head Up Mt Coot-tha
Just 15 minutes west of the centre of Brisbane is the beautiful Mt Coot-tha Forest. This conservation reserve is the largest in all of Brisbane, with more than 1600 hectares of open eucalypt forest, and is a terrific destination for a day out amongst nature.
While dogs are not allowed in the adjacent Mt Coot-tha Botanic Gardens, leashed dogs are welcome in Mt Coot-that Forest, including at the popular Summit Lookout, with panoramic views across Brisbane, and on the many hiking trails.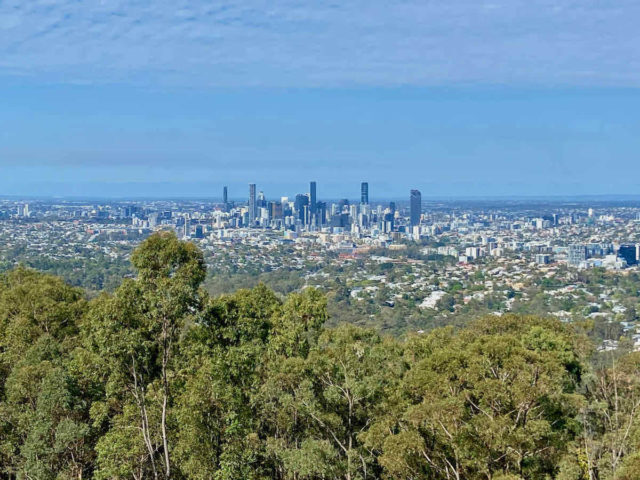 One of the most popular hiking trails is the Summit Track, starting at the JC Slaughter Falls Picnic Area. The moderately rated track is 1.9km long each way and ascends to just below the Summit Lookout. Another popular track is the shorter Simpson Falls Track, just 650m long, although unfortunately the falls were completely dry when we visited.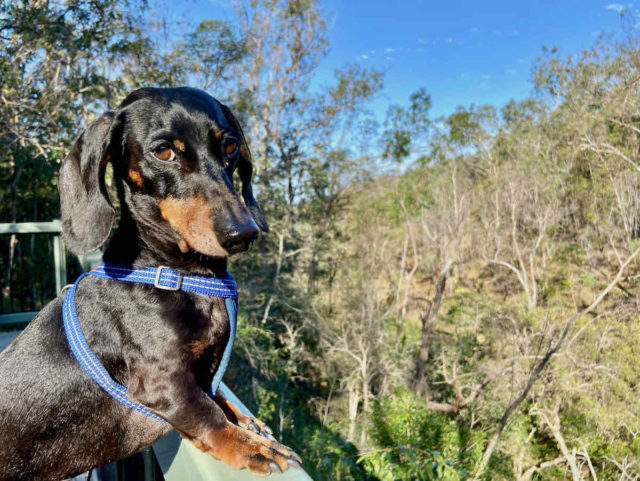 There's no shortage of trails, with over 50 tracks to choose from. Just double check which tracks are currently open, with some closed for repairs since they were damaged in the storms of 2022.
6. Drive to Bribie Island
For another terrific dog-friendly day out with your pup, head north of Brisbane to Bribie Island. At the far end of Moreton Bay, this island is easily reached by a vehicle bridge, meaning no fussing around with ferries.
The highlight of Bribie Island for dogs is the excellent off-leash dog beach. Stretching in between Woorim Beach and Red Beach, the off-leash dog exercise section stretches for over 4km, perfect for long beach walks. Its arguably the best dog beach in the entire Brisbane area, with beautiful golden sand.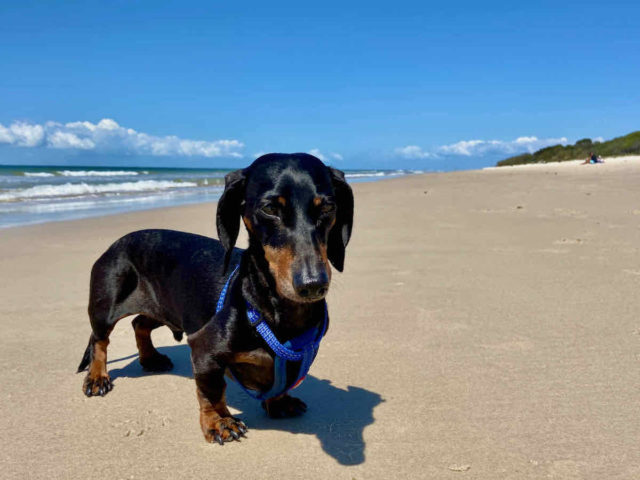 It's easiest to access the off-leash area from the end of Lowry St in Woorim, where there's also a dog washing station with a hose. Woorim Beach is known as a surf beach, although the waves were minuscule on the day I visited.
Alternatively, head to Red Beach, where the water is even calmer. From the closest carpark, there's a few hundred metres of on-leash beach to the east, then the start of the off-leash section. There's clear maps at the access points, plus online.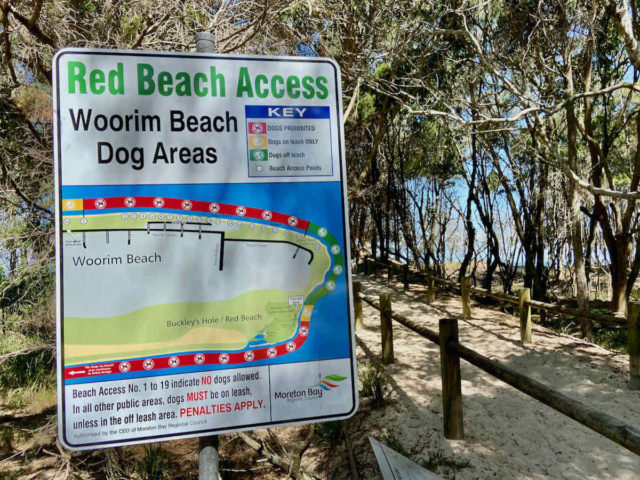 As well as the off-leash beach, there's also on-leash beach areas at Woorim Beach and Bellara, plus the fenced dog park at Sylvan Beach Esplanade.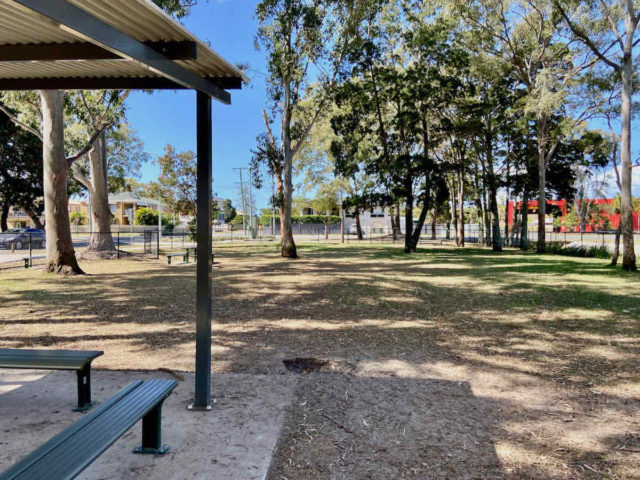 For a bite to eat, check out the Bribie Island RSL Club on the way to Red Beach, one of the few RSL clubs with a dog-friendly outdoor dining area.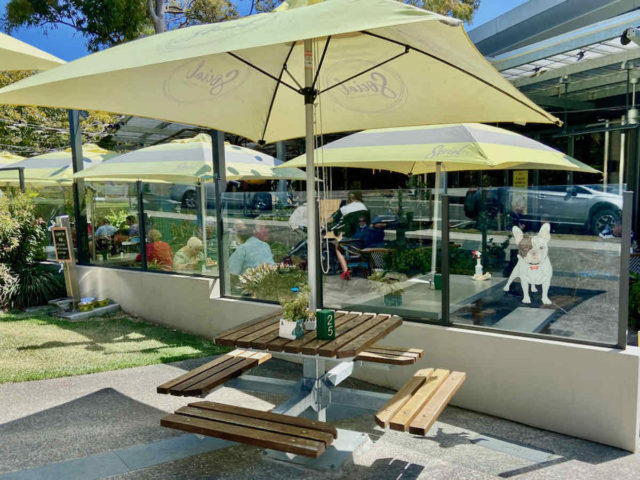 7. Catch the Ferry to an Island
Bribie Island isn't the only dog-friendly island close to Brisbane. While some islands such as Moreton Island, which is largely national park, are not dog-friendly, there are a number of other islands that can be easily reached by ferry along with your dog.
Probably the most popular is North Stradbroke Island, with dogs allowed in your vehicle on the vehicular ferry, plus on board the water taxi (passenger ferry). Once over on Stradbroke Island, there's dog-friendly camping available, plus other pet-friendly accommodation options.
Alternatively, for a quicker island visit, a relatively hidden gem is the small Coochiemudlo Island. This island is just a 10 minute ferry ride on the Amity Trader from Victoria Point. There were multiple dogs on the ferry when we visited, with dogs not required to wear a muzzle. A vehicular barge also runs less frequently.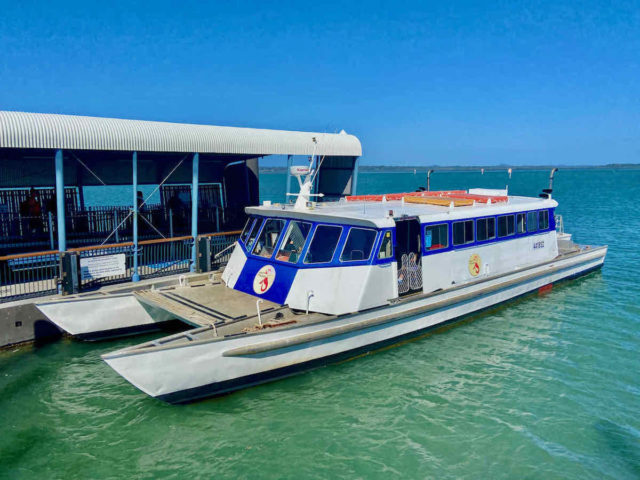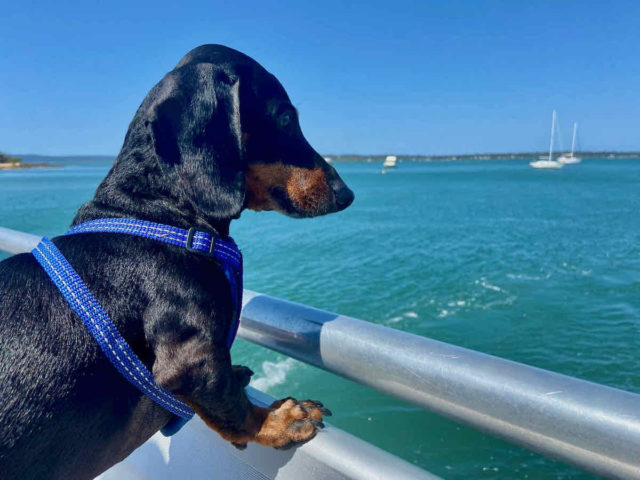 Once on Coochiemudlo Island, there's a seasonal off-leash beach just a 5 minute walk from the ferry jetty. With dogs prohibited from the beach either side of the ferry jetty, walk along the footpath behind the beach to the west. About 100m after the boat ramp, there's an off-leash section, extending for about 200m along the pretty sand beach.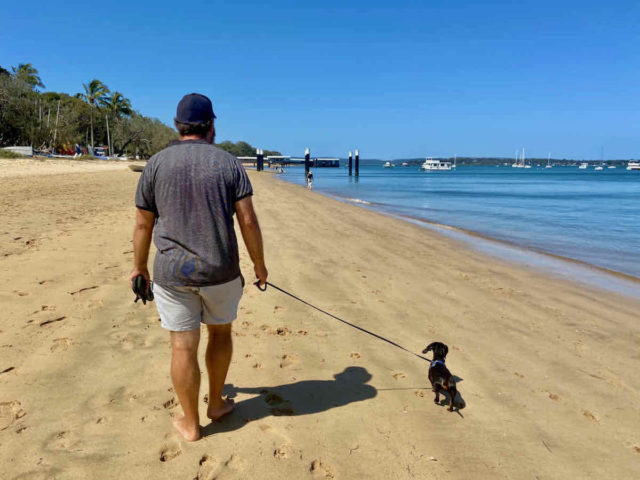 Note however that the rules vary depending on the month, due to the presence of migratory birds. Over the winter, from May to August, dogs are allowed off-leash all day long. From November to February, dogs are allowed off-leash after 5pm and before 9am, while during Spring and Autumn dogs need to be kept on-leash.
8. Sample the Local Beers
There's plenty of dog-friendly breweries scattered around Brisbane, both in the inner city and further out in the suburbs.
An easy place to reach from the City Hopper ferry is Sea Legs Brewing, near the Holman Street ferry terminal. They offer a variety of their own beers and guest beers on tap, plus an extensive food menu. Note that the brewery doesn't have an outdoor area, so dogs are restricted to a small area just inside the entrance. Only some of the tables on the edge of the area are allowed to be served food. I recommend arriving early if visiting on the weekend.
We also visited All Inn Brewing, located in Banyo not far from the popular Nudgee dog beach. Dogs are allowed both inside and out at the brewery, including the many outdoor tables, as they don't serve food on the premises. Instead, there's a rotating roster of food trucks during popular periods. During our Sunday afternoon visit, there was a Japanese hotdog food truck, as well as live music.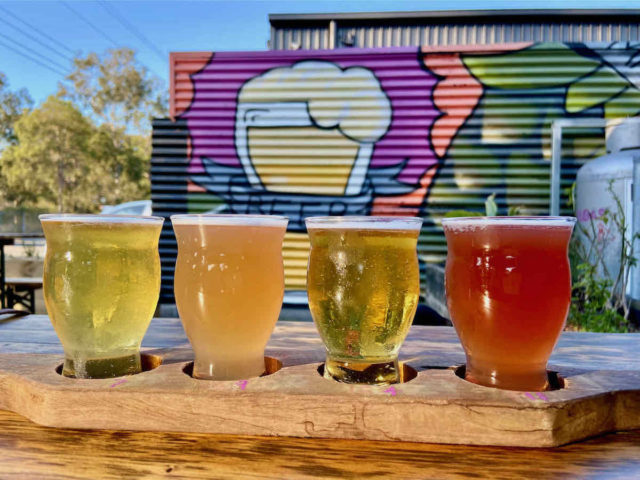 Other dog-friendly breweries around Brisbane include Felons Brewing at Howard Street Wharves, Hope & Anchor in Paddington, Green Beacon Brewing in Teneriffe, Yard Doggs in Fortitude Valley and the Scottish BrewDog DogTap at Murarrie.
Looking for more dog-friendly sightseeing ideas near Brisbane? Check out my list of 25 dog-friendly days out around Brisbane
Dog-Friendly Beaches in Brisbane
Due to most of the coastline near Brisbane consisting of mudflats and mangroves, there aren't many beaches, especially dog-friendly off-leash beaches. There's currently only nine off-leash dog beaches along the Brisbane coastline, as well as an additional four off-leash beaches on nearby islands.
Arguably the best off-leash dog beach near Brisbane is Woorim Beach South on Bribie Island. The off-leash section of this beautiful stretch of golden sand extends for over 4km, in between Woorim Beach and Red Beach.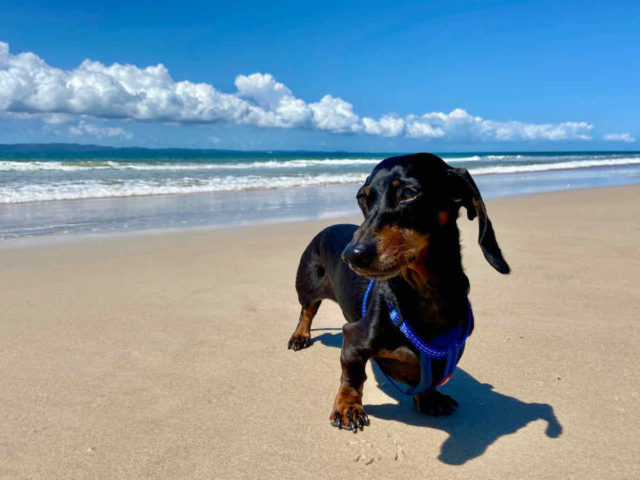 To access the off-leash stretch of beach, it's easiest to head to the end of Lowry St in Woorim, where there's also a convenient dog wash down area. Alternatively, drive to Red Beach. From the first carpark, there's initially a few couple of metres of on-leash only beach, before the start of the off-leash beach section. Check out the map online.
The next best off-leash dog beach in northern Brisbane, in the Moreton Bay Regional Council area, is probably Queens Beach North in the suburb of Scarborough, near Redcliffe. Dogs are allowed off-leash to the north of the stairs near Griffith Road, then on leash to the south. The beach is a gritty sand, plus rocky around the low tide mark.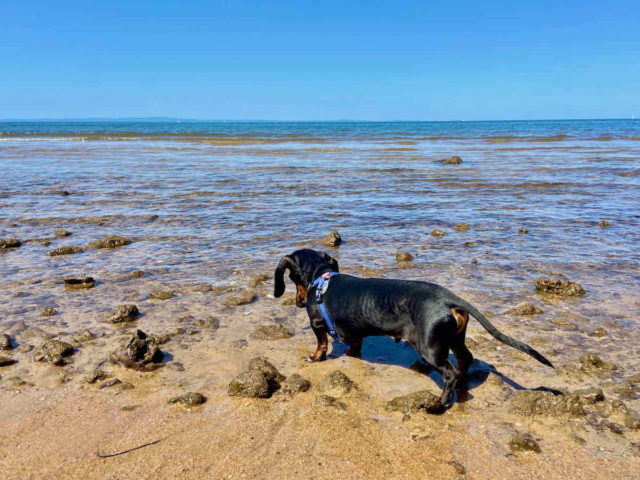 The other off-leash dog beaches in the Moreton Bay Regional Council area are Beachmere North, Beachmere South and Deception Bay Beach. Each of these beaches are tidal mud flats, best visited at low tide.
Heading further south, the Brisbane City section of coastline is home to three off-leash dog beaches. In the north, there's the Sandgate Dog Beach. A huge section of mudflats is designated as off-leash in between the corner of Flinders Parade and Second Avenue and the corner of Park Parade and Zeehan Street at Shorncliffe.
The Kedron Brook off-leash swimming area at Nudgee Beach, adjacent to Tuckeroo Park, is quite popular. On the Sunday afternoon we visited there was a combined coffee/dogwash van.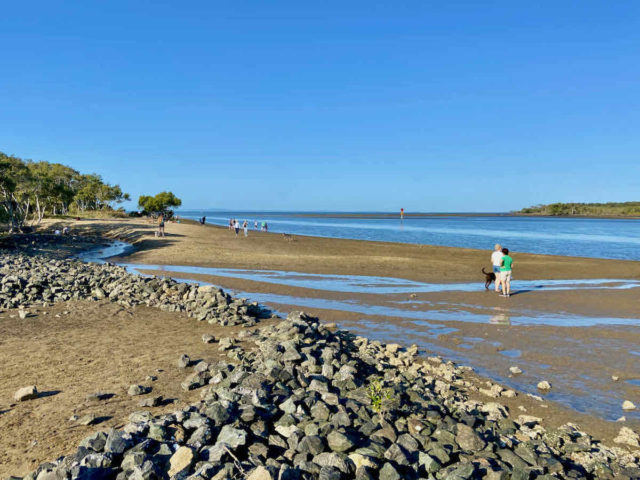 Finally, south of the airport is the Manly dog beach. Located near the Manly Boat Harbour, at the end of Davenport Drive, this small beach of gritty sand is best visited at low tide when it is larger.
Southeast of Brisbane City the Redland City Council area. Along the Redlands Coast there are only two off-leash dog beaches, plus three on offshore islands. The two dog beaches accessible without boarding a ferry are both in Cleveland. Either head to the Raby Bay Foreshore Park or GJ Walter Park.
The former is the better option, with a small stretch of gritty sand, although the water was quite rough due to the wind on the day we visited. While GJ Walter Park arguably has beach access, it's basically just a large fenced dog park that is edged by mangroves on one side, with some beach access in between the mangroves.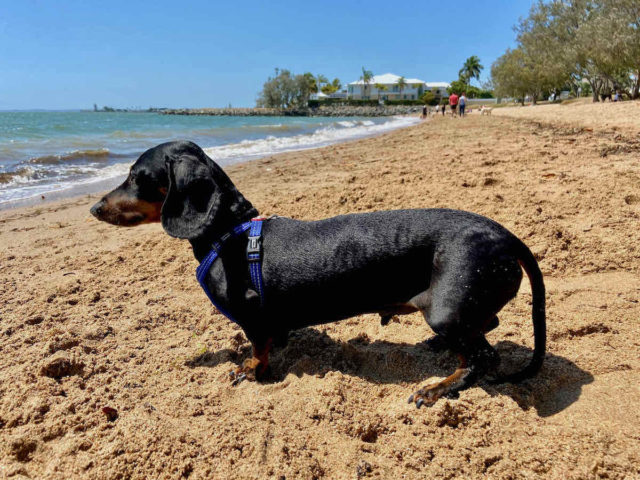 The easiest island beach to visit is the off-leash section of Main Beach on Coochiemudlo Island. The island is accessible by a quick 10 minute ferry, then it's only a 5 minute walk to the seasonal off-leash dog beach. For more information, see above.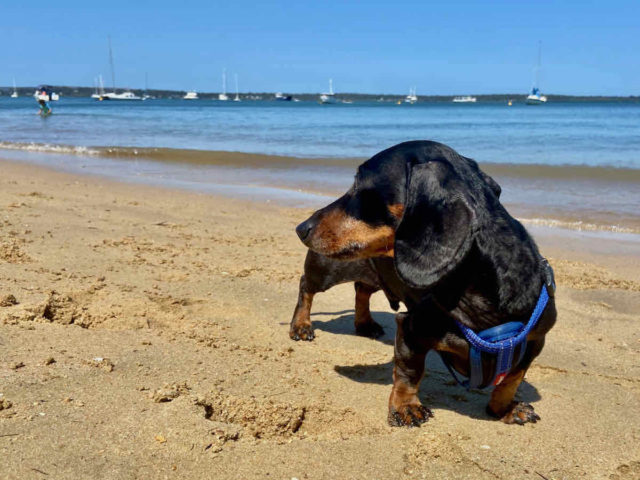 The other two off-leash dog beaches are a section of Home Beach on North Stradbroke Island and Lions Boulevard Park on Russell Island. Note that the beaches on both Coochiemudlo Island and Russell Island have seasonal off-leash access, with on-leash access only during most of Spring and Autumn, when migratory birds visit.
For further details and photographs of these beaches, check out my full guide to the dog-friendly beaches around Brisbane. Alternatively, check out the maps and any updates at the Moreton Bay Regional Council website, Brisbane City website and Redland City Council website.
Dog-Friendly Parks in Brisbane
In contrast to the situation with off-leash dog beaches in Brisbane, there is no shortage of off-leash dog parks in the Brisbane region, with over 150 alone located within Brisbane City Council local government area.
One of the closest off-leash dog parks to the centre of Brisbane is the Victoria Park Off-Leash Dog Park. Located on the northern edge of Spring Hill, just behind the Centenary Pool, there's two fenced off-leash areas, including one for small dogs, plus agility equipment.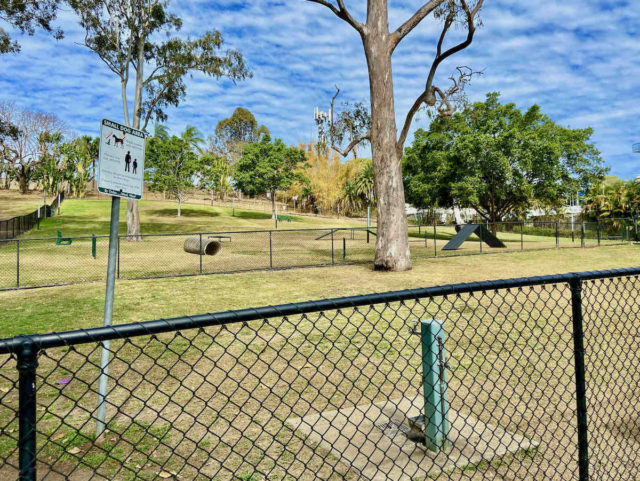 Further out of the city is the excellent Kroll Gardens Dog Park in Clontarf. This huge dog park is completely fenced, perfect for longer off-leash walks but without the danger of your dog dashing onto a road. There's also a smaller section for small dogs and agility equipment.
Another interesting off-leash dog park is Rainbow Forest Park in Indooroopilly. The off-leash area includes bush tracks and creeks, great for cooling down on warm days. Or head to Flagstone Dog Park on warm days. This dog park in the City of Logan on the south western edge of Brisbane features a water play area for dogs.
For a full list of the off-leash dog parks provided by each council in the greater Brisbane region, see these websites:
Dog-Friendly Walks in Brisbane
There's plenty of dog-friendly walks in Brisbane, although the majority of these walks will require your dog to stay on leash.
For plenty of great dog-friendly bush walks close to the city, head to Mt Coot-tha Forest. As I mentioned above, there's over 50 trails to choose from, even after you exclude mountain bike only trails, including the popular Summit Track.
Other bushland reserves within Brisbane with dog-friendly walking tracks include Chermside Hills Reserve, Toohey Forest Park, Karawatha Forest Park and Daisy Hill Conservation Park. Click on the link for each park to access a brochure with maps of all the available walking trails, including distances and gradings. Just note that some tracks are temporarily closed still following the severe weather events in 2022.
Another interesting walking option near the centre of Brisbane is the Wynnum Mangrove Boardwalk, in the bayside suburb of Wynnum. The excellent boardwalk runs for a few hundred metres through the mangroves, after which you can retrace your footsteps or complete a longer loop circuit. There's also a fenced dog park next to the carpark. Don't forget to spray for insects beforehand.
Dog-Friendly Dining in Brisbane
There's plenty of dog-friendly cafes, restaurants and bars scattered throughout Brisbane. In particular, some cafes even have special menus for dogs, making for an excellent dog-friendly destination.
In Redcliffe, head to Cafe Diversity, situated just across the road from the beach with a large covered outdoor area. With a wide range of breakfast, lunch and drink choices for humans, for your pup choose between a puppa chino, scrambled eggs, braised beef mince or doggy ice-cream.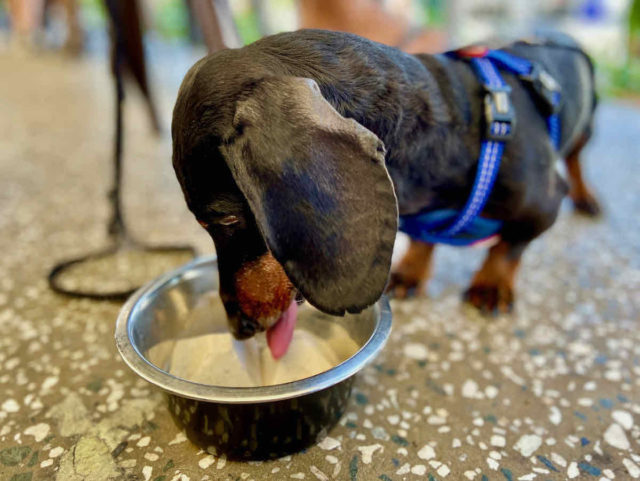 We couldn't go past the doggy ice-cream for our pup, who thoroughly licked it all up. If visiting on a Sunday, note that the dog-friendly Redcliffe Markets take place directly outside. It's also worthwhile detouring via the nearby Bee Gees Way.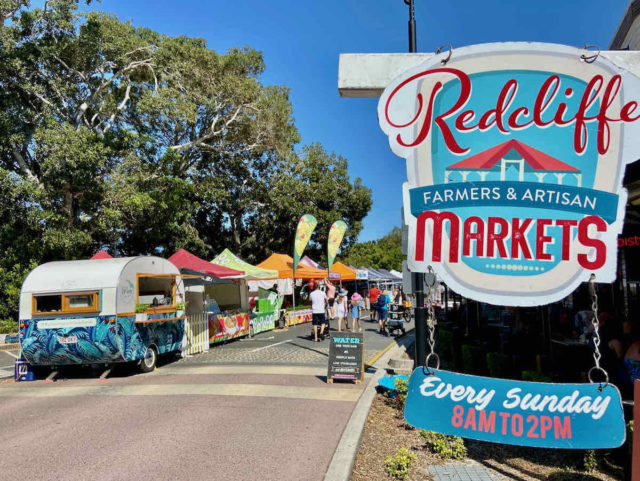 We also loved our visit to the Little Black Pug Cafe in Mt Gravatt. While unassuming from outside, their brunch menu is far from ordinary, with many fusion-cuisine options that are full of flavour, changing each season. Take a seat on the tables along the road, and don't miss ordering from their Doggos menu, with a warm puppycino, meatball and doggy biscuit on offer.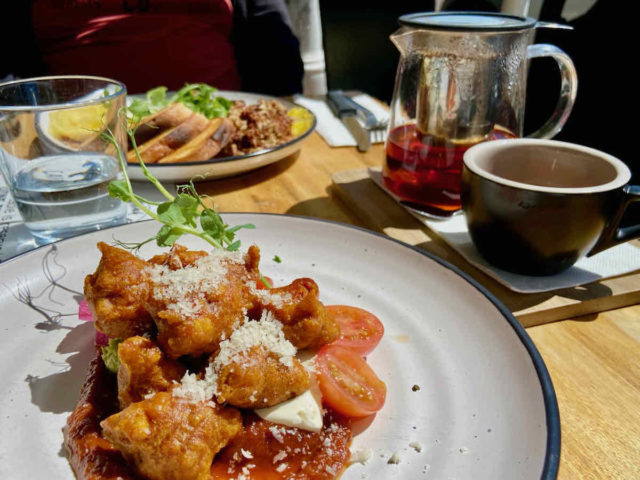 Another great dog-friendly cafe near the centre of Brisbane is Mylk + Ko in New Farm. This leafy neighbourhood cafe specialises in brunch, with plenty of vegetarian and vegan options, open daily except on Tuesday. Dogs are welcome at the outdoor seating area, with dog treats and ice creams on offer.
In the Bayside area of Brisbane, a delightful dog-friendly cafe is Frenchies Cafe in Wynnum. Dogs have their own menu, from woofachinos to bacon and eggs to ice cream. Choose between sitting outside or in the special dog-friendly dining room, with dog blankets and water bowls on hand.
For a dog-friendly option in the evenings, something different on offer is Eat Street Northshore in Hamilton. Open Fridays, Saturdays and Sundays from 4pm, these street food markets with live entertainment charge a small entry fee, but pets are welcome for free.
There's a clear pet policy included on the website. As well as being people-friendly and kept on a short leash, it's recommended that dogs must be able to be carried when in congested areas.
Dog-Friendly Accommodation in Brisbane
Note: This post contains affiliate links, which means I may receive commission if you make a purchase using the links. See my full disclaimer.
Brisbane has no shortage of luxe pet-friendly accommodation options, perfect for a splurge getaway with your pup.
For starters, consider the glamorous W Brisbane. The 5-star hotel welcomes smaller dogs up to 18kg in their pet-friendly rooms, complete with a custom dog bed, bowls, pet toys and treats and local pet information. There's an additional charge of $50 per night, plus a once-off cleaning fee of $150.
Both of the Ovolo hotels in Brisbane, The Inchcolm By Ovolo in Spring Hill and Ovolo the Valley in Fortitude Valley, offer the brand's V.I.Pooch package. The package includes plush dog beds, mats, bowls and designer "doggy bags", with toys and snacks. There's an additional charge of $80 per night for pets, with a maximum of two pets per room and no size limits.
For a quieter but equally luxurious stay, consider the small boutique Spicers Balfour Hotel in New Farm. Two of their suites are pet-friendly, with small and medium dogs up to 25kg permitted to join you. Make sure you request a pet-friendly room when booking, with an additional $100 pet cleaning fee added to your booking.
For a more wallet-friendly but pet-friendly hotel close to the centre of Brisbane, check out the View Brisbane. Located in Hamilton, pets are provided with a bed, bowls and a free toy and treat, with no size restriction. There's an additional charge of $90 per night. Make sure you provide your dog's name, breed and size in advance.
For more options, check out my complete guide to pet-friendly hotels in Brisbane.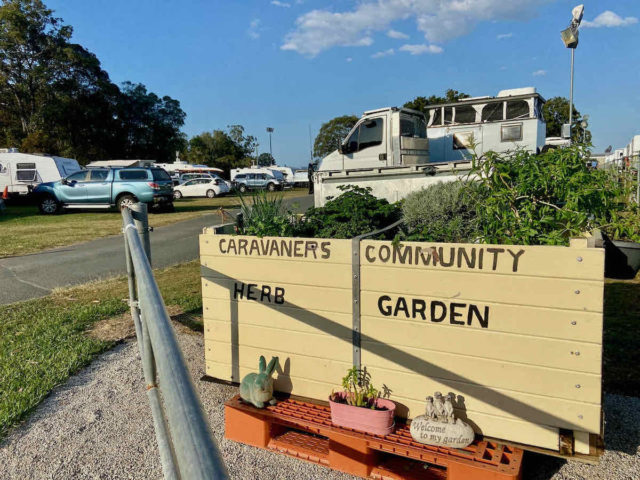 If you're travelling in a campervan or caravan, there's limited pet-friendly options around Brisbane. We stayed about 30 minutes north of the city centre at the Pine Rivers Showground. The facilities were good and prices reasonable, particularly as we visited during school holidays. Note that tents are not permitted at this showground.
Head Next To