One of the must-see sights when you are visiting Munich and Bavaria in Germany is the fairy-tale castle of Neuschwanstein. Built by Mad King Ludwig in the late 19th century, it's the basis for Walt Disney's Sleeping Beauty Castle.
Located a couple of hours away from Munich, the majority of visitors pay for a day tour, sometimes also visiting a second castle. However, if you're only interested in visiting Neuschwanstein Castle and don't need a guide to direct you on your way, it's very easy to organise your own day trip to Neuschwanstein Castle. Find out about the cheapest way to see Neuschwanstein Castle…
Note: While dogs aren't allowed inside Neuschwanstein Castle, check out my tips for visiting with a dog at the end.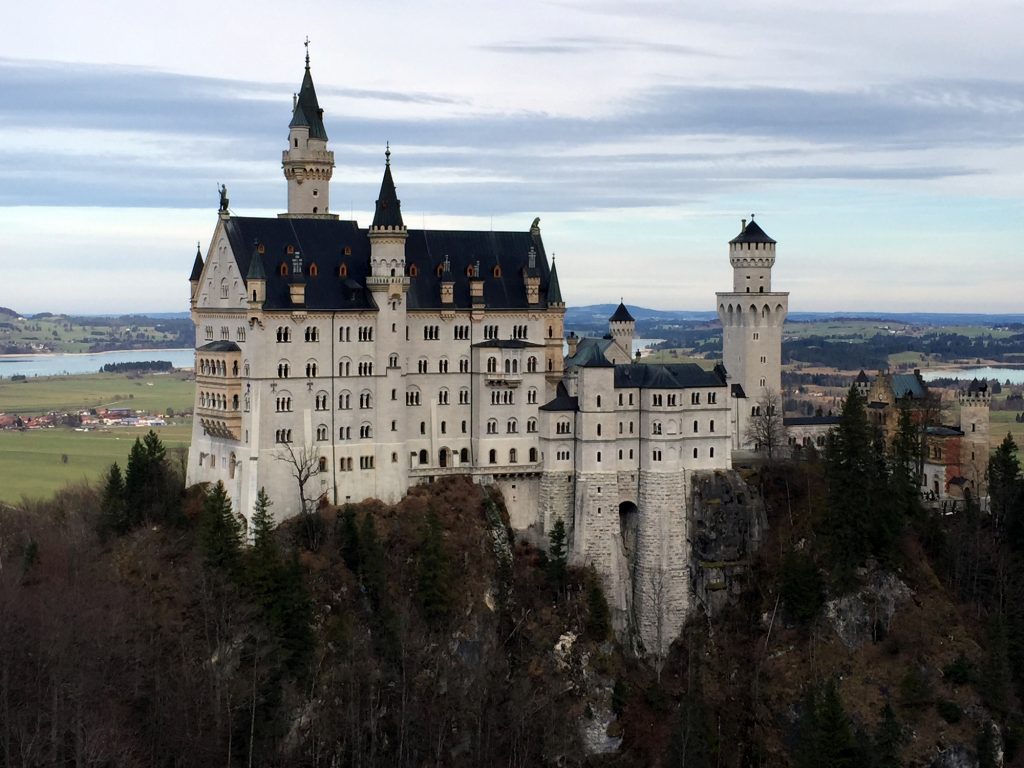 How to Buy Neuschwanstein Castle Tickets
The cheapest way to buy tickets for tours of Neuschwanstein Castle is directly from the castle. There are two options for buying these tickets: buying tickets in advance or on the day. If it's high season or even at other times of year, it is recommended to book tickets in advance, in case tickets sell out or there is a long queue to buy them onsite.
Buying Neuschwanstein Castle Tickets in Advance
To book tickets to Neuschwanstein Castle from the official ticket office click here. Note that bookings must be made at least two days in advance. Credit card details are required to reserve a ticket, but are only used if you are a no-show.
Entrance to Neuschwanstein Castle, including a guided tour, costs €13 per adult. Online bookings are currently charged an extra €2.50 reservation fee per person. But this is well worth the cost in case tickets are all sold out by the time you arrive or there is a very long queue.
If you have booked advance tickets, you will be advised to arrive at the Ticket Office to collect them well before your tour, generally 1.5 hours in advance. When you pick up your tickets, you also pay for them, with options including cash, credit or debit card and ATM card.
Cancellations are permitted up to two hours before the tour, via email.
Buying Neuschwanstein Castle Tickets on the Day
If you haven't booked in advance for tickets, you will need to join a queue at the the ticket office and select a tour to buy on the day. On busy days, tickets may already be fully sold out.
Available tours are listed on the boards above the ticket counters. Tours are offered every 5 minutes in either German or English, with audio guides for other languages at no additional cost.
The Neuschwanstein Castle ticket price is €13 per adult, with children under 18 entering for free. You can pay with cash, credit or debit card or ATM card.
If you're worried about missing out on a ticket, it's best to catch an earlier train. Plus for a shorter queue it's worthwhile hurrying to the ticket office once you alight from the bus, so you're not lined up behind everyone else from the bus.
Don't forget to buy a ticket down in the village, as they're not available up at the castle!
The Cost to Travel to Neuschwanstein Castle by Public Transport
So, now you know how to buy tickets to Neuschwanstein Castle, but what about the cheapest way to travel to Neuschwanstein Castle? Most day trips to Neuschwanstein Castle will cost around €50 per person, often with the castle entrance not included. Instead it's cheapest to travel to Neuschwanstein Castle by public transport.
The best ticket to buy to travel to Neuschwanstein Castle is the Bavaria Ticket. The Bavaria Ticket allows travel on all trains across Bavaria and many buses (including the one to Neuschwanstein Castle). On weekends and public holidays it is valid all day long, while on weekdays it is valid after 9am.
The Bavaria Ticket 2nd Class costs €26 for a single traveller, plus an extra €8 per extra traveller, for up to five travellers in total. So if there are two of you, the total cost is €34 for both of you. Or just €17 each to do the trip yourself. Depending on your group, children or grandchildren up to 15 years old can usually travel for free.
You can also buy a Bavaria Ticket 1st Class, with a single traveller costing €38.50 and each additional traveller an extra €20.50. But I've found 2nd Class to be perfectly comfortable, especially on shorter trips like this one.
A Bavaria Ticket can be purchased at any train station in Munich or online.
Taking the Train from Munich to Füssen
To get to Neuschwanstein Castle by public transport is a two step journey. Firstly, you need to catch the train from Munich to Füssen, before taking a local bus the rest of the way.
To catch the train from Munich to Füssen, firstly head to München Hauptbahnhof (or Hbf for short, the main train station). Alternatively, if you are staying on the western side of Munich, you may want to join the train when it stops at München-Pasing. Trains and buses to the starting point are included in the Bavaraia Ticket, as long as it is after 9am on weekdays.
No reservation is required on the train from Munich to Füssen.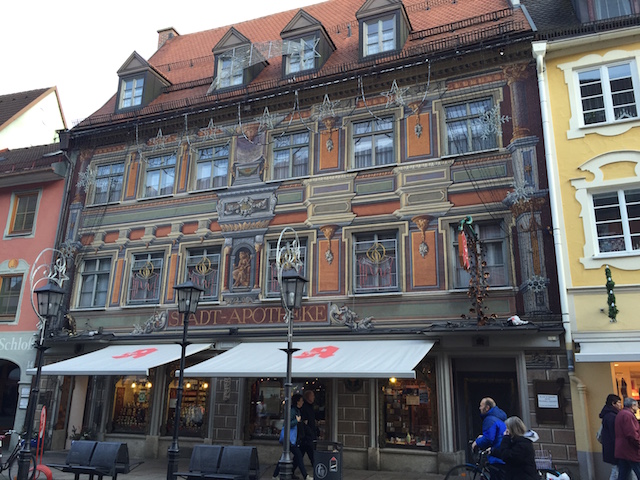 What Time Do Trains Depart on Weekdays?
On weekdays, trains to Füssen depart each hour, at 8:53am, 9:52am, 10:53am, 11:52am, etc. The total journey time is a couple of minutes over 2 hours, with the journey comfortable and rather picturesque as you approach the Alps.
Note that some trains are direct to Füssen, while others require a change. The trains at 9:52am, 11:52am, etc are direct. While the trains at 8:53am, 10:53am, etc require a change at either Buchloe or Kaufbeuren. The total journey time remains roughly the same and in both cases the final train terminates at Füssen.
Double check the timetable at the Deutsche Bahn website, although the train time has rarely changed from year to year.
How Do You Catch the 8:53am Train with a Bavaria Ticket?
If you're wanting to catch that early 8:53am train on a weekday, and still use the Bavaria Ticket that doesn't allow train journeys before 9:00am, there is a way!
Additionally purchase a single trip ticket for Munich for €3.30 per adult. This will cover the part of your train journey from München Hauptbahnhof to München-Pasing, where the train then departs at exactly 9:00am.
What Time Do Trains Depart on Weekends?
The train times on weekends slightly differ, and generally involve a change of train and a longer journey time. Check out the full train timetables on the easy to use Deutsche Bahn website.
Taking the Bus from Füssen to Neuschwanstein Castle
Stay on the train until Füssen, where the train terminates, and then alight from the train. At the train station, board one of the buses heading to either Schwangau (RVA/OVG 78) or Steingaden / Garmisch-Partenkirchen (RVA/OVG 73).
It's easy to work out which bus to catch, as many other passengers on the train will also be catching the same bus. Usually one or more buses will be waiting when the train arrives. If in doubt, check with the driver.
Your Bavaria Ticket also covers this bus trip. Just show the driver your ticket.
Arriving at Neuschwanstein Castle
After about 10 minutes on the bus, get off in Hohenschwangau. Again, most of the other people on the bus will be alighting here, too.
To get to the Neuschwanstein Castle ticket office, cross the main road and head a few hundred metres along the road through Hohenschwangau. The office is located on the right hand side of the road.
What about the Munich Neuschwanstein Flixbus?
An alternative transport option to get to Neuschwanstein Castle is offered by Flixbus. Flixbus has in recent years offered a direct bus from Munich to Neuschwanstein.
When I last checked, the price was €9.99 in each direction, for a total cost of €19.98 return. For two people, this is only a few euros more expensive than taking the train and bus combination using the Bavaria Ticket.
The bus departs from Munich Central Bus Station (close to the Hauptbahnhof) and deposits you at Schwangau (the same destination as the above local bus). It takes 2hr 5 minutes each direction.
There are generally two bus departures each morning, at 8:15am and 9:45am. Then there are two return trips each afternoon, at 4:40pm and 6:10pm. I'm not sure if this differs over the winter, with the schedule for late in the year not currently online. It is likely there are less services over the winter.
Pros of the Munich Neuschwanstein Flixbus
Direct service, with no need to change trains or change to the local bus
Slightly faster trip, assuming there are are no traffic delays
The early bus arrives earlier than the earliest train possible on a weekday with the Bavaria Ticket
Cheaper for a single traveller than the Bavaria Ticket
Cons of the Munich Neuschwanstein Flixbus
Not as comfortable as travelling by train
Costs more than the Bavaria Ticket for two or more people
Children are charged full price, rather than travelling for free
Public transport to get to and from the bus station isn't included
The total time you'll spend at Neuschwanstein Castle is at least 6hr 20 minutes, which is longer than most people would spend at the castle, even if you also visit nearby Hohenschwangau Castle. You also don't get the option to spend part of the day in Füssen.
Climbing the Hill to Neuschwanstein Castle
Once your bus has arrived at the village below Neuschwanstein Castle and you have visited the ticket office, you then need to proceed to the top of the hill to the actual castle for your tour.
The cheapest option to get to Neuschwanstein Castle is to walk up the hill to it, which is naturally free. Whilst the hill is steep, the 1.5km climb is no issue if you're used to walking. It is recommended you allow 30-40 minutes for the walk, but the climb will be quicker for people of average fitness.
The next cheapest option is to take a shuttle bus. This costs €2.50 uphill and €1.50 downhill, or €3.00 for a return trip. The final alternative is to take a horse and cart ride. This costs €7 uphill and €3.50 downhill.
After the shuttle bus or horse and cart ride, there is still a short distance to walk, with the horse and cart ride dropping you closest to the castle entrance.
The Tour of Neuschwanstein Castle
Your actual tour of Neuschwanstein Castle begins from the interior courtyard. If there is still time until your tour starts, fill in time by visiting the Marienbrücke and taking photos from the popular look-out (see the top photo), then wander around the outside of Neuschwanstein Castle and the interior courtyard.
If your wait is even longer, it may be worthwhile having lunch first. There are multiple options down in the village (either sit down inside or simple take-away options outside). Alternatively, the restaurant just below the castle where the horse and card ride terminates is actually good value, at least at the time of my visit.
When it's almost time for your tour, make sure you are waiting at the tour gate in time. Five minutes before the start time, the electronic board will update to display your tour number. Your ticket now allows you through the turnstile into the queueing area. Promptly on time, your tour will then enter the castle.
The guided tour lasts 35 minutes, although you can spend extra time wandering through the souvenir shops and old kitchens at the end of the tour. Strictly no photos are allowed on the tour, and there's no free time to wander around by yourself.
Returning to Munich from Neuschwanstein Castle
To return to Munich, follow your journey in reverse. Return to the main road to catch the bus, then climb aboard a train at Füssen. Trains again depart approximately hourly. Check out the time of return trains at the Deutsche Bahn website.
If you have enough time, it is worthwhile wandering around the historic centre of the beautiful town Füssen before returning to Munich.
Visiting Neuschwanstein Castle with a Dog
While dogs aren't allowed inside the castle at Neuschwanstein (or on the shuttle bus), it's still possible to visit the outside of Neuschwanstein Castle with your dog.
Dogs are allowed on the train (either free in a container or pay for an extra traveller on the Bavaria Ticket) and on the local bus, then on the walking path up to the castle and to the Marienbrücke lookout spot.
If there's two of you and you both want to head inside, buy tickets to two different tours at least 45 minutes apart.
Inspired? Pin this to your Pinterest board