No doubt about it, Germany is one of the most dog-friendly countries that I've visited, even amongst European countries. In Germany, dogs tend to be a normal part of society. It's not uncommon for people to even take their dog along to work.
However, dogs are also held to high standards of behaviour in Germany, to make this possible. Taking your dog to behaviour classes is quite common.
So, if you're heading to Germany, make sure your dog is similarly well-behaved, but know in advance that he'll be welcome nearly everywhere. Here's everything you need to know about visiting dog-friendly Germany with your dog.
Looking for more dog-friendly countries in Europe? Check out my list of the most dog-friendly countries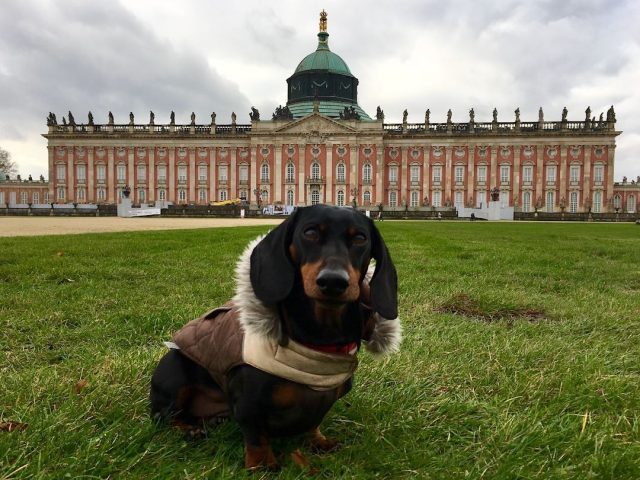 Travelling to Germany with a Dog
The standard EU rules apply to travelling to Germany with your dog. If you are travelling to Germany from another EU country or Switzerland, your dog will need to be microchipped, have an EU (or Swiss) pet passport and have been vaccinated for rabies at least 21 days before crossing the border. However, pet passports are generally not checked when crossing the border by car or train.
If you are flying to Germany from outside of the EU, as well as a microchip and valid rabies vaccine, your pet will require an EU health certificate (also known as the Annex IV) and in some cases a rabies titre test. Check out the full details on what's required to travel to Europe with a dog.
Dining Out in Germany with a Dog
In Germany, most restaurants and cafes allow dogs, both inside and outside. However, there are some exceptions. Many kebab shops (quite common in some cities) don't allow dogs inside. I was also surprised when trying to have burgers for lunch in the western city of Trier, that both burger restaurants we visited didn't allow dogs inside.
If in doubt, traditional brauhaus restaurants and small cafes are your best bet.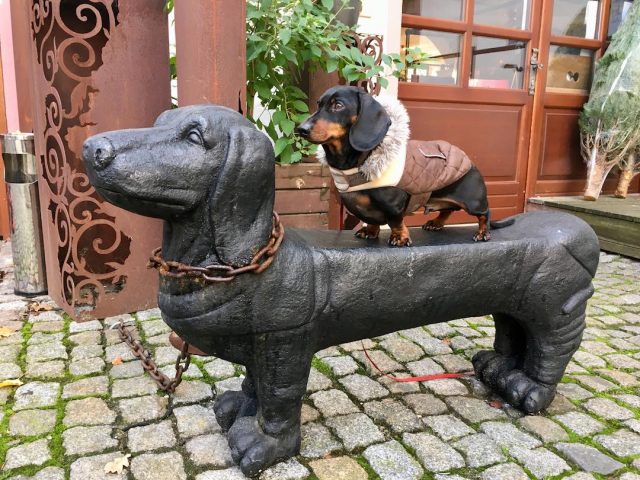 There's also one unfortunate exception to this rule: the wonderful German bakeries found everywhere throughout the country. Bakeries in Germany are usually quite large, and often include cafe seating and excellent sandwiches for eat-in or take-away. They're also usually the best spot to have a quick coffee or buy a take-away one.
However, dogs are nearly always not allowed, with a sign at the door translating as "I must remain outside". The one exception is in train stations, where many bakeries are just a counter with no walls and doors – dogs are fine then at the tables.
Shopping in Germany with a Dog
Dogs are nearly always allowed in shopping malls in Germany, and many types of shops. Just always check at the entrance for any no dog signs. The main exception are grocery and other food stores, plus the bakeries as mentioned above.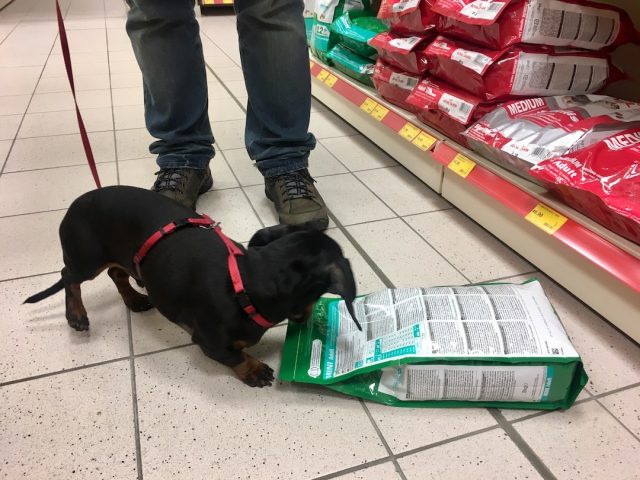 Taking a Dog on Public Transport in Germany
No matter if you have a small dog or a large dog, I can't think of any form of public transport in Germany where you can't bring your dog along. As public transport reaches nearly every corner of Germany, this means it's possible to travel easily without a car.
The main train operator in Germany is Deutsche Bahn. Click here to read the Deutsche Bahn pet policy (unfortunately and surprisingly, only in German). Here are the key points. On trains, small dogs and other animals (no larger than a domestic cat) in a container travel for free. For larger dogs, they require a child's fare ticket, plus to wear a leash and muzzle.
Additionally, if buying the excellent value regional or Germany-wide weekday and weekend tickets, while children travel for free, dogs not travelling in a carrier are counted as an extra passenger. So if there's two of you and a dog, you need to buy a ticket for three people. When writing the names of the passengers on the ticket, write "Hund" instead.
Sometimes on outings with our small dog, we didn't take his carrier (as we didn't want to carry it all day). In that case, we bought a ticket for him too, but based on the comments from a few ticket inspectors, we probably could have got away without paying for him.
When it comes to public transport, dogs are definitely fine to join you on local trains, metros, trams and buses. However, the pricing policy differs between the different cities.
In most cities, dogs not in a carrier require a reduced fare ticket. But in at least one or two of the cities I've visited, all dogs travelled for free.
In Berlin, dogs not in a carrier generally require a reduced fare ticket, such as if you buy a single ticket. But if you buy yourself a day ticket, you can bring your dog along for free.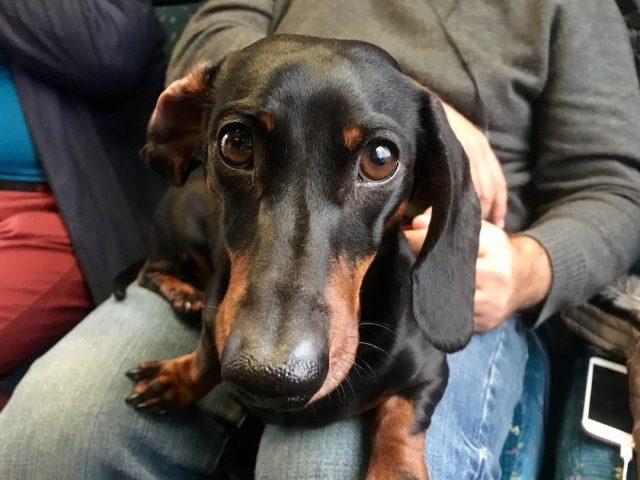 Dog-Friendly Accommodation in Germany
Most, but not all, hotels in Germany allow dogs to stay. (In my research into pet-friendly hotels in European cities, 70% of hotels in both Berlin and Munich allow pets.) Generally you'll be charged a fee starting from around €10 per night.
There's usually no issue taking them along to the restaurant or bar with you. Although most hotels I stayed at in Germany provide you with a door-hanger saying "dog in the room", meaning you could have a dog-free meal as well. While leaving your dog alone in the room for the whole day would probably be frowned upon, generally there's no rule stating you're not allowed to leave them alone.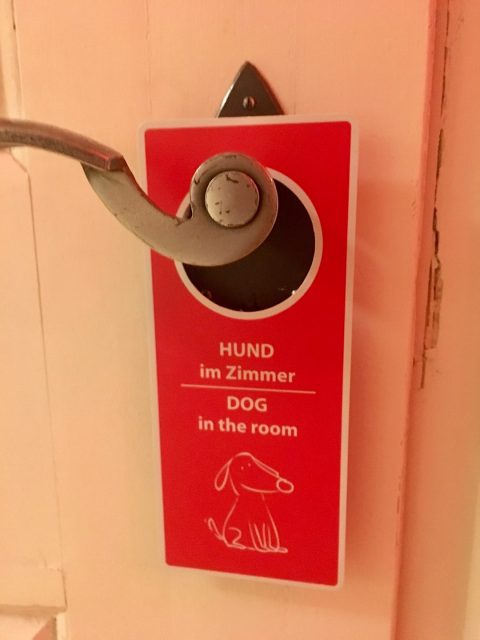 Some dog-friendly hotels around Germany that I recommend:
Note: This post contains affiliate links, which means I may receive commission if you make a purchase using the links. See my full disclaimer.
Vienna House Easy by Wyndham München (Munich)
A few kilometres from the centre of Munich, this 4-star hotel is modern and comes with amenities including a fitness room, sauna, free laundry room and restaurant. We stayed a week to recharge over the New Year period (and got in some workouts despite the snow falling outside!) I recommend asking for a room with a kitchenette (including a coffee machine).
Find out more and check the latest rates
25hours Hotel Bikini Berlin
It was a bit pricey the weekend that we were staying in Berlin, but I've heard great things about multiple branches of this hip hotel chain, including that it warmly welcomes canine guests.
Find out more and check the latest rates
Hotel Theophano (Quedlinburg)
This historic town in the centre of Germany is a delight, with its streets of half-timbered houses, and a castle towering above. Hotel Theophano is located directly on the main square, in an historic building. The rooms are charming, yet renovated, and quite spacious. Double check what rooms pets are allowed in.
Find out more and check the latest rates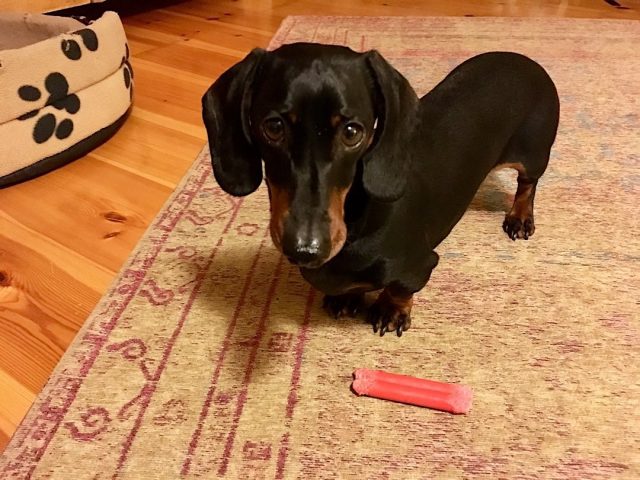 Mövenpick Hotel (Hamburg)
This unique hotel is situated in the middle of Schanzenpark, making it so easy to walk your dog morning or afternoon (or both!) That park is also popular with other local dog owners, so your dog will have plenty of opportunities for play.
Read more about the Mövenpick Hotel in Hamburg
What about Airbnbs you may ask? Due to legislation restricting the rental of entire apartments on Airbnb in many cities (to keep rental prices affordable for residents), whole house Airbnbs at an affordable price aren't as common as in many other parts of Europe.
If you can't up your budget, instead look at shared room options. Outside of the main cities, where this ruling doesn't apply, you'll also find more options.
Dog-Friendly Sightseeing in Germany
Germany offers up plenty of sightseeing opportunities where your dog can join you. Dogs are allowed in most outdoor spaces. This includes gardens surrounding palaces and castles, unlike is often the case in France.
Like most other countries though, the majority of churches, museums, and castles in Germany don't allow dogs to accompany visitors inside. There are exceptions made at some small museums, generally with small dogs being allowed to be carried (in particular during the off-peak season). And there was one famous church in Germany we visited on a cold winters day that allowed us to carry our dog inside, although I won't name which one!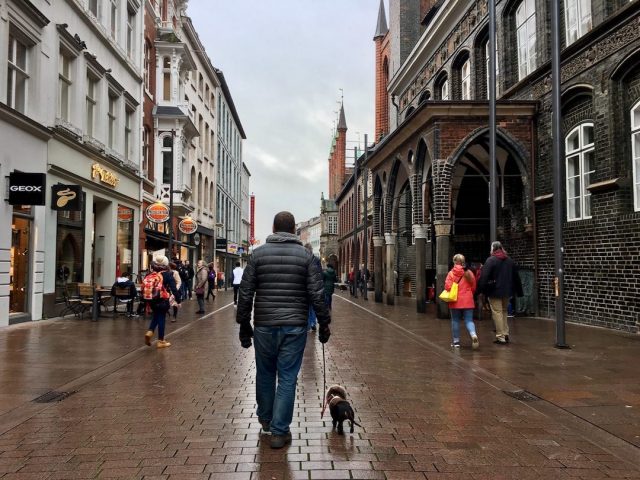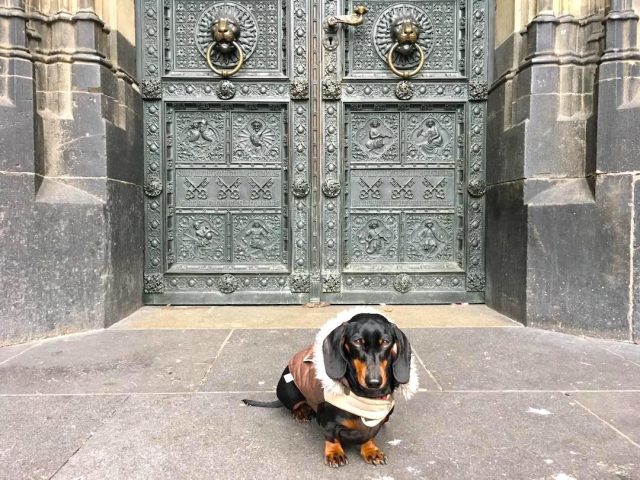 These are my top recommendations…
1. Visit Sanssouci Park at Potsdam
A visit to Sanssouci Park at Potsdam, about an hour from central Berlin on the train, is an excellent day out from Berlin. The park include many fine palaces, once the principal residence of the Prussian royal family, and is often called the German Versaille.
While dogs aren't allowed inside the palaces, they are allowed with you while you wander around the fine parks. Make sure you allow at least a few hours, but you could spend the entire day here.
Check out more photos from our visit to Sanssouci Park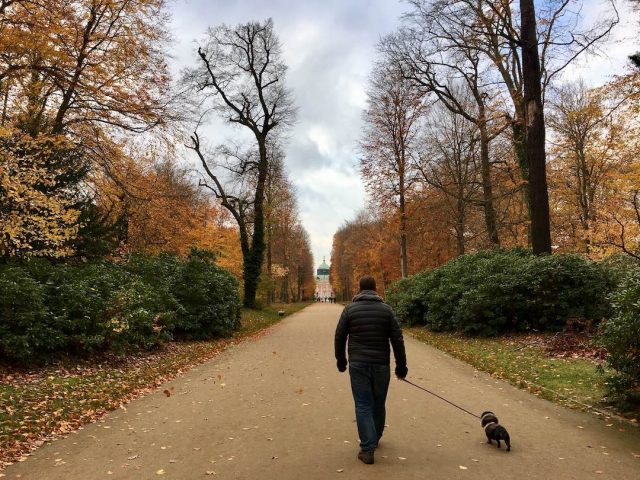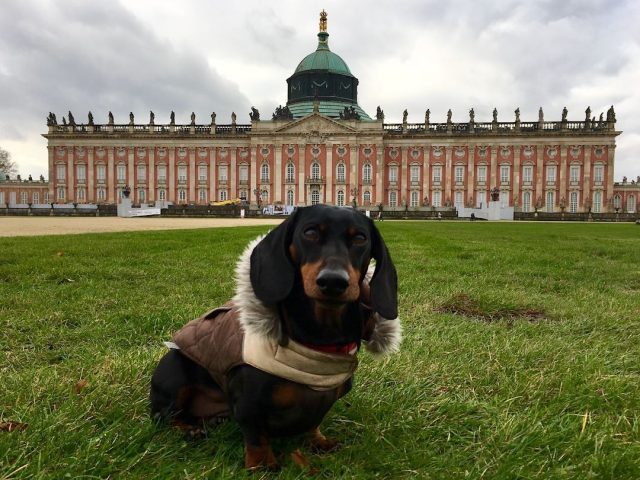 2. Cruise Along the Rhine River
If you're going to cruise along a stretch of the Rhine River, make it the section between St Goar and Bingen. As well as being home to the famous Lorelei Rock, there's many historic castles, cute towns and terraces of vineyards lining the Rhine along this stretch.
We cruised with KD Cruises. Their cruises run regularly in summer, but there's also the chance of a winter cruise if there's enough bookings.
KD Cruises allows dogs on board, but no other animals. There is currently a small surcharge of €3.90 per dog, and they need to wear a leash and, if necessary, a muzzle.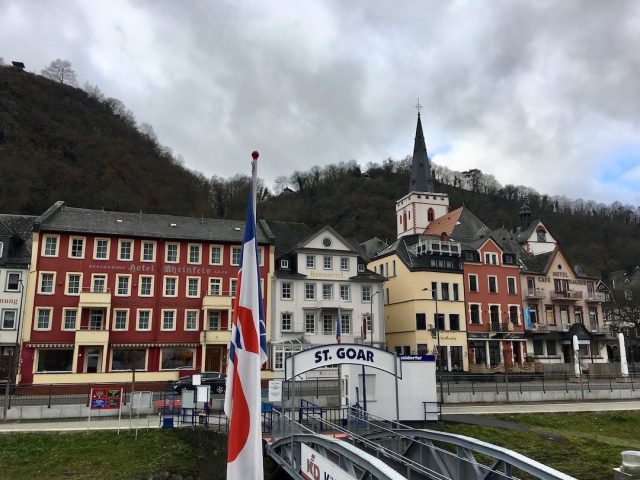 3. Explore the Street Art of Berlin
Berlin is renowned for its street art. And while I haven't yet met a dog interested in street art, they will enjoy walking with you through Germany's streets while you spot new works and take photos.
One of the most popular spots is the historic East Side Gallery, where works are painted on a 1.3km long remnant of the Berlin Wall. The courtyard at the Anne Frank Zentrum is also fabulous.
4. Visit Neuschwanstein Castle
Neuschwanstein Castle in Bavaria is one of the most famous castle in the world, and well worth a visit. If you're staying in Munich, it's possible to visit the castle on a day visit, including the option of taking the train and bus. I've written a detailed guide on how to visit Neuschwanstein Castle on public transport.
Now, I must admit that dogs aren't allowed inside the castle on the regular guided tours. But it's still possible to visit the exterior of the castle with your dog, and go for a wander nearby. If you're visiting with someone, it's also possible to take turns taking a guided tour, with the tours starting and finishing very promptly!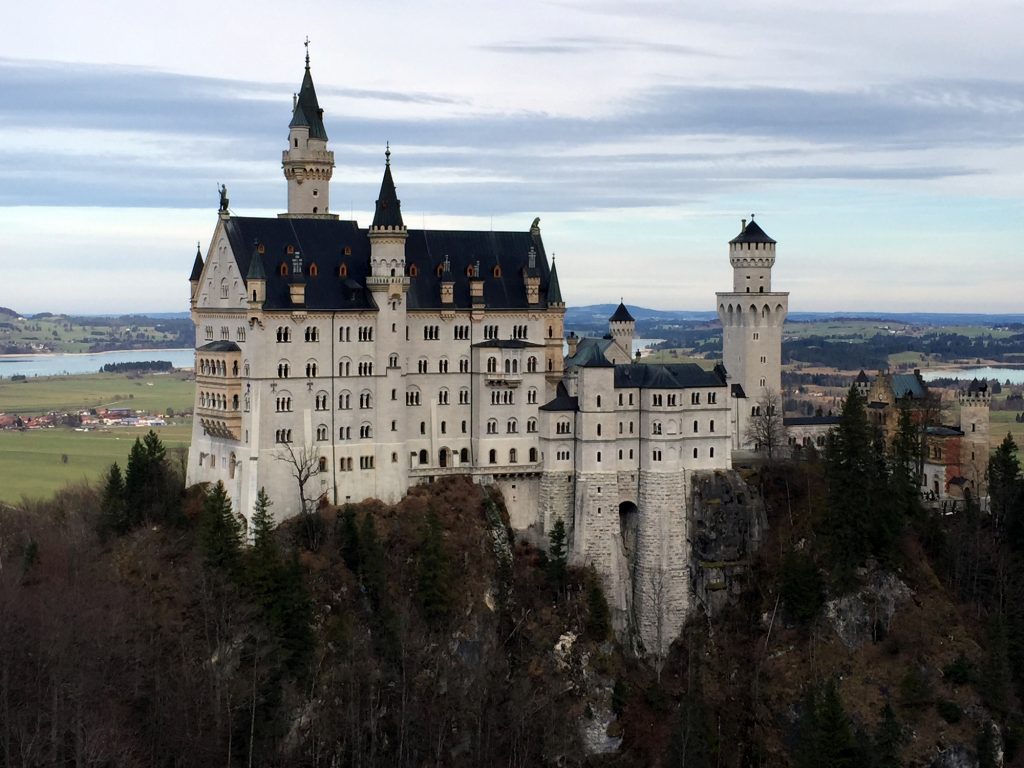 5. Explore the Medieval Town of Quedlinburg
After visiting Germany multiple times, I have to award Quedlinburg the prize for being the most charming medieval town in the country I have visited so far. Its narrow streets are full of historic half-timbered houses that have survived through the ages. Plus above the town on a sandstone outcrop towers its castle and cathedral, both important to the history of Germany.
Naturally dogs are welcome to join you on your wanderings!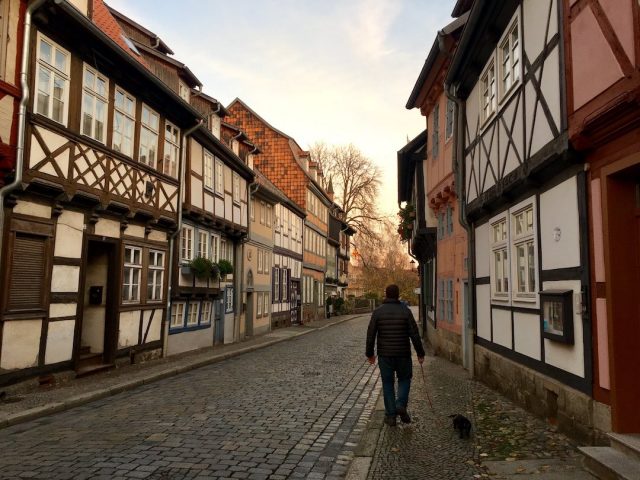 6. Visit Bergpark Wilhelmshöhe in Kassel
Located in the centre of Germany, the superb Bergpark Wilhelmshöhe features cascades, lakes and wooded slopes. It comes alive every Wednesday, Sunday and public holiday afternoon, between the months of May and early October, when the full water show is performed.
We visited both during a snowy day in winter, plus once again during summer when the water show was on. Entry is free year round and dogs are welcome.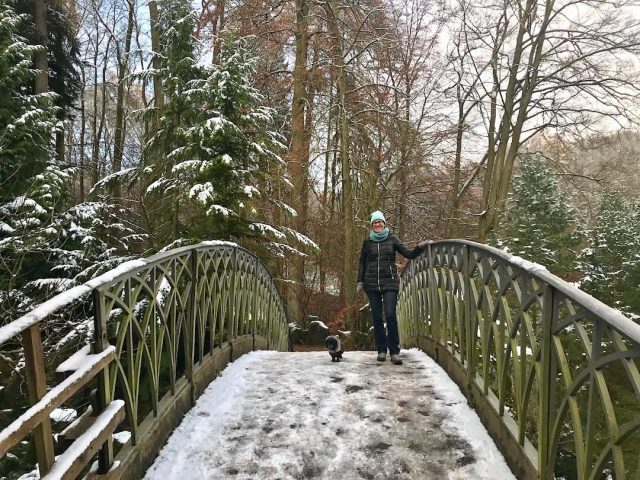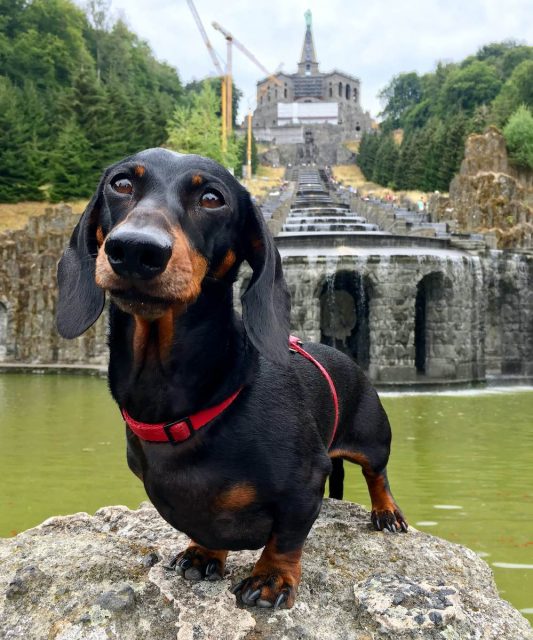 7. Go for a Stroll in the Forest
Germany isn't entirely about cities and industrial factories, there's also plenty of natural landscapes that still stretch across the country, including plenty of forests. A walk for the forest is a great outing that your dog would love to join you on. Dogs are generally allowed either on leash or off leash depending on the area.
Head south to the famed Black Forest region or head just outside of Berlin to the Grunewald. We went hiking through the forest Hainich Forest in the centre of the country, a UNESCO-listed beech forest.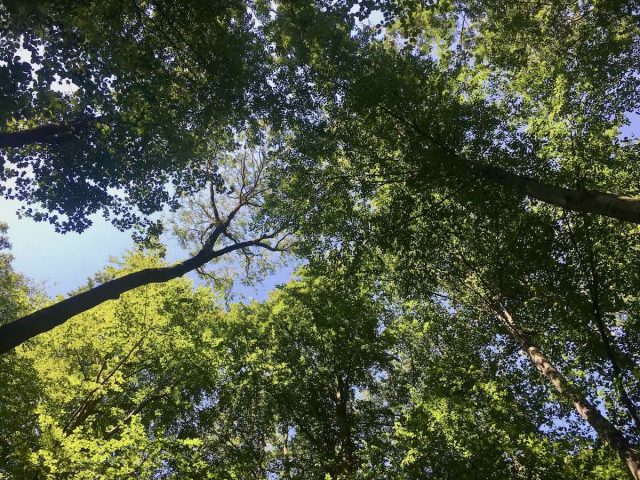 8. Visit the Gardens of the Würzburg Residence
The baroque Würzburg Residence palace has stunning interiors, that I highly recommend touring. And while the tours inside are strictly dog free (and with no photographs permitted), the exterior of the palace is surrounded by delightful gardens in the spring and summer months. Entry is free and dogs on a leash are permitted to join you.
If you wish to visit inside and are visiting with someone else, takes turns on the tours inside the palace like my husband and I did, while the other strolls around the garden or perhaps dines at the garden cafe, which naturally allows dogs.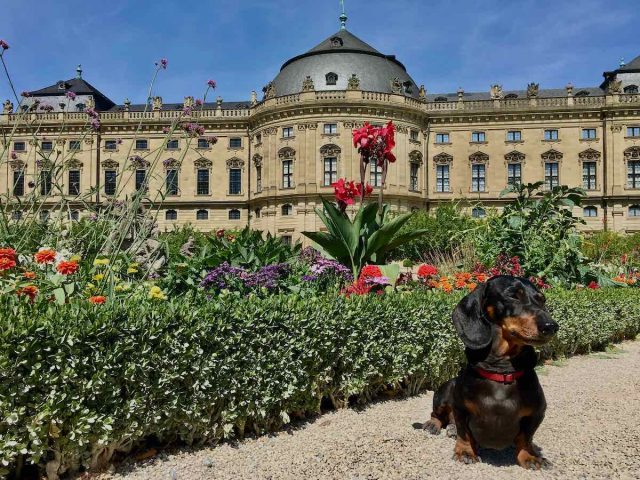 9. Explore Historic Bremen
Bremen is a charming historic town located in the north of Germany. It's easily visited on a day trip from Hamburg, or else stay one or two nights to fully explore it.
Don't miss wandering through the Schnoor Quarter or the Böttscherstrasse, or getting a photo of the Bremen Town Musicians with your dog. Plus the House of History Museum (Bremer Geschichtenhaus) allows dogs inside!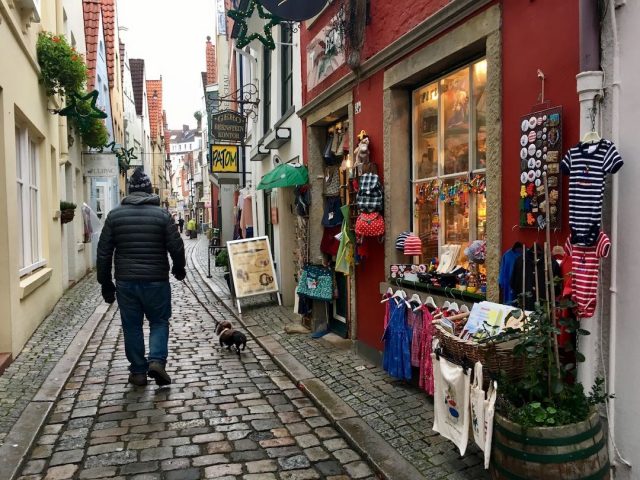 10. Check out the Bauhaus Buildings in Dessau
If you love modern architecture, you can't miss visiting Dessau (south of Berlin), home to the Bauhaus school during the 1920s. Highlights include the Bauhaus Building and the Masters' Houses, but there's also other works scattered throughout the town.
While dogs aren't allowed inside, they can accompany you while viewing the exteriors. And dogs are allowed in the cafe at the Bauhaus Building (if you alternate taking turns visiting the interior).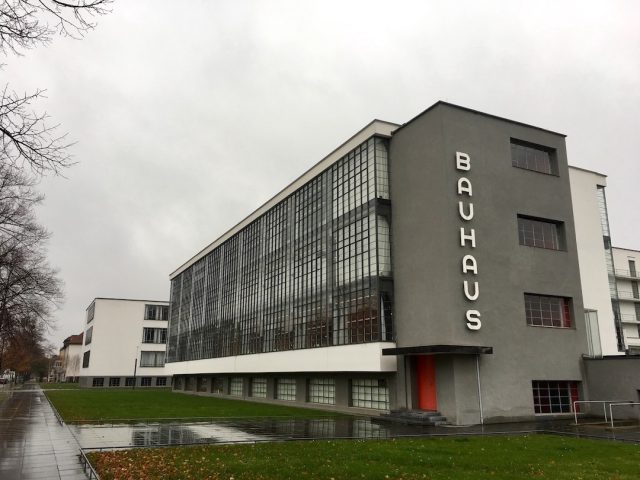 11. Visit Lorsch Abbey
Located in between Heidelberg and Frankfurt, this historic monastery is best known for its "Kings Hall", an unusual building from the Carolingian era that has survived to this day, despite the monastery being dismantled.
We took a guided tour of the Kings Hall, and our guide was fine with our small dog being carried along with us inside. The museum adjacent, with three collections covering the monastery, historic interior furnishings and tobacco, also allowed small well-behaved dogs to be carried inside. All dogs are also welcome to join their owners on the well-marked walk past the remains of the monastery.
12. Visit Wartburg Castle near Eisenach
Looking just like the classic idea of a castle, Wartburg is also fascinating for its famous residents, from St Elisabeth of Hungary to Martin Luther (after he was ex-communicated by the Catholic Church and lying low).
Dogs are allowed in the interior courtyards, plus on the walking trails around the hilltop location. They aren't allowed though on the guided tour inside or unfortunately inside the cafe. It's best visited with you dog during the summer months. When we visited on a snowy winter's day we choose to leave Schnitzel back at our apartment.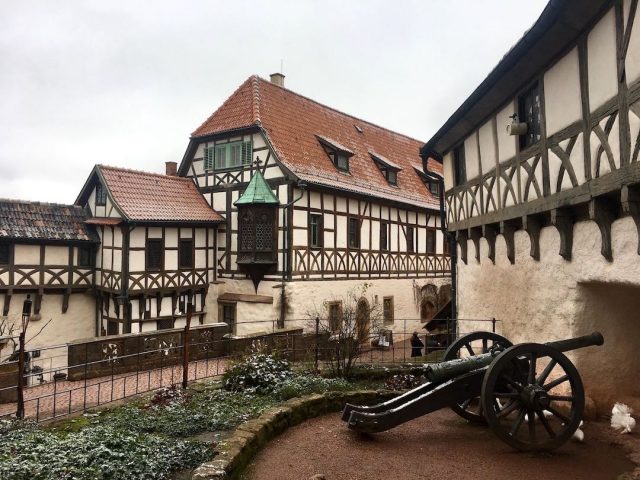 13. Visit a Christmas Market or Two
Germany is synonymous with Christmas markets, and if visiting any part of Germany in December, a Christmas market isn't far away. They're great for visiting along with your dog, as many of the locals do. Buy a warming glühwein, enjoy the wurst and other hearty streetfood, or browse for gifts and decorations.
Just a note: it's best to avoid the more crowded ones (such as the main markets in Cologne and Heidelberg), at least during early evening, if you're with a dog.
You May Also Like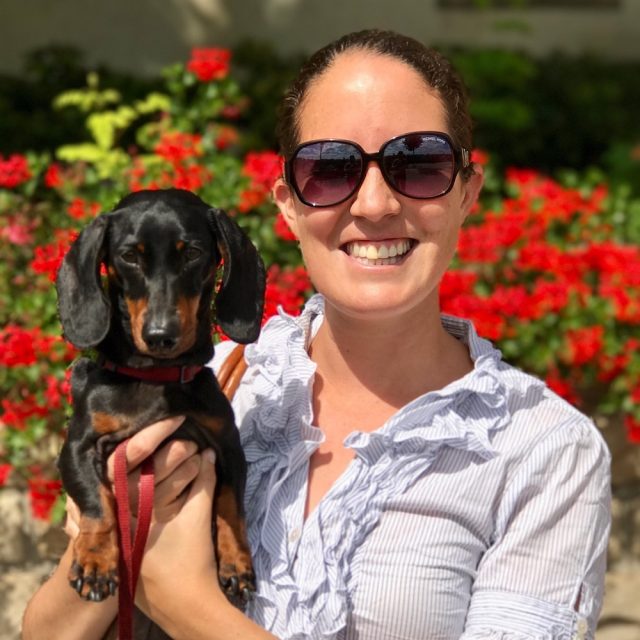 Shandos Cleaver is the founder of Travelnuity: Dog-Friendly Travel. She has travelled extensively with her Miniature Dachshund, Schnitzel, including to 33 countries across Europe, every state and territory of Australia except Tasmania, and 10 of the United States. She's passionate about providing inspiration and information to others wanting to travel with their dogs, whether close to home or internationally.
Inspired? Pin this to your Pinterest board!