Upon arriving in Bilbao, the largest city in the Basque Country in northern Spain, I was struck by how many dogs I saw on the street. There were countless dogs walking with their owners, far more than in the other parts of Spain I had visited up to that point (or visited after).
It therefore came as no surprise to find out, through my travels with my own dog, that this is the most dog-friendly region of Spain to visit with a dog. So, what makes the Basque Country so great for travelling with a dog?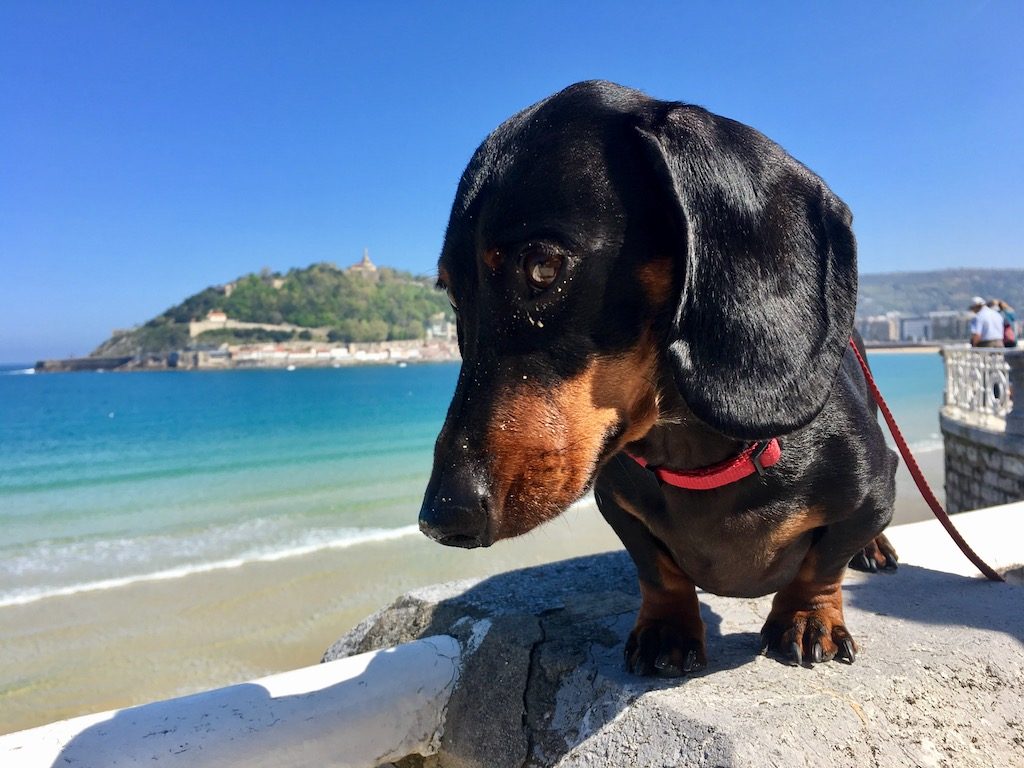 1. Dogs are Allowed in Pintxos Bars!
For many tourists, the Basque Country, in particular San Sebastian, is best known as a foodie destination. At the heart of this lies pintxos, the delicious small bites to eat, served at nearly all the bars. And what's the only thing better than eating pintxos? Being able to bring your dog along on your pintxos bar-hopping!
Generally when eating out in Spain, I'd look for restaurants with outdoor seating, so we could sit outside and eat without leaving our dog behind. The times that we checked about eating inside (especially on cold days), dogs were never allowed.
Luckily, Spain has lots of outdoor restaurant seating and the weather was generally good, despite us visiting in February, so this worked out okay.
So, when we visited our first pintxos bar in Bilbao, we sat outside with our dog, Schnitzel, expecting the same rules to apply. But it was a bit chilly for once, and then we noticed one of the locals had his dog inside.
So we checked at every pintxos bar we ate at in Bilbao and San Sebastian (at least a dozen!) and at every bar our dog was allowed inside! I guess the Basque Country is it's own country in at least one way!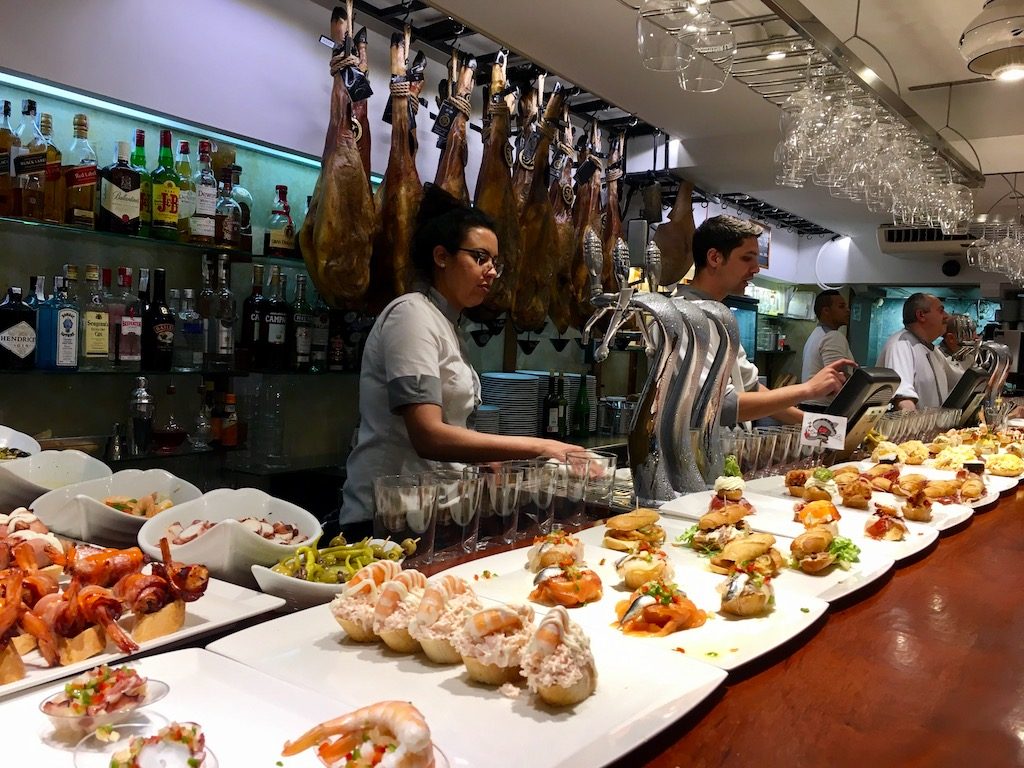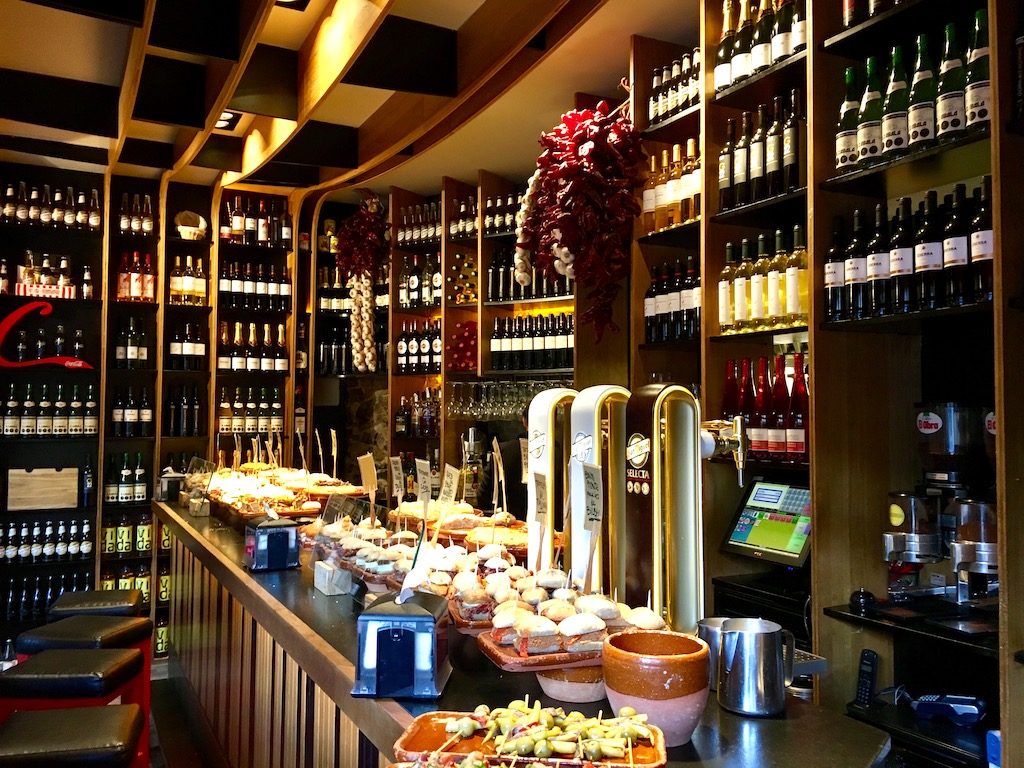 Note however, that the pintxos bars can get busy, especially on the weekend and on holidays. It's best to stick to quieter times for a visit with your pup, especially if it's not small enough to be carried.
This alone was enough to make the Basque Country the best region of Spain to travel with a dog, but there were also some other wonderful dog-friendly aspects to this region…
2. Great Dog-Friendly Walks
Nearly everywhere in Spain allows the walking of dogs on a leash (except for a few parks), so this wasn't anything particularly different. But I want to highlight two particularly great city walks while staying in the Basque Country that you can do with your dog.
In Bilbao, there's the wonderful walk along the river, best done in the early evening or once the day cools down in summer. It loops around the central park of the city, joining the narrow streets of the old town with the recently developed waterfronts, including the Guggenheim Museum Bilbao.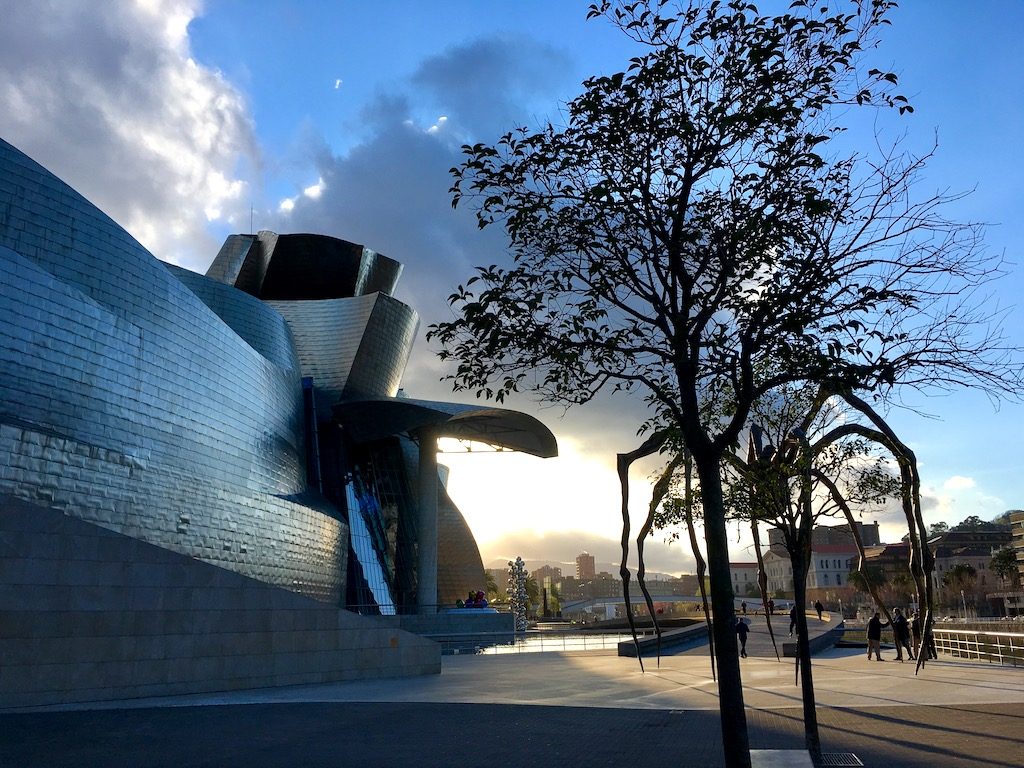 There's also water views along the best walk in San Sebastian, the other major tourist destination in the region. But these water views are of the beautiful, sandy beaches surrounding the town. The walkways behind the beaches are perfect for walking your dog year-round.
Plus outside of the peak summer months of June to September dogs are allowed onto the beach on a leash, so hit the sand for part of your stroll. Just make sure you have comfortable shoes – it's 2.5km one-way from the city end to the Comb of the Wind sculptures, or 5km return!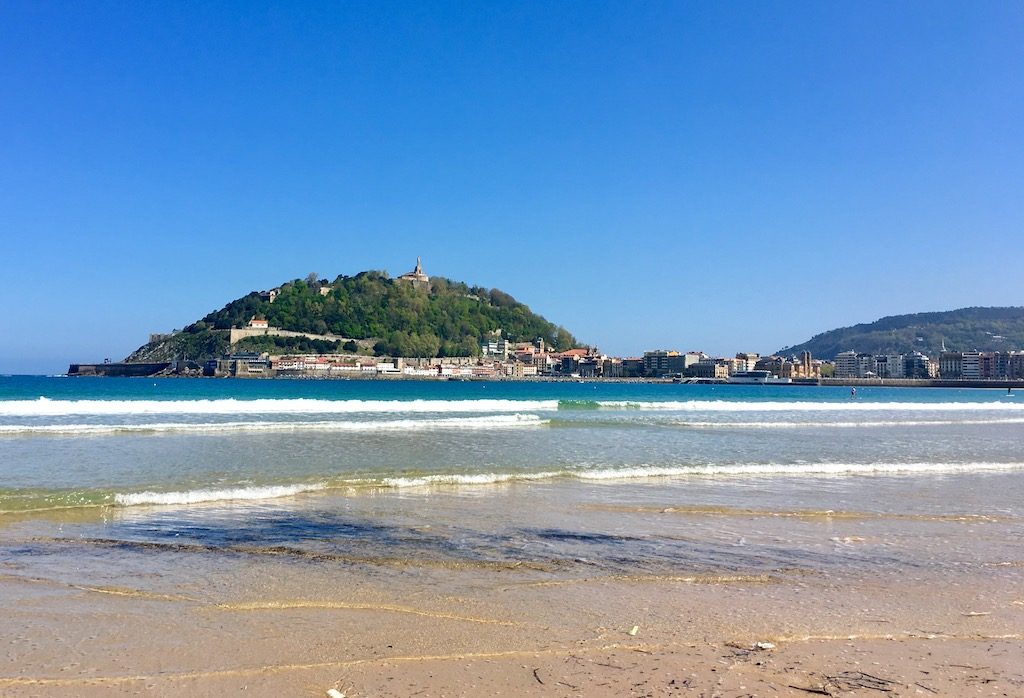 3. Ride a Dog-Friendly Funicular
While walking along the western end of the beach in San Sebastian, you may notice the Monte Igueldo Funicular going up the headland behind you. I highly recommend heading up, especially if it's sunny, as there's a great view from the top. There's also some cafes to enjoy a cold drink, plus an amusement park open during the summer and other popular times of year.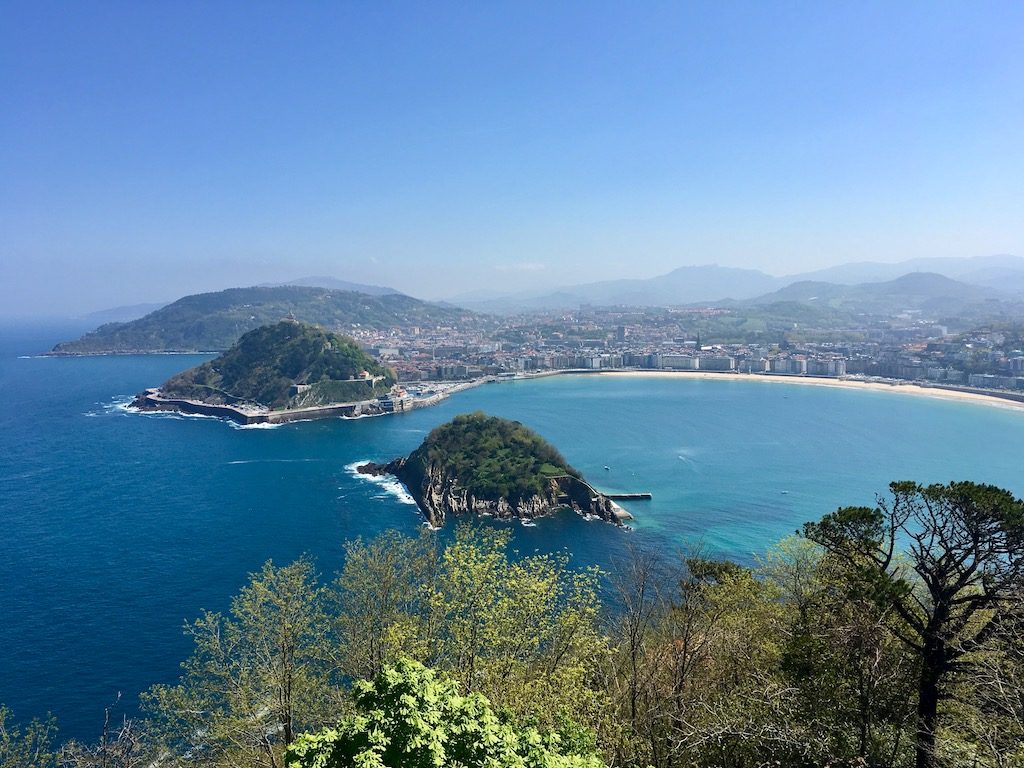 And if you're out walking with your dog? It's still fine to head up, as they allow dogs on the funicular. Although, they do need to pay a fare, with a special ticket just for dogs and luggage!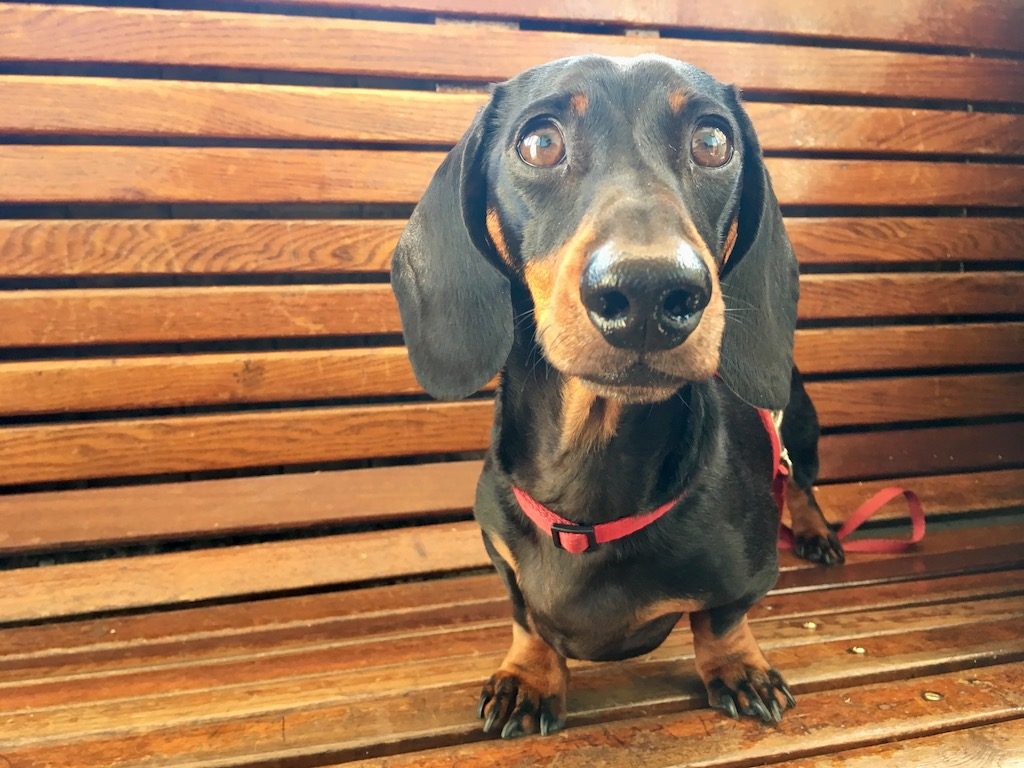 4. The Perfect Puppy Selfie
While walking along the waterfront in Bilbao, it's hard to miss the Guggenheim Museum Bilbao. This art museum is world-reknown, not just for the works in side, but also it's stunning architecture, designed by architect Frank Gehry. If it's a cloudy day, I highly recommend returning when the sun is shining, to best appreciate its curved, glimmering surfaces.
Even if you don't go inside the museum, you'll get to meet one of its most famous sculptures out the front: Jeff Koons's Puppy. It's very popular for selfies. But even better than taking a selfie of yourself, it's the perfect location for a selfie with your dog!
5. A Beautiful Dog-Friendly Inn
Note: This post contains affiliate links, which means I may receive commission if you make a purchase using the links.
If you're looking for a dog-friendly place to stay in San Sebastian, that is also a fabulous place for humans to stay, I highly recommend the Far Out Inn. Located on the slopes above the main beach, it has a stunning view from many of the rooms and the breakfast room, and is also beautifully stylish, in a colourful, eclectic fashion.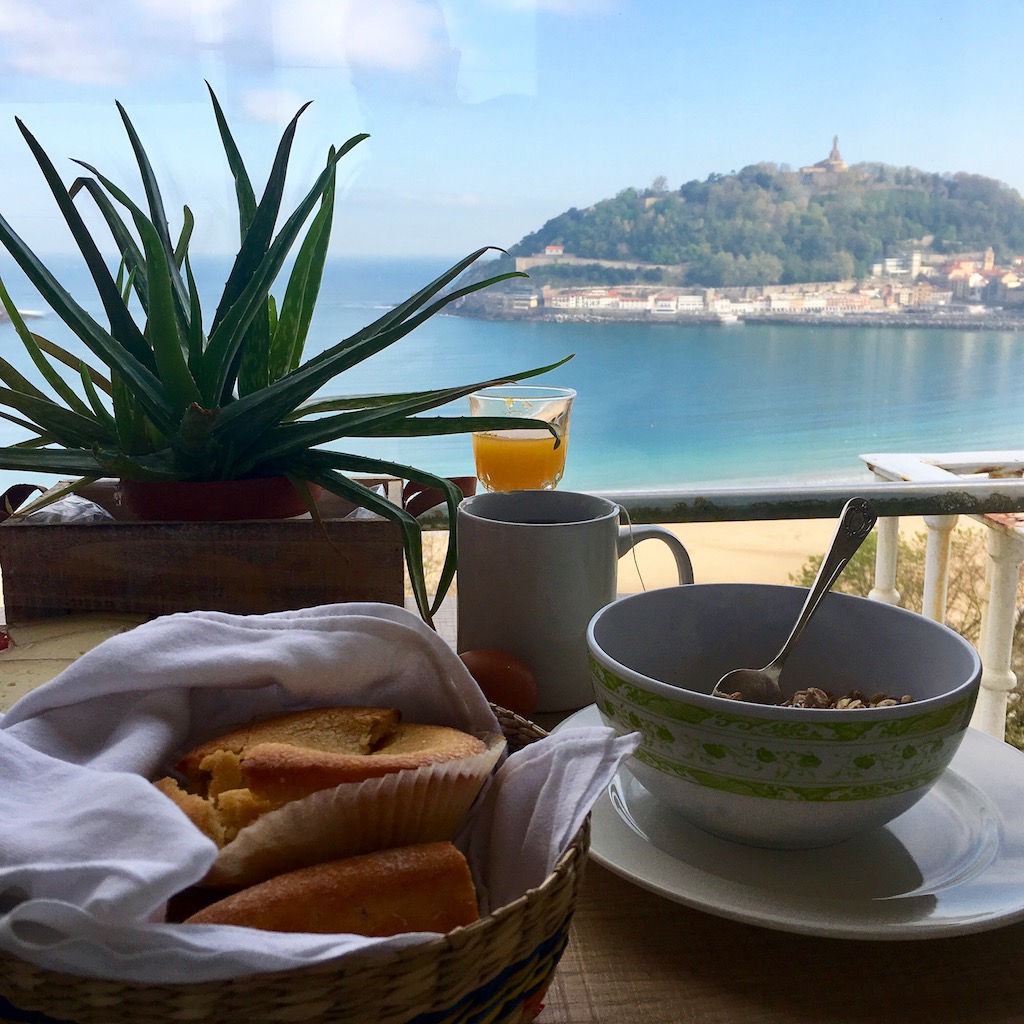 There's only four rooms, so it's best to book ahead, particularly during the warmer months of the year, when it is often booked out. If you're staying with your pup, check in advance if it is okay. An additional €20 fee per night applies for pets.
Find out more and check the latest rates
You May Also Like
Inspired? Pin this to your Pinterest board!