I'll admit straight up, Spain is unfortunately one of the least dog-friendly countries in Europe. Although many Spanish own and pamper their dogs, they don't have the same attitude towards dogs that many other European countries do, where dogs are frequently allowed inside restaurants and allowed on public transport as a right.
Travelling in Spain with your dog is more similar to travelling in the USA or Australia (where there's also a lot of dog owners, but not many places that allow dogs), although it feels like it's improving and there are some parts of Spain that are more dog-friendly than others.
But this didn't hold me back from travelling around Spain with my dog, and I'm sure it won't discourage many other dog owners from taking their dogs with them to Spain, whether for a short trip or a longer stay.
After all, Spain is a terrific destination, especially to escape the cold during the cooler months in Europe. It just requires understanding where dogs are and aren't allowed in Spain. Here's my tips on travelling in Spain with a dog.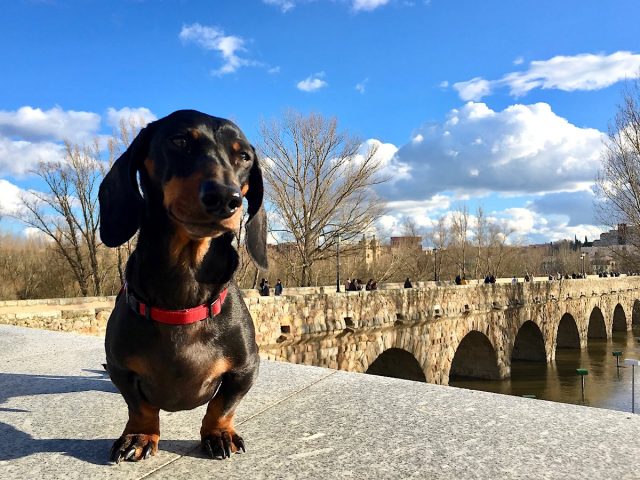 Travelling to Spain with a Dog
The standard EU rules apply to travelling to Spain with your dog. If you are travelling to Spain from another EU country, your dog will need to be microchipped, have an EU pet passport and have been vaccinated for rabies at least 21 days before crossing the border.
If you are flying to Spain from outside of the EU, as well as a microchip and valid rabies vaccine, your pet will require an EU health certificate (also known as the Annex IV) and in some cases a rabies titre test. Check out the full details on travelling to Europe with a dog.
Heading to Spain from the UK and not sure of the best way to travel to Spain with your dog? Check out my guide covering every option for travelling from the UK to Spain with a dog, no matter if you want to take your car or travel on foot. I've also just got a guide to the dog-friendly ferries from the UK to Spain.
If travelling to Spain over the summer, don't also forget to protect your dog from Leishmaniasis.
Exporting a Dog from Spain
I've recently heard from fellow travellers that when dogs and cats depart Spain to a non-EU country, the Spanish government now requires that your pet has an export certificate. I presume this includes if your pet has just been visiting Spain on holiday.
There is limited information on this in English, with the above linked page and this document the best information in English.
Firstly, a registered clinical veterinarian will need to request a pet health certificate through CEXGAN. This certificate certifies that your pet does not present symptoms of any infectious diseases, is fit to travel, is vaccinated against rabies, and also meets any other requirements of the destination country. The certificate is generally valid for up to 10 days.
Next, once you have obtained the pet health certificate, you need to contact the local office of the Official Veterinary Services to obtain an official export certificate. A link to contact information is given in the above document, although it is broken. The export certificate may also need to be validated, depending on your destination country.
Allow plenty of time for this process – reach out to a local vet in advance of your departure.
Dining Out in Spain with a Dog
In the majority of restaurants in Spain, unfortunately you won't be able to dine inside with your dog. Instead, it's best to stick to the many outdoor terraces, of which there are many.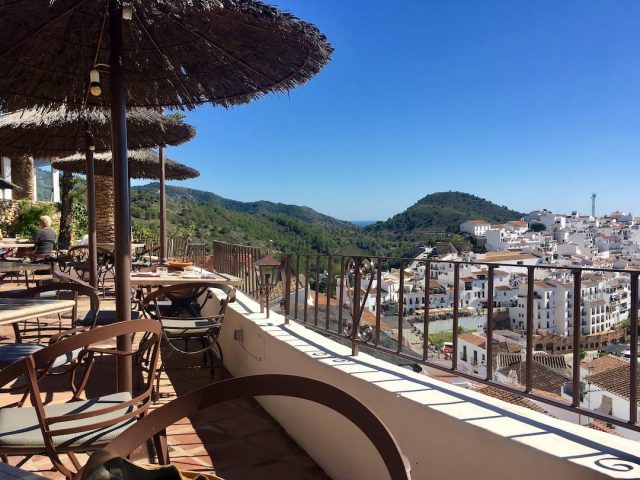 On our most recent trip during late winter, we asked at many places in southern Spain and the Canary Islands, and nearly every place the answer was no. About the only exception was a small hotel we stayed at in Guadalupe, which considering you needed to go through the restaurant to enter the hotel rooms, also allowed dogs in the restaurant. Another dog-friendly hotel we stayed at also allowed dogs in the lounge section of its restaurant.
However, there are some regions of Spain that are more dog-friendly than others. While visiting the Basque region of Spain, including Bilbao and San Sebastian, all of the pintxos bars we visited, our favourite way to dine out, allowed dogs. (Read my full post about why I found this to be the most dog-friendly region of Spain.)
I've also heard reports from someone who had spent a long time in Barcelona, that many restaurants around Barcelona allow dogs inside. Certainly Schnitzel was allowed inside the famous La Boqueria market when we visited, even charming a butcher into some free tidbits!
For other parts of Spain, keep a look out for a "Perros Bienvenidos" sticker for restaurants that welcome dogs (picture below). Although you're sadly more likely to spot no dogs allowed signs. If there isn't any sticker, it still might be worthwhile asking at the door whether your dog is allowed.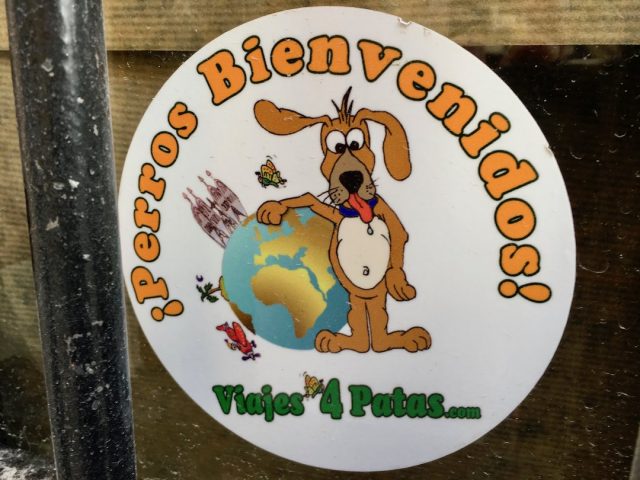 One restaurant chain that I've heard recommendations for is the RawCoco Green Bar. With locations in Madrid, Barcelona, Gijón and Palma de Mallorca, each location is pet-friendly and allows pets inside, including large dogs. Looking for something fancier in Madrid? Head to the five branches of El Perro y La Galleta, where well-behaved dogs are welcome.
Luckily though, the weather in Spain is better suited for outdoor dining than many other parts of Europe. Even if it's winter time, it still might be fine if you're rugged up, or else there might be heaters on the footpath next to the outdoor tables. But during most of the year, outdoor dining is the norm, and I didn't come across any restaurants that weren't fine with our dog sitting by our side.
Taking a Dog on Public Transport in Spain
While small dogs are generally allowed on public transport in Spain, as long as they are in a carrier, you'll have a much harder time travelling on public transport with a large dog.
Rules for Dogs on Trains in Spain
Up until recently, only small pets were allowed to travel on long-distance trains in Spain. This covers AVE, Larga Distancia (long distance high-speed), Media Distancia (mid-distance) and Avant (mid-distance high-speed) trains.
In this case, small pets are defined as small dogs, cats, ferrets and birds (but not poultry), up to a maximum weight of 10kg. Only one pet is allowed per passenger, and it needs to be in a carrier or cage, with a maximum size of 60 x 35 x 35 cm, and have its own ticket.
In reality, the size of the pet and the size of the carrier is unlikely to be checked. When we firstly arrived in Spain after flying from Australia, we travelled from Madrid to Seville via train, with our dog still in his large crate used for the flight. The crate was far large than the maximum size, but it wasn't checked.
The cost to travel with a pet depends on the train and your ticket. On AVE and Larga Distancia trains, the pet ticket is free is you have a Premium ticket. Otherwise it costs €10 if you have a Elige or Básico ticket. On Media Distancia and Avant trains, the pet ticket is 25% of the general fare.
However, this exclusion of large pets has recently changed. Large pets are now allowed to travel on select AVE (high-speed) trains on the Madrid-Barcelona and Madrid-Malaga lines. A single large dog between 10kg and 40kg is allowed per passenger, who will travel in the adjoining seat, with a maximum of two per train.
You can book your dog's transport online, up to 24 hours before departure, for an additional fee of €35. You need to arrive at the Renfe Service Centre at the train station at least 40 minutes early to submit a declaration of responsibility, show your insurance policy, and collect at travel kit (seat cover and mat).
For the full details, check the RENFE pet policy. Note that train and bus combination tickets do not accept pets.
On other trains in Spain, the rules are more lenient. On Cercanías services (commuter services in Madrid), dogs are allowed to travel outside of a cage, wearing just a leash and muzzle. There is no weight restriction. Pets also travel for free. The same applies on Feve services.
Rules for Dogs on Metros in Spain
If you're spending time in Madrid with your dog, luckily the rules for dogs on the metro changed in 2016. Previously only small dogs in carriers were allowed, but all dogs are now allowed on the metro, albeit with the following rules.
Only one dog is allowed per passenger, it must be on a lead no longer than 50cm, must be muzzled, must travel in the last train carriage, and pets are not allowed to travel during peak hour (between 7:30-9:30am, 2-4pm and 6-8pm, from Monday to Friday, except in July and August).
Small dogs in carriers do not need to follow these rules. In either case, dogs travel for free.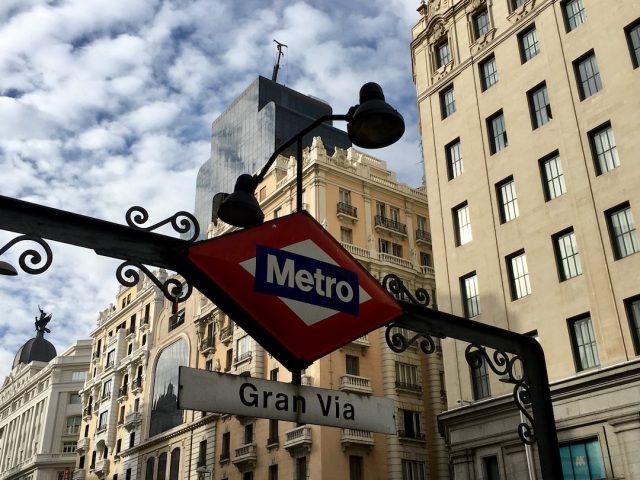 What about other cities in Spain? In Barcelona, the rules for dogs on the metro also changed a few years ago, and are similar to the rules in Madrid. Only the peak hour exclusion times are different: 7-9:30am and 5-7pm.
However, some other cities still only allow small dogs in a carrier on the metro, such as in Valencia. Check the rules of the local transport authority in the city you are visiting, plus for the type of transport you are taking.
Taking Dogs on Ferries within Spain
There are a number of ferries that operate in Spain, particularly for crossings to the Balearic Islands. One ferry company with some great pet-friendly options is Balearia.
With no pets permitted to remain in vehicles, instead your pet can travel in a pet-friendly cabin (on most ferries), by your side at a pet-friendly seat or in a kennel (with webcams available for individual kennels on some ships). Check out the options and rules on their website.
Other Transport Options in Spain
One other tip about public transport: it's probably best to avoid long-distance buses in Spain. The general rule is that dogs are not allowed onboard the buses, but must travel in the luggage compartment underneath the bus. Like most dog owners, I'm not happy to have my dog travel in this fashion.
Due to the rules discussed above, if you're travelling in Spain with a large dog or you're travelling with a small dog away from train routes, it's best to consider hiring a car. Luckily, hire cars are often quite cheap in Spain, although be wary of some small hire car operators. Check out my tips for hiring a car.
Additionally, most private taxis accept pets, as long as you they are in a carrier and you check with the drive in advance. There are also some pet-specific taxi companies, including Mascotaxi.
Dog-Friendly Accommodation in Spain
Luckily, Spain is more accommodating when it comes to finding somewhere for your dog to stay, compared to finding dog-friendly restaurants or transport. During our multiple visits to Spain, we've stayed in a mix of Airbnbs and hotels, and have never had an issue finding dog-friendly options. We even stayed on a boat at a marina in Tenerife for nearly a week!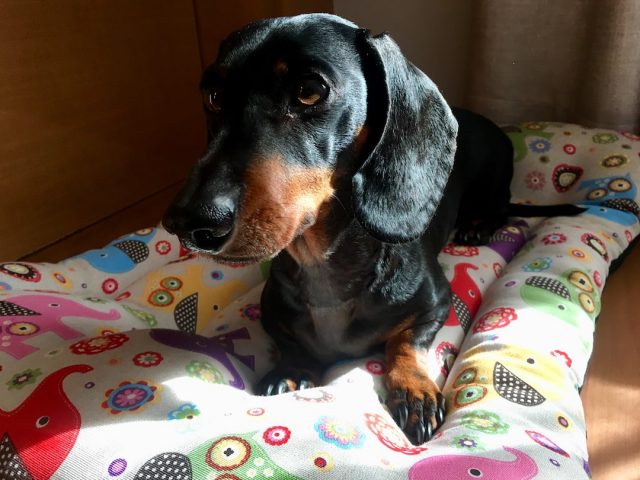 Spain still doesn't allow dogs in quite as many hotels are many other European countries, according to my research. In hotel listings for Madrid, Barcelona and Seville, dogs are allowed by 17-18% hotels (almost the same percentage for each city), putting the Spanish cities towards the bottom of my ranking of European cities. My main recommendation is to not leave your accommodation search to the last minute.
Here is a list of my recommendations for pet-friendly hotels in Madrid
If you're looking for additional dog-friendly accommodation options in Spain, follow my instructions for finding dog-friendly options on Airbnb, Hotels.com and Booking.com. With hotels, my preference is to book with Hotels.com, as the dog fee is usually displayed, but Booking.com will list more options in rural areas of Spain.
For cheaper 2-3 star hotels, dogs are usually charged around €5-10 per night or are sometimes free. Two chains in particular that are usually dog-friendly in Spain are Petit Palace (with 4-5 star hotels where dogs previously stay free) and Campanile (2-3 star hotels that charge €10 per night as of 2022, a weight limit may apply).
One extra warning: book your accommodation well in advance in Barcelona, unless you're prepared to spend up big. There's not many cheaper options available in Barcelona, including Airbnbs, which are virtually banned, due to all Airbnbs requiring a license and no new licenses being granted. Add to the mix requiring something that is dog-friendly, and you'll find not many accommodation options available to book and prices that are higher than elsewhere in Spain.
Dog-Friendly Beaches in Spain
I couldn't talk about visiting Spain and dogs, and not mention beaches. Or more specifically, are dogs allowed on beaches in Spain?
First up, you're likely to have more success at finding dog-friendly beaches in Spain if you visit outside of summer. For example, dogs are allowed on beaches in Barcelona outside of the summer season, which is officially from the 1st June to the last Sunday in September, plus weekends either side. Visiting Barcelona with your dog in May? Visit any beach you want. Heading there in July? Your options are more limited.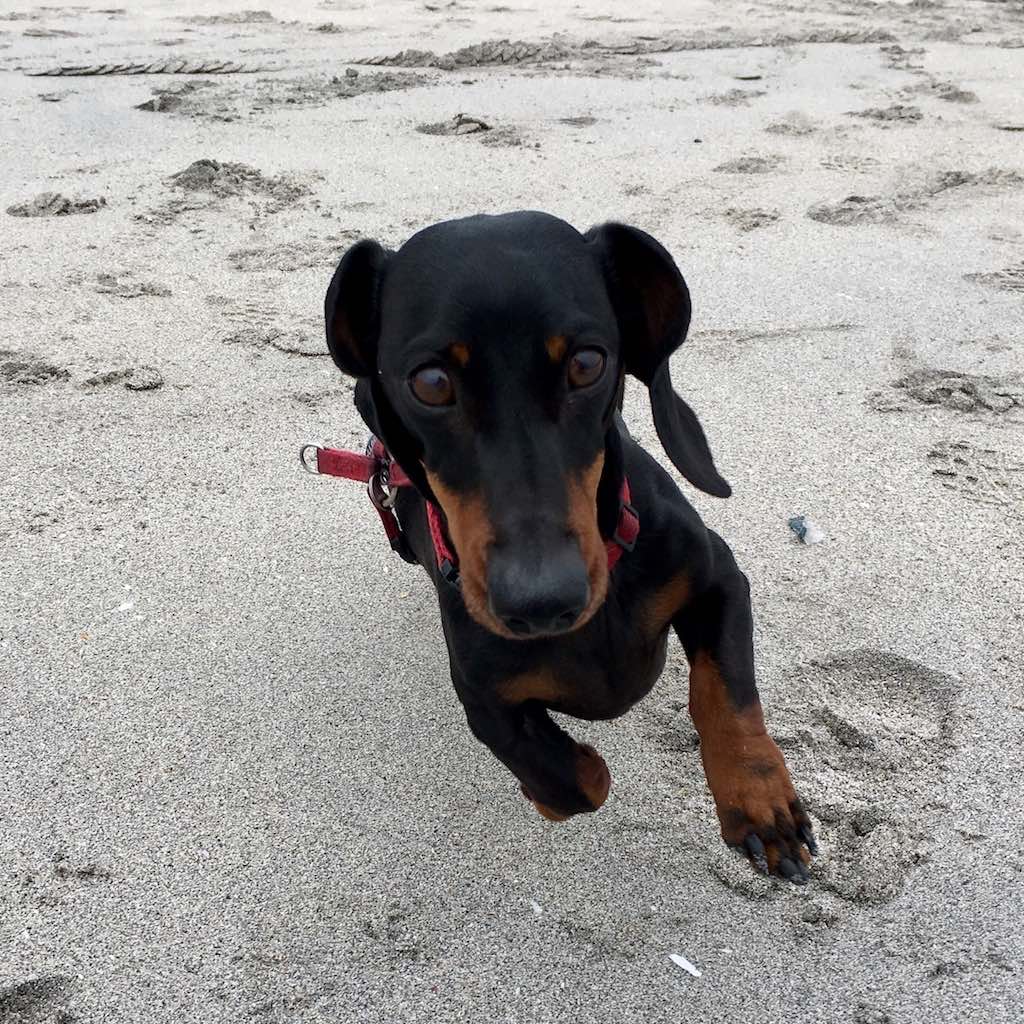 This is probably the case for most of the country. For example, I visited San Sebastien during April and found plenty of dogs playing on the main beach, with no signs prohibiting dogs. But over the summer, dogs are likely to be prohibited.
If you are visiting Spain over the summer and want to visit the beach with your dog, there are some options, but they are limited and be prepared to travel a fair distance. It's best to research this before booking accommodation.
Luckily, Redcanina.es lists all the dog-friendly beaches in Spain where dogs are allowed year round, even if for limited hours in the summer. (Unfortunately, the website is only in Spanish.) Here's their map of every dog-friendly beach:
I'm pretty sure the numbers have grown in recent years! Head to their main website to view further details on each of these beaches.
Dog-Friendly Sightseeing in Spain
While travelling around Spain, you'll find plenty of dog-friendly sightseeing options for you and your pup. Sure there are plenty of places dogs aren't allowed, including churches and museums, plus many gardens, similar to the situation in France.
But there's no shortage of beautiful old towns where you can at least wander around and admire the exterior of the buildings, plus many natural sites in Spain are quite relaxed about dogs.
Here's my pick of where you should visit in Spain with your dog.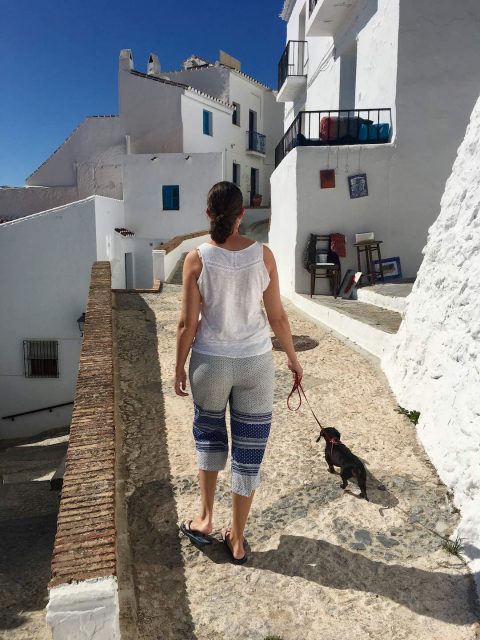 1. Visit Park Güell in Barcelona
If you are visiting Barcelona for the first time, you have to visit Park Güell. Situated on the hillside above the Gràcia district, the park is the work of Antoni Gaudí, most famous as the architect of La Sagrada Família. There's some colourful, whimsical mosaics, not to mention the beautiful views looking off towards the coast.
For humans planning on visiting the gardens, it's recommended to book tickets in advance. However, there's no ticket required for dogs, who are allowed in the park as long as they remain on a leash.
Unfortunately though, in recent years since my visit pets have been restricted from certain popular spots, including the Nature Square, Hipostyle Room, the Dragon Stairway, the Austria Gardens and the Laundry Room Portico.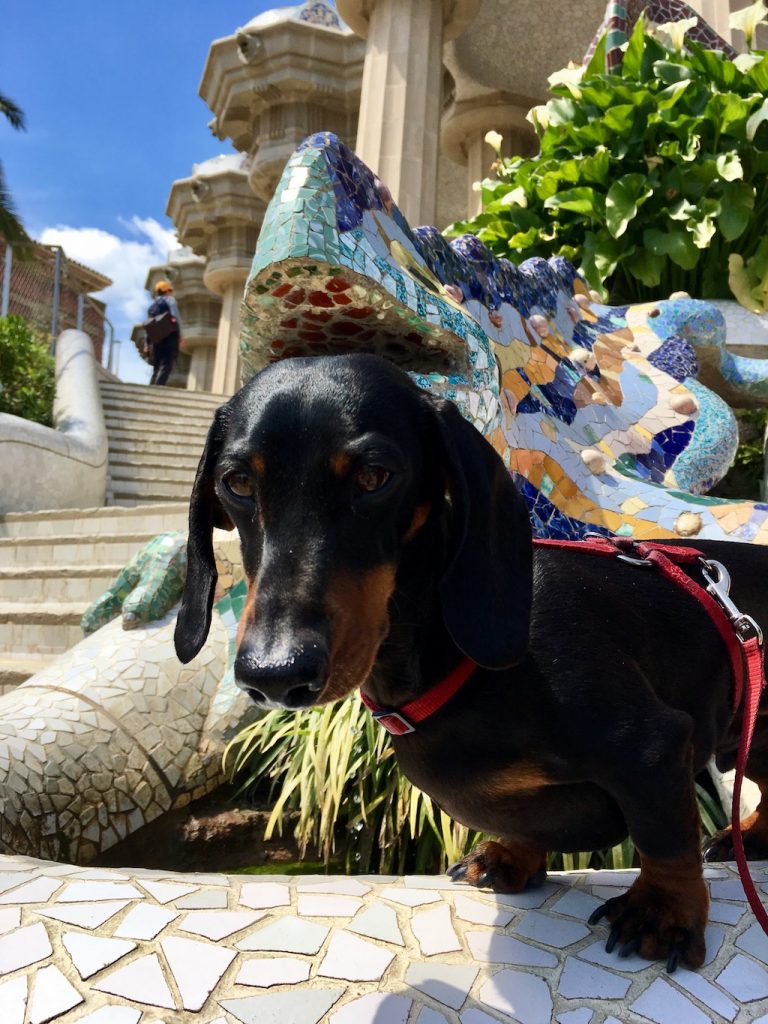 While you are in Barcelona, it's also worthwhile visiting at least the exteriors of some of Gaudí's other buildings, which you can do with your pup. My favourites were Casa Milà and Casa Battló, both in the central Eixample district.
If you're interested, I've put together a self-guided cycling route to visit Gaudí's works, which can also be done in part on foot with a dog.
2. Eat Pintxos in San Sebastian
Now throughout most of Spain, dogs aren't allowed to join you inside restaurants, though there are some exceptions. However, we discovered that wasn't the case in the Basque region. In both Bilbao and San Sebastian, when dining each evening on pintxos, our dog was able to join us inside! It's one of the reasons I selected the Basque region as the most dog-friendly region in Spain.
Pintxos are the small snacks served in bars in northern Spain. Though initially intended as a little appetiser to go with your drink, it's popular to dine on a succession of pintxos, enough for your dinner, perhaps moving from bar to bar. The centre of San Sebastian can get pretty busy, so stick to quieter areas or head out early if dining with your dog.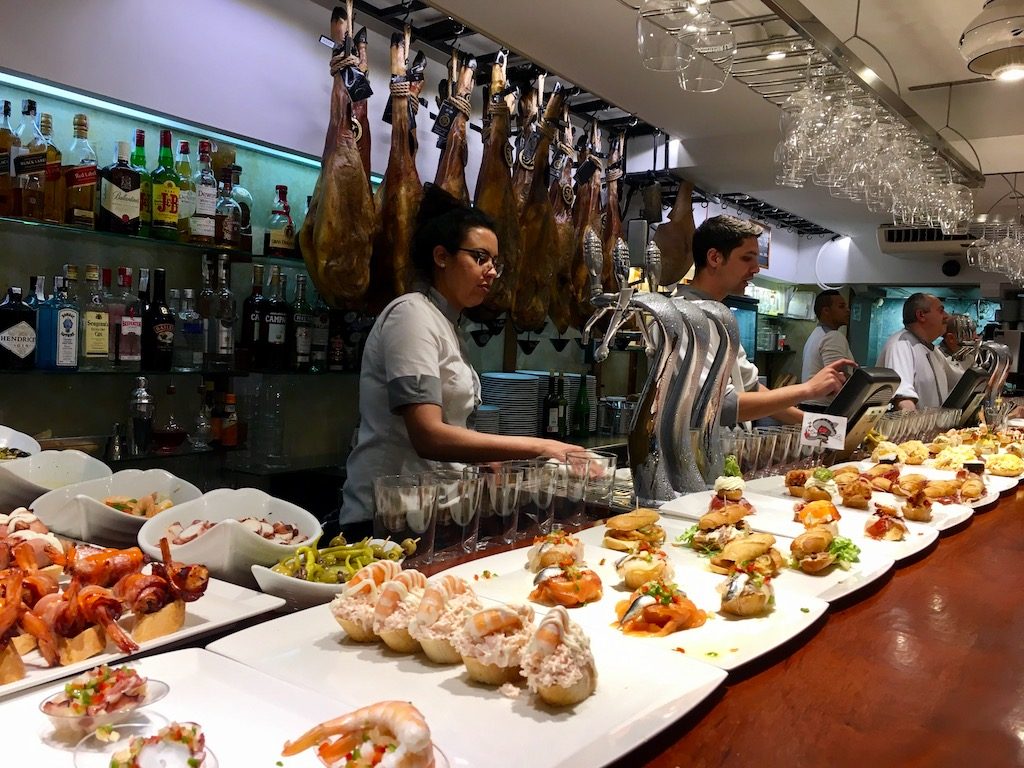 3. Or Dine on Tapas in the Sunshine
Even if you don't visit San Sebastian and have the chance to visit pintxos bars with your pup, I still recommend taking the chance to dine on tapas elsewhere in Spain alongside your dog, but outside in the sunshine.
While it's rare that restaurants in Spain allow dogs inside, the majority of restaurants and cafes where I dined at an outdoor terrace allowed my dog to join me. I honestly can't recall a single occasion where my dog wasn't allowed.
With the sunny, warm weather in Spain, this can often be done year round, especially if there are outdoor heaters. Although in the winter months it's best done during lazy afternoons, while the sun is still up, rather than late at night. Do as the local do and enjoy a glass of local wine or tinto de verano, rather than sangria.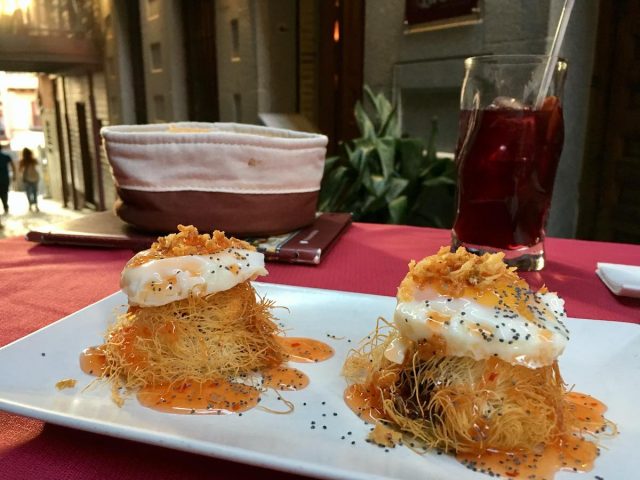 4. Go Hiking in the Pyrénées
Spain has a vast range of natural landscapes, including some magnificent mountain ranges. One of the most imposing is the Pyrénées mountains on the border with France. And if you're hankering after a hike with your dog, you'll be glad to know that within the Pyrénées and Monte Perdido National Park on the Spanish side of the border, dogs are welcome to join you in this national park as long as they remain on a leash.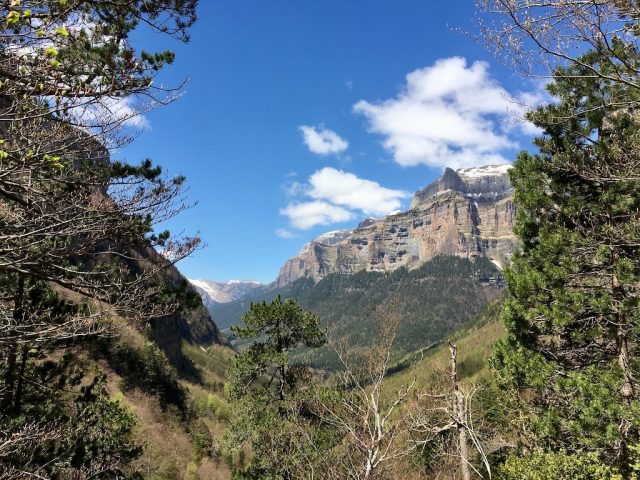 One of the most popular hikes in the national park is the hike to Cola de Caballo in the Ordessa Valley (the lower half of this trail). The hike is a total of 16km, passing through a valley and past multiple waterfalls. But if your dog isn't up to such a long hike (like our Schnitzel), just head as far as you can, visiting the closer waterfalls and cascades, then return.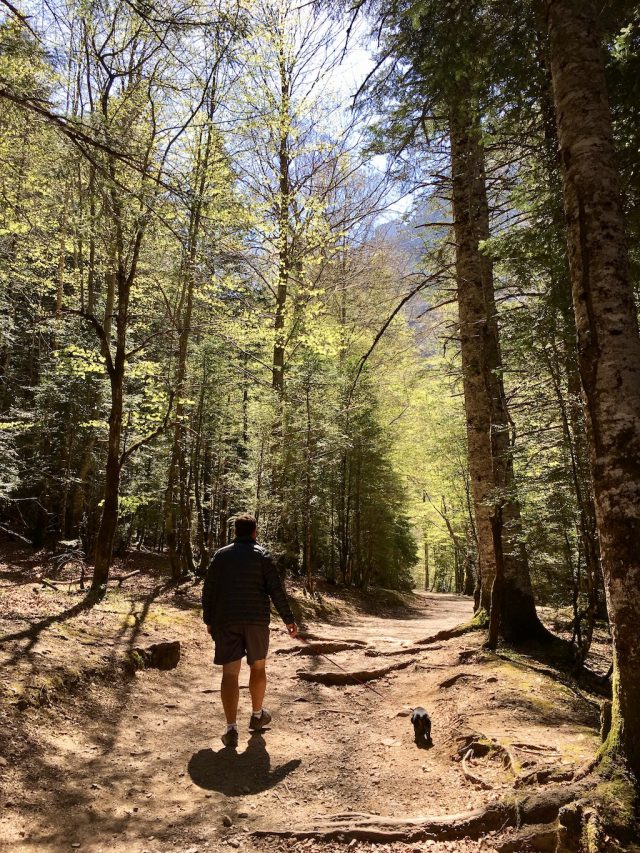 5. Or Explore Mount Teide
Another great natural destination in Spain to visit with your pup is Mt Teide, the volcanic mountain at the centre of Tenerife, one of the Canary Islands. We easily flew to Tenerife with Vueling, who allow small dogs in the cabin.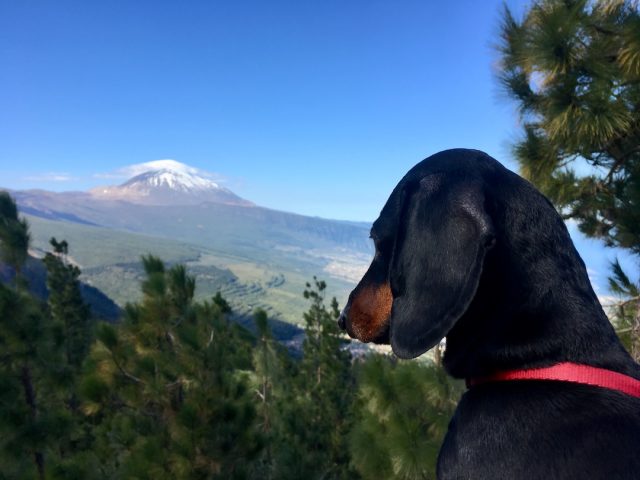 To explore Teide, I recommend hiring a car for at least one day to explore. It's a huge mountain, towering 3718 metres above sea level, and taking a road trip from one side of the mountain to the other will take up most of the day, allowing for stops along the way.
We didn't actually hike that much, as it was very windy on the day we visited, but there are dog-friendly options available, as long as you keep your dog on a leash.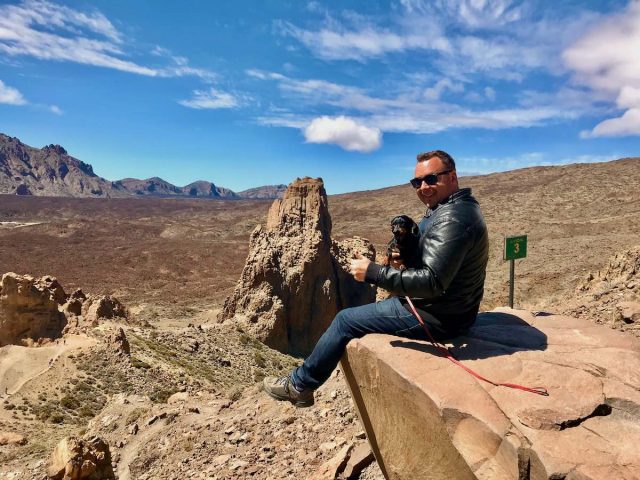 6. Stay on Board a Yacht
During our visit to Tenerife for some early-spring sunshine, while it was still chilly in mainland Spain, we also had the adventure of staying onboard a yacht. The yacht was moored up long-term at a marina, after having been sailed by the owner from Croatia, and dogs were allowed to stay on board.
It was a little nerve wracking at first lifting Schnitzel on board, especially for early morning and late evening walks, but we all loved the time relaxing on board the boat. During sunny afternoons we put Schnitzel's bed up on deck for him to doze upon, or else he joined us in the cabin.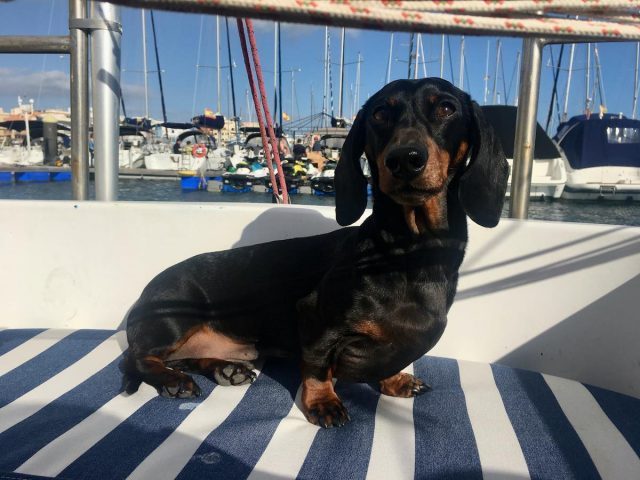 I'll note that this option is probably better for smaller dogs, so that you can lift them in and out of the cabin. Not to mention space is rather limited in the cabin.
Although the yacht that we stayed on, which we found through Airbnb, is no longer available, other yachts stays regularly come up. Look out for this option around Spain for an unusual adventure! Slightly older, more battered yachts like the one we stayed on are more likely to be both dog-friendly and affordable.
7. Visit Historic Toledo
One of the most beautiful old cities close to Madrid is Toledo. It's possible to visit the city on a day trip from Madrid, or else stay for a night or two (my recommendation!)
While your dog won't be allowed inside the impressive cathedral or other sites such as the oldest synagogue that exists in Europe, it's worthwhile just to wander the streets with them.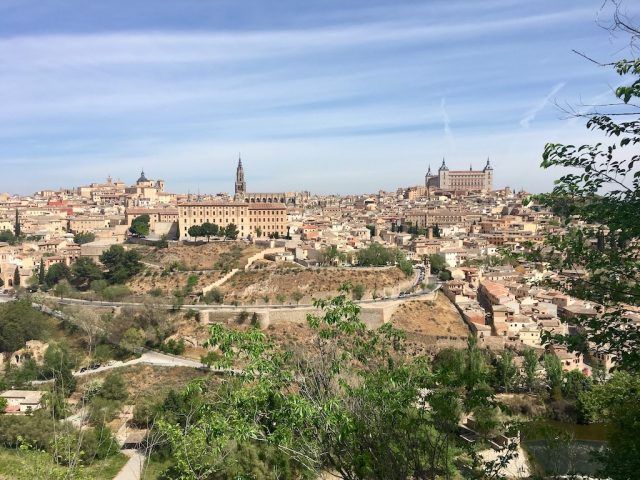 Additionally, there's plenty of walking paths surrounding the city that provide beautiful views of it, that of course are perfect for a dog walk. If visiting during the warmer months of the year, head out early before it heats up. If staying overnight, I also recommend walking around the cathedral.
8. Walk the Walls of Lugo
Like many cities in Spain, Lugo in northwestern Spain dates back to the Roman era. And the most remarkable legacy left by the Romans are the huge walls surrounding the Old Town. They've been UNESCO listed for being the only intact circuit of Roman walls still in existence.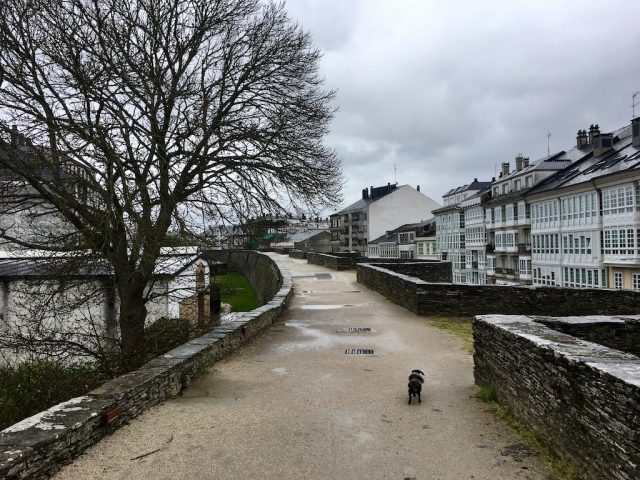 And best of all? As well as being completely free to walk around, dogs are welcome to join you on top of the walls. (This is in contrast to the medieval-era walls surrounding Avila, which both cost and don't allow dogs.) Schnitzel wasn't too happy at walking in the rain while we completed the 2km-loop, but it's a fun thing to do with your dog.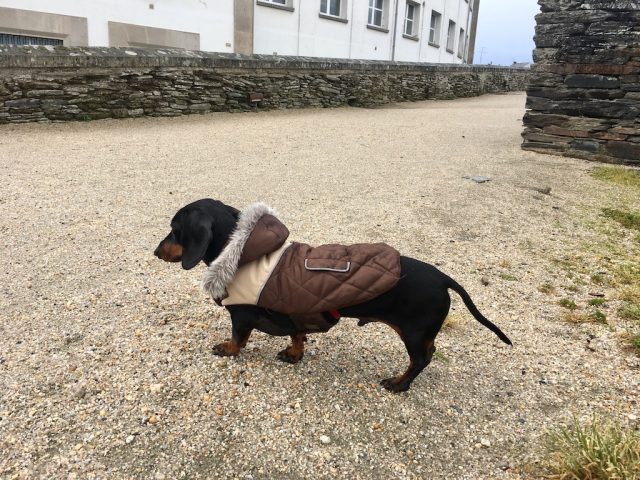 9. Explore Las Médulas
The landscapes of Las Médulas are stunning and virtually unknown outside of Spain. The result of intensive gold mining by the Romans (the technique is literally translated as "destruction of mountains"), it's a beautiful spot to visit with your four-legged friend.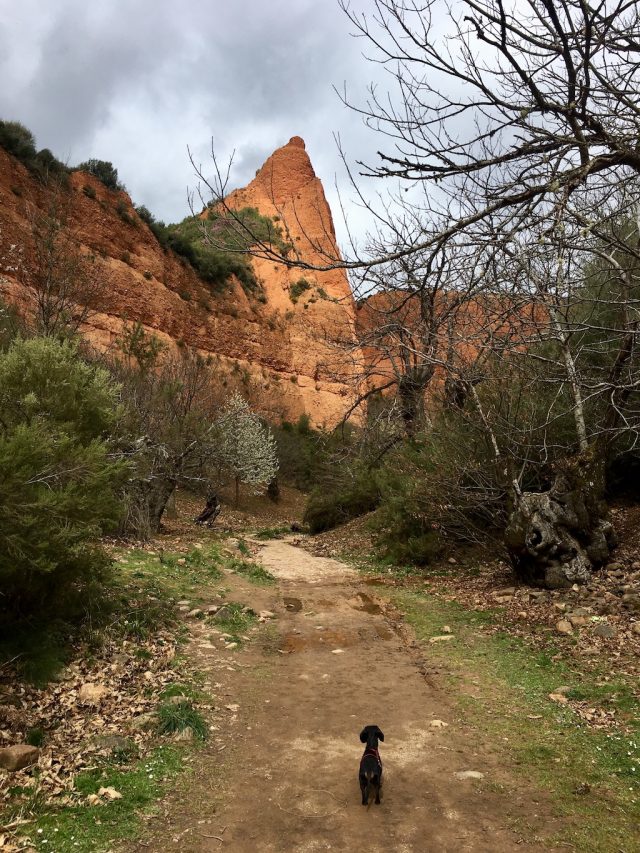 My biggest surprise? If you pay to enter the old Roman mining tunnel near the Mirador de Orellán, hard-hat on head, your dog is also welcome to join you for free. Not that they need a hard-hat, as it's mainly to protect your head on sections with low roofs (and Schnitzel has never been described as being tall in his life!) Dogs are also welcome on the other walks around the area.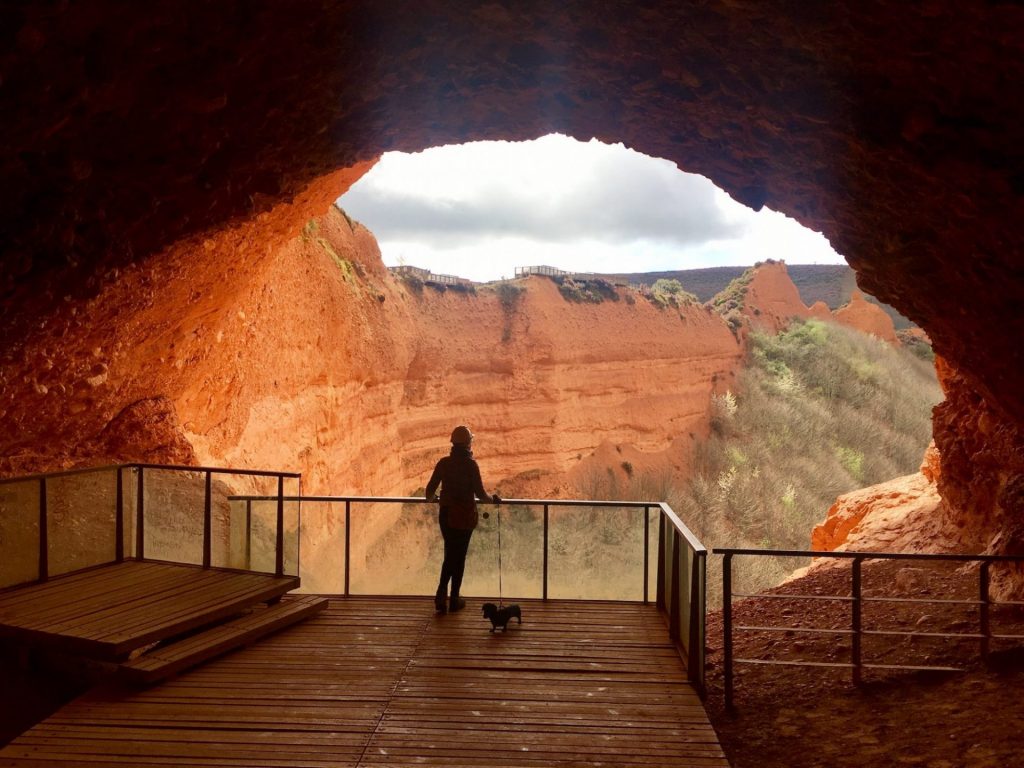 10. Visit Segovia and its Aqueduct
Segovia is another beautiful old city within day-trip distance of Madrid and there's plenty of things to do in Segovia. While the Cathedral and Alcazar are two of the most popular sites (and unfortunately don't allow dogs), the highlight of a visit here is viewing the Roman-era aqueduct. Cutting through the plaza in the centre of town, wander around the different vantage sights with your dog on leash.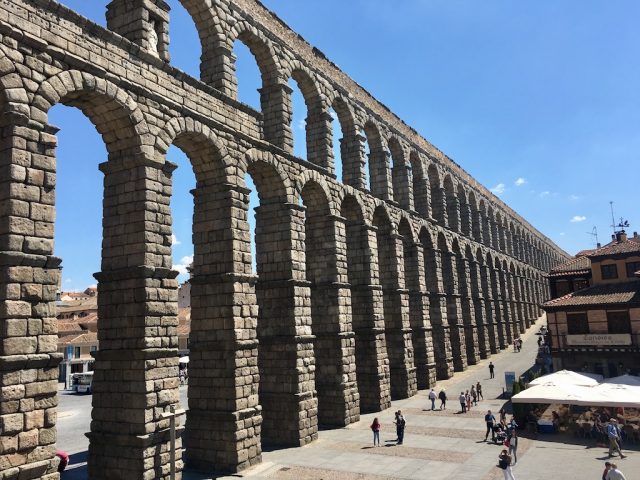 Additionally, there's a number of walks down below the town that you can take your dog on. Don't miss out on visiting the grassed park down below the Alcazar for some of the best views in town – perfect for a picnic with your pup!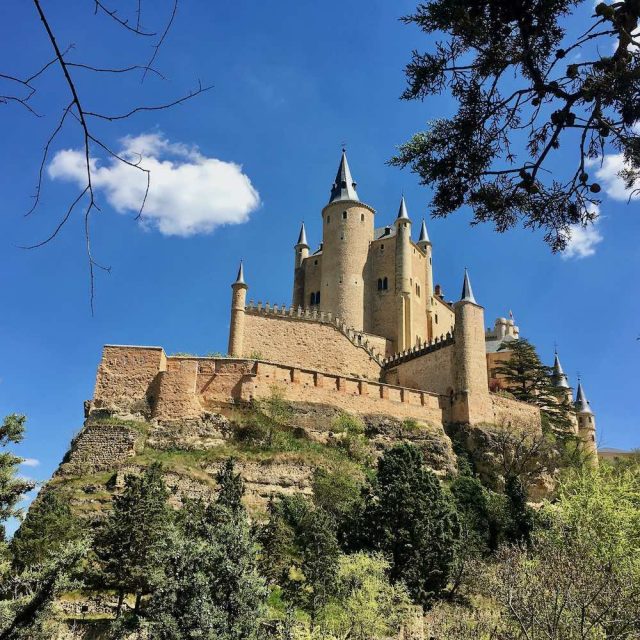 11. Explore the Other Roman Aqueducts Around Spain
Segovia isn't the only Spanish city blessed with a Roman-era aqueduct. And while generally other Roman archaeological sites in Spain are off-limits to dogs (unlike in Italy, but similar to the situation in Greece), the huge aqueducts are fine to be explored with your dog from down below.
I particularly loved the aqueduct that cuts through a park in the western city of Merida, which is surrounded by a lovely off-leash dog park. There's also another stunning aqueduct outside of Tarragona, south of Barcelona.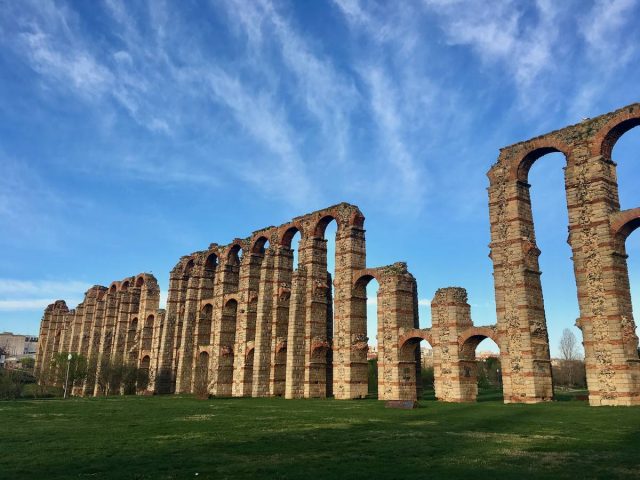 12. Check out the Local Street Art
While dogs aren't allowed to join you on a visit to the many superb art museums located in Spain, they are able to join you while wandering the streets of Spain's cities and discovering their local street art scenes.
The best known city in Spain for street art is Valencia, with many examples tucked away in its city centre. Just head out on the streets and see what you discover. Barcelona also has a great street art scene, centred on the Gràcia neighbourhood.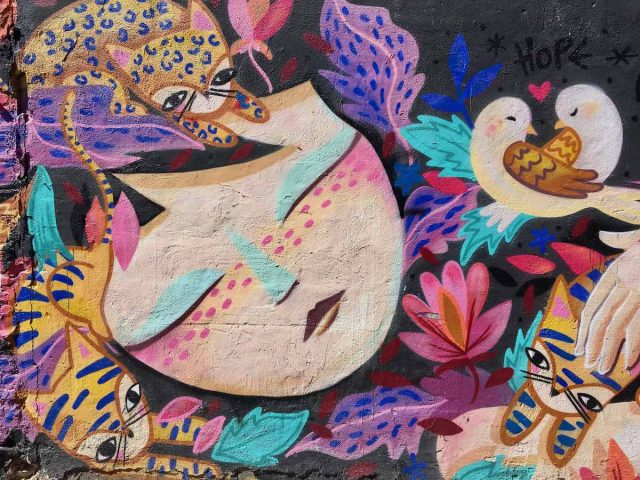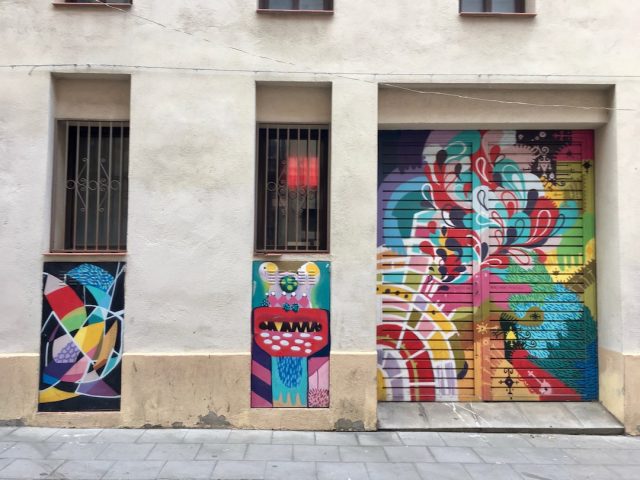 13. Visit Ronda and the White Villages
One of the most picturesque towns in all of Spain is Ronda. Located in between Malaga and Seville, the town is perched on the edge of cliffs, the stunning Puente Nuevo ("New Bridge") spanning the deep gorge that intersects it.
Other highlights in Ronda include the many miradors (lookouts), Plaza Duquesa de Parcent and one of the most significant bull rings in all of Spain (although I'm not in favour of bull fighting and skipped entering).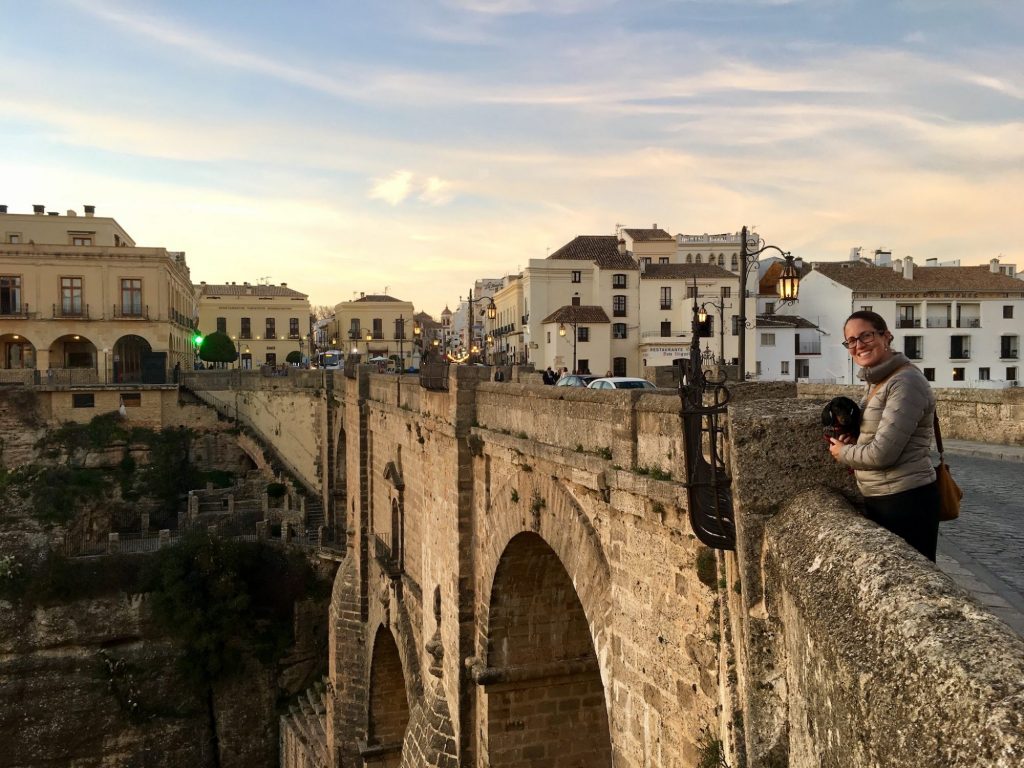 Ronda is also a great starting point to the town the Pueblos Blancos (or "white villages") of Andalusia, located mainly to the north west of the town. This is a gorgeous part of the country!
14. Head to Plaza de España in Seville
If you want to see a representation of all of Spain, then head to the Plaza de España in Seville. Built for the Ibero-American Exposition of 1928, the surrounding buildings are a pastiche of various Spanish revival styles, very grand and photogenic. Along the walls of the plaza are numerous alcoves, each tiled with a design representing one of Spain's provinces.
Dogs are welcome to join you at the Plaza de España, unlike other popular tourists spot in Seville such as the Royal Alcázar.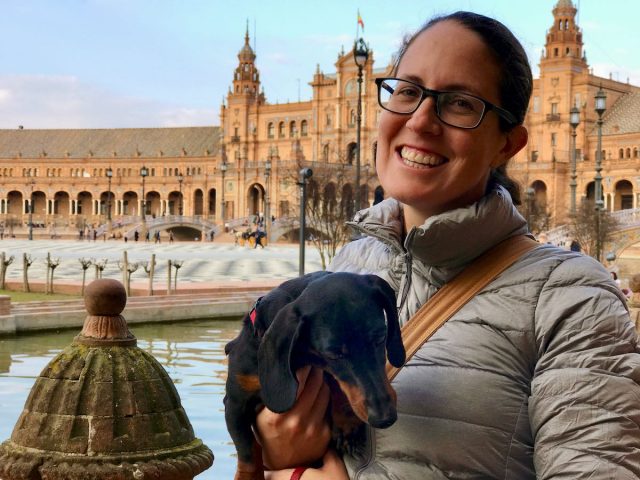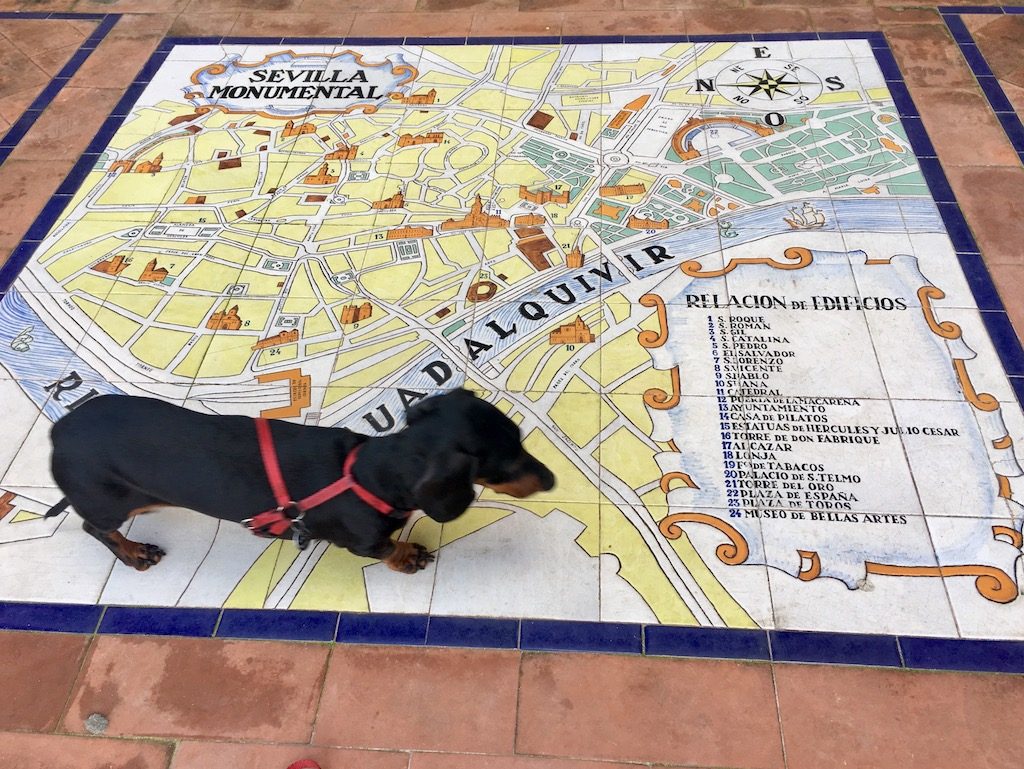 Adjacent is the Parque de María Luisa where dogs are also welcome, although on a leash. Its many shady walks offer a slight reprieve during Seville's long hot summers, although it is also beautiful year round.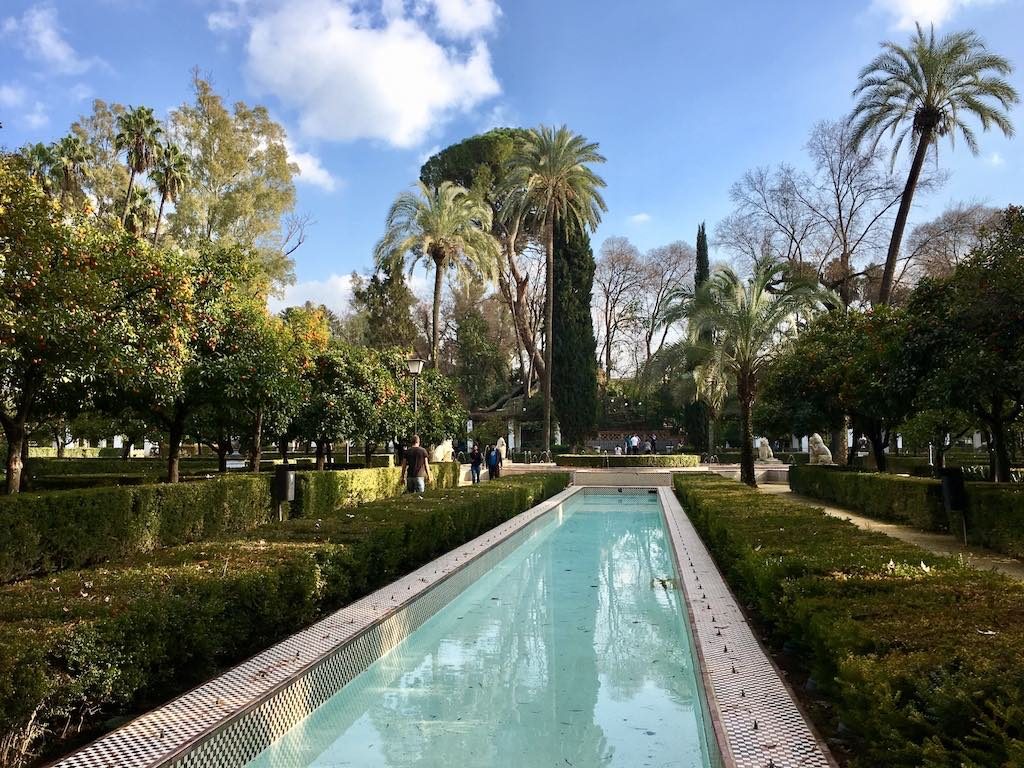 15. Visit a Spanish Beach
It wouldn't be a visit to Spain without a visit to the beach, would it be? If a romp on the sand with your pup is on your to-do list, this will be easier to achieve outside of the peak summer months. During the off season, most beaches are left to "go to the dogs", with plenty of dogs visible playing on beaches, no signs prohibiting dogs in sight.
However, during the summer months, the majority of Spanish beaches become off limit to dogs. There are some dog beaches scattered around the country, listed on Redcanina.es (see above for more information and their map). Check out the locations in advance, otherwise it might be quite a drive from where you are staying.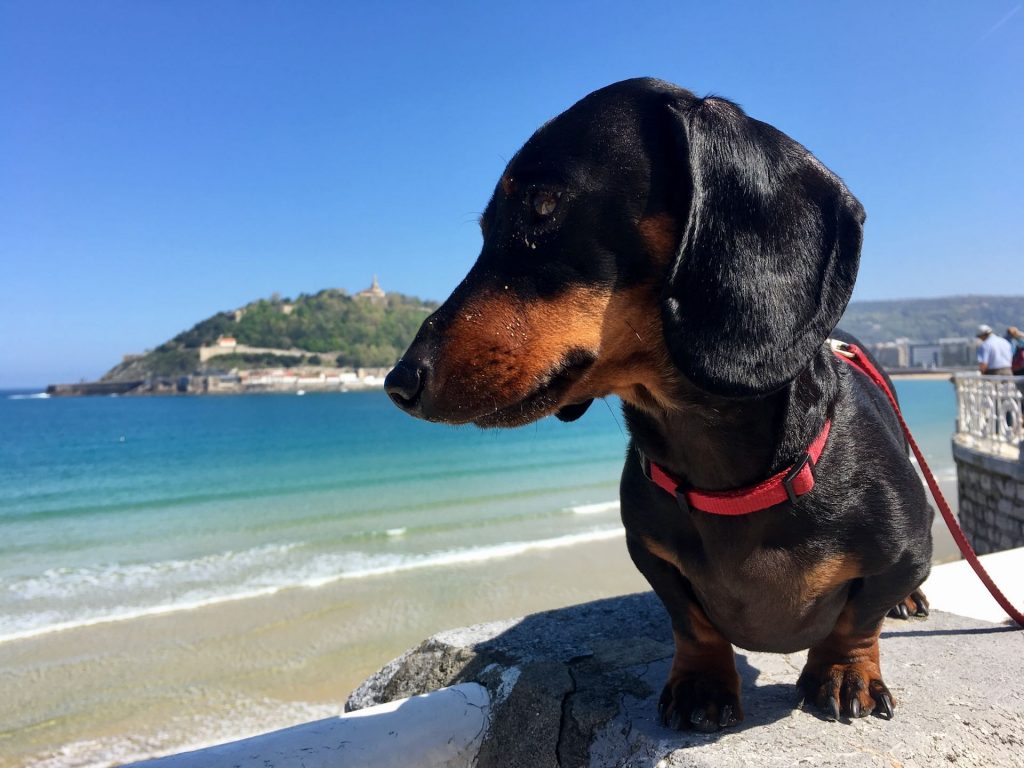 You May Also Like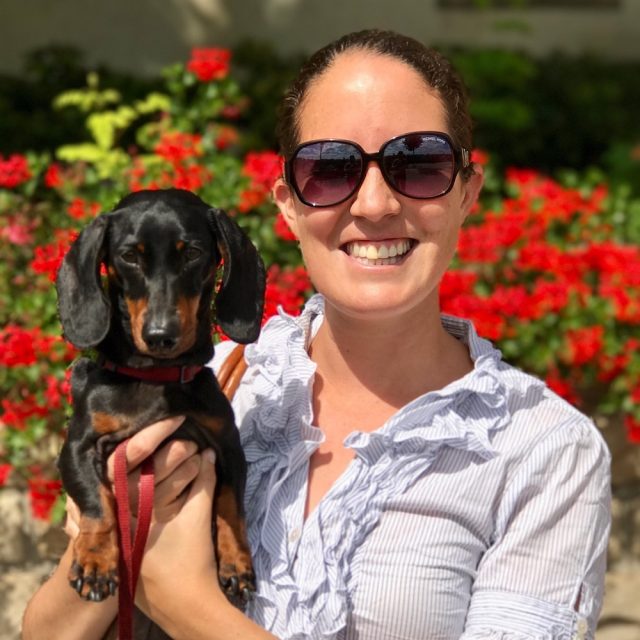 Shandos Cleaver is the founder of Travelnuity: Dog-Friendly Travel. She has travelled extensively with her Miniature Dachshund, Schnitzel, including to 33 countries across Europe, every state and territory of Australia except Tasmania, and 10 of the United States. She's passionate about providing inspiration and information to others wanting to travel with their dogs, whether close to home or internationally.
Inspired? Pin this to your Pinterest board!