With its sunshine and heat, not to mention beautiful beaches and affordable dining, it's no surprise that Spain is a popular destination for travellers (and retirees) from the UK. And for most travellers it's also an easy and cheap destination to fly to. But if you're travelling with a dog, it's a trickier affair travelling between the UK and Spain.
This is especially true if you're not intending on taking a car, as dogs aren't allowed in the cabin or as checked baggage on flights back to the UK, and the Eurostar train doesn't allow dogs (except guide dogs).
I've put together this list of what travel options available for taking your dog to Spain from the UK and back.
Note: If travelling to Spain over the summer, don't forget to protect your dog from Leishmaniasis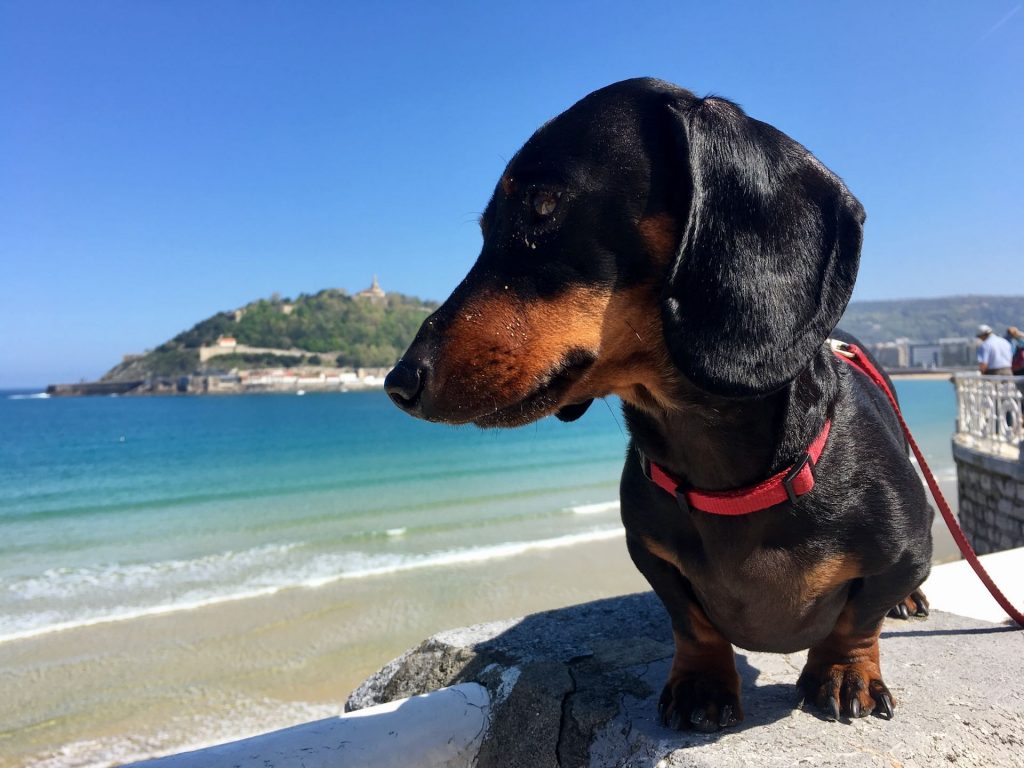 1. Flying Your Dog to Spain from the UK
Dogs flying into the UK can only travel as cargo, not in the cabin or even as check-in baggage. With the expense and hassle, not to mention being separated from your dog, this is not a recommended option for travelling from Spain to the UK with your dog. But, there's no similar prohibition against dogs flying in the cabin or as check-in baggage on flights out of the UK to Spain!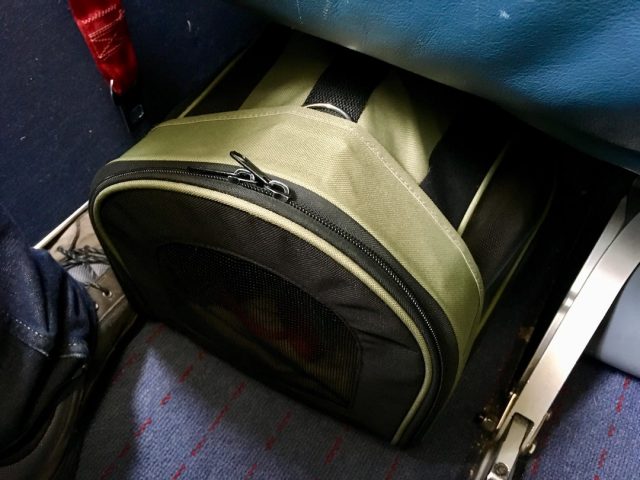 There are a limited list of airlines that allow dogs to fly in the cabin or as check-in baggage on flights out of the UK. Some airlines that normally allow dogs in the cabin (such as Vueling) simply don't allow dogs either direction, in or out of the UK. And none of the UK-based airlines allow dogs in the cabin at all.
For direct flight options from the UK to Spain, consider Iberia Express. As stated in the Iberia Express pet policy: "Animals are allowed in the cabin and in the hold on flights departing from the United Kingdom, provided that they fulfill the requirements for Travel to Members States of the European Union."
Iberia Express flies from London, Birmingham, Manchester, Cardiff and Edinburgh directly to Madrid. Check out the full pet policy.
Also consider Lufthansa, KLM and Air France. While they don't explicitly mention it in their pet policy, I've heard reports that they allow dogs in the cabin leaving the UK. Call the airline directly and be prepared for a connecting flight.
But just remember, you'll need to make plans to travel an alternative option when you return to the UK with your dog.
2. Driving to Spain from the UK via the Channel
If you're wanting to keep your car for your Spanish holiday (or extended stay), just simply drive to Spain with your car. It will take longer and once you add up all the costs it's more expensive than flying, but it's worthwhile if you want to have your own car and is a straightforward option for taking dogs to Spain.
Lucky for you, it's easy to cross the English Channel with your dog in your car. Choose between two options: the Eurotunnel or taking a ferry, such as between Dover and Calais. (Dogs generally need to stay in your car on the ferries, so it's best to choose the shortest route, particularly if it's summer time.)
If taking the Eurotunnel, it costs an extra £20 per pet, while most shorter ferries charge a similar price. For more information, check my extended post on travelling with a dog from the UK to Europe.
Once you cross the channel, you'll have one or two long days of driving before you arrive in Spain. Calais to San Sebastian is just over 1100km (700 miles), while Calais to Barcelona is about 1300km (800 miles).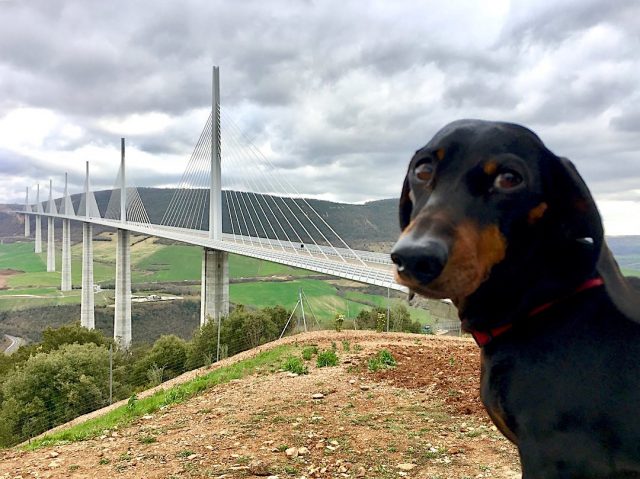 Petrol prices aren't cheap in France (about €1.47/L for Unleaded 95 Octane, while about €1.35/L for Diesel, April 2018), and is often around €0.20 more expensive on the motorway compared to cheaper supermarket outlets. Also factor in the cost of tolls on the motorways: most motorways are tolled, about €10 per 100km (60 miles). Once you cross the border to Spain, only a few motorways have tolls and petrol is cheaper.
3. Taking Brittany Ferries to Spain with Your Car
To skip on the long and expensive drive through France, you can instead take one of the ferries directly from the UK to Spain, run by Brittany Ferries. The available routes are from both Portsmouth and Plymouth to Santander, plus Portsmouth to Bilbao, and return.
Sailings vary between 20 and 32 hours in length, depending on which ports you are sailing between. Note that sailings don't run during most of November and December.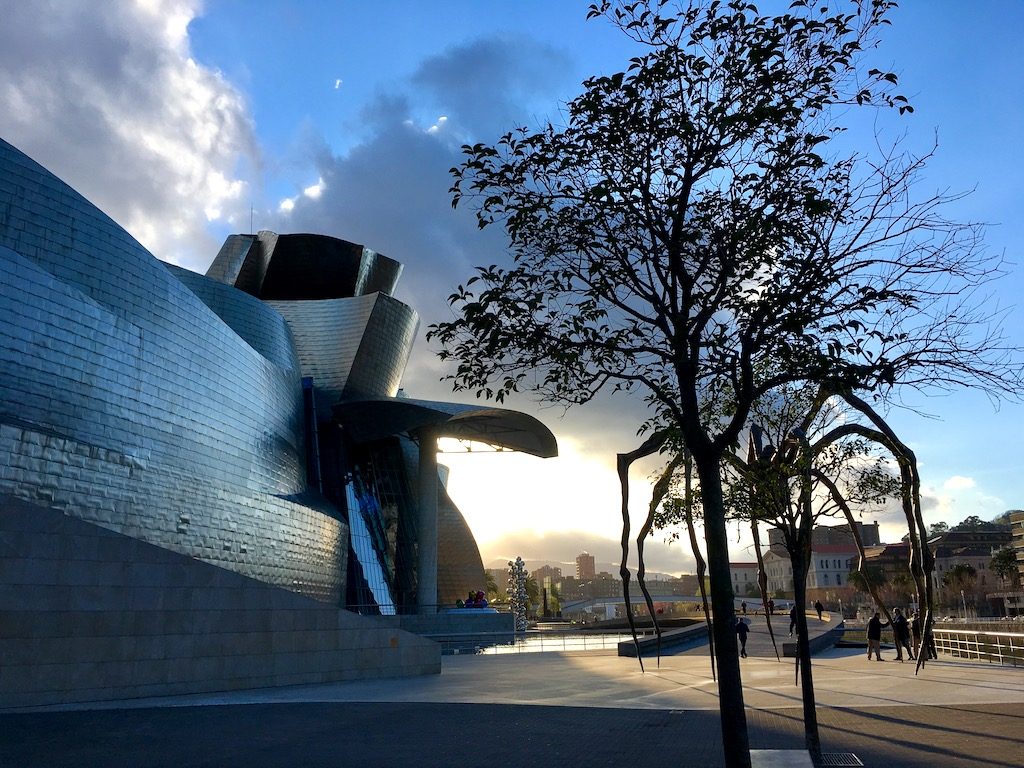 Unfortunately, this is not an option for people travelling to Spain with a dog but without their car. Foot passengers are not allowed to take dogs on any of the Brittany Ferry routes.
If you are taking your car, you can choose between pet-friendly cabins and kennels, depending on the ship. Most of the ships that sail with Brittany Ferries to Spain have pet-friendly cabins available, that can accommodate a single pet. There are also both small and large kennels, along with exercise areas.
The exact number of cabins and set-up varies between each ship. For full details of what is available on each ship, to help you take a ferry to Spain with your dog, check out this guide.
The cost for taking a pet with Brittany ferries is £29.50 from the UK to Spain, £39.50 from Spain to the UK. Note that a muzzle is required for all pets for their transfer between your car and either your cabin or the kennels.
4. Taking a Ferry as a Foot Passenger then Flying or Taking a Train
If you're travelling as a foot passenger, without a car, unfortunately many of the ferries won't allow you to take a dog with you. As the Eurostar doesn't allow dogs (except guide dogs) and the Eurotunnel doesn't take foot passengers at all, there's limited options, with three ferries available.
My recommended option is to take the Stena Line Harwich to Hook of Holland ferry, then fly from Schiphol to your final destination in Spain. The ferry offers either an overnight or full-day sailing. Foot passengers are allowed to check their dog into the well-equipped kennels for a fee of £19. (Car passengers can also check their dogs into the kennels, or leave their dogs in their car.) Read my review about taking this ferry.
From the ferry dock in Hook of Holland, it's then fairly easy to get to Schiphol by a combination of bus and train. From there you can choose between the many dog-friendly airlines operating in Europe.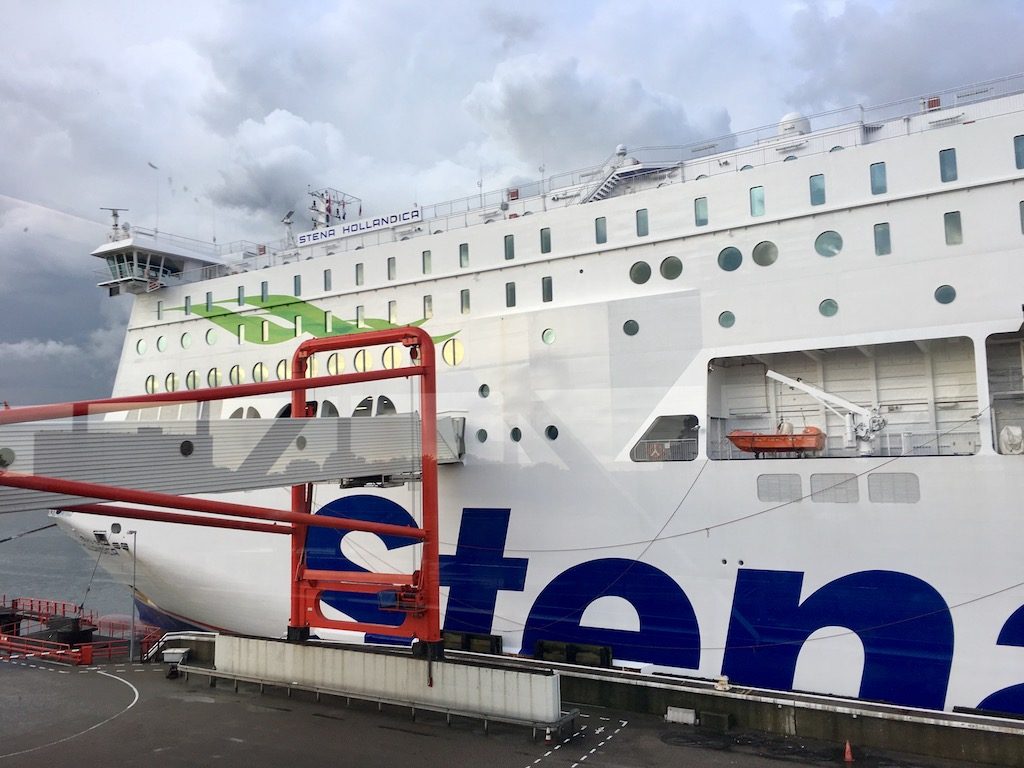 Alternatively, especially if you're travelling with a larger dog who can't go in the cabin, you could also travel to Spain by train. Note that once you reach the Spanish border, larger dogs are technically not allowed on the trains in Spain (unlike in the Netherlands, Belgium and France), only smaller dogs in a carrier bag, although I've heard reports of this rule being ignored.
If you're travelling from northern England or Scotland, instead consider taking the longer ferry crossing from Newcastle to Amsterdam, operated by DFDS Seawways. From there you could fly or take the train, as discussed above.
An alternative for foot passengers travelling to Spain with a dog is to take the DFDS Seaways ferry from Newhaven to Dieppe. This is the only ferry option between England and France that allows foot passengers to take a dog with them, to be left in a kennel down on the car deck, although you will need a carrier to transport your dog onto the boat.
The departure dock in Newhaven is accessible by train from London. In Dieppe it's a short taxi ride to the local train station then a couple of hours on regional trains to Paris. From Paris, either fly to Spain or continue your journey by train.
The first time I travelled from Barcelona to London, I took this option, after firstly taking a flight from Barcelona to Paris (as it was cheaper than buying a train ticket close to the departure date) and spending a few nights in Paris.
Be warned that the trip from Paris to London via train, ferry and train does take all day – around 12 hours. I'd recommend breaking up the journey with a night in Paris, unless you can book a convenient flight. Read more about my experience here.
5. Crossing the Channel with Your Car then Flying
If you have a car that you're happy to drive across to Europe, but don't want to drive it all the way to Spain, a good compromise would be drive to an airport close to the English Channel and they fly. This means that you have the option of taking the Eurotunnel or the quick ferries between Dover and Calais, that you can't take as a foot passenger, but can arrive in Spain a lot quicker than driving for over 1000km.
From Calais, it's just over 200km (125 miles) to Brussels Airport, the closest major airport, and will take about 2 hour to drive. Charles de Gaulle Airport is slightly further away, around 265km (about 165 miles), but is still under a 2.5hour drive away.
You'll need to pay for parking at the airport or nearby, which means this is best for shorter trips, unless you know someone who can look after your car. From either airport, you'll be able to fly with multiple dog-friendly airlines to your destination in Spain.
6. Any Other Options?
One other option if you're travelling without a car, is to use a taxi service to take the Eurotunnel with your dog. I've discussed this in more detail on my extended post about travelling between the UK and Europe with a dog. Once across the channel, continue by train on your journey to Spain, or consider flying, like discussed above.
I've also recently come across Pet Courier, a Spanish company that specifically transports pets between the UK and Spain, and vice versa. Their Facebook page lists upcoming trips. Let me know if you've used this company or another similar company!
7. Paperwork for your Return to the UK
When returning to the UK, make sure you visit a vet to have your dog wormed, with the worming recorded in your pet passport or animal health certificate. This needs to be done between 5 days (120 hours) and 24 hours before returning to the UK, based on your arrival time in the UK.
I've heard reports that this can be expensive at the vets around Calais (and you'll still need to wait 24 hours), so I recommend getting it done earlier, such as before you leave your accommodation in Spain.
Inspired? Pin this to your Pinterest board!