One of the biggest worries that I had before I started travelling with my dog, was finding dog-friendly accommodation. Before I committed to flying to Europe with Schnitzel, I spent some time investigating how much accommodation was dog-friendly and convincing myself that yes, I would be able to find somewhere to stay in various locations.
While I can't guarantee that you'll always be able to stay anywhere with your dog (and if everything is nearly booked out, finding somewhere dog-friendly can make it even tougher), it's easy to find pet-friendly accommodation on booking platforms such as Booking.com.
Read on to find out how to book a pet-friendly hotel room on Booking.com for your next trip with your pup.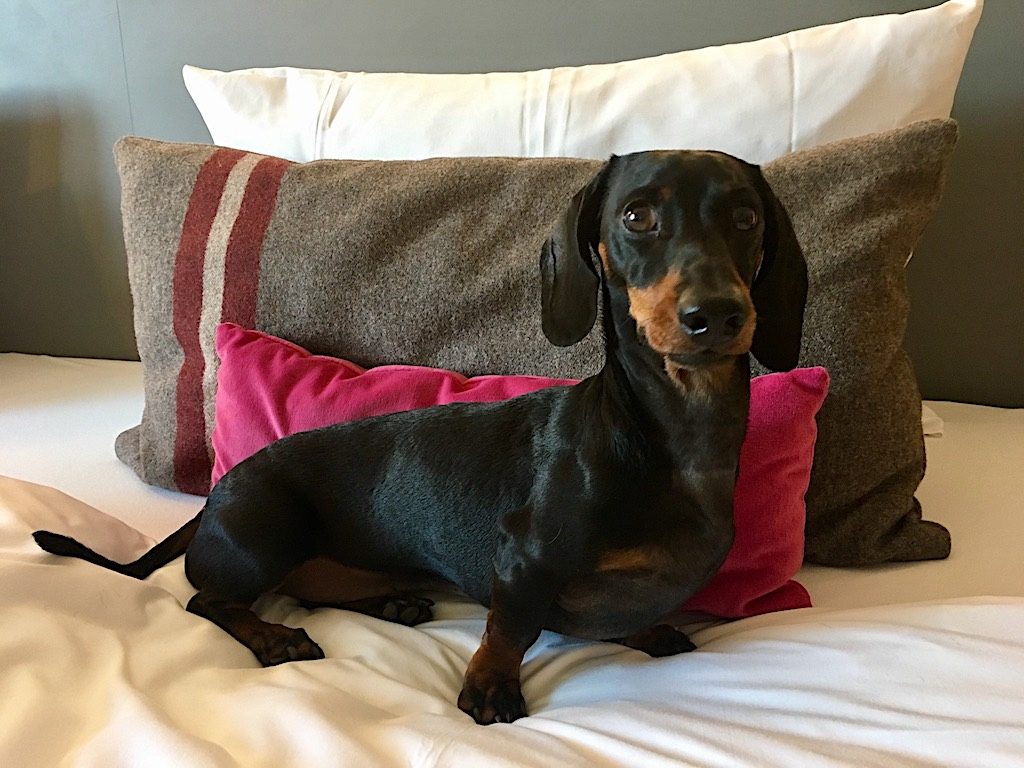 Pros & Cons of Using Booking.com
My favourite thing about Booking.com is the sheer range of accommodation listing they have from all around the world. If a destination doesn't have many (or any at all) hotels displayed on other booking sites, there's still likely to be options on Booking.com.
The downside though of Booking.com is that the information on dog-friendliness isn't as clear as on some other booking sites. In particular, extra fees are not listed, despite being listed on some other platforms.
Finding Pet-Friendly Hotels on the Booking.com Website
To find dog-friendly hotels on the Booking.com website, firstly, search as normal. Then, on the search result page, filter the search results.
On the left hand side of the page, a list of filters are displayed. Scroll down until you see the "Facility" sub-heading. Select "Pets allowed" and allow a moment for the page to re-load with the filtered results.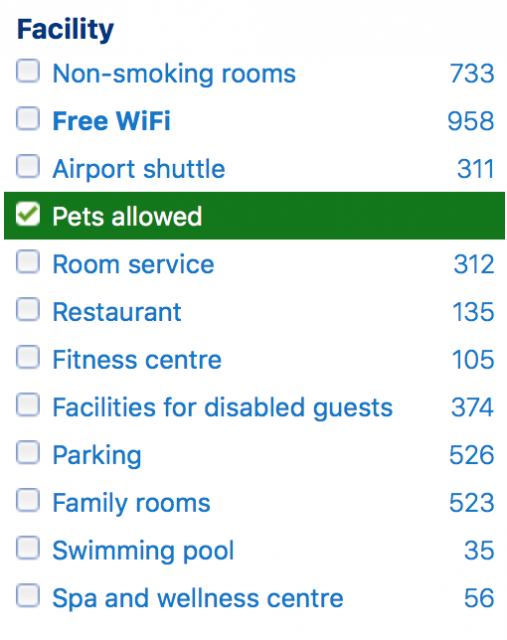 One handy tip: before you click on "Pets allowed", the number on the right displays the number of currently displayed properties that allow pets.
This can give you an idea of whether most properties do allow pets (like those that offer free wi-fi above) or don't allow them (like there's not many properties with swimming pools).
To double check that you are seeing pet-friendly listings, when you click on a property, scroll down and look under the "Most popular facilities" heading, usually displayed above the list of room options. The fact the property allows pets is usually listed here:
Finding Pet-Friendly Hotels on the Booking.com App
If you are searching for hotels on the Booking.com app, use a similar process to find pet-friendly hotels.
After first searching for hotels, click on the Filter button at the top, then scroll down to the Facilities section and click on "Pets allowed". You may need to click on "Show more" under Facilities to see this option. Then click on the "Show results" button.
Now only pet-friendly hotel listings that fit the rest of your criteria are displayed.
Reviewing Pet-Friendly Hotel Listings
Not all pet-friendly hotels are created equally! Luckily then, additional information is usually provided for pet-friendly hotels, to help determine whether this hotel meets the needs of yourself and your pet.
To find out the conditions that apply for pets, scroll down to the "Facilities" section for an accommodation listing, below the list of room options. There should be a sub-heading about pets:

Just below in the "House rules" section, there is also an entry about pets. (On the Booking.com app, view these rules by clicking on the "Property policies" section). Usually the same or similar information is displayed:

It's also worthwhile checking "The fine print" section underneath and the "Property questions and answers" sections to see if there are any other details of the pet policy.
What about Pet Fees?
For this particular hotel, there don't seem to be any conditions and pets are generally allowed, not just on request. However, there is a fee, although the exact amount of the fee is not listed.
Unfortunately, I've never found Booking.com to list the fees that are applicable for pets, even when other hotel booking sites listing the same hotel include that detail. This makes it hard to properly compare hotels, as the additional charges can vary.
I've sometimes tried to the find the information elsewhere, contacted the hotel or left it to be a surprise when I arrive at the hotel. (In Europe, in particular, the additional fee is usually small, but you may get caught out!)
What if Pets are Allowed on Request?
When looking at the conditions, also check to see whether it specifies that pets are only allowed "on request":

In this case, it's a good idea to contact the hotel, find out whether your dog is allowed to stay and what the conditions and charges are. Either hold off booking the hotel, or book an option that allows for free cancellation.
As so many hotels allow free cancellation, I usually just go ahead with the booking, send a message and double check I've received the go-ahead for my dog within the next couple of days.
You May Also Like
Inspired? Pin this to your Pinterest board!