Hotels.com is one of my favourite sites for booking pet-friendly accommodation, because it makes it easy to find pet-friendly hotel rooms and view the conditions and pet fees for each hotel. While unfortunately their great reward scheme will soon be ending (in July 2023), it's still a great option. Find out how to book a pet-friendly hotel room on Hotels.com for your next trip.
Read more tips for staying in a pet-friendly hotel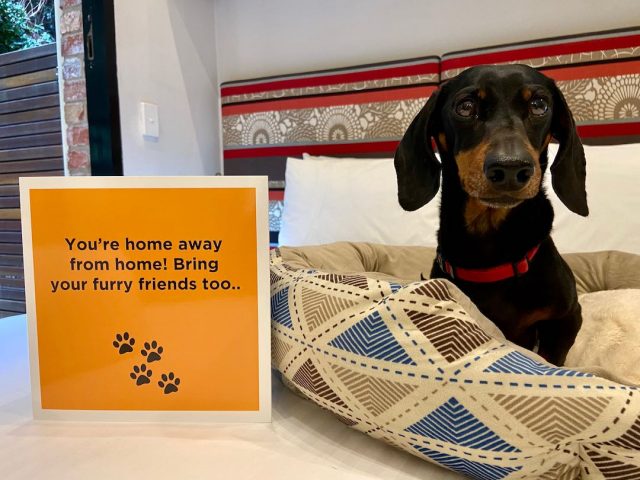 Pros & Cons of Using Hotel
Until recently, one of the big benefits of using Hotels.com was their great reward scheme (stay ten nights, get one rewards night). However, this program is ending in July 2023.
However, if you're looking for pet-friendly accommodation, the other big advantage of Hotels.com is that they clearly display the conditions and fees for staying with your pet in the hotel, unlike one of the other major hotel booking sites. This means you can confidently make a booking for yourself and your pet, knowing if your pet meets the rules and being aware of the fees in advance, and without searching for them elsewhere.
The downside though of Hotels.com is that the number of listings is generally not extensive as on some hotel booking sites, particularly for more obscure locations. When staying in places where there aren't many (or even any) listings on Hotels.com, it helps to also look at other websites.
Finding Pet-Friendly Hotels on the Hotels.com Website
To find dog-friendly hotels on the Hotels.com website, firstly, start searching as normal. Then, on the search result page, filter the search results for pet-friendly hotels.
On the left hand side of the page, a list of filters are displayed. Scroll down until you see the "Amenities" heading. Underneath "Amenities", "Pet-friendly" should be one of the options available. If necessary, you may need to click on "See more" to view it.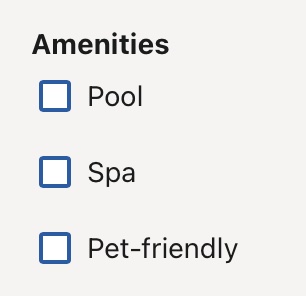 Alternatively, for some searches, the "Pet-friendly" filter may be displayed up the top of the list of filters, underneath "Popular filters".
Once you select the filter, allow a moment for the page to re-load with the filtered results. Now, only the pet-friendly accommodation options are displayed. At the top of the hotel listings, the "Pet-friendly" filter and any other filters that you've applied will be listed.
Finding Pet-Friendly Hotels on the Hotels.com App
If you're using the Hotels.com app, the process is slightly different. On the app, instead click on the "Filters" button on the bottom of the screen to bring up the same list of filters.
Scroll down until you see the "Amenities" heading. Underneath "Amenities", a number of icons will be displayed, including the "Pet-friendly" filter with a paw print. Once again, there is a chance that this filter may be displayed at the top underneath "Popular filters".
Click on "Pet-friendly", and then click "Done" at the bottom of the screen. The list of hotels will be reloaded, only displayed pet-friendly properties. At the bottom of the screen, the number "1" will be displayed next to the "Filters" button (or a higher number if you have multiple filters applied).
Reviewing Pet-Friendly Hotel Listings
Before going ahead with a booking, it's important to then check the pet-related conditions of each hotel you're considering. These conditions can vary greatly between hotels, and may eliminate some hotels from your consideration – for instance, some pets have weight limits that exclude large pets, plus the fees charged by hotels vary.
Luckily, Hotels.com clearly displays these conditions. When you view one of the pet-friendly hotels on their website, underneath the list of "Popular amenities", a section is displayed with "More about bringing your pet":
Alternatively, if you are on the App or this section is not displayed on the website, this information is displayed elsewhere on the page. Scroll down past the room options to the "At a glance" and "Fees & Policies" sections. The same information is displayed across these two sections of the hotel listing.
As you've filtered for only hotels that allow pets, the hotel listing should always say "Pets allowed" in the "At a glance" section. However, it should also stipulate here additional details of their pet policy. Any or all of the following details may be displayed:
Whether only particularly types of pets are allowed (such as dogs only, or both cats and dogs)
The maximum number of pets per room, if a maximum applies
The maximum weight of pets, if a maximum weight applies
Whether pets are only allowed in specific rooms
Whether food and water bowls are available
Whether a fee applies for pets, either per night or per stay
Whether a deposit applies for pets
Generally, if some of this information is missing, it means this doesn't apply to the hotel that you are viewing – for example, some hotels don't have a weight limit for pets.
What if Pets Are Only Allowed in Specific Rooms?
Sometimes on Hotels.com, it is specified that pets are only allowed in specific rooms. However, it is not always clear what rooms this applies to.
For starters, I would check the room options, and whether one of the room options is described as "Pet Friendly". Also check the room descriptions. Alternatively, check at the bottom of the "Fees & Policies" section, for whether any other details are provided.
If you are still in doubt, I recommend contacting the hotel in advance. Sometimes the listing will advise you to do this ("Call ahead to arrange with property").
Sometimes it may also be fine to make a booking and request a pet-friendly room in the "Any special requests?" section, on the same page where you supply your personal details and credit card details. I've often found this is sufficient. However, ideally only do this if you can later cancel the booking for free!
You May Also Like
About the Author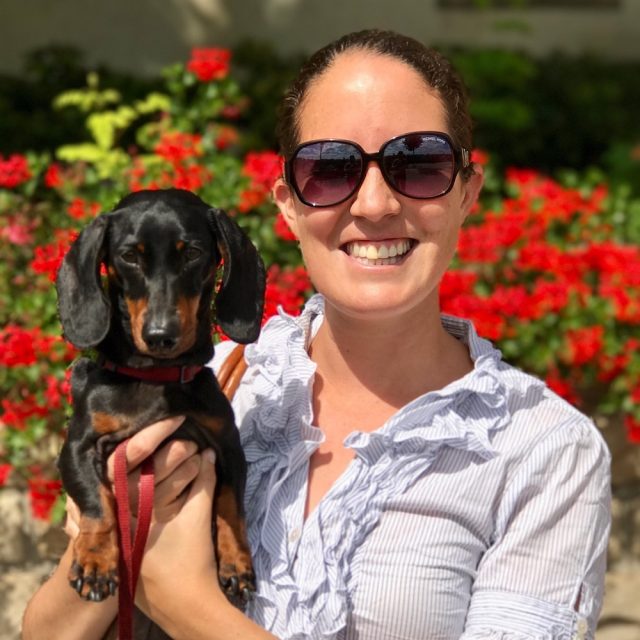 Shandos Cleaver is the founder of Travelnuity: Dog-Friendly Travel. She has travelled extensively with her Miniature Dachshund, Schnitzel, including to 33 countries across Europe, every state and territory of Australia except Tasmania, and 10 of the United States. She's passionate about providing inspiration and information to others wanting to travel with their dogs, whether close to home or internationally.
Inspired? Pin this to your Pinterest board!