The city of Albany, in the Great Southern region of Western Australia, is full of history. The first colonial settlement in the state, two of the city's prime attractions are the Historic Whaling Station and the National Anzac Centre. However, there's still plenty to do with your pup on a visit to the Albany and surrounds.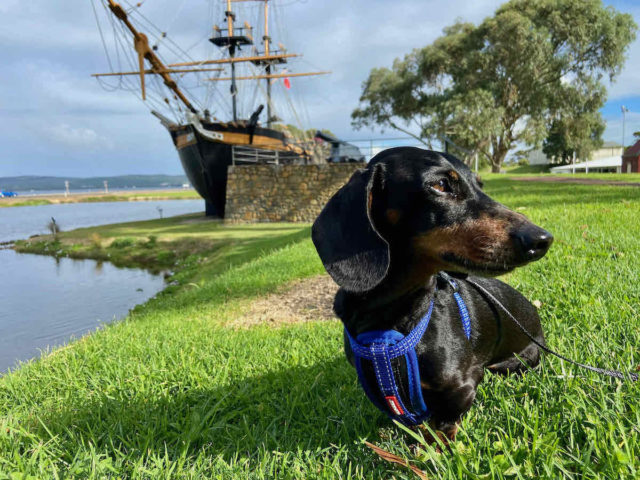 Dog-Friendly Beaches in Albany
There's multiple dog-friendly beaches in Albany that you can visit with your pup.
For starters, while the end of Middleton Beach near the surf club doesn't allow dogs, head to the long stretch in between the end of Flinders Parade and Firth Street in Emu Point, where dogs are allowed off-leash. During my visit, there was significant erosion at the Emu Point end, necessitating an extra walk along the cycle-pedestrian path behind. Or else head to the carpark at the end of Griffiths Street.
In Emu Point, dogs are also prohibited from the main beach on either side of the point. However, head over to the marina and dogs are allowed off-leash on the small beach to your right, in between Hunter Street and Swarbrick Street.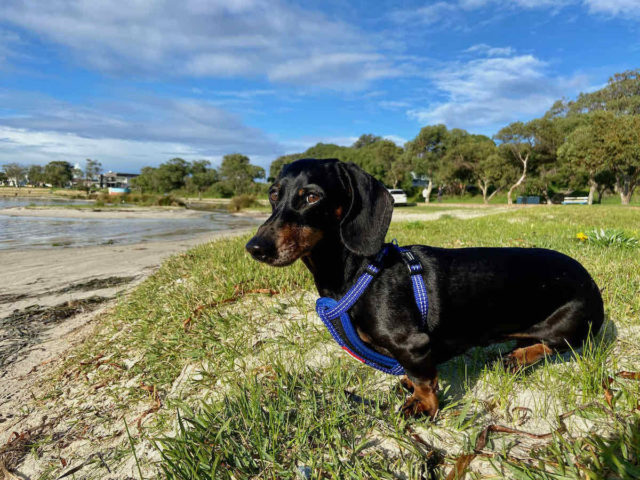 If you head over to Frenchman Bay, there's also some beautiful dog-friendly beaches available. Stay clear of the beaches inside Torndirrup National Park, where dogs are strictly prohibited, and instead head to Whalers Cove, Fishermans Beach, Frenchman Bay Beach and Goode Beach.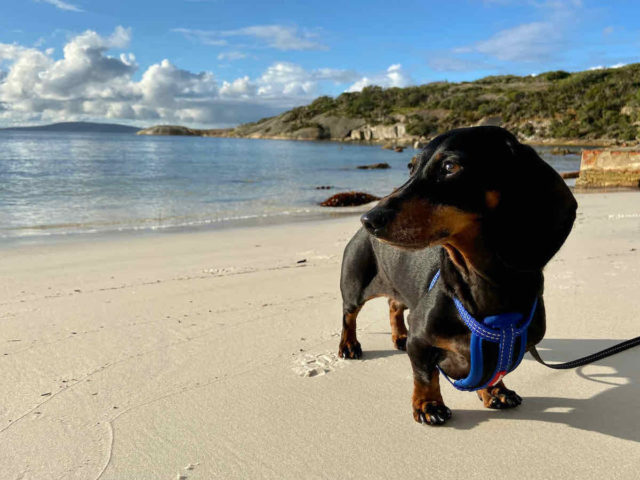 Dogs are allowed off-leash on these beaches, except they must remain on leash at Frenchman Bay Beach until the boat ramp at the end of the access road. By default, dogs are allowed off-leash on rural beaches outside of the city of Albany, except for this beach and Nanarup Beach.
Dog-Friendly Sightseeing in Albany
Add these dog-friendly things to do in Albany to your itinerary…
1. Visit the Beaches of Frenchman Bay
The beaches at Frenchman Bay are some of the most beautiful beaches I've seen anywhere, and it's great that they're dog-friendly. Don't miss heading out to the bay, a 25-minute drive from the centre of Albany, for an afternoon or the day.
My favourite beach is Whalers Cove, also known as Fisheries Beach. It's tucked in behind Point Possession and is also the starting point of the Point Possession walking trail. On the sunny afternoon we visited, we had it entirely to ourselves, and dogs are allowed off-leash.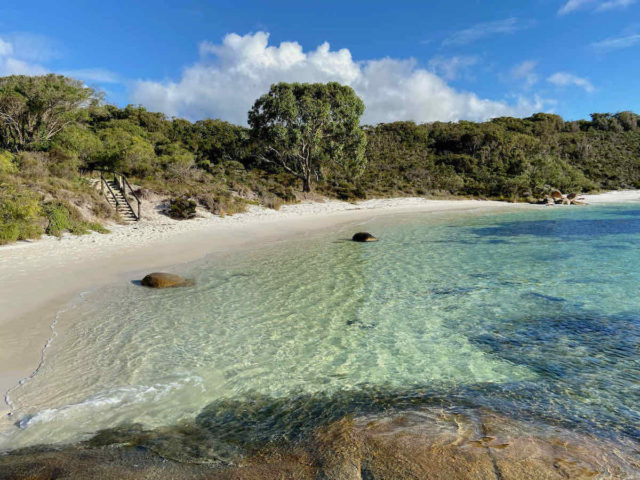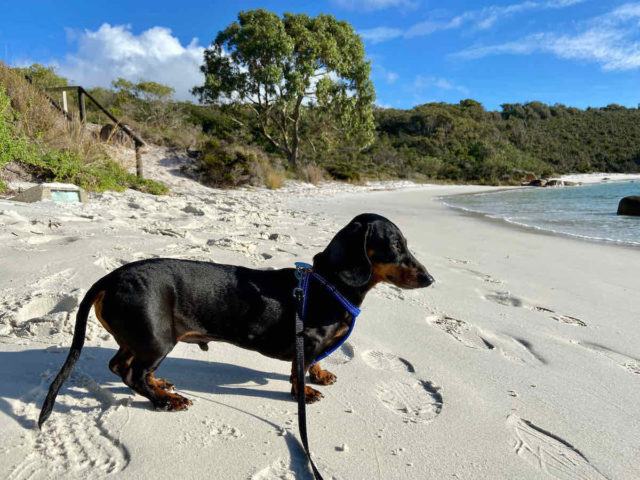 Further along the bay, Frenchman Bay Beach is not far from the Historic Whaling Station, which not surprisingly doesn't allow dogs. Dogs are allowed on-leash at the start of the beach, and off-leash further along after the boat ramp. Not far away is Goode Beach, another off-leash beach.
2. Explore Albany Heritage Park
While dogs are naturally not allowed inside the National Anzac Centre, on-leash dogs are allowed throughout the remainder of the Albany Heritage Park. It's worthwhile still visiting the outside spaces with your dog.
Close to the National Anzac Centre is the Convoy Walk, leading up to the Convoy Lookout, with diagrams showing what the convoy of ships that assembled here to head to Gallipoli looked like. There's also the remains of the fortifications that stood here, as well as examples of old heavy guns.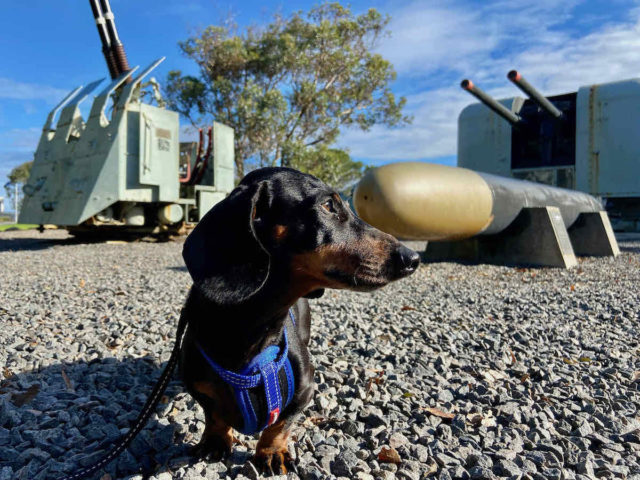 At the other end of the Albany Heritage Park, park your vehicle at the bottom of Avenue of Honour, and walk with your pup up to stairs to the Desert Mounted Corps Memorial at the top. The Padre White Lookout is also close by.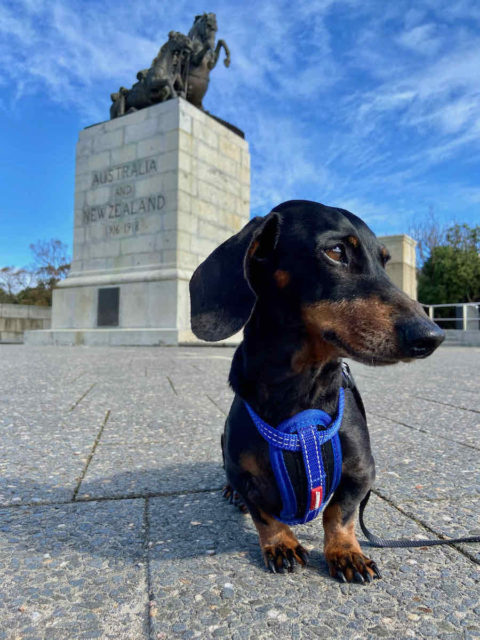 3. Visit the Brig Amity
While driving along the waterfront in Albany, you'll likely spot the Brig Amity in the historic precinct. This replica ship was built in the 1970s, a copy of the ship that carried the first European settlers from Sydney to the new colony of Cape George Sound, now Albany.
A two-masted sailing ship, admire the ship from the outside with your dog. For humans, it's also possible to venture onto the deck, and for a small fee a short audio tour of the lower deck is offered – perhaps take it in turns to experience it. Its also worth checking out the exterior of the nearby Albany Convict Gaol, built in 1852.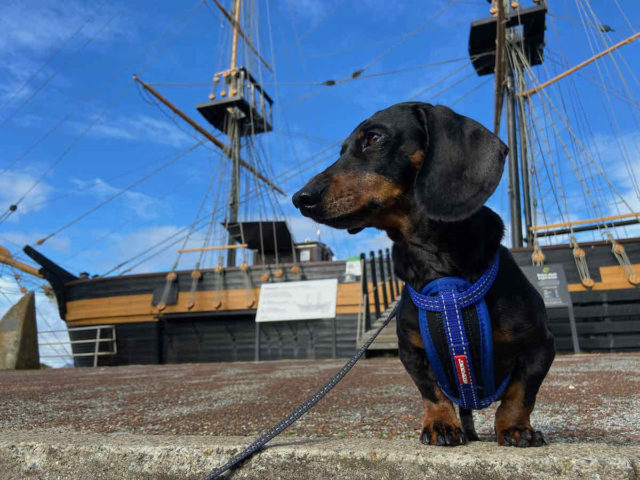 4. Watch for Whales
Whaling was once a major industry in Albany, until the closure of the whaling station in 1978. Luckily, the focus is now on peacefully watching the whales during their annual migration, whether from boat trips or from shore.
With your dog, one of the best places to head to spot whales are the lookouts along Marine Drive, or else walk to the Convoy Lookout in Albany Heritage Park. Whales are most likely seen from June to October.
5. Visit the Albany Wind Farm
While driving to Frenchman Bay, you'll likely spot the turn off to the Albany Wind Farm. The wind farm can generate up to 80% of the city's electricity usage – an impressive achievement!
At the wind farm there's a couple of short walk you can do, either up to the lookout or to the nearby coastline. On-leash dogs are welcome to join you.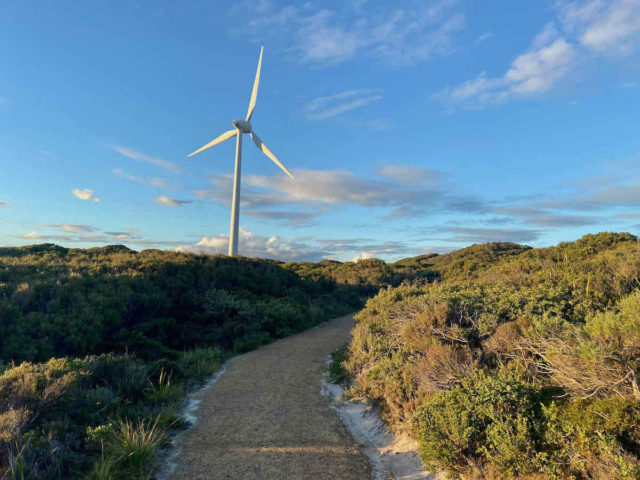 6. Taste Great Southern Wine
Albany is surrounded by the Great Southern wine region, with cellar doors peppered around through Mount Barker, Porongurup and Denmark. Many of the cellar doors are dog-friendly – I recommend double checking in advance with the wineries that you want to visit.
We had a delightful visit to Singlefile Wines in Denmark. The winery is famous for both its chardonnay and its Coco d'Vino tasting, which combines specially crafted chocolates with a tasting of three wines. On the rainy winter morning we visited, it was a delight to relax inside with the Coco d'Vino tasting, in front of an open fire, with our pup by our side.
7. Visit Denmark
The town of Denmark is 45 minutes west of Albany. As well as containing many of the cellar doors in the Great Southern Wine region, it's also a must-visit for all foodies.
I highly recommend a visit to Denmark Farmhouse Cheese, located alongside Duckett's Mill Wines on the Scotsdale Road Tourist Drive. While dogs aren't allowed inside the shop, they are allowed in the outside area. Don't miss stocking up on the handmade local cheese, at surprisingly affordable prices.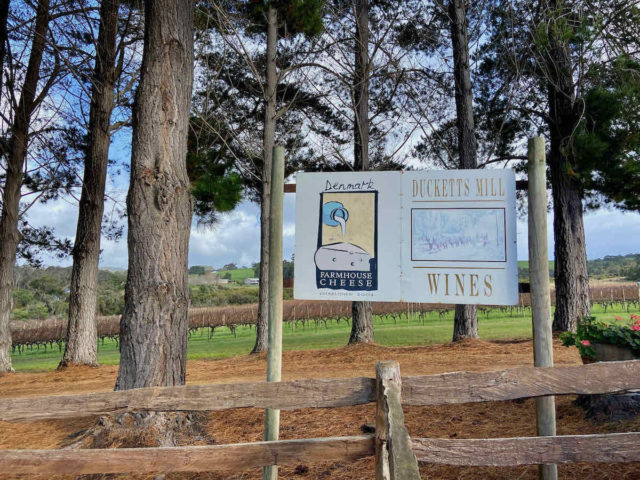 For more local products to try and buy, head to the Denmark Good Food Factory, 18km west of town. On site is the Elephant Rocks Cider Company, as well as a range of sauces, toffee and more, and a burger bar. Dogs are welcome to join you in the outside area.
Two more recommend destinations around Denmark are the Boston Brewing Co, just east of town, and Mrs Jones Cafe. At the former, sample from their range of craft beers on tap. It's also a popular spot for lunch and dinner, with plenty of outdoor tables, perfect for enjoying sunny days and evenings with your pooch. Meanwhile, Mrs Jones Cafe serves some of the best coffee in town.
Note that the popular Greens Pool and Elephant Rocks are not dog-friendly, as they are located inside a national park. For a dog-friendly beach, instead head to Prawn Rock Dog Beach. I also recommend stopping for a walk at the Harewood Forest Walk. The full circuit is about 1.5km long.
Read more about visiting Denmark with a dog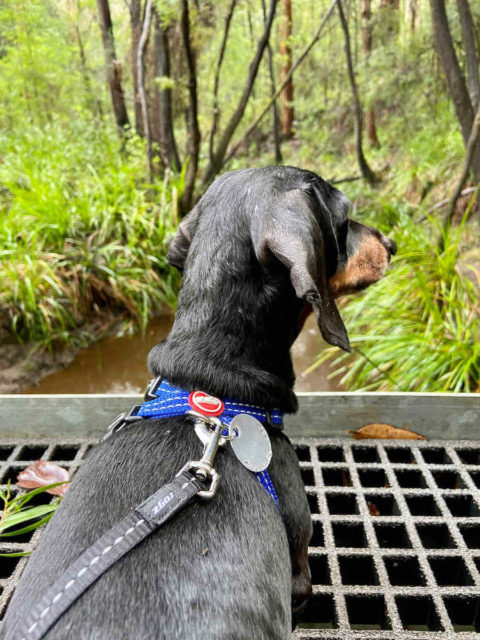 Dog-Friendly Walks in Albany
Albany is criss-crossed by a network of combined cycle-pedestrian paths that dogs are welcome to join you on, as long as they are on leash. One of the best sections is along the headland underneath Albany Heritage Park, in between Middleton Beach and the port. There's a handy access point at the main lookout on Marine Drive.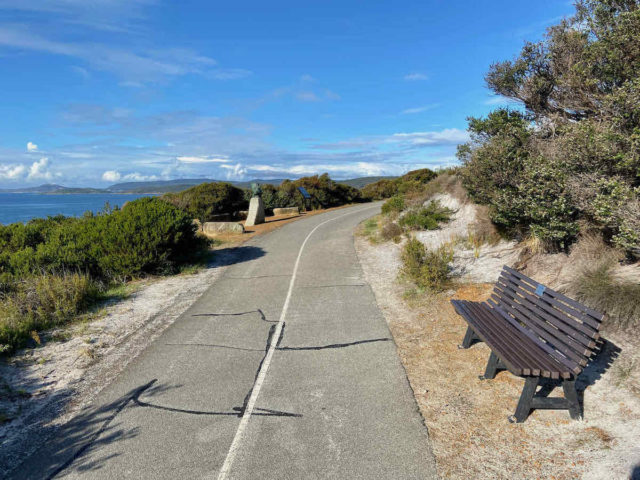 Other paths to select from include the cycle-pedestrian path from Middleton Beach to Emu Point, the pathway on the other side of the harbour that passes Limeburners Distillery, and the walking paths in Albany Heritage Park.
For a proper bushwalk, head to Whalers Cove, the starting point of the Uredale Point Heritage Trail. This 5km loop is recommended for those with some bush walking experience, and takes from one to three hours to complete.
As well as visiting the cairn marking the spot where Captain George Vancouver claimed the area for Britain in 1791 (the point was formerly known as Point Possession), there's spectacular views along the way. Dogs should be kept on a leash.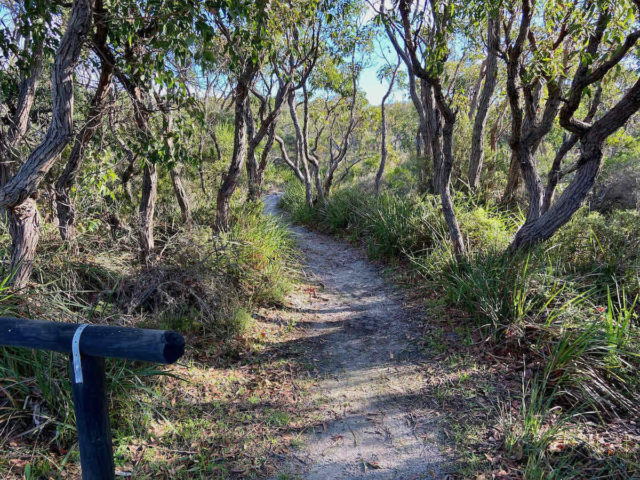 Dog-Friendly Parks in Albany
As well as off-leash beaches, there's plenty of off-leash parks in Albany. A handy park close to the town centre is Foundation Park. Alternatively, if you're staying at Emu Point, head to Bovell Park. See the council brochure for the full list.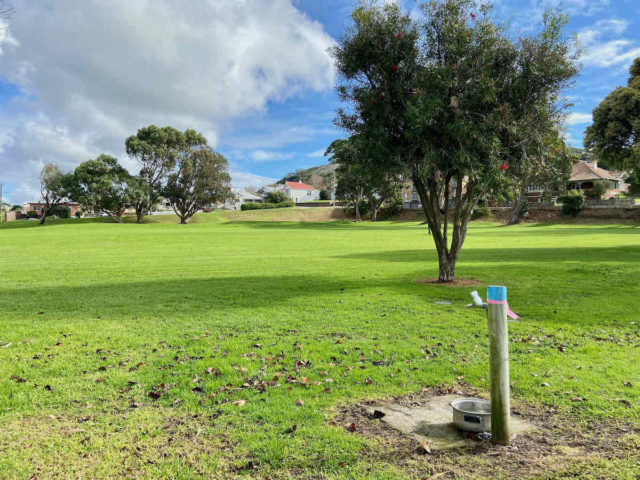 Dog-Friendly Dining in Albany
Most cafes and restaurants with outdoor dining areas in Albany are dog-friendly. Two cafes in the town centre that are both open for breakfast and lunch are Cosi's Cafe and Kate's Place. Both have dog-friendly outdoor seating. Alternatively, head to the Earl of Spencer Historic Inn for a meal, which has a dog-friendly outdoor area, although note it isn't well protected from the rain.
Additionally, on at least one night, I recommend heading to Ocean and Paddock, an award-winning fish cafe located behind Middleton Beach. While there are no outdoor tables, grab a big feed and head to a dog-friendly park or lookout.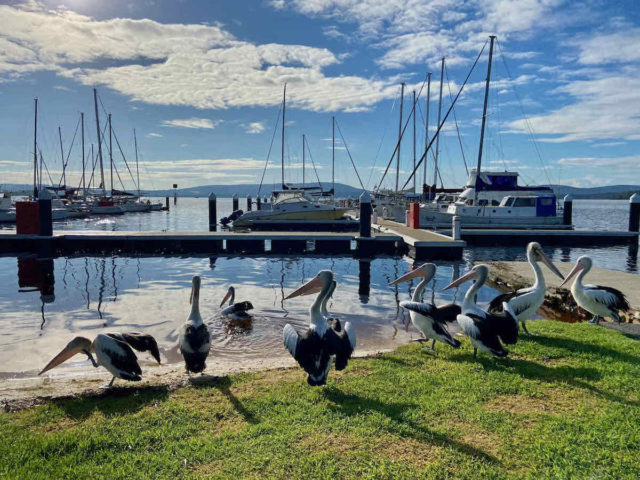 Dog-Friendly Accommodation in Albany
Note: This post contains affiliate links, which means I may receive commission if you make a purchase using the links. See my full disclaimer.
If you're wanting to stay in a caravan park in Albany, I recommend heading to Tasman Holiday Parks – Albany (formerly Albany Gardens Tourist Park). Located less than 2km from the town centre, pets are permitted, although naturally must be reported to management on arrival.
As well as being allowed on sites, there are also three pet-friendly one-bedroom chalets, with pets permitted for an extra cleaning charge. The facilities on site are great, with the main camp kitchen even having a pizza oven. I've also recently heard of a dog sitter being located on site – just ask at reception.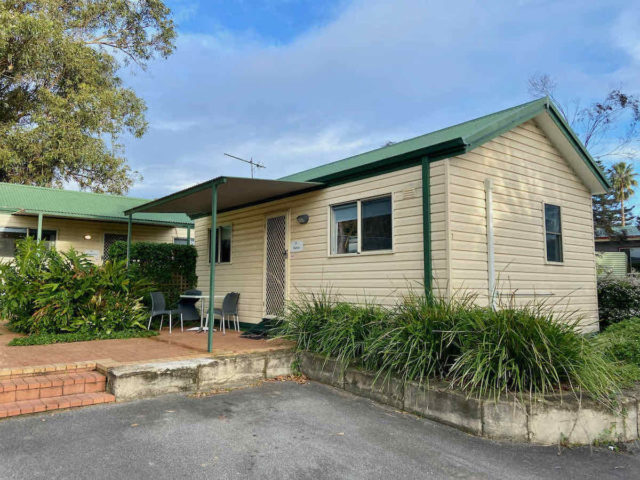 Another pet-friendly option in Albany is Emu Beach Chalets, located out at Emu Point. There's a variety of one- to three-bedroom cottages, along with kitchens and BBQs. Pets are permitted inside, but not in bedrooms or on furniture. An additional fee and the payment of a bond applies. The chalets are just behind the off-leash dog beach.
Alternatively, the centrally located ibis Styles Albany also welcomes pets. Selected ground floor rooms at the four-star hotel are pet-friendly, which can only be booked by phoning the hotel directly. Also confirm the additional charges and latest pet rules.
We also spent one night camping at Cosy Corner, a free camping ground located a 25-minute drive west of Albany (and about the same difference from Denmark). It's a beautiful location, located next to a beautiful off-leash beach where we spotted dolphins swimming, but is naturally busy during much of the year, so can be difficult to get a spot. Access is largely by sealed road, with just a final 500m unsealed section.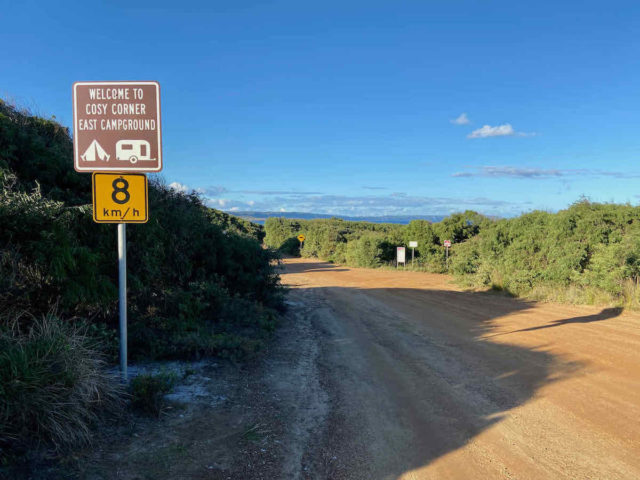 Head Next To