Denmark is not just the name of a country in Europe, it's also a delightful small town on the southern coast of Western Australia. About a 45 minute drive west of the larger centre of Albany, visit Denmark to enjoy the windswept coastline, wine tasting, fine local food and forest drives, with many dog-friendly options.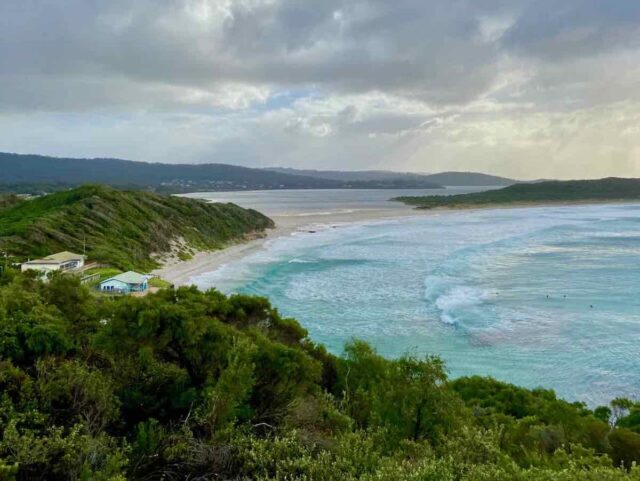 Dog-Friendly Sightseeing in Denmark
There's plenty of dog-friendly things to do in and around Denmark, whether you prefer exploring the area's natural beauty or tasting fine food and wine. Check out these dog-friendly ideas…
#1 Taste the Local Wine
Denmark is part of the Great Southern wine region. Many of the cellar doors in the area are dog-friendly, although it's always best to double check in advance with the wineries you would like to visit.
One of my favourite memories of my most recent visit to Denmark was visiting Singlefile Wines. The winery is famous for both its chardonnay and its Coco d'Vino tasting, which combines specially crafted chocolates with a tasting of three wines.
On the rainy winter morning we visited with our dog, it was a delight to relax inside with the Coco d'Vino tasting, in front of an open fire. With our pup by our side, naturally! The storm outside caused a power outage, but there was no interruption to our wonderful tasting inside.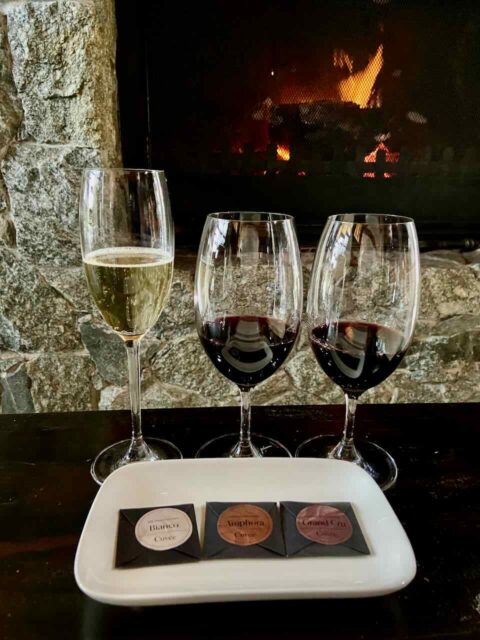 During better weather, there's also the option to enjoy a picnic outside on the grounds (BYO or make a booking). The cellar door is open seven days a week.
#2 Stock up on Gourmet Food
Around Denmark, the focus isn't just on the vineyards, with a wide range of gourmet food products produced locally and for sale in local outlets – and often at quite reasonable prices!
I highly recommend a visit to Denmark Farmhouse Cheese, located alongside Duckett's Mill Wines on the Scotsdale Road Tourist Drive. While dogs aren't allowed inside the shop, they are allowed in the outside area. Don't miss stocking up on the handmade local cheese. Or perhaps enjoy a platter or toastie outside in the dog-friendly dining area.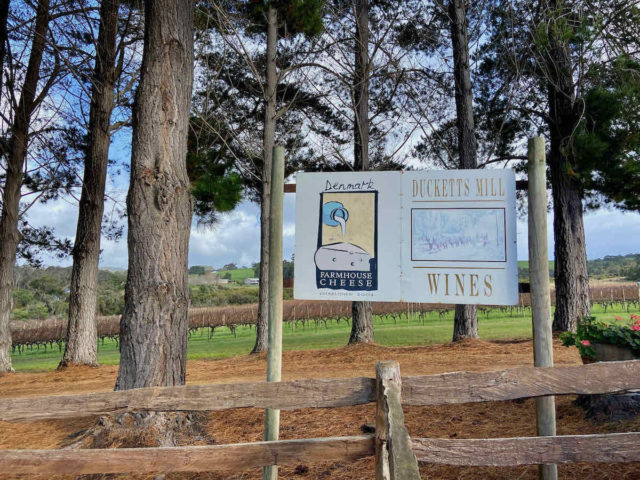 For more local products to try and buy, head to the Denmark Good Food Factory. This large shop is situated 18km west of the town centre. On site is the Elephant Rocks Cider Company, as well as a range of sauces, toffee and more, and a burger bar. Dogs on a leash are welcome to join you in the outside area.
#3 Go Hiking at Harewood Forest
While visiting the sights around Denmark, you'll like drive through some beautiful stands of forest. Get out of your car and stretch your legs (with your dog by your side) on the Harewood Forest Walk.
This walk is located in the Harewood Forest, about 10 minutes outside of Denmark along the Scotsdale Road. The forest is an example of regrowth karri forest that dates to the late 1800s. Dogs on a leash are allowed in the forest.
When we completed the walk, it was only a 600m one-way trail, but it has since been extended to be a 2.8km loop trail. Allow about an hour for the walk. Along the way are interpretative signs providing insight into Denmark's history, as well as the chance to spot colourful fungi during the wetter winter months.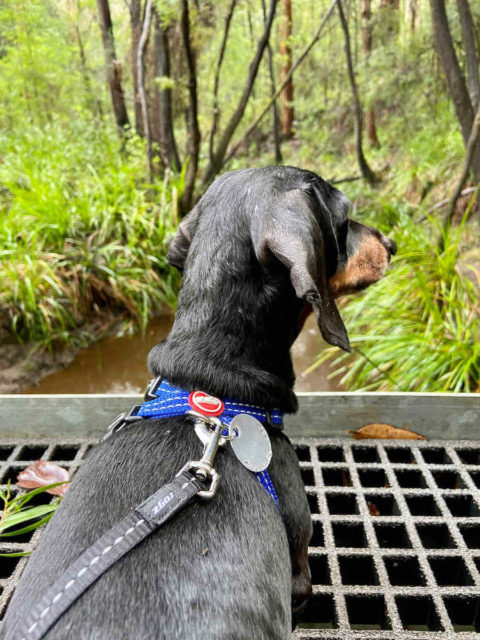 #4 Paddle at Prawn Rock Dog Beach
There are a number of off-leash dog beaches along the surrounding stretch of shoreline, but for the closest off-leash dog beach to the centre of town head to the Prawn Rock Dog Beach, opposite the BIG4 caravan park in Ocean Beach.
Park along the dirt side road off Ocean Beach Road, near the pin on Google maps marked as "Prawn Rock Dog Beach". Then take the bridge and walking track across the island, keeping your dog on-leash, until you reach the off-leash area on the far side of the island. There's a mixture of shallow and deeper areas.
Note that dogs are prohibited on the rest of the island, including the northern half of the channel beach, due to being a bird sanctuary area. Dogs are also prohibited from the main Ocean Beach near the surf club. For more details, see the map on the shire website.
For another off-leash dog beach, head west to Lights Beach. This beach is divided into dog prohibited, on-leash and off-leash areas, so check the signs.
Are Dogs Allowed at Greens Pool?
One of the top attractions near Denmark is Greens Pool, and the nearby rock formation of Elephant Rocks. However, both of these attractions are located in the William Bay National Park, south of the highway, with dogs strictly not allowed.
If you want to visit these attractions, find a sitter for the day. Alternatively, visit the area during winter, when a beach visit to go swimming isn't as tempting, especially if it's grey and rainy like on the day we visited the area.
Dog-Friendly Parks in Denmark
There are multiple off-leash dog exercise areas available in Denmark. Close to the town centre of Denmark is Annie Harrison Park, on the corner of Hollings Road and Barnett Street. Dogs are allowed off-leash on the grassy reserve, with the Ocean Beach Dog Wash van often parking up on Saturdays.
Alternatively, head just south out of town along the Ocean Beach Road to Laing Park, home to a fenced dog park. This dog park in Denmark has two separately fenced areas for small and large dogs.
For more details, see the map provided by the local council.
Dog-Friendly Pubs & Cafes in Denmark
There's plenty of dog-friendly dining options in and around Denmark, including some of the local wine and produce outlets that I mentioned above.
We enjoyed lunch at the Boston Brewing Co, just east of town. As well as offering a range of craft beers on tap (select from two tasting paddles to enjoy a sample), their Denmark brewpub is also a popular spot for lunch and dinner.
Choose from a large range of meals, including local beef burgers and woodfired pizzas. There's plenty of outdoor tables, perfect for enjoying sunny days and evenings with your pooch. For rainy days like when we visited, there's also tables on the heated patio. Just note the brewpub is closed on Mondays.
For something lighter, head to Mrs Jones Cafe in the centre of town. Open from Thursday to Monday for breakfast and lunch, it reputedly has the best coffee in town, plus popular dog-friendly outdoor tables.
Dog-Friendly Accommodation in Demark
There are four caravan parks located around the town of Denmark, all that allow pets, although check for conditions in advance.
One of the best pet-friendly options is the BIG4 Denmark Ocean Beach Holiday Park, which is also right opposite the local dog-friendly beach. Pets are allowed year round on sites, plus in a range of chalets and cabins. Note that a maximum of two pets are permitted, and pre-approval is required. There is an additional flat fee of $80 for chalets and cabins, plus $15 per animal on sites outside of the off peak season.
Alternatively, there are a number of nature-based campgrounds around with limited facilities and cheap camping fees. Heading 25 minutes west of Denmark, check out Parry Beach Campground. This volunteer-run campsite doesn't take bookings and charges $20 per night for up to two people. Friendly dogs are permitted, with the adjacent beach allowing off-leash dogs.
We spent a night camping at Cosy Corner East Campground, about 25 minutes east towards Albany. At the time of our stay, it was free. However, camping fees are now charged, starting at $15 per night for up to two adults and two children, or $10 for concession card holders including seniors.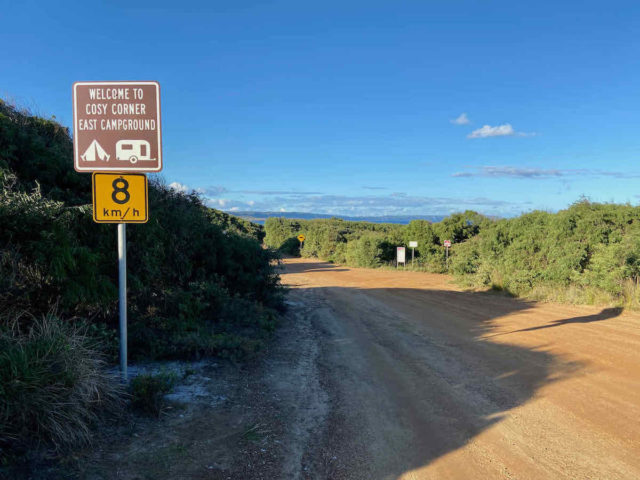 Once again, bookings are not accepted, and dogs on a leash are welcome. It's located next to a beautiful off-leash beach where we spotted dolphins swimming.
Head Next To
About the Author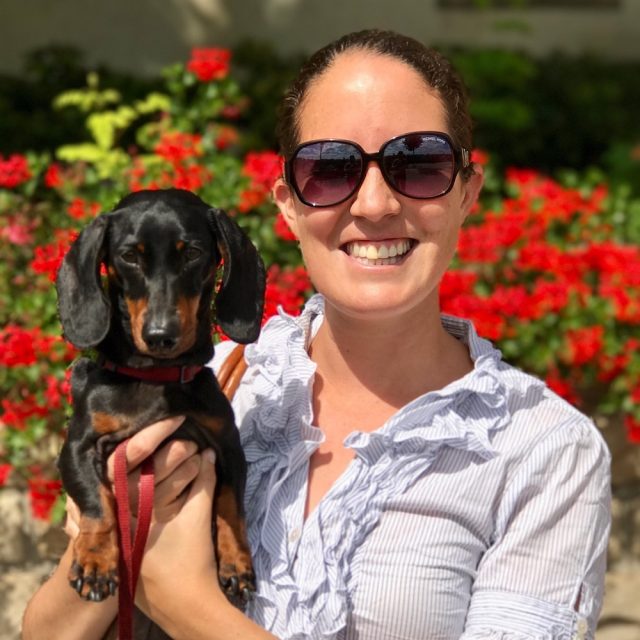 Shandos Cleaver is the founder of Travelnuity: Dog-Friendly Travel. She has travelled extensively with her Miniature Dachshund, Schnitzel, including to 33 countries across Europe, every state and territory of Australia except Tasmania, and 10 of the United States. She's passionate about providing inspiration and information to others wanting to travel with their dogs, whether close to home or internationally.