The vast state of Western Australia is a wonderful place for travelling on a dog-friendly road trip, whether part of a Big Lap around Australia or for those who already live in the state. However, you need to keep in mind that there are some dangers to travelling with a dog, plus dogs aren't welcome everywhere. Here are some trips for travelling in Western Australia with a dog…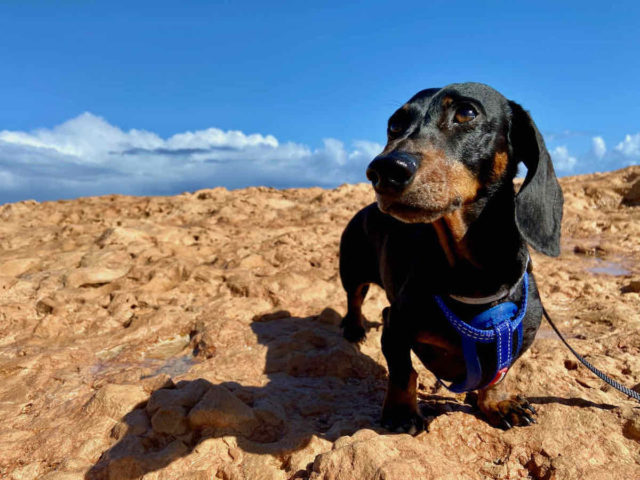 Keeping Your Dog Safe in Western Australia
One of the biggest concerns that dog owners have when travelling in Western Australia is 1080 bait. This poisonous bait is extensively used in Australia to control feral animals, such as foxes, but can also kill pet dogs.
While signs should be displayed where this bait is in use, this isn't always the case, plus birds can move the baits. For this reason, always be wary of the possibility of 1080 baits. One of the best approaches is to keep your dog on a leash, by your side, plus for them to wear a muzzle.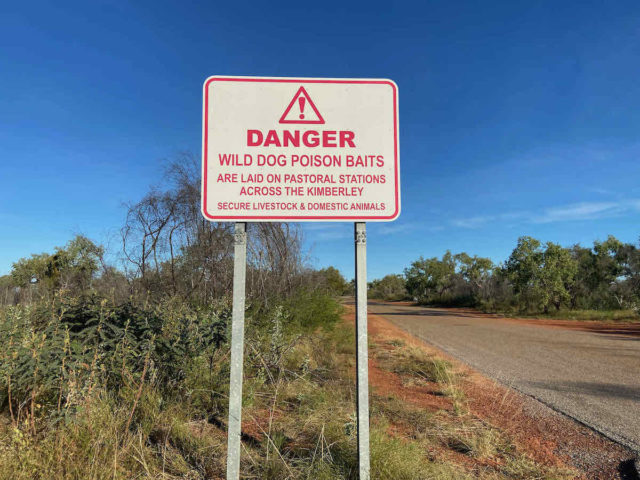 One of the most frequently recommended muzzles are the UK Yard Muzzles for Greyhounds. Baskerville muzzles are also sometimes recommend, but don't fully protect dogs, as dogs can still eat a treat through the muzzle. Some travellers add fly screen to their dog's muzzle. Make sure you fit the muzzle on your dog ahead of time and train them to wear a muzzle.
In addition to 1080 baits, there are a number of other dangers for dogs travelling in Western Australia. In the northern half of the state, the tick-borne Ehrlichiosis disease has been detected. Dogs travelling in the region should be protected against ticks, ideally with a tick collar.
There is no longer a requirement to report the movement of dogs out of the Kimberley region of WA, but keep up to date on the latest information, including a map of affected areas.
Other dangers include estuarine crocodiles, marine stingers, snakes and the high temperatures that are prevalent during the summer months of the year. Before travelling with your dog in Western Australia, I recommend you review my extensive guide to keeping your dog safe while travelling in Australia.
Moving Dogs Into and Within Western Australia
There are no biosecurity requirements for taking dogs into Western Australia. You don't need to complete any paperwork or show anything to the biosecurity officers at the borders, including when driving the Nullarbor with a dog.
Following the outbreak of Ehrlichiosis in northern Western Australia, there was previously a requirement to report the movement of dogs from the Kimberley region to southern WA, but this no longer applies.
Dog-Friendly Holiday Ideas for Western Australia
Some of the top bucket list destinations in Western Australia are unfortunately contained within national parks, making them off-limits for dogs. However, there are still plenty of dog-friendly places to visit, so I've put together this entirely dog-friendly bucket list for you and your up to tick off. Starting from southern Western Australia…
1. Drive the Great Ocean Drive in Esperance
Western Australia is home to many gorgeous beaches, with sparkling white sand and crystal clear water. Some of the most spectacular are in southern Western Australia around Esperance, and luckily many are dog-friendly.
Lucky Bay to the east of Esperance garners much of the attention, but due to being in a national park is one of the few local beaches off-limits to dogs. Instead, head out on the Great Ocean Drive with your dog. This 40km loop drive on the western side of Esperance passes by multiple beautiful beaches, and all are dog-friendly except for the western end of Twilight Beach, near the surf life saving club.
A few of the beaches restrict off-leash dogs to certain hours, such as West Beach just on the edge of Esperance, where dogs are allowed off-leash only between 5am and 8am plus 4pm and 8pm, and need to be kept on-leash during the day.
However, I didn't spot similar restrictions at Blue Haven Beach, Salmon Beach, Fourth Beach, Ten Mile Lagoon and Eleven Mile Beach. Double check the signs to be sure.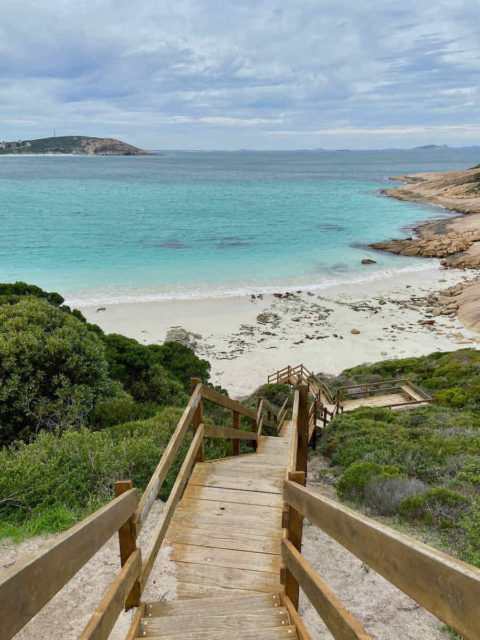 If the weather is sunny and warm, make a day of it, stopping and exploring the many beaches with your pup.
2. Visit Wave Rock with Your Dog
Even if you haven't previously visited Wave Rock, you've probably seen photos of this distinctive rock, shaped with a wave about to break. Located in inland southern Western Australia, the rock is surprisingly not in a national park, meaning that your dog can join you in visiting this stunning natural site.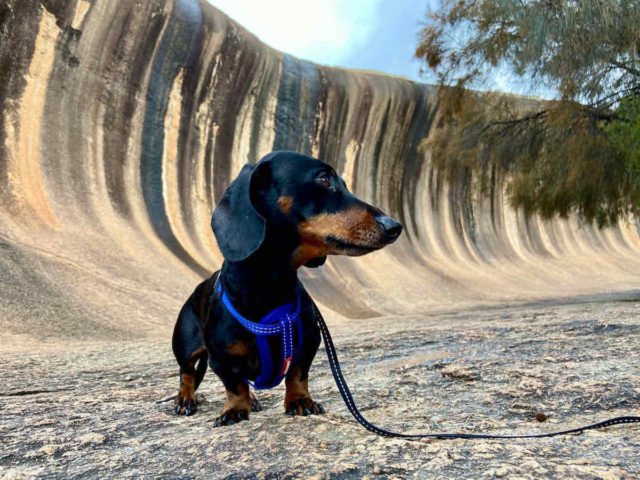 Located just outside of the town of Hyden, it's easiest to stay in the adjacent caravan park, just a 5 minute from Wave Rock. Entry is free for guests of the caravan park, while a separate entry fee is charged to day trippers. The caravan park permits dogs on powered and unpowered sites year round, plus in a pet-friendly cabin.
As well as checking out and getting plenty of photos of the famous rock, I also recommend following one of the dog-friendly walking tracks in the area. Walk to the nearby Hippo's Yawn, plus explore the local salt lakes.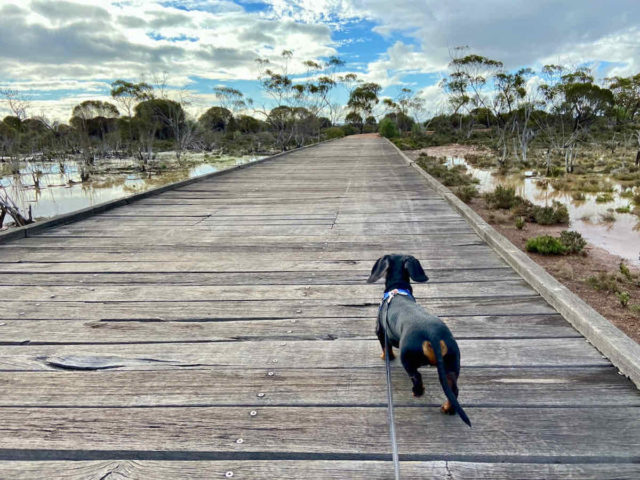 Another nearby dog-friendly attraction are the Humps, a similar granite outcrop 16km north, which is home to Mulka's Cave, one of the most significant Aboriginal rock art sites in southern Western Australia.
3. Visit a Dog-Friendly Winery
Western Australia is renown for its wine industry, with multiple wine growing region located in the state, most prominently the Margaret River region, about a 3 hour drive south of Perth.
This area is perfect for a weekend away from Perth, exploring the local wineries, fine food outlets and famous surfing beaches. And there's no need to leave your dog behind, with plenty of pet-friendly accommodation options as well as dog-friendly cellar doors. If wine isn't your thing, there's also a growing number of local breweries, most that are dog-friendly.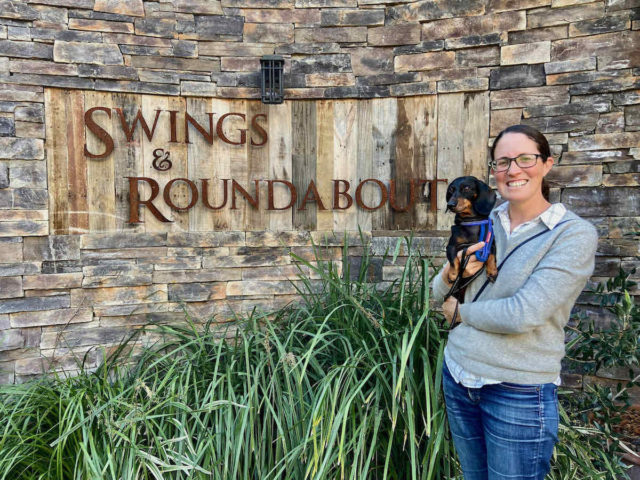 However, my favourite dog-friendly winery region in Western Australia is actually the area around Denmark, part of the Great Southern Wine Region. Located less than an hour west of the larger centre of Albany, we spent a delightful day visiting wineries, buying local cheese and exploring the beautiful countryside. It's a more relaxed area and there's plenty of dog-friendly options!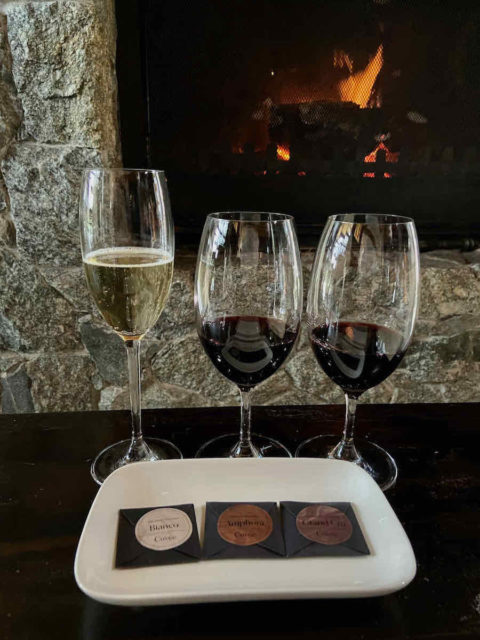 4. Go Cruising at Monkey Mia
Heading further up the coast of Western Australia, don't miss visiting Shark Bay and the resort spot of Monkey Mia together with your dog. Famous for its daily feeding of wild dolphins that has been occurring for decades, you'd expect that dogs wouldn't be permitted, but we found Monkey Mia to be surprisingly dog-friendly.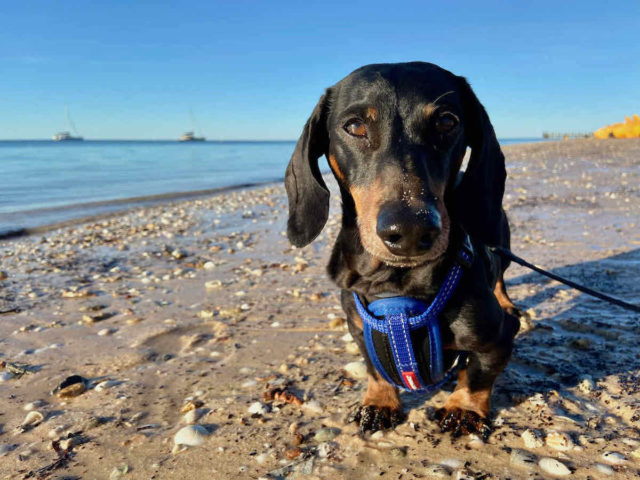 One of the highlights of a visit to Monkey Mia is heading out on a wildlife cruise on the waters of Shark Bay, spotting the local dugongs, turtles, birdlife and of course, even more dolphins. We were delighted that Perfect Nature Cruises welcomes well-behaved dogs to join you on the cruise. Dogs are also allowed on the shorter sunset cruises held many evenings.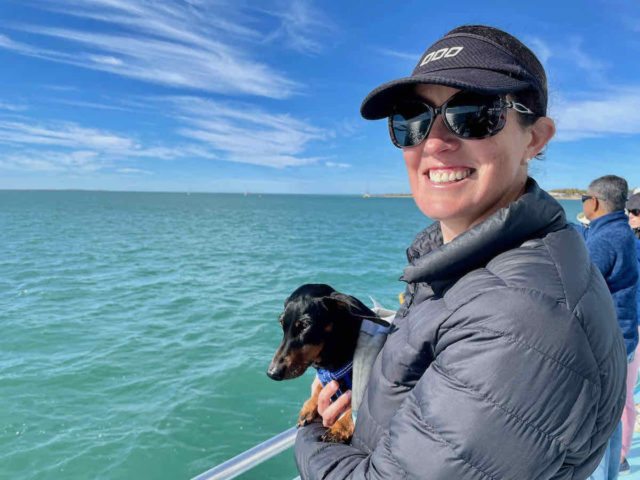 While in Monkey Mia, don't also miss exploring the dog-friendly beaches, visiting the local aquarium (with your dog by your side!) and even taking a kayak for a puddle.
5. Meet Red Dog in Dampier
One of the most famous dogs in all of Western Australia is Red Dog, the star of multiple movies. This Kelpie/cattle dog cross travelled all around the vast Pilbara region, often returning to the coastal town of Dampier, near Karratha.
It's no wonder then that a statue of Red Dog has been erected on the edge of Dampier. It's a very popular photo spot, especially for dog owners wanting a selfie of their pup with Red Dog. It's definitely worth a detour off the North West Coastal Highway to Dampier!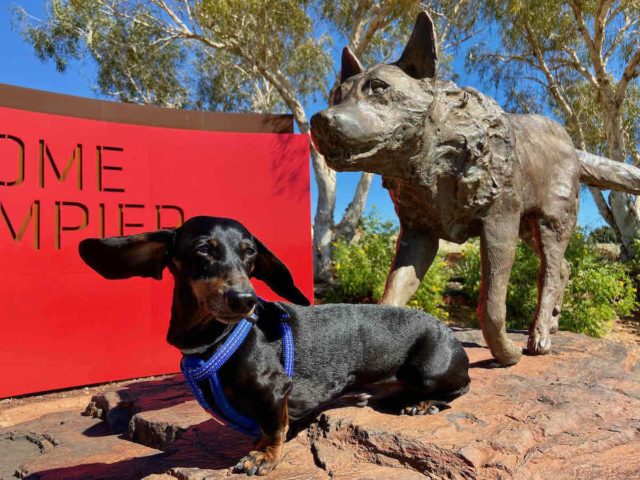 If you'd like to spend longer in Dampier, the recently redeveloped Foreshore Area is a nice spot to spend the afternoon. Dogs are permitted on leash on the beaches, plus there is an off-leash dog exercise area at Hampton Oval.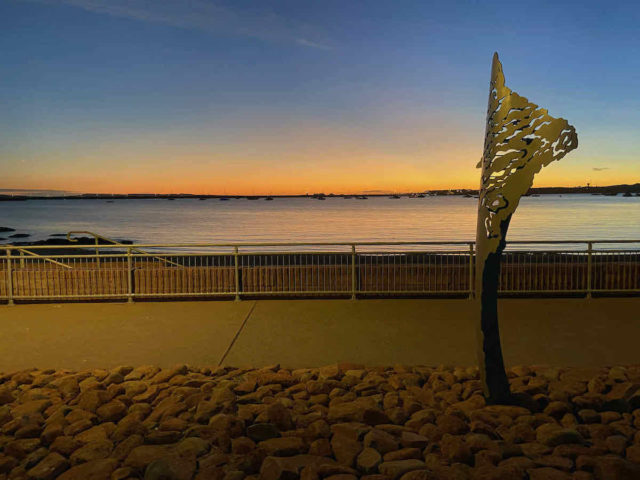 6. Walk Along Cable Beach in Broome
The tropical beach town of Broome in northern Western Australia is deservedly famous, partially due to Cable Beach, a magnificently long stretch of white sand that is home to camel rides and gorgeous sunsets, 4WD driving on the sand and gentle waters for swimming.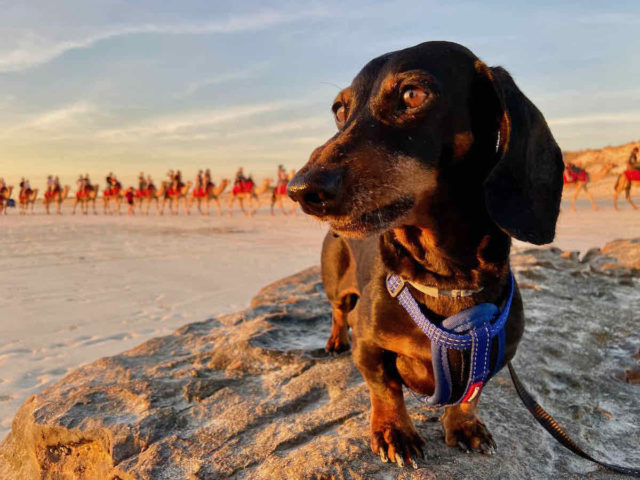 Surprisingly then, this beach is largely dog-friendly. Dogs allowed off-leash on Cable Beach from about 150m south of the surf club (look out for the sign), plus 700m north of the rocks. In between, including the patrolled swimming area, dogs are still permitted, but need to be kept on leash and should be kept out of the water. Double check the latest signs for in case this has changed.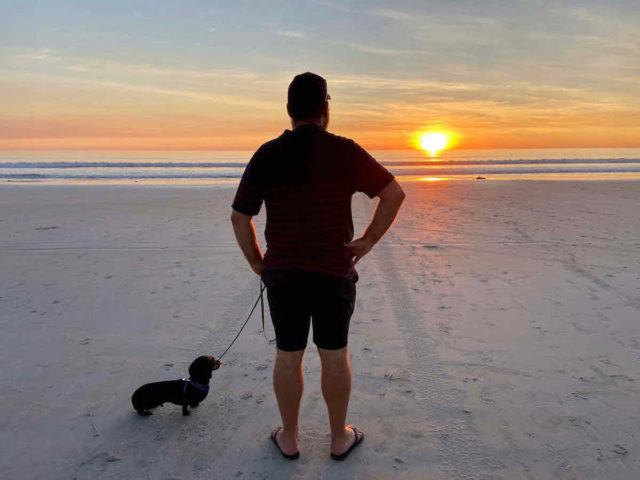 With its wide expanse of sand, it's the perfect spot for enjoying a long beach walk with your pup, along with a dip in the sea, especially during the long evenings as the sun sets into the Indian Ocean.
7. Drive Along the Gibb River Road
Another quintessential experience in the Kimberley region of Western Australia is driving along the Gibb River Road. Starting near Derby and continuing for nearly 700km to near Kununurra, this is an epic 4WD adventure, with countless gorges, waterfalls and more to see along the way.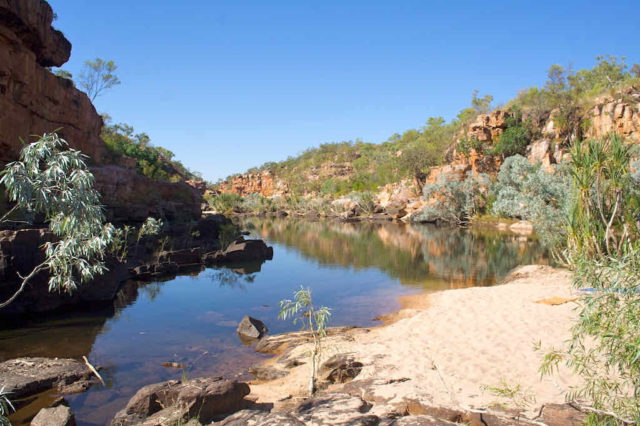 While dogs aren't allowed to visit some of the destinations along the road, there are still plenty of dog-friendly options. It's best to research in advance, including where dogs are permitted to camp, and what places you'll need to skip. Check out the latest information online and if necessary check directly with the property owners.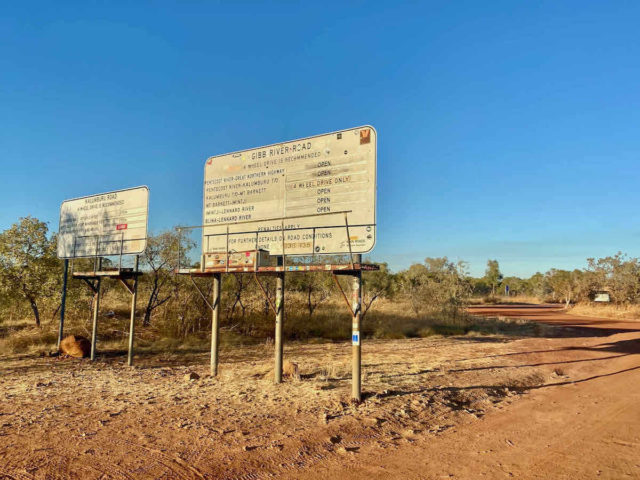 Unfortunately, I had to skip travelling along the Gibb River Road on my most recent visit to Western Australia with my dog, as our campervan wasn't up to a 4WD track, but I've previously driven the road without a dog and loved the experience.
Want to explore more of Australia by 4WD? Add these awesome 4WD tracks, Brisbane, Queensland to your wish list
Dog-Friendly Guides to Western Australia
I've put together a number of dog-friendly guides to Western Australia, covering many of the most popular cities and tourist destinations. For more information on travelling in Western Australia with your dog, including tips for pet-friendly accommodation and dining with your dog, check out these guides.
Additionally, if you love to camp, check out my recommendations for some of the most spectacular dog-friendly camp sites in Western Australia.
Dog-Friendly Southern Western Australia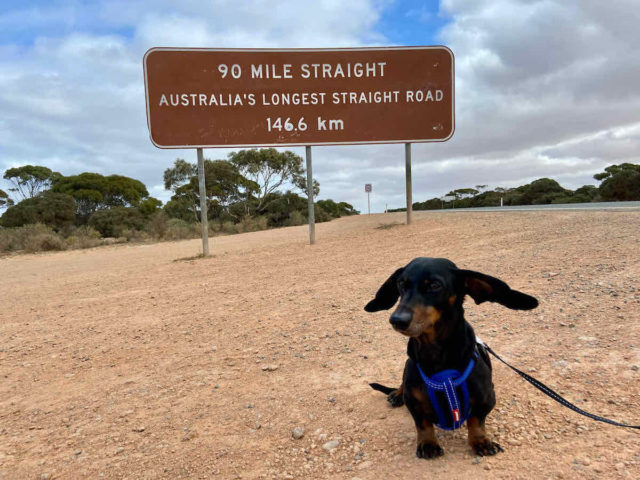 Dog-Friendly Northern Western Australia
Plus, check out my recommended must-do experiences on a Perth to Broome road-trip, including pet-sitting tips for if you're travelling with a dog.