The Grand Canyon is one of the top bucket-list destinations in the United States. No matter if you're a local or visiting from overseas, you shouldn't miss this stunning natural formation. And luckily, the answer to are dogs are allowed at the Grand Canyon, is yes!
This particularly applies at the South Rim, with the Grand Canyon National Park being a fairly dog-friendly national park. Read on to find out what you can and can't do with a dog when visiting the Grand Canyon.
Note: This post contains affiliate links, which means I may receive commission if you make a purchase using the links.
Dog-Friendly Accommodation at the Grand Canyon
If you're planning on staying right at the South Rim of the Grand Canyon, there are a number of pet-friendly options. The most options are available if you're planning on camping. Pet-friendly campgrounds at the Grand Canyon include Mather Campground, Desert View Campground and the Trailer Village, although pets need to remain on a leash.
If you're wanting to stay in a pet-friendly lodge, your option are more limited, with Yavapi Lodge being the only in-park lodge that has pet-friendly rooms. Two pets are permitted per room, with an additional charge applying.
Alternatively, many visitors to the South Rim of the Grand Canyon stay in the nearby towns of Williams or Flagstaff. Flagstaff is the larger of the two, located 80 miles by road away, about a 90-minute drive. Williams is slightly closer, being only 60 miles south, just over an hour's drive. Both offer pet-friendly motels near the Grand Canyon.
We chose to stay in Williams, as the rates for motels were cheaper for our dates. There are two Motel 6 hotels located in Williams – we stayed at Motel 6 Williams West.
As well as being one of the cheapest Motel 6 hotels we stayed in, it was by far one of the best, with a large room, access to a microwave in a downstairs lounge area and a very friendly receptionist. Like all Motel 6 hotels, dogs stay for free.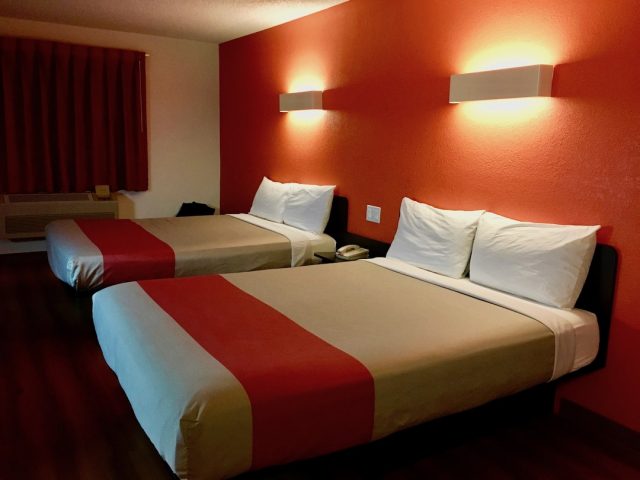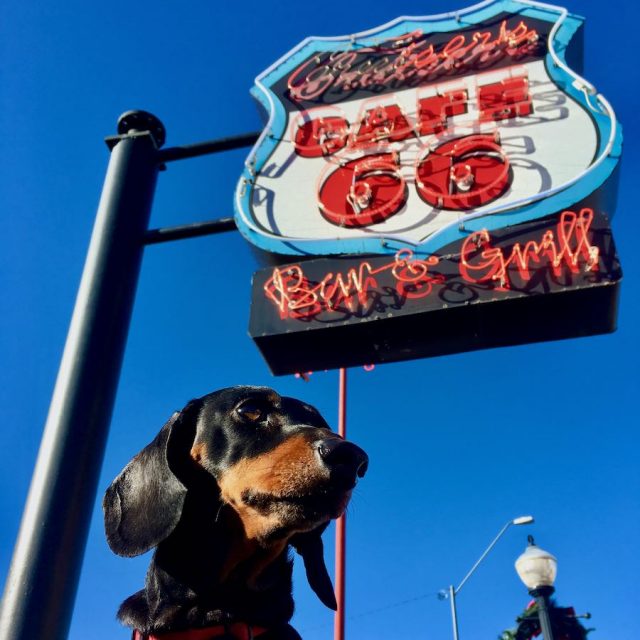 Williams was a great choice in general, with an hip vibe due to the historic buildings and signs from when it was located on Route 66. We also visited the Grand Canyon Brewery and Distillery in town, but unfortunately dogs aren't welcome inside and it was too cold to dine and drink our beers outside.
Dog-Friendly Things to do at the Grand Canyon
The best part of visiting the South Rim of the Grand Canyon with your dog is that they are allowed on the Rim Trail, an easy paved trail which stretches for nearly 13 miles along the southern edge of the canyon. The trail starts 2.3 miles east of the main Visitor Centre and Mather Point at the South Kaibab Trailhead, then extends 10.5 miles west of the Visitor Centre all the way to Hermits Rest.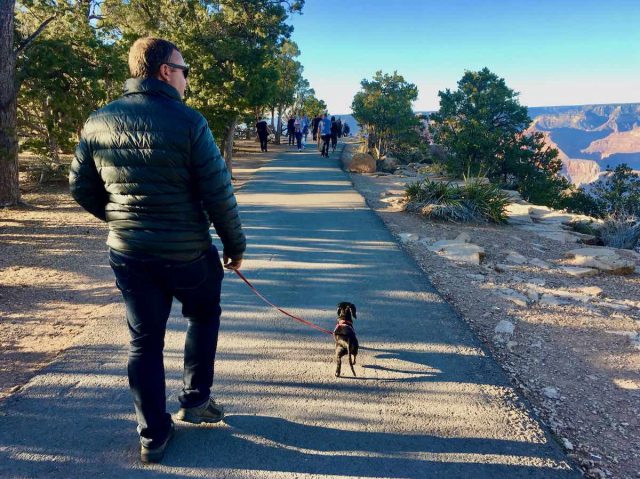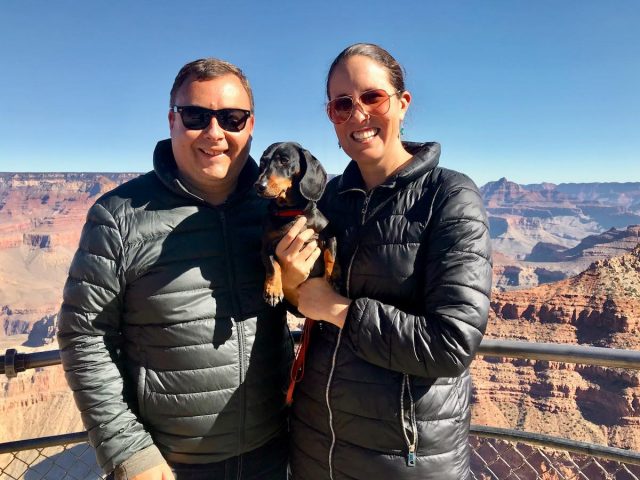 It would be a massive undertaking to walk the whole length of this trail with your dog and return along it in a day, although I'm sure some are up to it! We ended up only walking a mile or two either way of Mather Point along it, stopping frequently for photos. We also return to the trail late in the day to experience the changing colours at sunset.
Don't forget that dogs must at all times stay on a leash no longer than 6-feet in length, as much for your dog's safety as out of consideration to other visitors. (Some of those drops are huge!)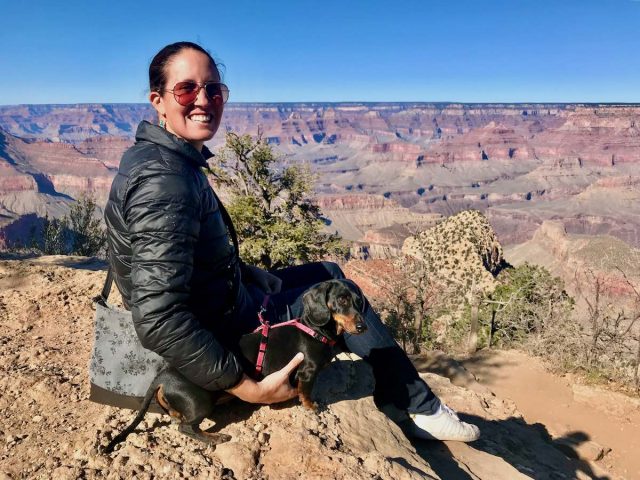 Dogs are also permitted on the Greenway Trail, which connects the the main Visitor Centre, Market Plaza, Village and Tusayan precincts. It's a paved bicycle path more of a practical rather than sightseeing nature
I also recommend driving the 22 mile drive east of the main Visitor Centre to Desert View, on the eastern edge of the park. This drive stays open to private vehicles year round.
Along the way, stop at some or all of Grandview Point, Moran Point, Lipan Point and Navajo Point. Dogs are allowed at the paved lookouts.
At Desert View, naturally dogs are not allowed inside the building and up the watch tower. Instead, I recommend taking turns if you are visiting with someone else.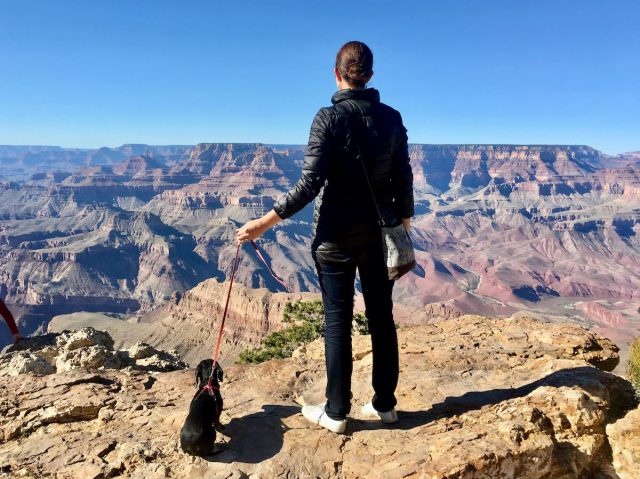 If visiting during the summer, make sure you keep at eye on the temperature. It's better to only hike during the early morning and evening hours. Check the temperature of pavements that you're walking on, especially if they're not shaded. And always take plenty of water for both yourself and your dog. I always recommend a collapsible water bowl.
We didn't have time to also visit the North Rim, which isn't as dog-friendly as the South Rim. At the North Rim, leash pets are only allowed on the Greenway Trail that connects the North Kaibab Trail and the portion of the Arizona Trail north to the park entrance station.
What To Skip When Visiting with a Dog
If you're visiting the Grand Canyon with your dog, unfortunately your dog cannot go below the rim. This rules out the more adventurous hiking options at the Grand Canyon. If you've got your heart set on undertaking one of these hikes, you should look into the South Rim Kennel, see more details below.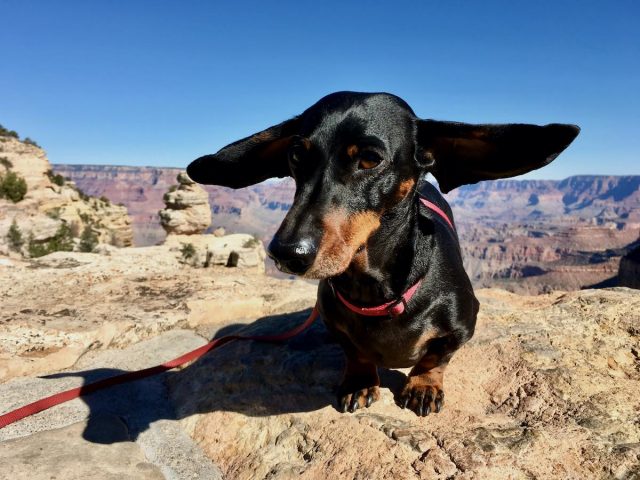 Additionally, dogs are naturally not allowed on park shuttle buses. For most people this rules out visiting the lookouts west of the Village, up to Hermits Rest, including the popular sunset spot of Hopi Point.
This is because from 1st March to 30th November it is not possible to drive west past the Village along Hermit Road in private vehicles, with access restricted just to park shuttle buses. It is of course also possible to hike to Hermits Rest, but this section of the Rim Trail measures 7.9-miles one-way, a total return trip of 15.8 miles!
It's for this reason I recommend if you have limited time instead driving east to Desert View, where private vehicles are allowed on the road year round. Also, an alternative pet-friendly sunset spot is the more accessible Yavapi Point.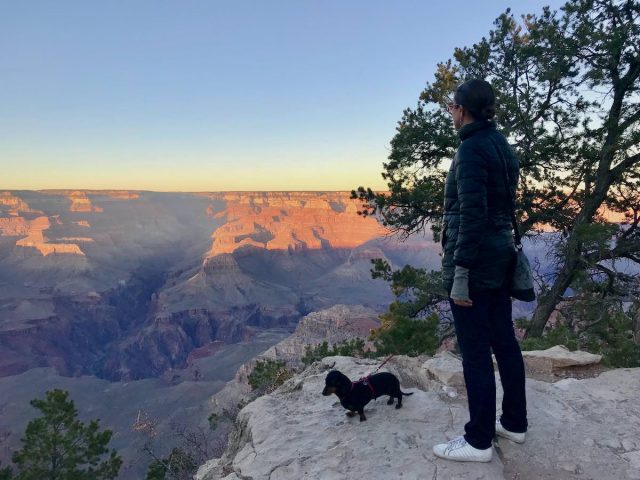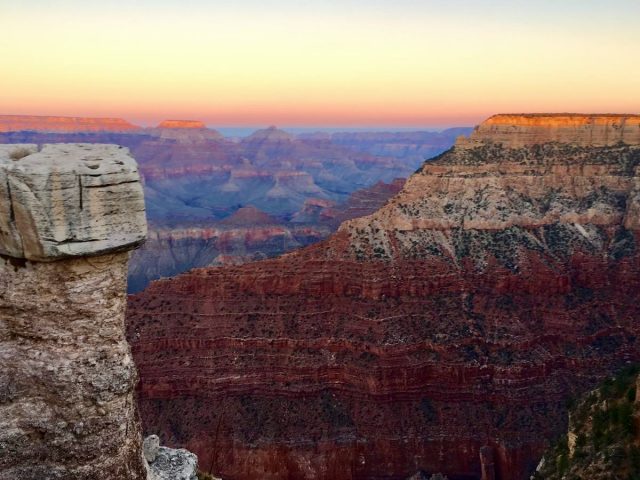 Using the Kennel at the Grand Canyon
While we didn't make use of the South Rim Kennel at the Grand Canyon, it's a great option to have available and I'm sure many people make use of it, whether for a one-day stay or overnight stays.
The South Rim Kennel is located near Maswik Lodge and is operated by Xanterra Parks & Resorts. It's open from 7:30am to 5:00pm daily and reservations are recommended, especially during the summer months and holidays, by calling 928-638-0534. Note that proof of vaccination must be supplied.
For more information on the kennel and the rules for dogs visiting the Grand Canyon National Park, see this page.
You May Also Like
Inspired? Pin this to your Pinterest board!