The Eastern Suburbs of Sydney is famous for its beaches, but unfortunately most of the beaches are off limits to dogs. For starters, every beach in the Waverley and Randwick council areas are off limits to dogs, even on a leash.
However, there are some harbour beaches in the Woollahra council are that permit dogs, with plans to increase the number, plus another beach on the very edge of the area on Botany Bay. Find out more about the dog-friendly beaches in the Eastern Suburbs of Sydney…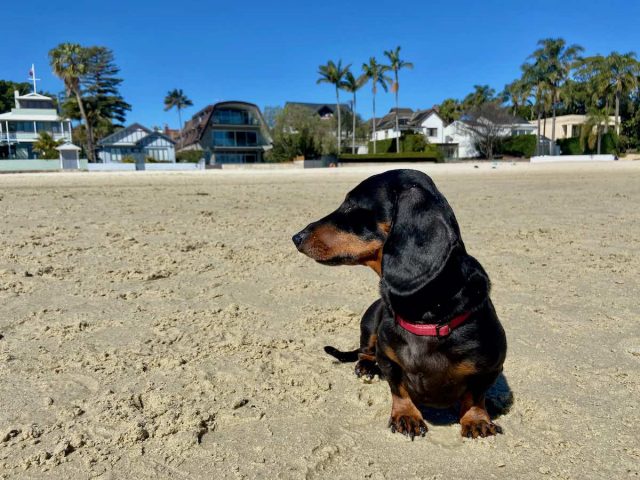 Are Dogs Allowed on Bondi Beach?
One of the most famous beaches in Sydney and in fact all of Australia is Bondi Beach, with crowds of locals and visitors flocking to the beach on sunny days.
Unfortunately, the sand and water at Bondi Beach is strictly off limits to dogs. However, dogs are permitted to join you walking along the promenade behind Bondi Beach and in the park, as long as they are kept on a leash.
Are Dogs Allowed on Coogee Beach?
Another popular beach in the Eastern Suburbs is Coogee Beach, to the south of Bondi. However, just like with Bondi, dogs are not allowed on the sand or in the water at Coogee Beach.
It's still possible to visit the park behind Coogee Beach with your on-leash dog and walk along the promenade. There's always a few dogs around whenever I visit!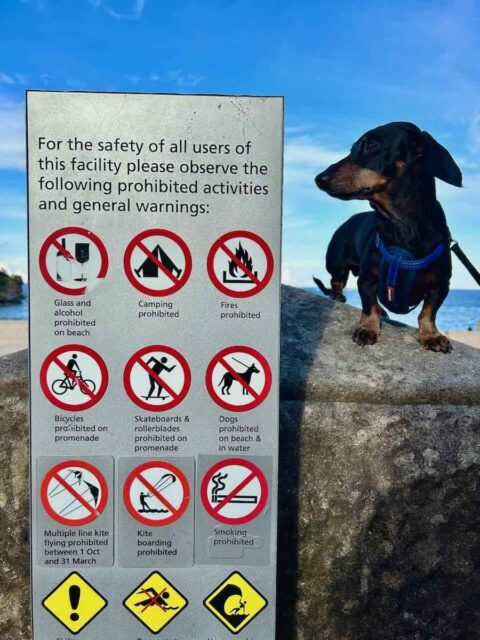 I often visit Coogee Beach with my dog and follow the walking paths to the north and south of the beach. Leashed dogs are allowed to join you on the Bondi to Coogee Coastal Walk and the South Coogee Beach Walk.
Proposed New Off-Leash Dog Beaches in the Eastern Suburbs
There is currently a proposal by Woollahra council to increase the number of off-leash areas in the council area, including off-leash beaches – an exciting development for dog owners!
If the proposal goes ahead, both Rose Bay Park and Kutti Beach will change from being on-leash to off-leash dog beaches. Additionally, there will be two new off-leash dog beaches at Watsons Bay: Gibson Beach and Robertson Beach.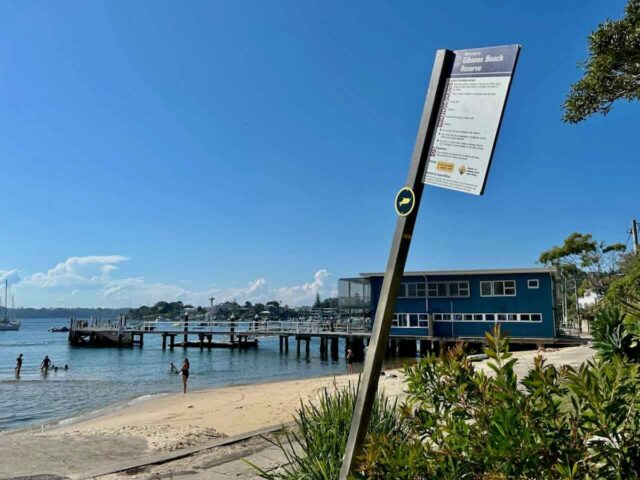 There have been no updates since the public exhibition period ended, with no mention of a date when a decision will be made. It seems unlikely anything will happen in 2023, but hopefully a decision will be made in 2024.
#1 Rose Bay Dog Beach, Rose Bay
The most popular dog-friendly beach in the Eastern Suburbs of Sydney is the Rose Bay Dog Beach, also known as the Rose Bay Foreshore.
This off-leash dog beach is located in between Percival Park and Dumaresq Reserve in the harbour-side suburb of Rose Bay. On Google Maps, search for "Rose Bay Beach".
Dogs are allowed off-leash on the beach all day long, with no time restrictions. Note however that dogs are only allowed off-leash in the adjacent Dumaresq Reserve before 8:30am or after 4:30pm. For more information, check the council website.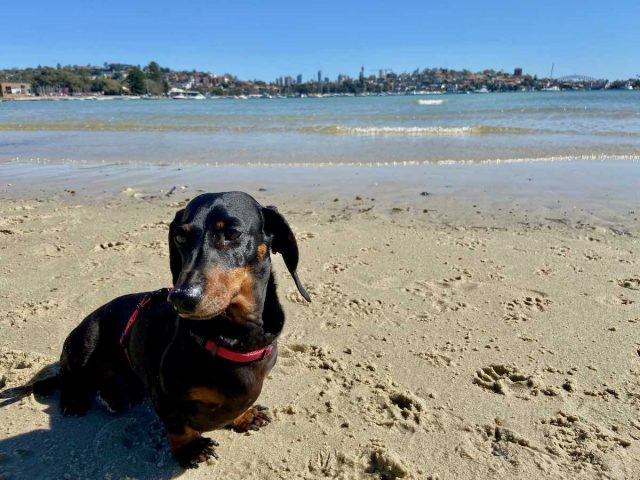 This dog beach is a fairly calm harbour beach, making it suitable for dogs of all sizes and swimming abilities. At low tide the water is shallow for a fair distance out, but does eventually get deeper for more confident dogs. It's also a great spot to head out on a SUP with your pup.
I recommend entering the beach from the end of Caledonian Road, as sometimes the sand in front of Dumaresq Reserve is covered by the water. Car parking can be difficult close by. If you can't find an on-street park, there is a carpark nearby on Dover Road.
Find out more about visiting Rose Bay Dog Beach
#2 Rose Bay Park, Rose Bay
Rose Bay Dog Beach isn't the only dog-friendly section of harbour beach in Rose Bay.
At the western end of Rose Bay, dogs are also allowed on the beach adjacent to Rose Bay Park. This small beach is located between the Rose Bay and Point Piper marinas – search for "Bellamy Beach" on Google Maps.
Currently, dogs are officially meant to stay on-leash on this beach, although not all owners and their dogs follow this rule. There is a proposal to designate Rose Bay Park and the adjacent beach as an off-leash dog exercise area (see above). Check the latest signs if in doubt.
This beach isn't as wide as Rose Bay Dog Beach, with the harbour waters lapping up against the sea wall at times. However, its waters are quite calm and it will be great to hopefully have another off-leash alternative soon.
#3 Kutti Beach, Vaucluse
One of the most gorgeous harbour beaches in the Eastern Suburbs is Kutti Beach. Tucked away in Vaucluse, you wouldn't discover this beach if you didn't know in advance it existed. It's just a small beach, so can become quite packed on summer days.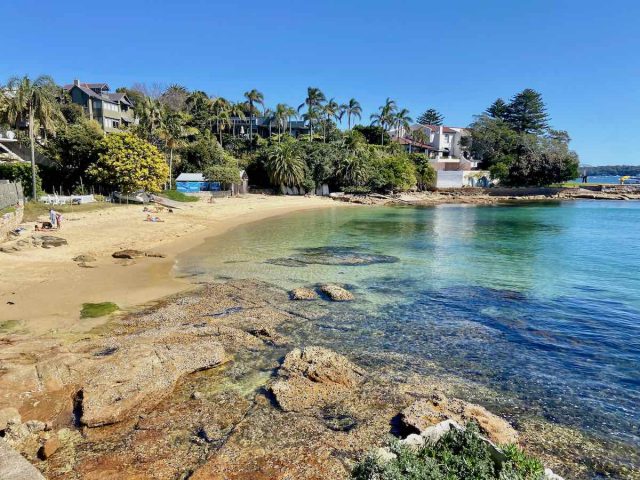 The beach is accessed through a set of steep and narrow wooden steps at the end of Wharf Road – not the easiest access for a dog. Smaller and less agile dogs might need to be carried down.
The easiest parking is back up on Hopetoun Avenue. Alternatively, it's a 10 minute walk from Watsons Bay and the ferry wharf.
Currently, this beach also only allowed on-leash dogs. However, there is also a proposal to change this beach to allow off-leash dogs – check the website or signs. Many dog owners already let your dogs off leash, but I've previously seen the council rangers drop by to enforce the rules.
#4 Lady Martin Beach, Point Piper
The final dog-friendly harbour beach in the Eastern Suburbs of Sydney is the small Lady Martin Beach in the exclusive suburb Point Piper.
This small stretch of sand is located either side of a jetty at the tip of Point Piper. Combined with parking nearby being tricky, it tends to not receive many visitors.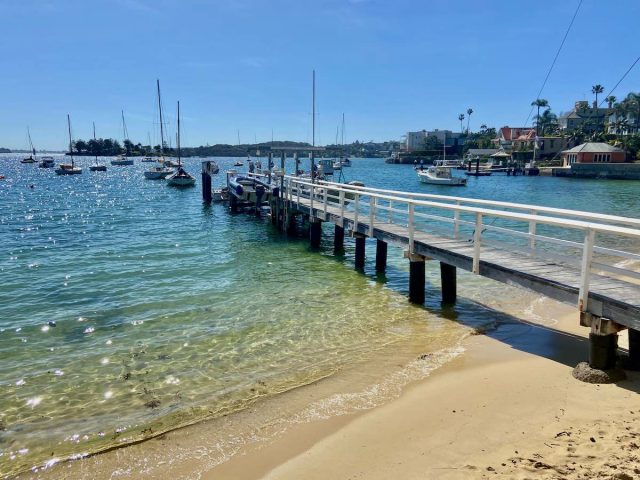 Note also that dogs are required to stay on leash at this beach. There are currently no plans to change this.
#5 Port Botany Foreshore, Botany
Finally, I'd like to share a beach that isn't quite located in the Eastern Suburbs, but is on the borderline and close by if you live in the southern half of the region.
Known as Port Botany Foreshore or simply "Foreshore Beach" on Google Maps, this dog-friendly beach is located on the northern shore of Botany Bay, in between the container port and the airport runways.
It's easy to overlook as it's not listed as a dog-friendly beach on any council website – instead it's looked after by the Port Authority.
Dogs are only allowed on-leash on this beach, with multiple signs to remind dog owners, although I have a feeling dogs are often let off leash here. Although it's not the prettiest spot, it's a long stretch of sand (about 500m long) and fairly quiet, at least when I visited during the week. As a bonus, you can also watch the planes landing and taking off nearby!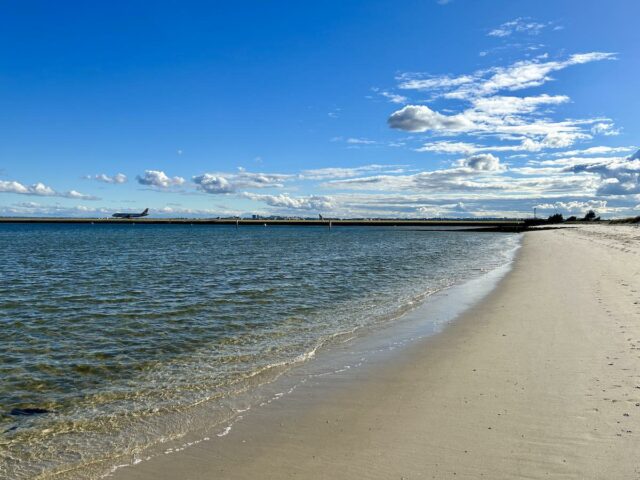 The easiest place to park is at the Foreshore Road Boat Ramp at the eastern end, where there's a large carpark. There's a traffic light to turn into the carpark from both directions.
Alternatively, there's also a small carpark next to the Mill Stream Lookout at the western end, although it's only accessible to cars driving west along Foreshore Road.
Behind the beach is a shared pathway, connecting both carparks. It's possible to complete a loop using it – walk along the beach in one direction and then return along the paved path. There's also a nearby pedestrian bridge connecting the area to the large Sir Josephs Bank Park in Botany.
You May Also Like
About the Author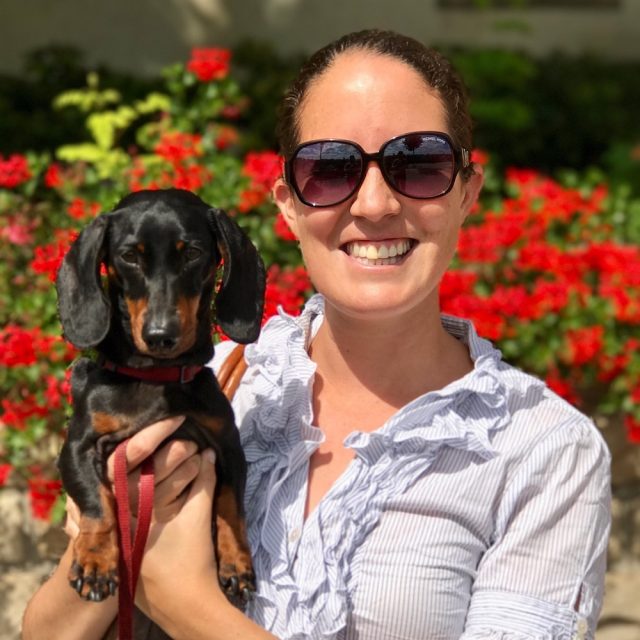 Shandos Cleaver is the founder of Travelnuity: Dog-Friendly Travel. She has travelled extensively with her Miniature Dachshund, Schnitzel, including to 33 countries across Europe, every state and territory of Australia except Tasmania, and 10 of the United States. She's passionate about providing inspiration and information to others wanting to travel with their dogs, whether close to home or internationally.