Dog-friendly and Sydney aren't two things that usually go together. Much as I love my home city of Sydney in Australia, it's not especially dog-friendly, whether that's finding accommodation, catching transport or dining out.
But, if you know where to look, there are still some great options for both locals and visitors with dogs. So, I thought I'd share with your my secret tips for dog-friendly Sydney.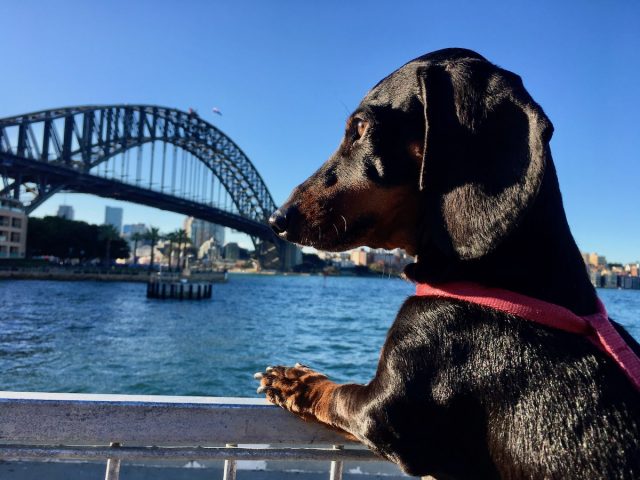 Dog-Friendly Sightseeing in Sydney
While naturally many popular sightseeing options in Sydney are off limits to dogs, whether that's climbing the Harbour Bridge or lazing on the sand at Bondi Beach, there's still plenty of dog-friendly sightseeing options in Sydney.
Looking for dog-friendly beaches, parks and walks in Sydney? I've detailed some of my favourite options below.
Also don't miss my gigantic list of 35 dog-friendly days out around Sydney – there's sure to be plenty of fun things that you've never done before with your pup!
Dog-Friendly Beaches in Sydney
Considering how many beaches there are in Sydney, unfortunately not many of them allow dogs. However, there are a few options to consider. I've put together a complete list of all the dog-friendly beaches in Sydney, plus a guide just to dog beaches on the Northern Beaches, with these some of my favourites:
Rose Bay Beach (Rose Bay) – The closest dog-friendly beach to the city, this harbour beach allows dogs off-leash all day long.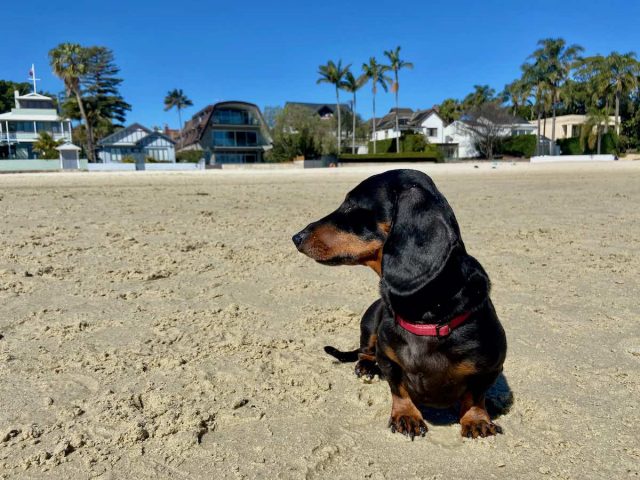 Silver Beach (Kurnell, near Cronulla) – One of Sydney's southern-most beaches, dogs are allowed on one section of this beach at the western end. There's a tap and bubbler for humans, and a water bowl for dogs. Best of all, it's off-leash 24 hours and the waters are calm due to being in Botany Bay.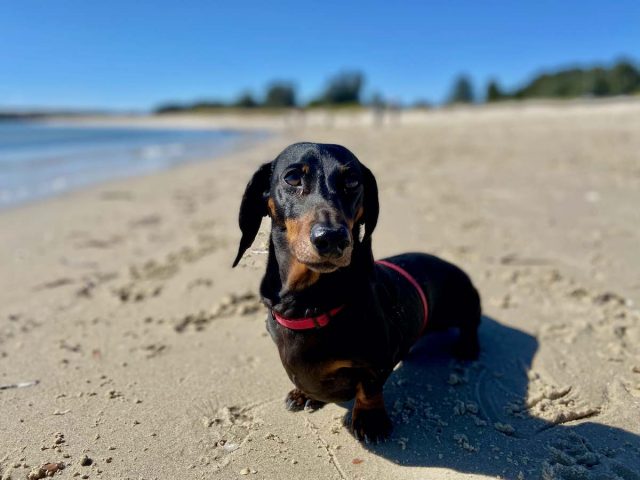 Sirius Cove Reserve (Mosman) – Another harbour beach but this time on the northern side, this stretch of rocky sand is next to a great park for picnics. Dogs are allowed off-leash all day on weekdays, or after 4pm and before 9am on weekends and public holidays.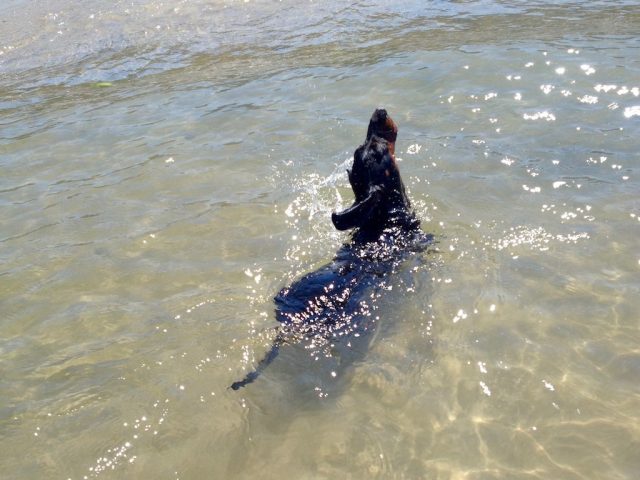 Rowland Reserve (Bayview) – Located about one hour north of the CBD on the beautiful Pittswater, this reserve is particularly popular with larger dogs. Handily, a mobile dog wash often operates here, plus it's just across the water from the Newport with its large dog-friendly beer garden.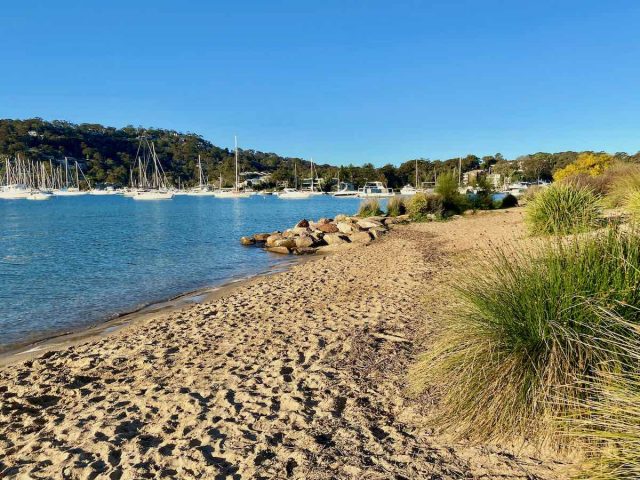 McCauley's Beach (Thirroul) – Just over an hour south of Sydney, this beach is great for a day trip along the beautiful coast. Dogs are allowed off leash all day, but just pay attention to the signage as the adjacent beach only allows off-leash dogs during restricted hours.
Dog-Friendly Parks in Sydney
For some off-leash fun with your dog, luckily there's far more off-leash parks and reserves in Sydney than beaches, although the number varies from area to area. Local councils set the rules, with a few councils allowing dogs off-leash in all parks by default, while some councils only permit dogs off-leash in one or two parks.
Dog-Friendly Parks in Central Sydney
If you're visiting the city centre of Sydney, these are some of the most convenient dog-friendly parks to visit:
Cook + Phillip Park (CBD) – Tucked away in behind St Mary's Cathedral, this is the most central off-leash dog park in Sydney. Dogs are allowed on all grassed areas, just keep them outside of the playground and the indoor swimming pool area.
Observatory Hill Park (CBD) – This is another off-leash dog spot in the city, not far from the start of the Sydney Harbour Bridge and the Walsh Bay precinct. Just be careful of wedding parties taking photos on the weekend who might not be happy about overly-friendly pooches!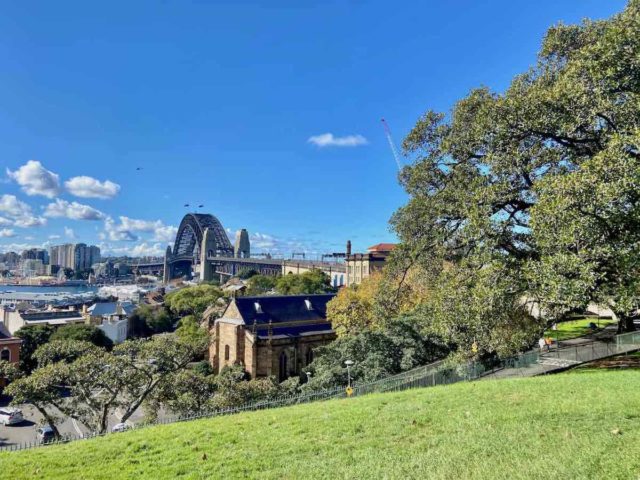 Barangaroo Reserve (CBD) – While dogs need to remain on leash at Barangaroo Reserve, it's still a beautiful option to exercise dogs right in the city next to the harbour. There's a mixture of harbour-side paths and large expanses of grass.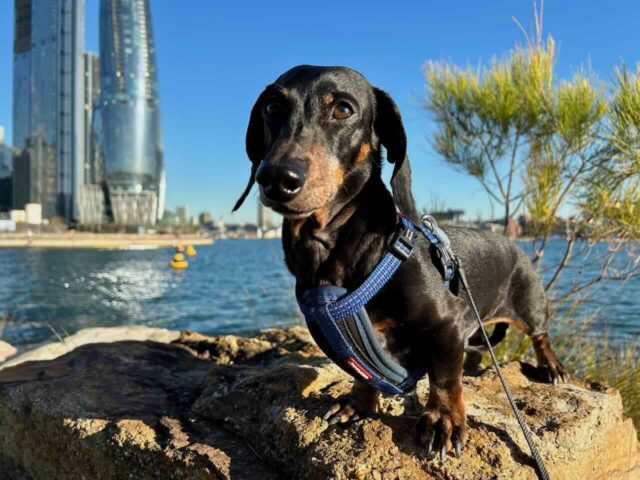 For a full listing of off-leash dog parks in the centre of Sydney, including some small neighbourhood parks, check out the City of Sydney off-leash dog park listing.
Best Off-Leash Dog Parks in Sydney
Further out from the city centre, whether in the inner city suburbs or the distant outskirts of Sydney, these are some of the best off-leash dog parks in all of Sydney:
Centennial Park – Located about 3km east of the Sydney CBD, this is one of the best dog-friendly parks close to the city. A huge expanse with everything from duck ponds to horse-riding to sports grounds, 43% of the park allows dogs off-leash, with the most popular areas being Sandstone Ridge and Federation Valley. Check out this page first or the signage at the park.
Glebe Foreshore Parks (Glebe) – Head down the end of Glebe to Blackwattle Bay and you'll find multiple parks that merge together along the edge of the bay. Dogs are allowed in all of the park, except for sporting fields and playground areas. But they are only allowed off leash in certain sections – west of the canal and the walk along the foreshore towards the Fish Markets. The signage along the way is pretty clear.
Sydney Park (Alexandria) – Just south of Sydney, the best off-leash dog park is the large Sydney Park, close to St Peters train station. Dogs are allowed off-leash all day, except for in some small sections like the playground and near barbecue areas. There's even a "pet pool" for dogs to have a splash, although at times it's more of a shallow mud bath.
Shale Hills Dog Park (West Hoxton) – I love this option for dogs in the southwestern suburbs of Sydney. This park is huge but fully fenced. It has a smaller fenced area for smaller dogs, plus an agility course and training stations to help train your dog. For more information, click here.
What About the Botanic Gardens in Sydney?
Unfortunately, unlike the botanic gardens in Melbourne, which allows pets on a leash inside, the Royal Botanic Garden in Sydney does not allow dogs at all. This is clearly signposted at the entrance. On the other hand, the adjacent Domain parklands do allow dogs, but on a leash.
The same rules apply at the Australian Botanic Gardens Mt Annan and Blue Mountains Botanic Garden Mt Tomah, i.e. dogs are not permitted. If you're looking for gardens in NSW that welcome dogs, check out this list of dog-friendly gardens, including botanical gardens.
Dog-Friendly Walks in Sydney
Despite being a big city, Sydney is surrounded with pockets of bushland, perfect for short (or long!) bushwalks. Unfortunately, much of the bush is national park, meaning that dogs are strictly not allowed. There are luckily though a few walks that are still open to dogs.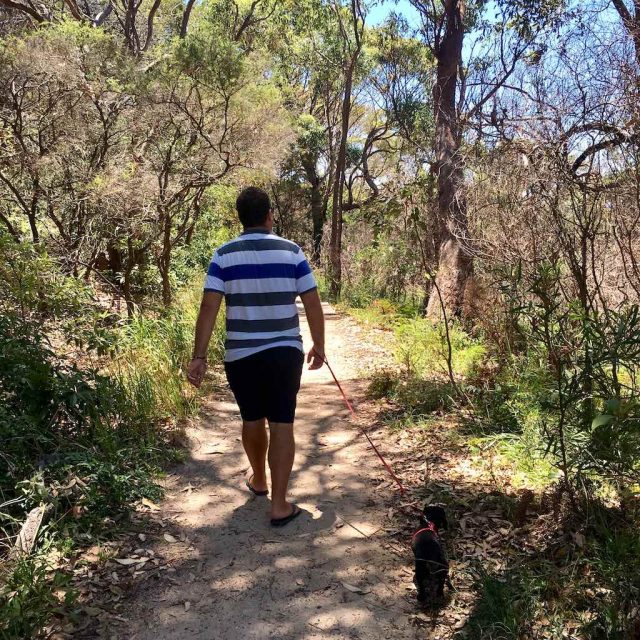 For lots of ideas, check out my list of dog-friendly walks in and around Sydney. These are some of my favourite options, ranging from coastal walks to bush walks:
Bondi to Coogee Walk – This 6km walk in the Eastern Suburbs is one of the best things to do in Sydney, and it's perfect for doing with your dog, as long as you don't detour via the beaches and keep your dog on a leash. (They're some of the busiest beaches in Sydney, so dogs are generally not allowed.)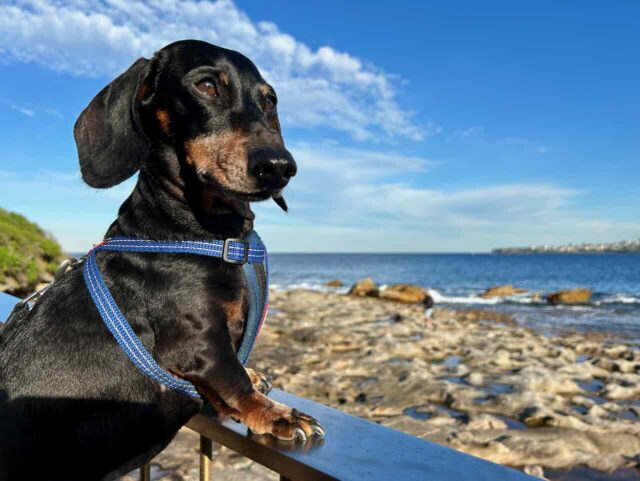 It's best done early or late in the day in summer, to avoid the midday heat, or any time of day over the winter. There's also plenty of casual cafes along the way. Check out my guide on walking it with a dog, or for more tips check out this guide.
Manly Dam Circuit (Manly Vale) – This is one of the longer bushwalks that it's possible to do in Sydney that allows dogs. The total circuit is 7.3km and takes about 3 hours. Dogs are allowed on the trail on a leash, but confusingly not in the carpark at the start of the walk.
Some dogs may also find it tricky to cross the mesh walkway above the dam wall at the end of the walk. For both reasons it might be best to park just outside on King St and detour around the carpark and dam wall section. Click here for more details.
Lake Parramatta Reserve (North Parramatta) – A beautiful area of bushland just near Parramatta, with a free carpark at the entrance. The full circuit around the lake is 4.2km, while there are also 2 shorter walks available (that are part of the full circuit). Dogs are allowed on a leash, and must remain on established walking trails. Click here for more details.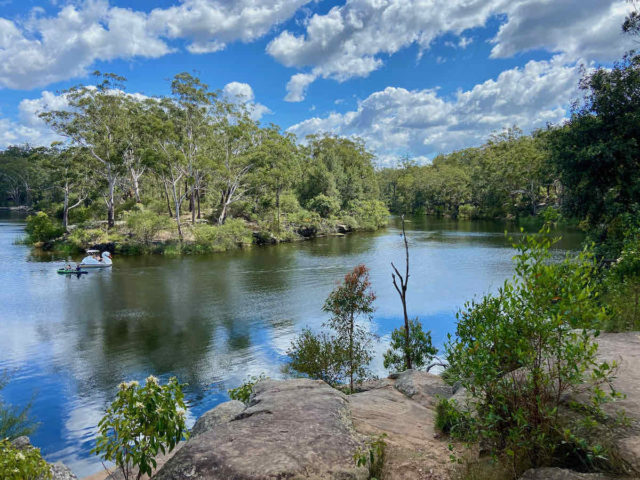 (Just a warning – many councils use baits for controlling foxes and other wild animals. Always check for signs before entering bushland with your dog, and avoid if baiting is currently occurring.)
Dog-Friendly Transport in Sydney
Public transport in Sydney isn't that dog-friendly. For starters, dogs are not allowed at all on the trains, which are usually the quickest way to get in and out of the city.
When it comes to buses, light rail and ferries, dogs are only allowed if they are in a container/bag and at the discretion of the driver. Check out the full list of rules.
Taking a Dog on the Bus in Sydney
If you want to take your dog on the bus in Sydney, you'll need to follow some rules. Firstly, your dog will need to be confined in a container or bag, not just on a leash. For photos of my carrier bag, and a similar bag you can buy on Amazon, see this article.
You'll also need to ask the driver for permission. The most likely reason you'll be refused permission (assuming your dog is in a carrier) is if the service is reaching capacity. Animals should also not be vicious or be likely to annoy other passengers, plus not be put on seats or obstruct passageways.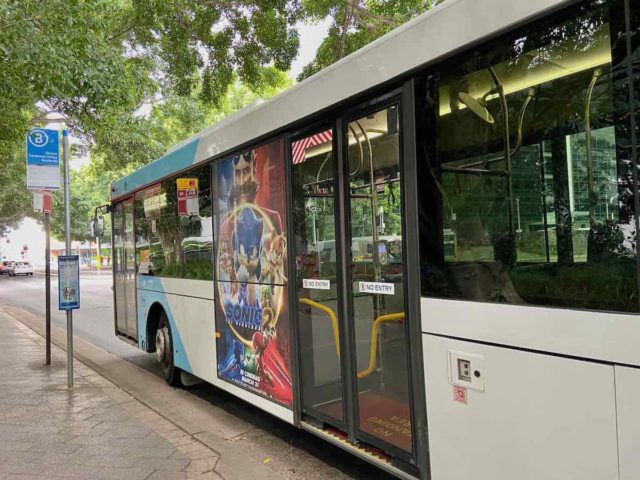 I lived in Sydney for many years before taking my dog on the bus for the first time, mainly as I didn't even realise it was allowed. I've since taken my dog on a bus multiple times, travelling outside peak-hour, carrying my dog in his enclosed carrier and asking the bus driver, and haven't been turned down.
I have heard from other people that their dog hasn't been allowed on board, but usually they haven't had their dog in a carrier bag.
Taking a Dog on the Ferry in Sydney
In recent years, pet dogs were often allowed to travel on Sydney ferries wearing just a leash, even though the rules for pets on Sydney ferries are almost identical as for Sydney buses. However, after one or two incidents, from July 2021 it was reported that ferry staff would once again enforce the rule that only dogs in a carrier are permitted.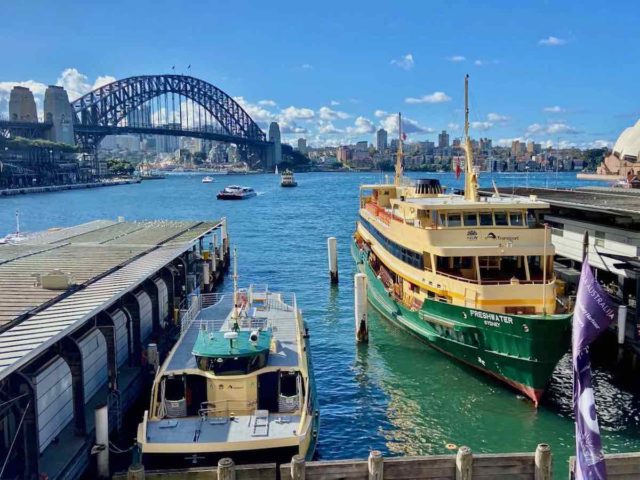 The rules are more relaxed though on the privately-run Palm Beach Ferries. Dogs of all sizes are allowed outside on a leash on the ferries that connect Palm Beach with the Pittwater and Ettalong on the Central Coast.
Check out my full guide to the rules for dogs on other ferries in Sydney.
Dogs in Taxis and Ubers in Sydney
When it comes to taxis and Ubers, it's actually up to the discretion of the driver. With Uber, the Uber Pet option is now available Sydney, which allows your pet on board for a slightly higher rate.
If booking a taxi or other type of rideshare, mention that you have a pet when making the booking.Plus keep in minds that it is law to restrain dogs with a seat belt or other means.
Dog-Friendly Dining in Sydney
Sydney has plenty of restaurants and cafes that allow dogs in outdoor eating areas, such as on sidewalks or in beer gardens. There are also a handful of places that may allow dogs inside to dine, in particular inner-city pubs.
However, this is a grey area under Australian food safety regulations. Every now and then local councils crack down on the venues, although there are tentative moves to change this in the NSW parliament.
For now, head outside to dine with your dog in Sydney. Although keep in mind that permission for your dog to join you at outdoor dining areas isn't guaranteed (I have been turned away from at least one restaurant with a huge outdoor area out the front), so it's best to check before taking a seat.
Top Dog-Friendly Cafes in Sydney
Some of my favourite dog-friendly cafes in Sydney include:
The Grounds of Alexandria (Alexandria) – An inner west institute with it's own barnyard animals and regular special displays in the gardens. Either dine at the terrace of the cafe or pick up a BBQ feed outside in the garden on weekends. Just be warned it is very busy on weekends, and it can be difficult to find parking nearby.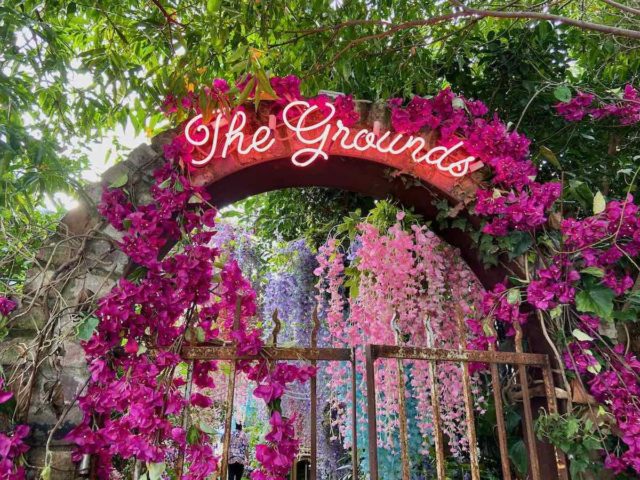 The Greens (North Sydney) – Opened by the same team behind the Grounds, this former traditional bowling club with harbour views has been spruced up, and has an excellent large outdoor dining and drinking area, with dogs welcome.
Frenchy's Cafe (Mosman) – Overlooking the harbour and next to a great walk in a rare section of dog-friendly bush, this cafe is perfect for French-style breakfasts and lunches. Dogs are welcome in their large outdoor area.
Top Dog-Friendly Pubs in Sydney
There's also no shortage of dog-friendly pubs to visit in Sydney, perfect for enjoying a drink and meal with your pup by your side. For a full list, check out my guide to dog-friendly pubs in Sydney, but these are some of my favourites:
The Newport (Newport) – A fabulous waterfront pub next to Pittwater in Sydney's north, there's a huge outdoor area that is dog-friendly. It can get busy, so it's recommended to book before the start of the weekend, particularly for larger groups.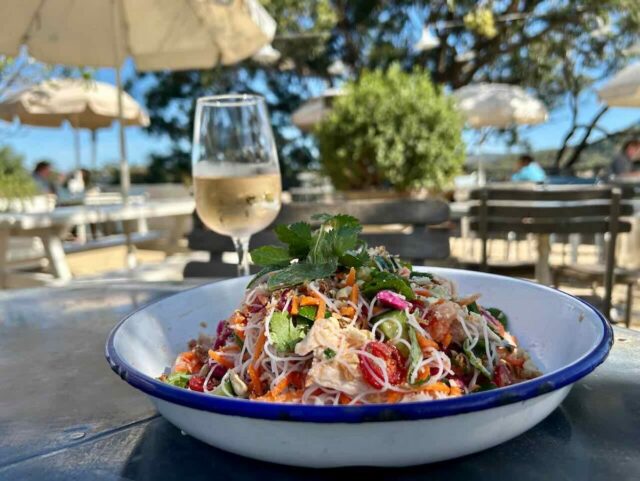 BrewDog (South Eveleigh) – The fourth BrewDog location in Australia, and the only one in Sydney, this massive venue at South Eveleigh serves up a range of burgers and meals, complemented by an extensive range of craft beers. Dogs are welcome in the large outdoor area, plus in the bar section inside.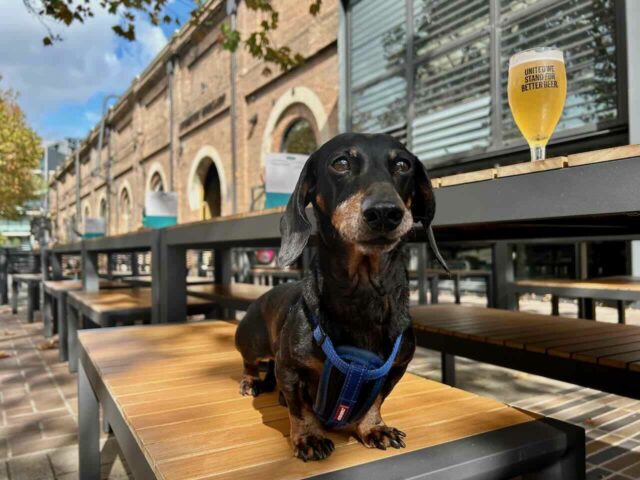 The Carrington (Surry Hills) – Surry Hills is home to multiple dog-friendly pubs, but one of the most dog-friendly is The Carrington. This laid back pub on Bourke Street has both outdoor and indoor dog-friendly spaces, and a section for the menu just for dogs. Maybe steak and veg tonight, for your pup?
Extra Dog-Friendly Cafes in Sydney
There's also some cafes across Sydney that are specially dog-friendly, with treats and drinks for pups, as well as usually coffee and some other options for humans too. Check out these cafes together with your pup:
Cafe Bones (Leichhardt) – Claiming to be the world's first dog-friendly cafe, stop by this kiosk-style at an off-leash dog park for a puppyccino and treats for your dog and some delicious-looking food for humans, too.
Puppy Tail Cafe (Lane Cove West) – The new outlet from the previous owner of Chew Chew in Wollstonecraft, this kiosk is conveniently located next to the fenced dog park in Blackman Park, with both the dog treats and human coffees very popular with dog walkers.
Dachshund Coffee (Hunters Hill) – All types of dogs, not just Dachshunds, are allowed in the outside area of this small cafe in Hunters Hill. As well as plenty of brunch-style options for humans, they also offer "doglato" and a lamb roast treat for dogs!
Naked Brew (Erskineville) – A popular brunch spot in Erskineville, dogs are welcome at the outdoor tables (our pup was even invited inside if he stayed in his bag!) There's an entire menu for dogs, from doggie-chinos to waffles to doggie ice-cream.
Cafe Lost and Found (North Sydney) – A botanically-inspired cafe in North Sydney, head there on Sunday afternoons for their Doggy High Tea (advance bookings essential). On other days of the week they still offer up dog treat platters and puppuccinos.
For more details of these and other cafes, check out my guide to extra dog-friendly cafes in Sydney.
Dog-Friendly Accommodation in Sydney
The hardest part about visiting Sydney with a dog is finding accommodation. Considering that many people renting in Sydney find it hard enough to find apartments and houses that allow dogs, finding a hotel room or Airbnb is even harder.
However, the number of hotels in Sydney that allow pets is growing. In particular, there are quite a few boutique hotels that have some dog-friendly rooms. For a complete listing of where to stay with your pup in Sydney, that I regularly update, check out my guide to dog-friendly hotels in Sydney.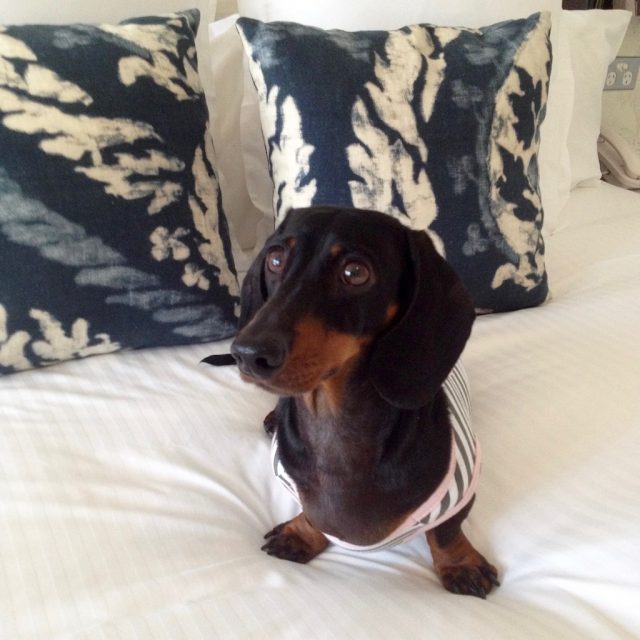 Due to the limited availability of both pet-friendly hotels and rooms, make sure you book well in advance, especially over the summer peak period. Additionally, keep in mind that at these hotels you generally cannot leave dogs in the rooms unattended. Most hotels also charge an additional rate for pets, whether per night or pet stay.
As there aren't many affordable pet-friendly hotels in Sydney, a decent alternative is to stay at an Airbnb. Check out my guide to staying in a pet-friendly Airbnb, with tips on staying in an Airbnb for the first time with your dog.
You May Also Like
Inspired? Pin this to your Pinterest board!