The most dog-friendly beach in Sydney's East is Rose Bay Dog Beach. Officially known as the Rose Bay Foreshore, or simply "Rose Bay Beach" on Google Maps, this dog beach is the best spot to head with your pup for fun on the sand and swims in the harbour if you live in the Eastern Suburbs or inner suburbs of Sydney.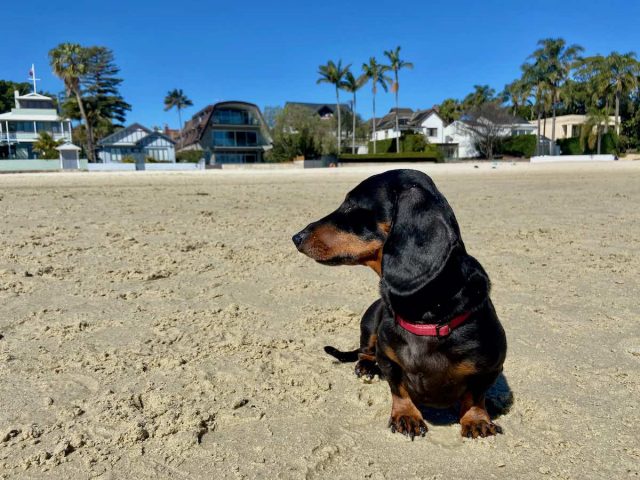 Location of Rose Bay Dog Beach
Rose Bay Dog Beach is located in the Eastern Suburb of Rose Bay, along the southern shore of Sydney Harbour. The off-leash section of beach is located in between Percival Park and Dumaresq Reserve.
Note that dogs are not permitted in Percival Park, so it's best to access the beach from Caledonian Road or Dumaresq Reserve (if the nearby section of sand isn't completely covered with water!)
When Are Dogs Allowed on Rose Bay Dog Beach?
There are no time restrictions for dogs visiting Rose Bay Dog Beach, with dogs allowed off-leash all day long – part of what makes it such as great dog-friendly beach!
Note that if you are also visiting the adjacent Dumaresq Reserve, dogs are only allowed off-leash before 8:30am or after 4:30pm. During the day dogs need to be kept on a leash until on the beach.
To double check the latest rules, check the local streets signs or check this page.
Tips for Visiting Rose Bay Dog Beach
It's best to access Rose Bay Dog Beach from the end of Caledonian Road, as sometimes the sand in front of Dumaresq Reserve is covered by the water. Parking on the nearby streets can be tricky no matter what day of the week. Your best bet is probably the carpark nearby on Dover Road.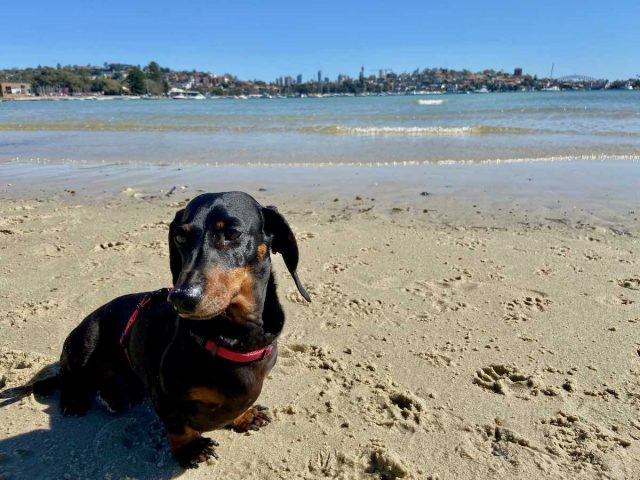 Dog-Friendly Cafes Near Rose Bay Dog Beach
Before or after heading to the beach, take a walk along New South Head Road to near the ferry wharf. Both Sugar & Spoon Cafe and Jezve Coffee are dog-friendly at selected tables.
Jezve Coffee is currently open until 6pm on weekends, perfect for a late-afternoon coffee by the water with your pup, as you watch the seaplanes come and go.
What Else to Do Near Rose Bay Dog Beach
As well as frolics on the beach, Rose Bay Beach is the perfect location for Stand-Up Paddleboarding. If you have your own board (or hire a dog-friendly one), head out on a SUP with your pup.
Not far away from Rose Bay is the start of the Federation Cliff Walk. This 5km-long dog-friendly walk between Dover Heights and Watsons Bay is a fun outing with your pup, whether you complete the entire cliff-top walk or just one stretch.
During the summer months, the walk is best done during the cooler hours of the day. Then, perhaps cool down at Rose Bay Dog Beach afterwards?
Alternative Dog-Friendly Beaches
There's a second stretch of dog-friendly beach in Rose Bay at the western edge of the suburb. Known as "Bellamy Beach" on Google Maps, it's adjacent to Rose Bay Park, in between the Rose Bay and Point Piper marinas. However, dogs are meant to remain on leash both in the park and on the beach.
Two other small beaches in the Eastern Suburbs that also allow dogs on them are Kutti Beach in Vaucluse and Lady Martin Beach in Point Piper. However, dogs need to remain on leash, and parking is difficult at both beaches.
For the latest off-leash areas in the area, check out the Woollahra council website. There are plans to potentially increase the number of off-leash beaches.
You May Also Like
About the Author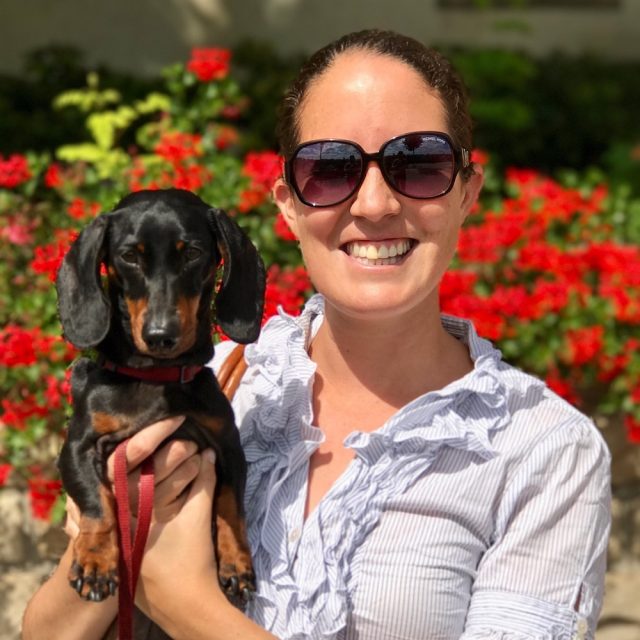 Shandos Cleaver is the founder of Travelnuity: Dog-Friendly Travel. She has travelled extensively with her Miniature Dachshund, Schnitzel, including to 33 countries across Europe, every state and territory of Australia except Tasmania, and 10 of the United States. She's passionate about providing inspiration and information to others wanting to travel with their dogs, whether close to home or internationally.