The Northern Beaches of Sydney are home to a beautiful string of beaches, from Palm Beach south to Manly Beach, plus harbour beaches such as Clontarf. Unfortunately though, the majority of these beaches on the Northern Beaches are not dog-friendly beaches.
For starters, currently there are no dog-friendly ocean-facing beaches on the Northern Beaches. Although this may change soon, with plans for a trial of a dog beach at Mona Vale Beach.
But if you know where to look, there are quite a few dog beaches on the Northern Beaches, whether on the calm waters of Middle Harbour and Pittwater, or at lagoons behind the ocean-facing beaches. Check out these dog-friendly beaches on the Northern Beaches of Sydney…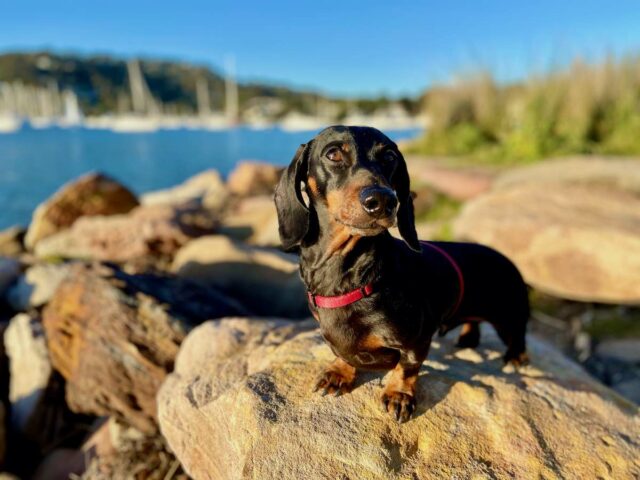 Proposed Dog Beach at Mona Vale South
An exciting development for dog owners on the Northern Beaches is the proposal for an off-leash dog beach at the southern end of Mona Vale Beach. This beach would be the first ocean-facing beach on the Northern Beaches of Sydney, and the only one in all of Sydney other than Greenhills Beach at Cronulla.
This proposed dog beach would operate between 5:30am and 10am then 5pm to 9pm during daylight saving hours. Over the winter months the hours would be modified to 6am to 10am during the morning, then 4pm to 7pm during the evening.
An extensive consultative period has taken place since 2020, with a final decision expected to be arrived at during 2023. Keep checking during 2023 to see if the dog beach goes ahead! Note however, that initially it would just be a 12 month trial.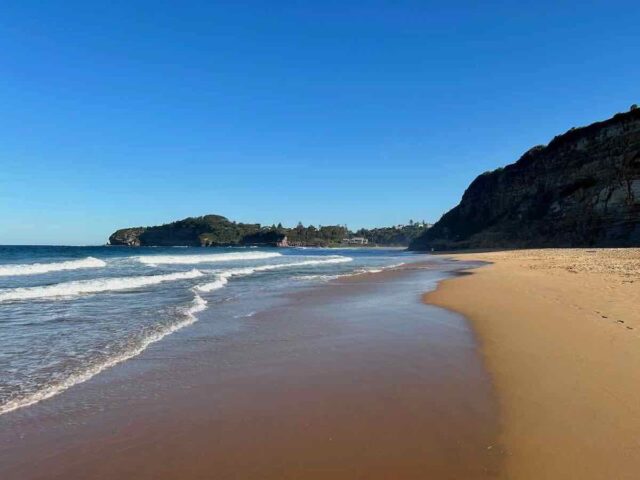 Proposed Dog Beach at Palm Beach
In addition to the proposed off-leash dog beach at Mona Vale, there is also a proposal for an off-leash dog beach at the northern end of Palm Beach. This off-leash dog beach would operate with the same hours, and a decision is expected to be made at the same time.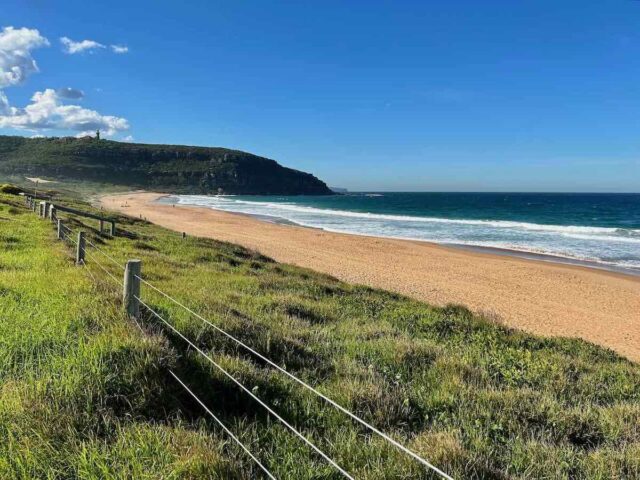 This off-leash dog beach would replace the earlier on-leash dog beach that briefly operated at Station Beach at Palm Beach during 2020, until it was ruled that the council's resolution to allow on-leash dogs was invalid as the proper processes were not followed.
Meanwhile, consider visiting one of the six existing dog beaches on the Northern Beaches, that you can visit with your dog for a paddle in the water or a romp on the sand, in order of popularity…
#1 Rowland Reserve, Bayview
Probably the most popular off-leash dog beach on the Northern Beaches of Sydney is at the suburb of Bayview, on the calm waters of Pittwater. The beach is located at the Rowland Reserve Dog Park, or just search for "Bayview Dog Park" on Google Maps.
As well as a large grassy reserve, dogs are welcome to paddle off-leash in the adjacent waters of Pittwater. There are no time restrictions, with dogs permitted off-leash all day long. And thanks to being located at the southern reaches of Pittwater, the waters are very calm, although more confident doggie swimmers can swim further out to deeper waters.
Try to park in one of the designated one-hour parking spots next to the off-leash area, as long as you're not planning on staying longer, otherwise parking can be expensive. Often a dog washing van is parked up nearby.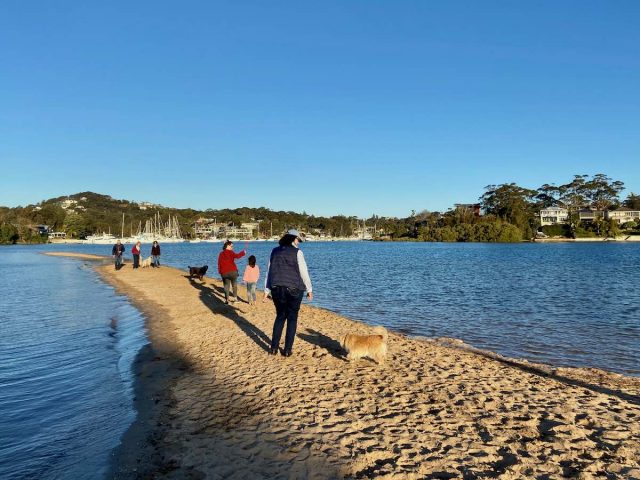 #2 Sandy Bay, Clontarf
Another popular dog beach at the far end of the Northern Beaches is Sandy Bay, or Clontarf Dog Beach. This dog beach is located on the equally calm waters of Middle Harbour, just north of the Spit Bridge where the Northern Beaches start.
The off-leash dog beach is located close to Clontarf Reserve, at the far end of Sandy Bay Road. Its official name is "Sandy Bay dog area" (or simply "Sandy Bay" on Google Maps). Both the sand flat plus the adjacent grassy verge are included in the designated off-leash area, with no time restrictions.
It's best to visit this beach at low tide, when the sand flat becomes a large expanse and dozens of dogs charge around and paddle in the shallow waters. If you visit closer to high tide, there is often only a narrow strip of sand. The water is usually sparklingly clean and calm.
Try to nab one of the few unticketed parking spots right next to the beach, otherwise there's plenty of expensive parking spots back along Sandy Bay Road and next to Clontarf Reserve (where dogs are not permitted on the sand).
Read more about visiting Sandy Bay Dog Beach
#3 Manly Lagoon, Queenscliff
Not surprisingly, dogs are not permitted on popular Manly Beach. However, there is a spot nearby where dogs can enjoy a paddle and a run on the sand. At the northern end of Manly Beach head to Manly Lagoon, in the suburb of Queenscliff.
Both Manly Lagoon Park and Lagoon Park West, also referred to as "Lagoon Reserve" on Google Maps, have been designated as off-leash dog exercise areas. While the off-leash area is mainly a grassy park, there's nothing stopping the many off-leash dogs enjoying the adjacent lagoon waters.
Just like the above off-leash dog beaches, there are no time restrictions for dogs at Manly Lagoon. However, as a lagoon, the water quality can be variable. Try to keep your dog out of the water (leashing them if you need to) after heavy rainfall.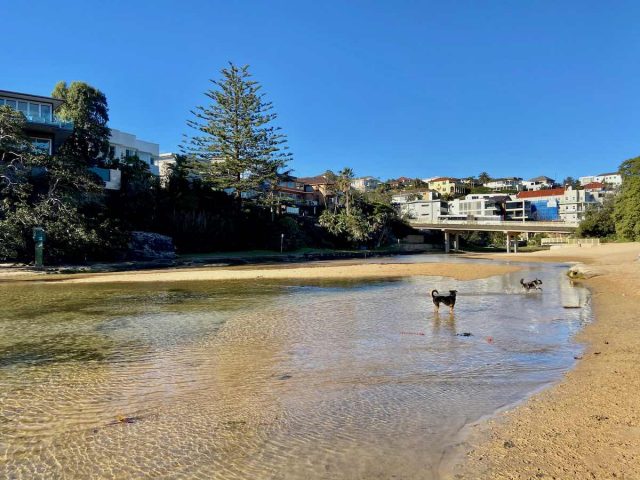 #4 Curl Curl Lagoon, Curl Curl
Heading further north, another lagoon on the Northern Beaches is also home to a great off-leash dog beach. This second lagoon is Curl Curl Lagoon, located just behind North Curl Curl Beach, a short drive north of Manly.
To access the dog-friendly beach, head to Flora and Ritchie Roberts Reserve on the southern side of Curl Curl Lagoon. Dogs are permitted off-leash in this reserve, with no time restrictions. A sandy beach runs alongside the lagoon, with many dogs enjoying a swim in the lagoon's waters.
Just like at Manly Lagoon, note that the lagoon can become polluted, particularly after heavy rain. Use caution and perhaps leash your dog, particularly if your dog likes to swim in the deeper waters.
A ticketed carpark next to the reserve is the easiest spot to park, but free parking is also available close by, at least on days that are not too busy. Note that dogs are prohibited from going onto the sand of the adjacent North Curl Curl Beach – a sign marks the boundary.
Find out more about visiting Curl Curl Lagoon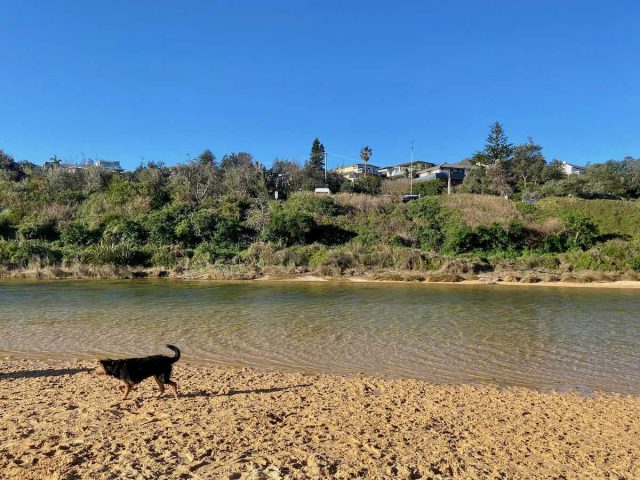 #5 Mackerel Beach, Great Mackerel Beach
The last proper off-leash beach on the Northern Beaches is Mackerel Beach, at Great Mackerel Beach. This beach is far more difficult to get to, due to its location on the western shores of Pittwater, surrounded by national park, with no road access.
Instead, the only way to get to this small waterside enclave is by boat – whether your own, or the ferries from Palm Beach. Luckily the Palm Beach Ferries allow dogs onboard, on the outside deck on a leash.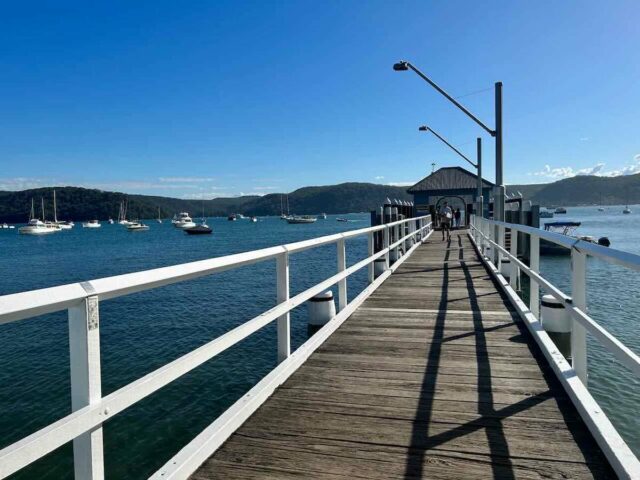 The Mackerel Beach Dog Area extends between the jetty where the ferry stops and the northernmost houses. Strangely, dogs are technically not permitted below the hide water mark or in the water, although I'm not sure if this rule is followed.
Note also that there are time restrictions at this beach. Dogs are only permitted off-leash between sunrise and 9:30am and then again between 5pm and sunset. Outside of these hours, they are still allowed on the beach, but must remain on a leash.
#6 McCarrs Creek Reserve, Church Point
Finally, the last spot where you can enjoy some sand and water with your dog on the Northern Beaches is at McCarrs Creek Reserve. This reserve is tucked in behind the suburb of Bayview on the edge of Pittwater.
The reserve has been trialling an off-leash area for dogs on weekdays (with no mention yet of an end date). Dogs are allowed off-leash all day long from Monday to Friday, in the signposted area west of the main access road into the reserve.
While not a proper beach, there is still a small beach along the start of the creek, offering the chance for water-loving dogs to have a swim.
You May Also Like