The capital and largest city of Northern Ireland, Belfast is an interesting destination to visit across the Irish Sea from the rest of the United Kingdom. Although the city has had a troubled history, it's a calm city to visit these days, and a great base for exploring the rest of Northern Ireland.
Find out more about what you can do with your dog when visiting Belfast and Northern Ireland, plus tips on taking public transport, dining out with your dog and accommodation.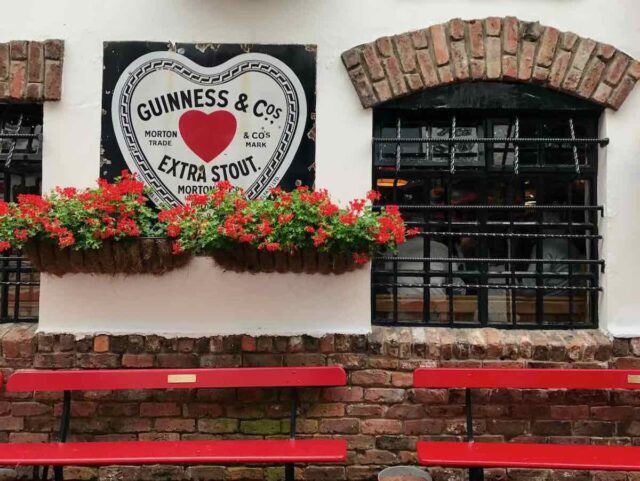 Note: This post contains affiliate links, which means I may receive commission if you make a purchase using the links. See my full disclaimer.
Travelling to Belfast with a Dog
If visiting Belfast and the rest of Northern Ireland with your dog from Great Britain, the easiest way is by taking a ferry across the Irish Sea. While no UK airlines (or Irish airlines) allow dogs to join you in the cabin, dogs can join you on most ferries.
In particular, I selected the quick Stena Line ferry from Cairnryan to Belfast as the most dog-friendly ferry to anywhere in Ireland. Although now that the Stena Line Ferry from Liverpool to Belfast has pet-friendly cabins – it's a close call!
Note that Northern Ireland is currently counted as being part of the EU for the purposes of pet travel. Technically, dogs travelling to Northern Ireland from Great Britain require a microchip, a valid rabies vaccine, a worming treatment and an animal health certificate. However, these checks have been indefinitely suspended, as of 2023.
For more details on these regulations and whether these checks might resume, plus a full list of transport options to Northern Ireland, including crossing from the Republic of Ireland, see my guide on travelling to Northern Ireland with a dog.
Dog-Friendly Sightseeing in Belfast
There's plenty of dog-friendly attractions located both within Belfast and in the surrounding countryside, easily accessible on day trips, particularly if you have crossed to Northern Ireland with a car.
Are Dogs Allowed in Titanic Belfast?
One of the most popular attractions in Belfast is the Titanic Belfast museum. Not surprisingly, dogs are not permitted to join you inside the museum. Instead, they can check out the stunning exterior with you and explore the surrounding Maritime Mile district on foot.
#1 Explore the City Centre
The city centre of Belfast is quite compact and best explored on foot, with your dog at your side. The city is centred on Donegall Square, the location of the Belfast City Hall.
The Belfast City Hall is one of the most impressive grand old buildings in the city, built between 1898 and 1906. It's possible to enter inside the City Hall for free, although of course this is off limits if you're visiting with a dog. But still check out the exterior of this heritage listed building.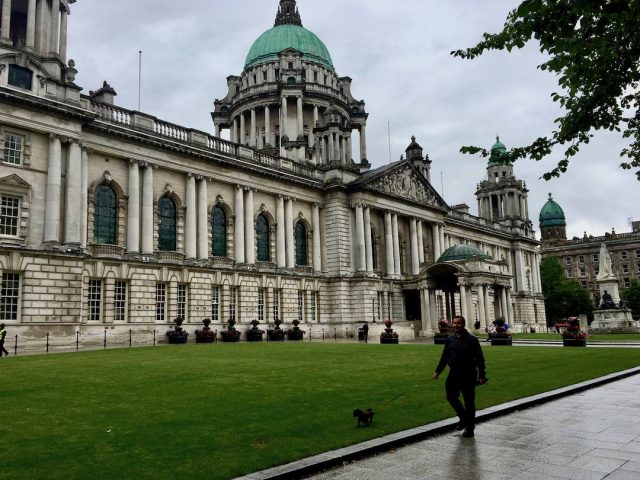 Close by is the atmospheric Cathedral Quarter, also home to many of the city's most iconic pubs. Unfortunately, many of the pubs are not dog-friendly – see further details below. It's fine though to still view their colourful exteriors and the nearby murals.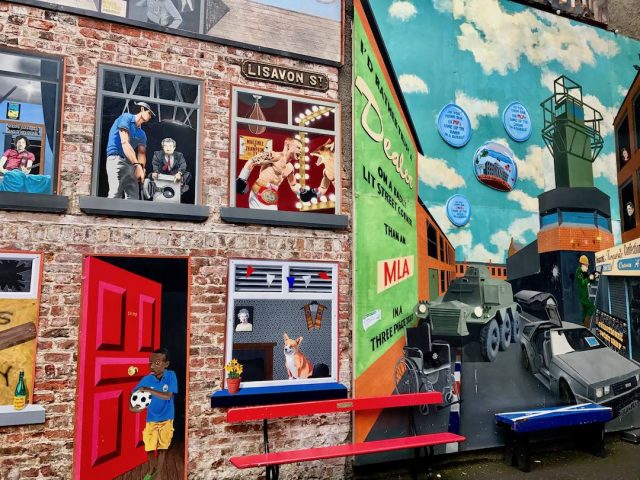 #2 Take a Tour of the City's Murals
As a visitor to Belfast, I believe it's important to learn more about the city's history, in particular the recent period known as the Troubles. It's hard to overlook this recent period of the city's history, thanks to the many colourful political murals that still cover many of the city's walls, both Catholic and Protestant murals.
It's possible to view the murals by yourself, in your own car, which is the option we selected, as I didn't expect any of the tours would allow our dog to join us. However, I have since discovered that many of the Black Taxi Tours will allow dogs to join you, if agreed upon in advance.
The benefit of taking a guided tour is that you can learn much more deeply about the murals and Northern Ireland's political and religious tensions, often by someone who grew up during the Troubles.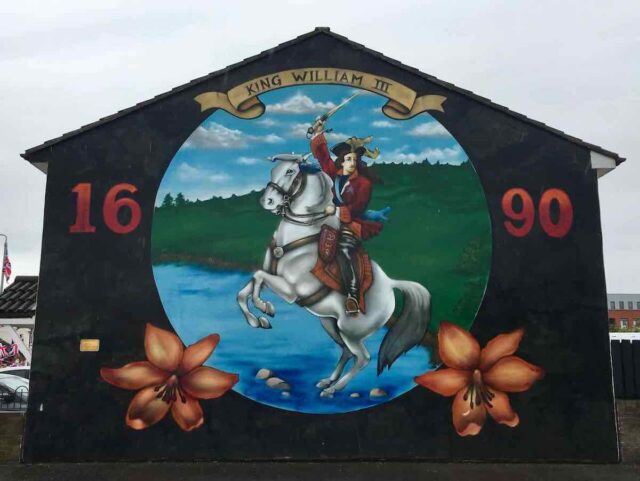 #3 Stroll Around the Botanic Gardens
One of the best spots to go for a walk with your dog in Belfast are the Botanic Gardens. First established in 1828, these extensive gardens to the south of the city are criss-crossed by a network of paths. Some of the highlights include the rose garden, an alpine garden, the Palm House and the Tropical Ravine.
Dogs are allowed in the Botanic Gardens, but need to be kept on a leash, just like other parks in Belfast. Double check if this also extends to the Palm House and the Tropical Ravine before entering.
#4 Walk Up Divis Mountain
For a walk in wilder surroundings with your dog, head to Divis and the Black Mountain, an area of countryside just to the west of Belfast owned by the National Trust. Encompassing the Belfast Hills, the area provides spectacular views back over Belfast.
One of the best walks is the challenging 3 mile loop trail to the summit of Divis Mountain, the highest of the Belfast Hills, which takes about 90 minutes to complete. Alternatively, the 4.2 mile circular Ridge Trail also offers wonderful views – allow about three hours.
Dogs are welcome on leash on all walks, although keep to the trails to avoid disturbing nesting birds. Dogs are also welcome at the cafe, with water bowls provided for them. Entry to the area is free, with no charge at both the lower and upper carpark.
#5 Day Trip to the Giant's Causeway
One of the most popular day trips from Belfast is to the Giant's Causeway on the northern coastline of Northern Ireland. It's just over an hours direct drive, although of course you should drive at least one direction along the scenic Antrim Coast, part of the Antrim Coast and Glens Area of Outstanding Natural Beauty.
The Giant's Causeway is a stunning natural wonder of 40,000 basalt columns, that has been World Heritage listed. The site is currently looked after by the National Trust, with dogs allowed to join you.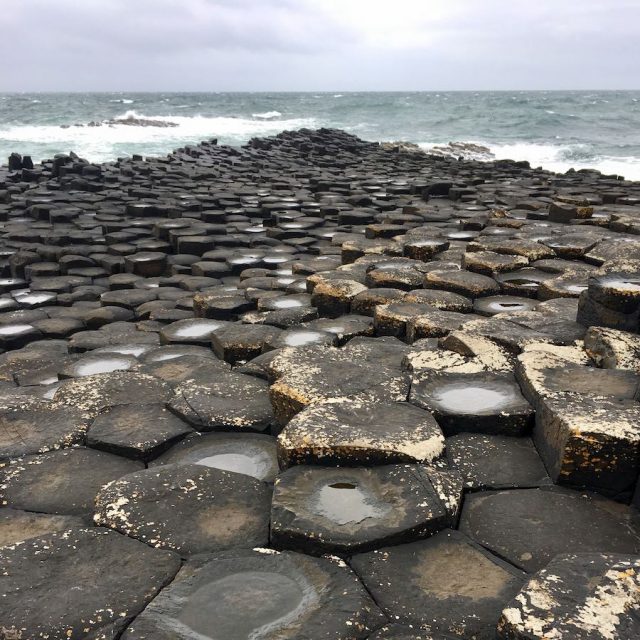 While it's free to visit, consider paying for the Visitor Experience ticket, which includes onsite parking, a guided tour, the use of an audio guide and access to the visitor centre. Advance bookings are recommended. Alternatively, if you'd like to walk to the site for free, there is an alternative paid carpark.
Dogs on a leash are welcome in all areas, including in the visitors centre and on guided tours. We even took the shuttle bus down to the site with our small dog.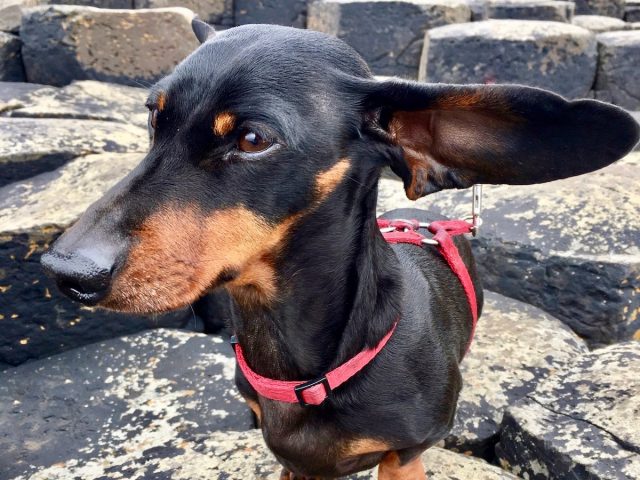 #6 Stop at the Dark Hedges
While driving to or from the Giant's Causeway, don't also miss stopping off at the Dark Hedges. This spot in the Northern Ireland countryside was made famous by a scene from Game of Thrones, and I highly recommend it as a picturesque spot for photos with your pup. We were even lucky to have it almost to ourselves, but maybe we just got lucky!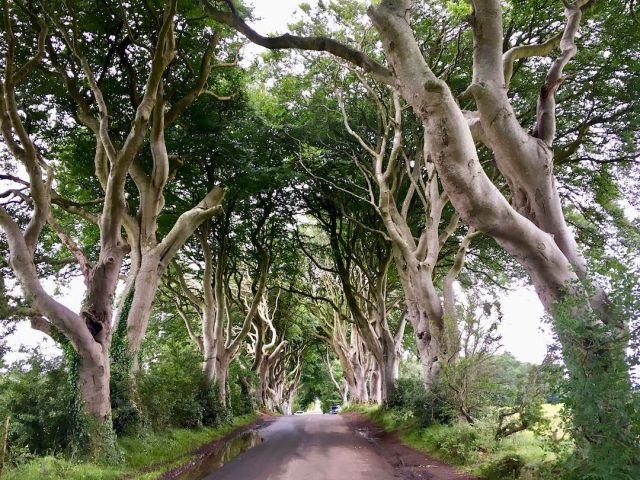 Dog-Friendly Parks in Belfast
When visiting parks and open spaces in Belfast, the Belfast City Council requires that all dogs are kept on a leash, the same as for all public places. There is also a limit of four dogs per person, and naturally you are required to clean up after your dog.
Dogs on Public Transport in Belfast
The main public transport provider in Northern Ireland is Translink. Translink operates the Metro and Glider bus services in and around Belfast, plus other bus and rail services across Northern Ireland.
According to the Conditions of Carriage, it's up to the discretion of the company to allow small dogs and other inoffensive animals onboard bus services. Naturally they must be leashed or in a suitable container, but travel free of charge. If it causes a nuisance, you may be asked to remove the animal.
On trains, dogs are not permitted onboard prior to 9:30am, any day of the week. Up to one dog per person can travel onboard after 9:30am, free of charge, at the discretion of a member of staff. There is no size restriction, but your dog needs to be kept under or around your seat, plus leashed or in a container.
We had a hire car when visiting Belfast (plus mainly walked around the city), so I can't comment on whether or not permission is likely to be granted.
Dog-Friendly Dining in Belfast
When visiting Belfast with my dog, I was surprised that some of the iconic pubs in Belfast's Cathedral Quarter are not dog-friendly inside, such as the Duke of York. This was a pity considering the on-off rain on the day we were exploring the area.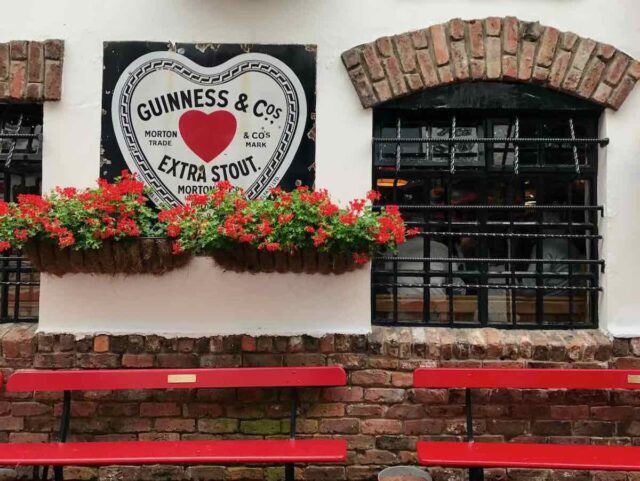 An alternative dog-friendly pub to head to nearby is The Dirty Onion, just around the corner in what's claimed to be Belfast's oldest building. Pups are allowed inside their extensive beer garden plus inside the pub on the ground floor, but not in the restaurant upstairs.
Some cafes in Belfast will allow dogs to join you inside, although more likely you'll only be allowed to sit outside. For a dog-friendly dining spot where dogs are allowed inside, consider heading to the Common Market. This street food market is open from Thursday and Sunday from midday, with dogs warmly welcome.
Dogs-Friendly Accommodation in Belfast
The majority of hotels in Belfast are not pet-friendly, and it's not that large a city, so make sure you organise pet-friendly accommodation in advance.
One of the most pet-friendly hotels in Belfast is the Hilton Belfast. Pets are allowed in selected rooms, for a flat £35 non-refundable fee. There is a generous size limit of 75lbs (34kg), plus a dedicated pet experience.
Another more affordable pet-friendly hotel in Belfast is the Bullitt Hotel. This hotel offers special "Dog Dens", each with a king-sized bed for you and a bed for your pup. A single dog up to 30lbs (13.5kg) is allowed, with no additional pet fee, although the rooms are slightly more expensive. Dogs are welcome to join you in the lobby and courtyard bar, but not in the restaurant or on the rooftop.
You May Also Like