The maritime city of Liverpool in the United Kingdom is located in North West England, on the banks of the Mersey River. With a long history and rich cultural and sporting traditions, it's a popular city to visit. However, how dog-friendly is Liverpool and what can you do when visiting Liverpool with a dog?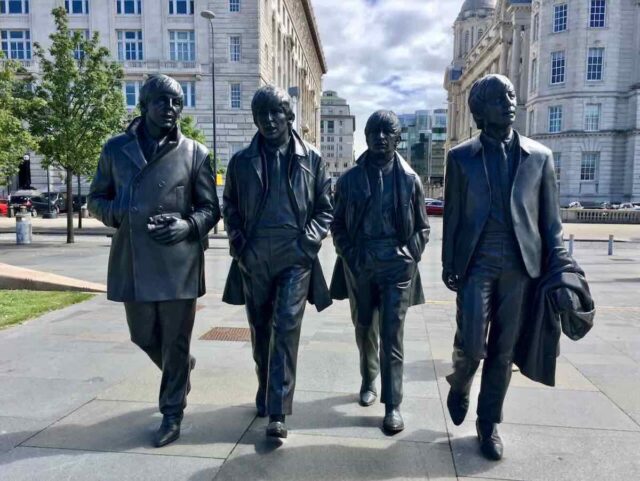 Dog-Friendly Sightseeing in Liverpool
Liverpool is home to a large number of museums and galleries, second only to London, which are unfortunately off limits to dogs other than assistance animals. When visiting Liverpool with a pet dog, instead add these dog-friendly ideas to your sightseeing agenda.
#1 Explore the Historic Waterfront
Liverpool has long been an important port and trade city in the UK, due to its location at the mouth of the River Mersey where it meets the Irish Sea.
Up until recently, it was listed on the World Heritage list as the Maritime Mercantile City, with six areas in its docklands and city centre inscribed. However, in 2021 it became one of the rare to be delisted sites, due to proposed developments on its waterfront.
Regardless, it's still impressive to wander along the waterfront of Liverpool with your dog, gazing up at the historic mercantile buildings, including the "Three Graces": the Royal Liver Building, the Cunard Building and the Port of Liverpool Building
#2 Enjoy a Cruise on the Mersey
Rather than just walk along the waterfront in Liverpool, head out onto the Mersey and put your feet up, taking in views of the iconic waterfront from onboard a river cruise, learning more about the city from the onboard commentary.
Mersey Ferries operates regular River Explorer Cruises. Each 50 minute cruise departs on the hour from Gerry Marsden at Pier Head, also stopping at the Seacombe Terminal in Wirral. Advance bookings online are recommended during busy periods.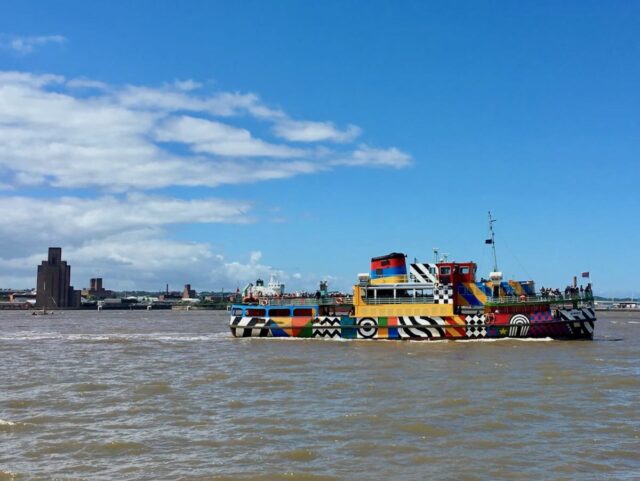 Pet dogs are welcome to join you on these short cruises, as well as the Commuter crossings, free of charge. Note that pet dogs are not allowed on the longer Manchester Ship Canal Cruise and Liverpool Bay Cruises, only assistance dogs.
#3 Follow in the Footsteps of the Beatles
Liverpool is also famous for being the home of the Beatles, with all four members of the band growing up in Merseyside and the city inspiring many of their songs. You can't visit Liverpool and not explore some of the sites linked to the Beatles!
While dogs aren't allowed inside the two museums in the city devoted to the Beatles, there are plenty of other attractions you can visit wit your dog. Check out the following:
Walk down Penny Lane in Allerton and Mossley Hill (and check out the statue of John Lennon nearby)
Peer through the red gates at Strawberry Field (only guide dogs allowed inside)
Visit the exterior of the legendary Cavern Club
Get a selfie with the Beatles statues at Pier Head
For more ideas, check out this list of the top Beatles locations in Liverpool.
#4 Play on a Sandy Beach
It's only a short drive from Liverpool to plenty of delightful sandy beaches along the shore of the Irish Sea, many dog-friendly.
Just to the north of Liverpool is Sefton and its 22 miles of coastline, including some great beaches. Dogs are allowed on each of the Sefton beaches, except for in these two signposted zones between 1st May and 30th September each year:
The 555m stretch of Southport Beach between the Pier and Pleasureland
The 400m stretch of Ainsdale Beach either side of the main beach entrance
On other beaches and outside of these times you just need to keep your dog under your control, away from birds and clean up after them. Some dog-friendly beaches to consider include Crosby Beach, Formby Beach and the remainder of Ainsdale Beach.
Crosby Beach is just a 15 minute drive north of the centre of Liverpool. Let your dog run free on its 3km long expanse of golden sand. It's also home to Anthony Gormley's intriguing "Another Place" sculptures, 100 iron men gazing off to the horizon.
Alternatively, head west and along the coastline into Wales, where there are some great dog-friendly beaches. West Shore Beach at Llandudno, an 80 minute drive away, was included in my guide to the best dog-friendly beaches in the UK. It's perfect for a dog-friendly day trip from Liverpool!
#5 Stroll Through Sefton Park
In the south of Liverpool lies the largest park in the city, Sefton Park. Originally part of the historic Royal Deer Park, these days the park is open to the public and one of the best places to go for a dog walk in Liverpool.
Take a stroll around the vast park and along the shores of its lake, admiring the many statues and monuments throughout the grounds. One of the highlights is the dome-shaped Victoria Palm House, open daily.
After your walk, stop off at the dog-friendly Oasis in the Park Cafe. There's plenty of outdoor seating and water bowls put out for dogs. I've even heard recent reports that you dog ice cream is also available!
#6 Visit Historic Speke Hall
On the edge of Liverpool lies Speke Hall, a National Trust property. A rare Tudor manor, its also surrounded by extensive grounds, including colourful gardens and semi-ancient woodlands, known for their bluebells.
While only assistance dogs are permitted inside the house, pet dogs are welcome to join you in exploring most of the grounds. Leashed dogs are allowed in most areas, except the kitchen garden, play areas, maze and Giant Childe of Hale trail.
Note that a ticket applies for entry to the grounds, except for National Trust members. The grounds are open daily, although the manor is closed on Mondays and Tuesday.
Dogs on Public Transport in Liverpool
Liverpool is served by an extensive network of public transport, including buses, trains and ferries. It's all under the umbrella of Merseytravel, but pet policies are stipulated by the individual operators.
Dogs on Buses in Liverpool
There are multiple bus operators in Liverpool, including Arriva Bus. Arriva Bus stipulates that dogs are permitted on buses, but it's up to the discretion of the driver. The other bus companies have similar policies.
Dogs on Trains in Liverpool
Trains in Liverpool are operated by the dog-friendly Merseyrail. Dogs, cats and other small animals are allowed onboard the trains, as long as they don't endanger or inconvenience other passengers or staff.
Up to two animals are permitted per passenger, with no charge of pets. Dogs are required to be on a leash if they aren't in a rigid pet carrier. If another passenger objects, you need to move to another part of the train.
Dogs on Ferries in Liverpool
Mersey Ferries operates Commuter crossings across the Mersey River, during the morning and evening (before and after their cruises). These direct crossings take 10 minutes in each direction.
Dogs are welcome onboard the crossings, free of charge. (Also see above for details about their dog-friendly River Explorer Cruises.)
Dog-Friendly Accommodation in Liverpool
Note: This post contains affiliate links, which means I may receive commission if you make a purchase using the links. See my full disclaimer.
During our visit to Liverpool, we stayed in an Airbnb just outside the city, run by a friendly couple. There's plenty of dog-friendly Airbnbs around Liverpool, but you can also choose from these dog-friendly hotels in Liverpool.
School Lane Hotel
This recently opened hotel is the sister hotel of Hope Street Hotel and the only independent hotel in the Liverpool ONE quarter. It's situated in an historic building, but has light and airy interiors. Call up to add a dog to your booking and confirm the nightly charge.
Ibis Styles Liverpool Centre Dale Street
This Ibis Styles hotel is one of the best value hotels in the centre of Liverpool. Just a five minute walk away from the Cavern Club, it's walking distance from all major sights. Dogs of all sizes are allowed for an additional charge of £10 per night.
Sefton Park Hotel
Set in a grand Victorian villa on the edge of Sefton Park, it'll be easy to take long walks through the park with your pup morning and evening. This dog-friendly hotel allows dogs of all sizes to stay with you, for an additional charge of £10 per night.
You May Also Like
About the Author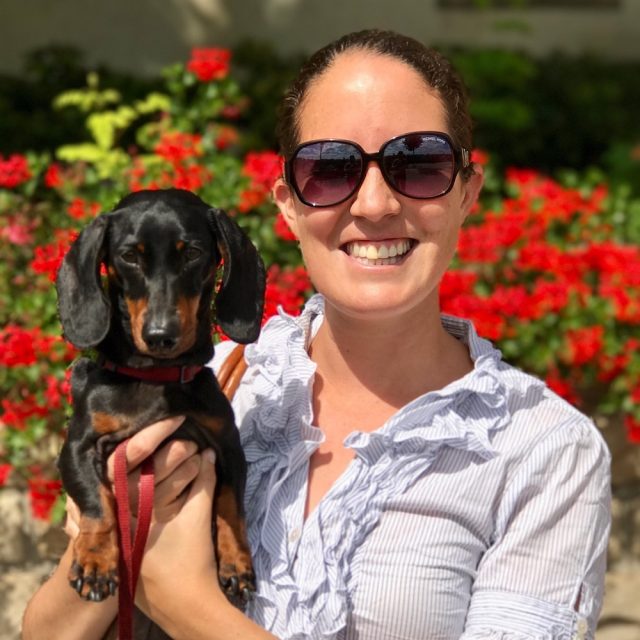 Shandos Cleaver is the founder of Travelnuity: Dog-Friendly Travel. She has travelled extensively with her Miniature Dachshund, Schnitzel, including to 33 countries across Europe, every state and territory of Australia except Tasmania, and 10 of the United States. She's passionate about providing inspiration and information to others wanting to travel with their dogs, whether close to home or internationally.