Bribie Island is a relaxing dog-friendly destination, just over an hours drive north of Brisbane. Located in between Moreton Bay and the Sunshine Coast, there's no need to take a ferry to this island, as it's connected to the mainland by a bridge. Home to one of the best dog-friendly beaches near Brisbane, it's great place to visit with your dog, whether for the day or a longer stay.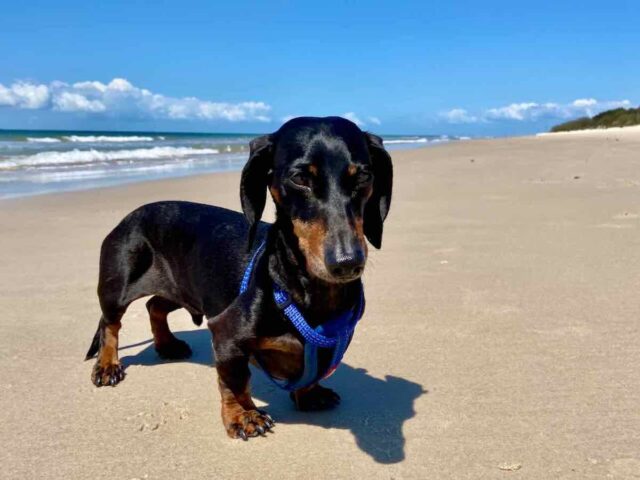 Are Dogs Allowed on Bribie Island?
Dogs are allowed on the majority of Bribie Island. In fact, Bribie Island is home to an excellent off-leash dog beach, plus multiple off-leash dog parks, dog-friendly cafes and more. However, there are parts of Bribie Island where dogs are not allowed.
Most of the northern part of Bribie Island is undeveloped. Here you can find the Bribie Island National Park and Recreation Area, including multiple campsites, with access usually only by 4WD or boat. Unfortunately, dogs are strictly prohibited from this national park, so skip visiting the northern part of Bribie Island with your dog.
Visiting Bribie Island Dog Beach
One of the top dog-friendly attractions on Bribie Island is it's wonderful off-leash dog beach, Woorim Beach South or Bribie Island Dog Beach. After visiting off-leash dog beaches all around the Brisbane region, I'd argue that it's the best dog beach around Brisbane.
Firstly, thanks to its location outside of Moreton Bay, don't expect mudflats, but instead beautiful golden sand. Plus, the Bribie Island Dog Beach is not a small exercise area that easily gets busy. Instead, the off-leash dog exercise section stretches for over 4km in length, in between Woorim Beach and Red Beach, making it the perfect spot for long off-leash walks, not to mention paddles and swims.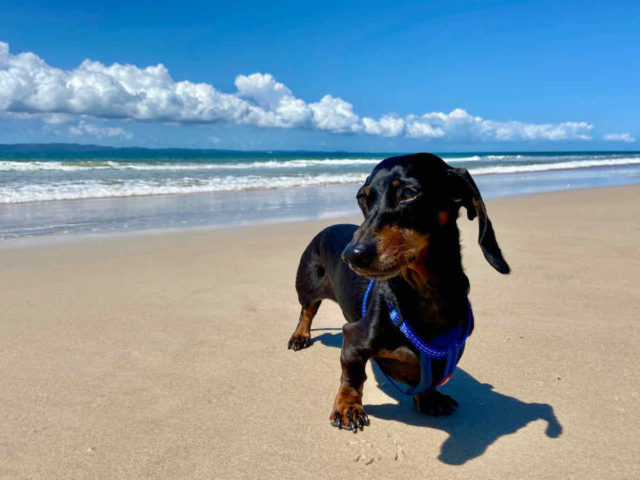 The easiest place to access the off-leash area is from the end of Lowry Street in Woorim. Dogs are allowed off-leash to the right hand side of the access point, next to the sand pumping station. There's also a handy dog washing area here, with a hose, bucket and water bowl.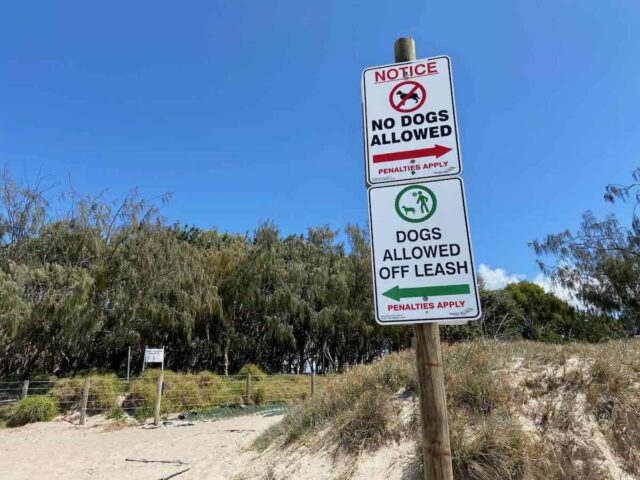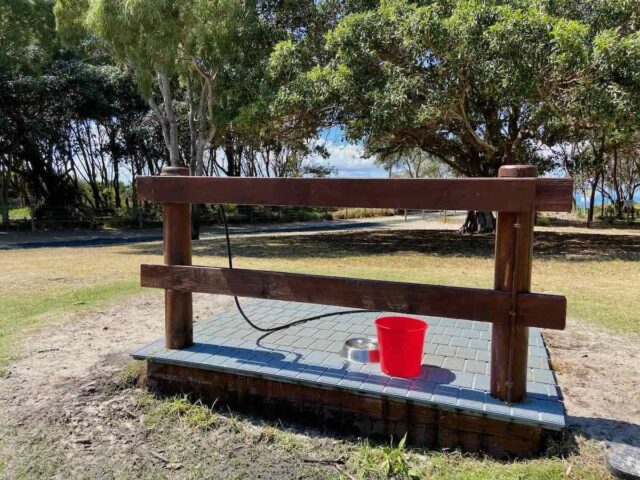 Alternatively, access the off-leash dog beach from Red Beach. On the eastern side of the first carpark, there's initially an on-leash only section for a few hundred metres, before you reach the off-leash dog beach. There's clear maps at the access points or check the map online in advance.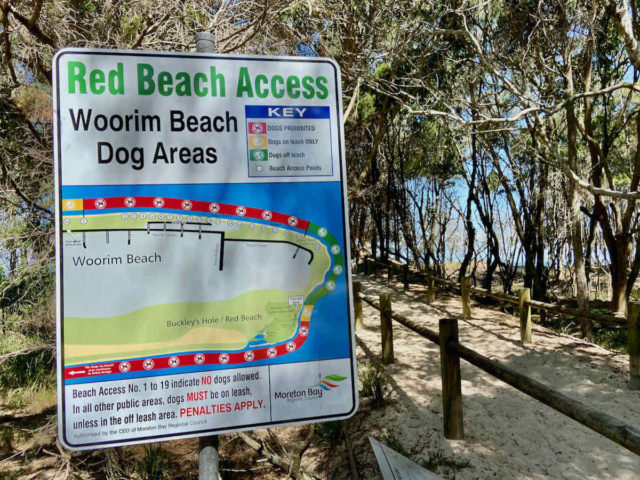 Woorim Beach is known as a surf beach, so northeastern end of Woorim Beach South can have some waves. However, on the day I visited they were very small, barely reaching 30cm high. The Red Beach end of the beach tends to be more sheltered and calmer.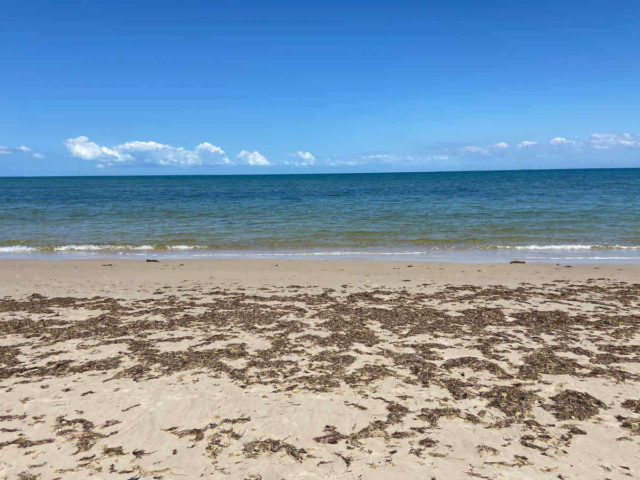 Other Dog-Friendly Beaches on Bribie Island
In addition to Woorim Beach South, there are a few other dog-friendly beaches on Bribie Island – dogs are allowed on-leash on two more beaches.
At the northern end of Woorim Beach, north of the main section where dogs are prohibited, dogs are allowed on-leash from the entrance at the northern end of North Street, heading north towards the 4WD access point.
Leashed dogs are also allowed on a section of the beach in Bellara, in between Boronia Drive and Marina Boulevard.
Dog-Friendly Parks on Bribie Island
If you want to allow your dog to run around off-leash without getting sandy and wet, there's two off-leash dog exercise areas located on dog-friendly Bribie Island.
A fenced off-leash dog park is in Bellara, close to the Bribie Bridge. It's located on Sylvan Beach Esplanade, adjacent to the Marine Parade roundabout. To easily find it, search for "Bellara Dog Park" on Google Maps.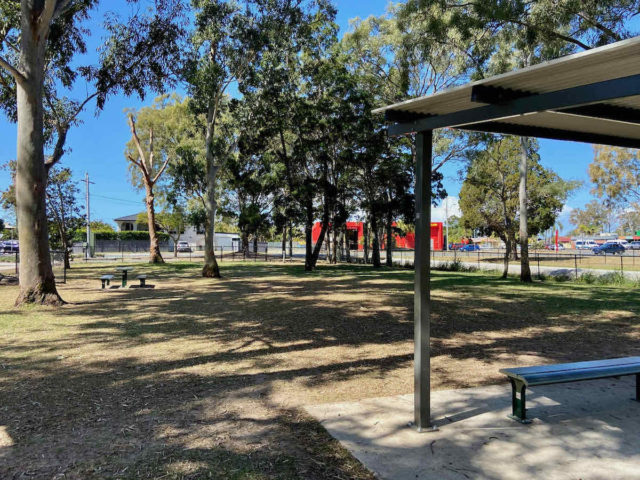 The park has plenty of shade, great for keeping cool on sunny days. There's also seating and a shelter.
Alternatively, dogs are also allowed off-leash at part of the Cosmos Park Sports Complex in Banksia Beach. The off-leash area is located behind the Croquet Club, and includes agility equipment.
Dog-Friendly Dining on Bribie Island
There's no shortage of dog-friendly cafes on Bribie Island, whether you're wanting to enjoy a lazy brunch or just have a coffee. Most cafes with outdoor seating will allow dogs, although it's always best to check with staff members before taking a seat.
Close to Woorim Beach, check out Little Mike's and Mokha Cafe. On the western side of the island, head to Annie Lane or Serenity Cafe on the Passage. Come dinner time, one of the easiest options is takeaway fish'n'chips, or head to the beer garden of the Bribie Island Hotel.
Alternatively, you can visit the local RSL Club on Bribie Island with your dog! Located along the drive to Red Beach, the Social Cafe at the Bribie Island RSL Club has a dog-friendly outdoor dining area. There's even a water tap and bowls for dogs.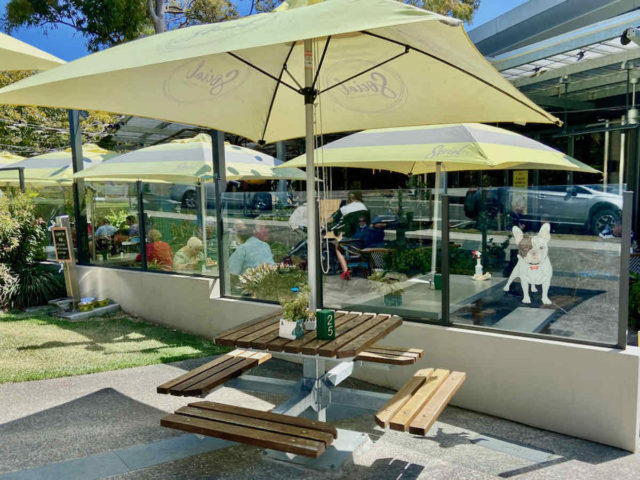 Pet-Friendly Accommodation on Bribie Island
There are two caravan parks located on Bribie Island, Bribie Island Caravan Park and Bongaree Caravan Park, but unfortunately both caravan parks currently prohibit dogs. There are no pet-friendly caravan parks on Bribie Island.
Dogs are also not allowed at the closest caravan parks back on the mainland at Sandstone Point. Plus the campsites in the national park are off-limits to pets.
Instead, the best way to enjoy a longer stay on Bribie Island with your dog is by staying in pet-friendly holiday home. Luckily there's a wide range of holiday homes available to rent on Bribie Island, including many pet-friendly rentals.
For a pet-friendly house close to Woorim Beach, check out Capricorn Dancer. This architecturally-designed three-bedroom house can accommodate up to nine guests. It has its own swimming pool and securely fenced yard. Plus it's just a short walk from the off-leash beach and even has an outdoor shower. It allows well-behaved pets for an additional charge of $50.
If you don't need as large a house, check out this brand-new two-bedroom villa in Bongaree. Accommodating up to four guests, with a queen-size bed and two singles, there's an outdoor courtyard and it's just a stroll to the Bongaree Foreshore Jetty. One dog under 25kg is permitted to join you.
Before booking a holiday home, double check the full pet rules, including whether pets are permitted inside, plus whether there is any fee for pets.
You May Also Like