Looking for a great dog-friendly getaway from Brisbane? There's plenty of options available, whether you're want to head to the beach, go hiking in the hills, taste some of the only wines produced in Queensland, or enjoy a festival of flowers.
All of these destinations are under a 3 hour drive from the centre of Brisbane, some even closer, meaning that they're close enough to visit just for the weekend. For each destination, I share the top dog-friendly attractions, as well as plenty of dog-friendly beaches, off-leash dog parks, and pet-friendly accommodation. So take your pick for your next weekend away with your pup…
Only have time for a day trip? Check out my ideas for dog-friendly day trips around Brisbane
1. Visit the Gold Coast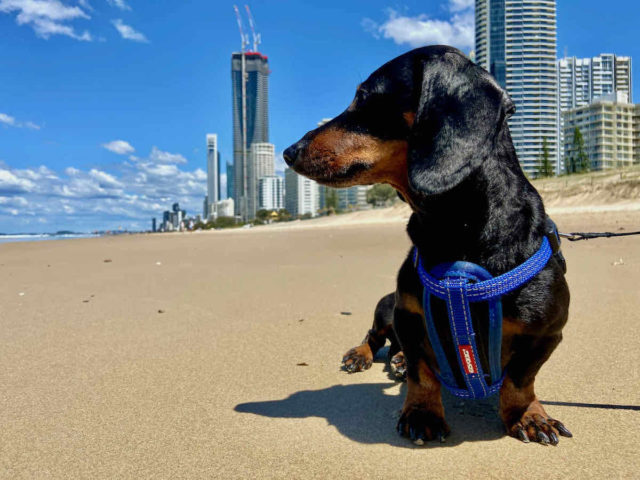 Location: Surfers Paradise is an hour south of Brisbane
Highlights: Beaches, parks and the Hinterland
The Gold Coast is a popular destination for the whole family, and there's no need to leave your pup behind when visiting. As well as a mix of wonderful dog-friendly accommodation ranging from holiday parks to boutique hotels, there's some excellent dog-friendly beaches – The Spit Dog Beach and Palm Beach are my picks.
Once you've had your fill of the beach, enjoy some of the great off-leash dog parks on the Gold Coast (there's even one at the Botanic Gardens), order a paddle of locally brewed beer, or head to Tamborine Mountain and the Gold Coast Hinterland.
Find out more about a dog-friendly getaway to the Gold Coast
2. Visit Bribie Island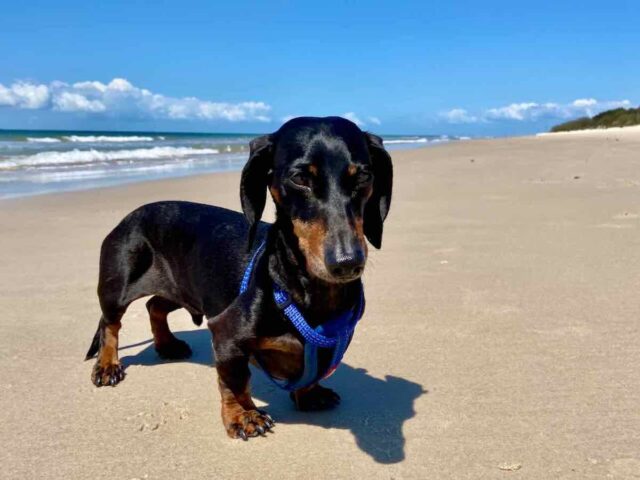 Location: Bribie Island is just over an hour north of Brisbane
Highlights: The beach
Bribie Island is technically still within the Brisbane region, and home to my pick for the best dog-friendly beach in Brisbane, Woorim Beach South. But it's also a superb place to head for the weekend, and conveniently easy to reach for an island, thanks to the bridge to the mainland.
It's best to stay at a pet-friendly holiday home on Bribie Island, with none of the caravan parks on the island or nearby allowing pets. The island is however home to one of the few dog-friendly RSLs that I've come across, with its Social Cafe allowing dogs at its outdoor dining area.
Find out more about a dog-friendly getaway to Bribie Island
3. Visit the Sunshine Coast
Location: Mooloolaba is 1 1.5 hour drive north of Brisbane, while Noosa is 2 hours north
Highlights: Beaches, walks, markets and the Hinterland
The Sunshine Coast has so much more to offer than just sunshine and beaches, although there are some excellent dog-friendly options along the coast, including the aptly named Sunshine Beach.
Take a stroll along the many foreshore walks or climb a mountain like Mt Ninderry. Ride the Noosa Ferry. Head to Eumundi Markets. And don't miss out on the beautiful Hinterland, including the Maleny Botanic Gardens. There's even a dog-friendly train ride at Gympie!
There's a wide range of dog-friendly accommodation on the Sunshine Coast, including some excellent pet-friendly cottages, holiday homes and apartments.
Find out more about a dog-friendly getaway to the Sunshine Coast
4. Visit Toowoomba
Location: Toowoomba is 1.75 hours west of Brisbane
Highlights: Gardens
If you're visiting Toowoomba with your dog, make sure you head there during September. During September the city hosts the annual Carnival of Flowers, and you're dog is welcome to join in the fun.
Don't miss visiting Queens Park, the centrepiece of the festival, which is also home to an off-leash dog park. There's also stunning floral displays at Laurel Bank Park, while Ju Raku En is a picturesque Japanese garden. Afterwards, head up Picnic Point, explore the fabulous street art or relax at one of the many dog-friendly cafes.
Find out more about a dog-friendly getaway to Toowoomba
5. Visit Byron Bay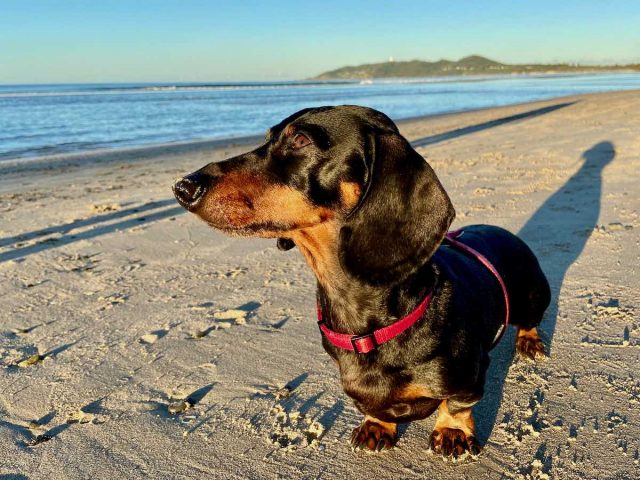 Location: Byron Bay is 2 hours south of Brisbane
Highlights: Beaches and hip cafes
Now that the border closures of Covid have been left behind, it's again possible to head to Byron Bay for the weekend from Brisbane. This beachside town was made famous partially due to its gorgeous beaches. Belongil Beach and Tallow Beach are the off-leash options in Byron, or head to Brunswick Heads for a quieter stroll on the sand.
These days, however, Byron is just as popular for its hipster lifestyle, best exemplified by the many trendy cafes. Your dog doesn't have to miss out, with dog-friendly choices including the Treehouse on Belongil, Byron Bay General Store and the Farm at Ewingsdale. Don't also miss taking a stroll through the cute boutiques and cafes of Newrybar and Bangalow.
Find out more about a dog-friendly getaway to Byron Bay
6. Visit Stanthorpe
Location: Stanthorpe is 2.75 hours southwest of Brisbane
Highlights: Wineries
Stanthorpe is home to the only wine producing region in Queensland, the Granite Belt Wine Region. Conveniently, it's also close enough to Brisbane for a weekend getaway with your dog.
There's plenty of cellar doors around Stanthorpe that welcome dogs to join you, with an intriguing mix of grape varieties up for tasting. Don't also miss the local beer, cheese, apples and pies. Perhaps take a break from the tastings by walking up Donnelly's Castle or along Quart Pot Creek.
There's a wide variety of pet-friendly accommodation options around Stanthorpe from luxury cottages to rustic campsites. During the winter months an open fire is a must, with the temperature often getting down to zero!
Find out more about a dog-friendly getaway to Stanthorpe
You May Also Like