With countless beautiful islands dotted along the Queensland coast, is it any wonder that an island stay is perhaps the ultimate Queensland vacation? But with most islands not allowing dogs on them, check out some of the few dog-friendly islands in Queensland.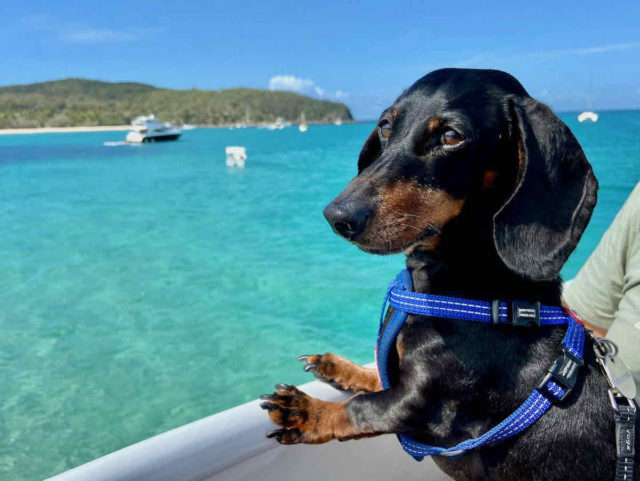 Note: This post contains affiliate links, which means I may receive commission if you make a purchase using the links. See my full disclaimer.
Dog-Friendly Great Keppel Island
One of the most dog-friendly islands along the Queensland coast, especially in the tropics, is Great Keppel Island. A day trip to Great Keppel with your dog from Yeppoon makes for a terrific day out, thanks to its spectacular beaches, swimming and snorkelling. There's plenty of things to do on Great Keppel Island!
Getting to Great Keppel Island with a Dog
The easiest way to get to Great Keppel Island is by ferry. There's two ferry companies that offer the short 30 minute trip, with multiple departures throughout the day. Advance bookings are recommended.
We travelled with Keppel Konnections, who accept dogs on board for free. There was no requirement for our dog to wear a muzzle. There's also the larger Freedom Fast Cats, who charge $5 for small dogs and $10 for large dogs.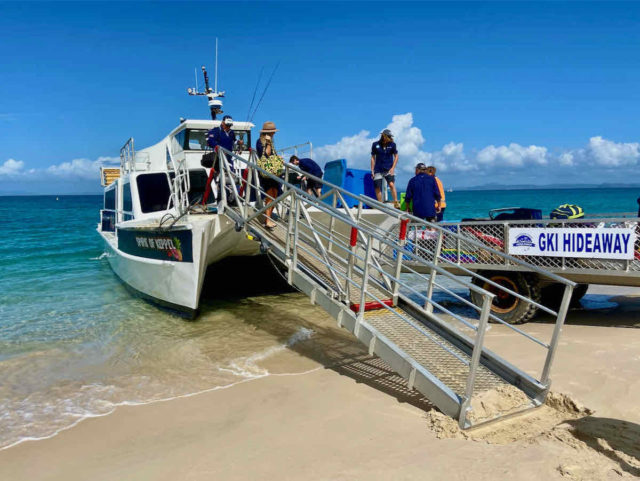 Dog-Friendly Sightseeing on Great Keppel Island
The main attraction on Great Keppel (Wop-pa) Island are its beautiful beaches, which are luckily dog-friendly. There's actually no signs on the beaches advising whether dogs are or aren't allowed. But the island is part of the same local government area as Yeppoon, so presumably the default rules of dogs being allowed on-leash during the day, plus off-leash before 8am and after 4pm, also applies.
Consider visiting the following beaches on the island:
Fishermans Beach: The hub of the island, this is where your ferry will drop you and close to the limited shops, cafes and accommodation on the island. Stroll along the beach to its southern end for the start of the walking track to nearby beaches.
Shelving Beach: The next easiest beach to visit, it's a 5-10 minute walk from the end of Fishermans Beach, although the last part of the track is quite rough, especially if you're wearing thongs. It's popular for swimming and snorkelling, with sections of reef on each side of the beach.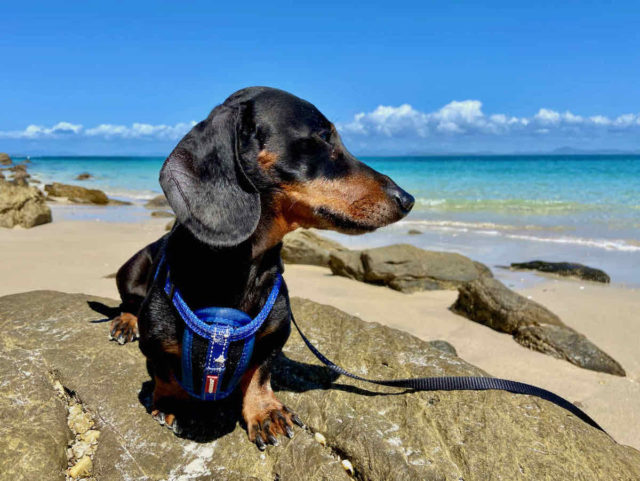 Monkey Beach: Regarded as having some of the best snorkelling on the island, skip turning off to Shelving Beach and continue along the longer walking track to Monkey Beach. We unfortunately ran out of time to visit this beach.
Long Beach: This gorgeous long stretch of white sand is terrific for doggy paddling and swimming. There's two walking tracks to the beach, with the easier to find option starting from the end of Fishermans Beach, while there's also a more inland track that goes past the island rubbish tip. The eastern end is actually a nudist beach, although we had nearly the whole beach to ourselves when we visited.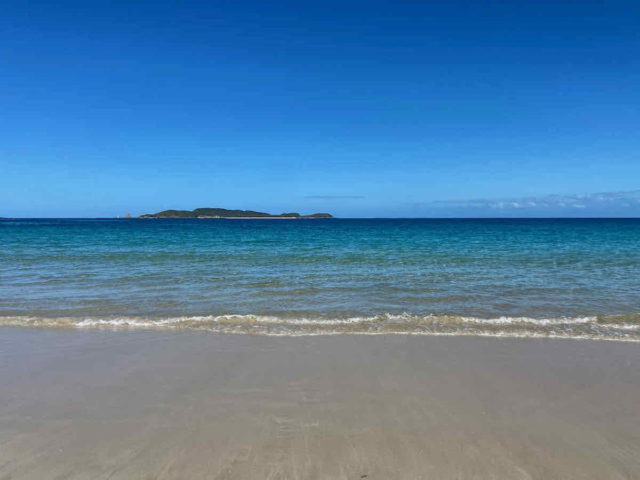 There's a number of walking tracks on the island, although they are not currently well maintained or even signposted. It's best to keep your dog on a leash while walking, as we spotted a goanna, an echidna and lots of birdlife in the otherwise quiet bushland. If staying on the island, it's recommended to inform your accommodation of your bushwalking plans.
Dog-Friendly Dining on Great Keppel Island
As part of our ferry booking with Keppel Konnections, we added on lunch including a drink at the Great Keppel Island Hideaway, which was great value and tasty. The bistro at Hideaway is mainly outdoors and dog-friendly, with plenty of water bowls. I noticed a "no dogs past this point" sign when leaving, but I'm not sure what area that referred to – we weren't the only ones with a dog.
Other dining options on the island include the Tropical Vibes cafe at the main store and Great Keppel Island Pizza. Both options are likely dog-friendly at their outdoor tables, or ask for takeaway and head to the beach.
If you're only visiting for the day and want to spend your day exploring, it's actually best to bring your own picnic lunch, so you don't need to return to Fishermans Beach during the middle of the day.
Dog-Friendly Accommodation on Great Keppel Island
Although the main resort on Great Keppel Island has been lying closed for many years, with redevelopment plans released every few years (and then going dormant), there's also a variety of other smaller accommodation options and holiday homes on the island.
The vast majority of these are not pet-friendly, but there's probably one or two pet-friendly options at any time, such as this beach house on Airbnb. It's best to book well in advance, or just stick to visiting Great Keppel Island with your dog on a day trip.
Dog-Friendly Magnetic Island
The other main island in tropical Queensland that you can visit with your dog is Magnetic Island, just a short 20-minute ferry trip off the coast of Townsville.
Getting to Magnetic Island with a Dog
A far larger island than Great Keppel Island, it's possible to take your car over to Magnetic Island. If visiting with a dog, it's a good idea to have your own transport, as pets are not allowed on the buses on the island. However, there's also the option to hire a car, with at least one island car rental allowing pets these days, Arcade Beach Guest House & Car Hire.
If taking your car across to Magnetic Island, you need to take the Magnetic Island Ferries car barge. Dogs are permitted on the ferry at no additional charge. They need to be leashed if you take them out of your car and are not permitted in the cafe area, except the outside seating. Advance bookings for cars are essential, and it's quite expensive.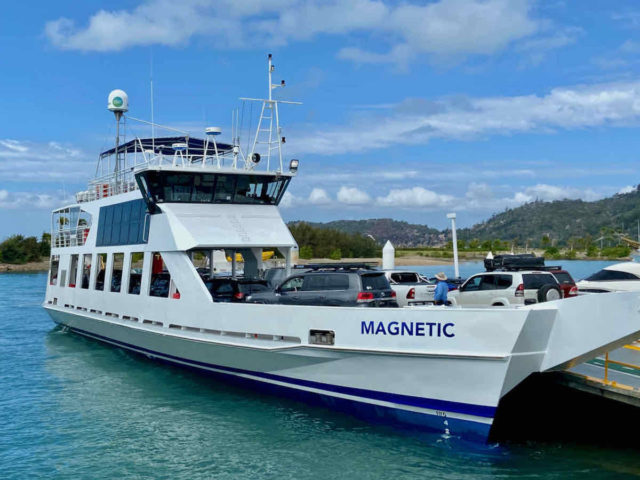 If you're happy to cross on foot, you can also use the Magnetic Island Ferries car barge, or alternatively book with the quicker Sealink passenger ferry. Dogs are permitted on the ferry at no additional cost, though they need to be leashed and muzzled, or alternatively travel in a pet carrier.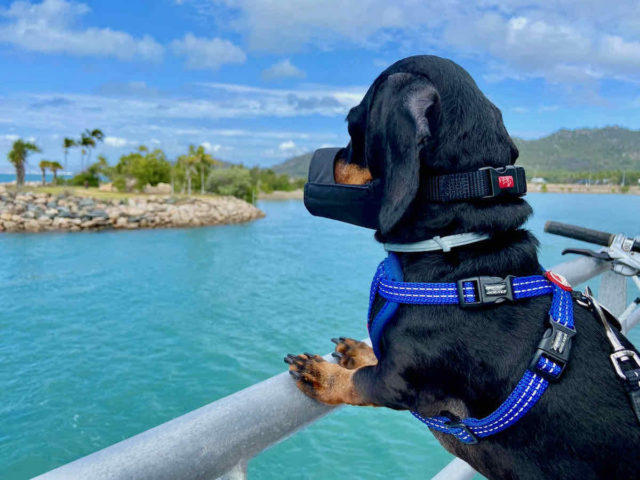 Dog-Friendly Sightseeing on Magnetic Island
Dogs are allowed on most of Magnetic Island, except for in the national park that covers much of the island outside of the villages, and includes the popular Forts Walk.
Outside of the national park, dogs are allowed on most beaches on a leash. This includes Nelly Bay, Geoffrey Bay, Horseshoe Bay, Picnic Bay and West Point beaches. There are a few beaches where dogs are prohibited, including the patrolled Alma Bay, so check the signs.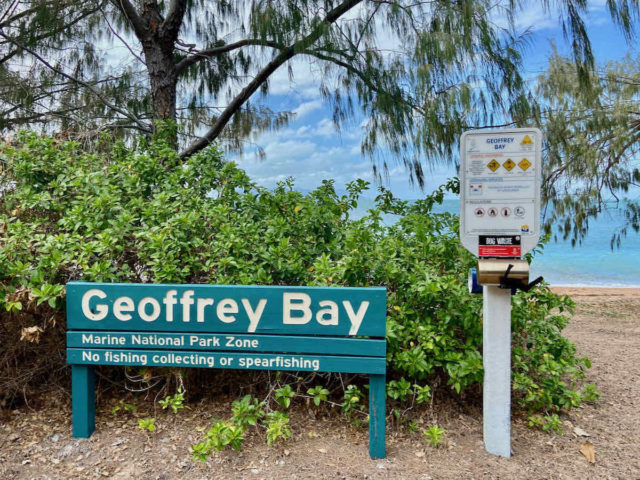 We visited Magnetic Island with our dog without a car and found that limited our options. Most people when they arrived drove off or took the buses, and the island is bigger than you expect!
The favourite part of our day was walking along the spectacular Gabul Way boardwalk that starts close to the ferry terminal and leads to Geoffrey Bay, then an on-leash walk along the beach at Geoffrey Bay.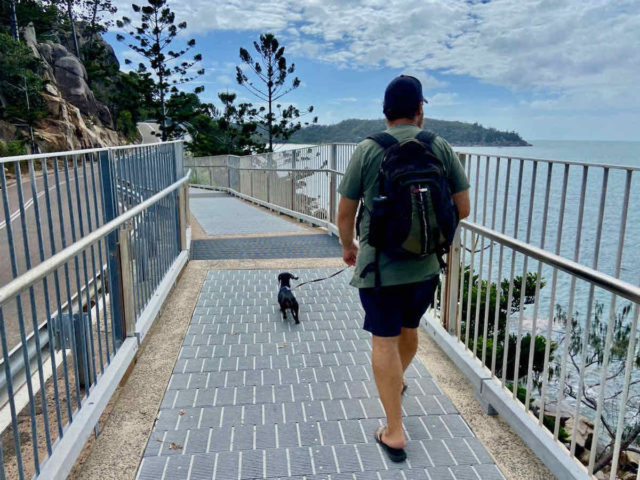 At the far end of Geoffrey Bay is a popular spot to view the resident rock wallabies, at the end of Armand Way. However, I recommend keeping your dog well away from the wallabies – if you are visiting the island with someone else, take turns to walk over to the wallabies.
Dog-Friendly Dining on Magnetic Island
The majority of cafes and pubs on Magnetic Island that have outdoor dining areas will allow your dog to join you. One recommendation I've heard from others is The Island Bar at Nomads Magnetic Island Backpackers (previously Base), which has a cheap lunch menu and live music.
Skip heading to the Arcadia Village Hotel, however. Despite this pub having a large outdoor dining area, it unfortunately doesn't allow dogs.
Dog-Friendly Accommodation on Magnetic Island
There's a huge selection of holiday homes available to rent on Magnetic Island, and quite a few of them allow pets. Search for a selection of pet-friendly accommodation on your favourite site, whether Stayz, Airbnb or Booking. Just double check in advance about the rules for dogs, including whether they are allowed inside.
If you'd prefer to camp, at the time of our visit the only campground on Magnetic Island didn't allow pets, so we skipped staying for the night. However, it's now been taken over by Selina, an upmarket hostel brand. I've confirmed directly with the property that Selina Magnetic Island allows pets on camp sites, with no additional charge. They also offer a wide range of onsite activities.
Dog-Friendly Bribie Island
Located just over an hours drive north of Brisbane, in between Moreton Bay and the Sunshine Coast, Bribie Island is a terrific destination to visit with your dog, whether just for the day or for a longer stay.
Getting to Bribie Island with a Dog
Bribie Island is the easiest island in Queensland to visit, as it's connected to the mainland by a short bridge. Simply select Bribie Island on your car's GPS and go!
Dog-Friendly Sightseeing on Bribie Island
One of the main dog-friendly attractions on Bribie Island is it's wonderful off-leash dog beach, arguably the best dog beach in the entire Brisbane area, thanks to its beautiful golden sand. Stretching in between Woorim Beach and Red Beach, the off-leash dog exercise section is over 4km long, perfect for beach walks with your pup.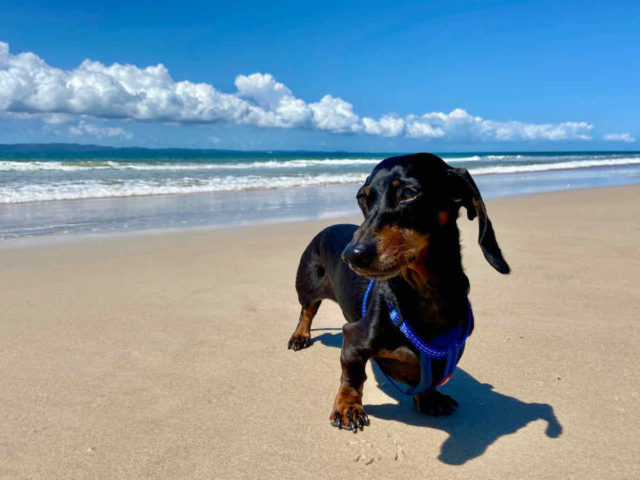 The easiest spot for accessing the off-leash area is at the end of Lowry Street in Woorim, where there's also a handy dog washing area with a hose. Woorim Beach is known as a surf beach, although on the day I visited the the waves were tiny.
You can also access the off-leash dog beach from Red Beach, where the water is even calmer. On the eastern side of the first carpark, there's initially an on-leash only section for a few hundred metres, before you reach the off-leash dog beach. There's clear maps at the access points or check the map online in advance.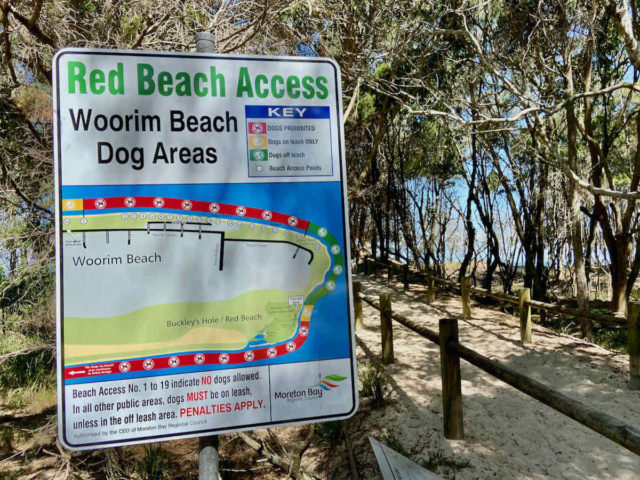 In addition to the off-leash dog beach, there's also a fenced off-leash dog park at Sylvan Beach Esplanade, adjacent to the Marine Parade roundabout. Search for "Bellara Dog Park" on Google Maps. Dogs are also allowed on-leash on a section of the beach in Bellara, in between Boronia Drive and Marina Boulevard, plus the northern end of Woorim Beach, from the entrance at the northern end of North Street.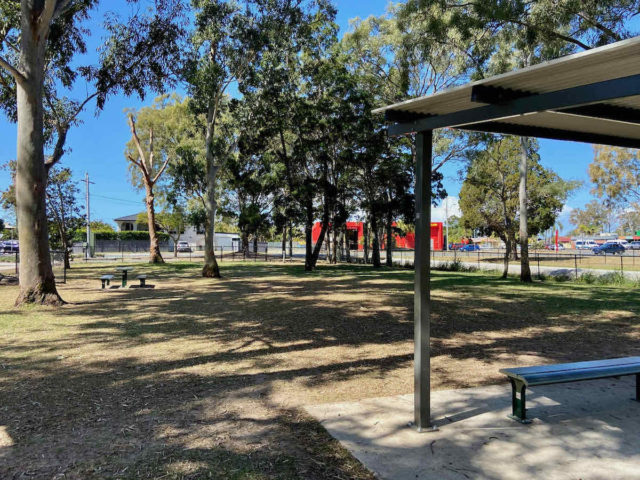 Dog-Friendly Dining on Bribie Island
There's plenty of dog-friendly cafes on Bribie Island, whether you're after brunch, fish'n'chips or just a coffee.
Even the local RSL Club on Bribie Island is dog-friendly these days! Located conveniently on the drive to Red Beach, the Social Cafe at the Bribie Island RSL Club has a dog-friendly outdoor dining area, including a water tap and bowls for dogs (or short people with low standards…)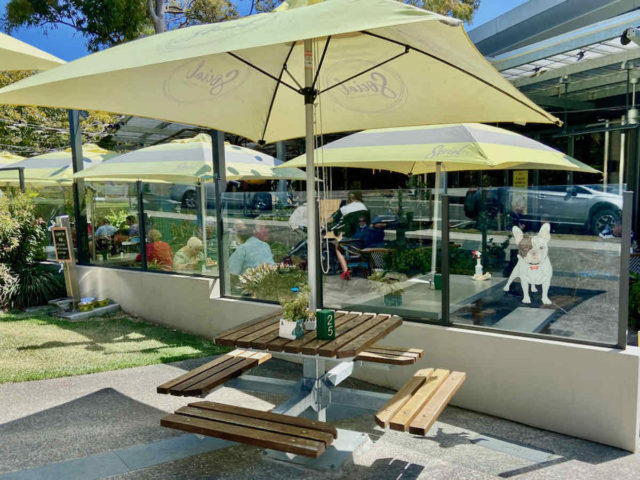 Dog-Friendly Accommodation on Bribie Island
There's a wide range of holiday homes available to rent on Bribie Island, including pet-friendly options.
For a pet-friendly house close to Woorim Beach, check out Capricorn Dancer. This architecturally-designed three-bedroom house for up to nine guests has a swimming pool and securely fenced yard. It allows pets for an additional $50 fee.
Alternatively, check out this brand-new two-bedroom villa in Bongaree. Up to one dog under 25kg is permitted to join you; double check the other pet rules in advance.
Unfortunately, none of the caravan parks on Bribie Island or close by are pet-friendly, with a holiday home the best option for if you want to stay overnight.
Read more about visiting Bribie Island with a dog
Dog-Friendly North Stradbroke Island
Heading south from Bribie Island, the next large island in Moreton Bay is Moreton Island. However, thanks to largely being national park, pet dogs are generally not allowed on the island, including on the ferries. However, for another pet-friendly island destination near Brisbane, consider North Stradbroke Island to the south.
Getting to North Stradbroke Island with a Dog
There's multiple ways to get to North Stradbroke Island with your dog. There's a car ferry operated by Sealink, as well as two water taxis (passenger ferries), operated by Sealink and the Stradbroke Flyer. Services depart regularly from Toondah Harbour in Cleveland. The water taxis are the quicker option, taking about 25 minutes, while the car ferry takes 50 minutes.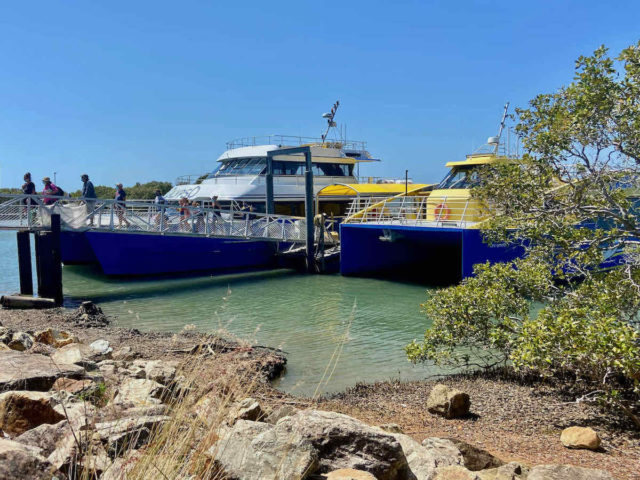 Each of the options permits dogs on board, for no additional fee. Sealink stipulates that dogs need to either travel in your car, or else be leashed and muzzled. The same rules likely apply on the Stradbroke Flyer.
We didn't have a chance to visit North Stradbroke, but I would recommend taking your car across when visiting with your dog. The island is quite large and spread out – for instance the off-leash dog beach is a 20 minute drive from the ferry terminal. The exception would be if your accommodation provides a dog-friendly pick-up service.
There is a bus that operates on Stradbroke Island. Dogs are allowed onboard, but at the discretion of the driver, either in a carrier or on a leash and wearing a muzzle, only at the front of the bus. However, bus services are limited, and dogs are unlikely to be allowed on when they are full, which I've heard is common.
Dog-Friendly Sightseeing on North Stradbroke Island
Dogs can join you for many activities on North Stradbroke Island, from 4WD driving on the beach to fishing to just going for a stroll.
There's one off-leash dog beach on North Stradbroke Island, a section of Home Beach at Point Lookout. The off-leash section is in between Rocky Point and Rocky Headland, in front of the Point Lookout Hotel. Point Lookout is an easy 20-minute drive from the ferry terminal on sealed roads, with plenty of nearby accommodation.
Dogs are also allowed on-leash on a number of other beaches, including Main Beach, Flinders Beach and Deadmans Beach. Just check the signs at the beach.
There's also one off-leash dog park on North Stradbroke Island, at the Barton Street Park in Dunwich, in between the skate bowl and the fenced off area. For more information, refer to the Redland City Council website.
A terrific dog-friendly walk is the Gorge Walk. The walk starts almost at the end of Mooloomba Road in Point Lookout, the 1.2km boardwalk following the headland of Point Lookout. While just a short walk, its offers spectacular views, and even the chance to spot whales between June and November.
Dog-Friendly Dining on North Stradbroke Island
Just outside of Dunwich, head to the Little Ship Club. With a wide, grassy lawn, there's plenty of room to sit outdoors with your pup, perhaps while you enjoy the sunset.
Alternatively, head to Straddie Brewing Co, not far from the ferry terminal. There's a pet-friendly area on the ground floor, along with water bowls for pups.
At Point Lookout, while the Stradbroke Island Hotel was previously not pet-friendly, it now has a dog-friendly dining area. Pets are also welcome at the bowling club and many of the cafes with outdoor dining areas. In any case, double check opening hours, which likely vary between peak and off-peak seasons.
Dog-Friendly Accommodation on North Stradbroke Island
There's a range of dog-friendly accommodation options on North Stradbroke Island.
One of the classic options is camping along the foreshore, accessible by 4WD only. Dogs are allowed in the foreshore camping areas at Flinders Beach and Main Beach. There's a limit of two dogs per site, and dogs must be kept on leash.
If camping isn't your thing, instead consider Sea Shanties at Amity Point. Also a waterfront option, they have eight basic cabins with ensuites and kitchens, sleeping between two and six guests. About half of the cabins are pet-friendly, with well-behaved dogs permitted.
Dog-Friendly Coochiemudlo Island
North Stradbroke Island isn't the only island in South Moreton Bay that is dog-friendly. For an even quicker island visit, perfect for a short day trip, consider the small and relatively undiscovered Coochiemudlo Island.
Getting to Coochiemudlo Island with a Dog
While not connected to the mainland by bridge like Bribie Island, it's still quick and easy to get to Coochiemudlo Island from the Redlands Coast. From Victoria Point, it's just a 10-minute ferry ride on the Amity Trader passenger ferry, with tickets sold onboard.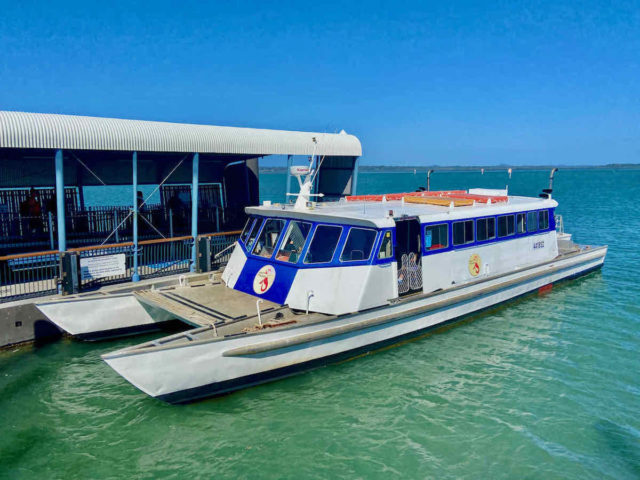 Pet dogs are allowed on the ferry for no additional charge. Our dog wasn't required to wear his muzzle, and was just one of multiple dogs on our ferry trips. Departures are quite frequent, although there is a break at lunchtime. There's also a vehicular barge that runs less frequently.
Dog-Friendly Sightseeing on Coochiemudlo Island
The main dog-friendly attraction on Coochiemudlo Island is the beautifully sandy dog beach just a 5-minute walk from the ferry jetty. Once you arrive on the island, walk along the footpath behind the beach to the west. From the boat ramp, walk along the beach for about 100m until you reach the clearly signposted dog beach.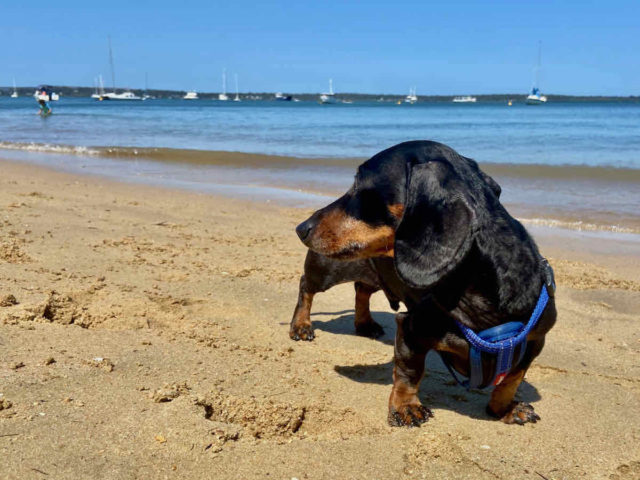 Note however that the dog beach is not off-leash year round. During the winter months, from May to August, dogs are allowed off-leash all day long. Additionally, in between November and February dogs are allowed off-leash before 9am or after 5pm. However, during the months of March, April, September and October, dogs need to stay on-leash due to the presence of migratory birds.
Note that dogs are not permitted on the beaches immediately either side of the ferry jetty, including the section of beach in between the dog beach and the ferry jetty – you'll need to walk along the path behind.
Another dog-friendly option on Coochiemudlo Island is to follow the Island Heritage Walk. This 5km walking track loops around the entire island, visiting its main features including remains from Aborigines, early settlers and World War II. There is a sign outside the Curlew Cafe with a map and a listing of the stops. Just note that you might need to skip one or two stops, due to being located on beaches where dogs are not allowed.
Dog-Friendly Dining on Coochiemudlo Island
Just across from the ferry jetty is Curlew Cafe, one of the only dining options on the island. We just grabbed takeaway ice-creams, but noticed that alongside the diners were one or two dogs. The food prices were quite reasonable, although recent reviews report long waits.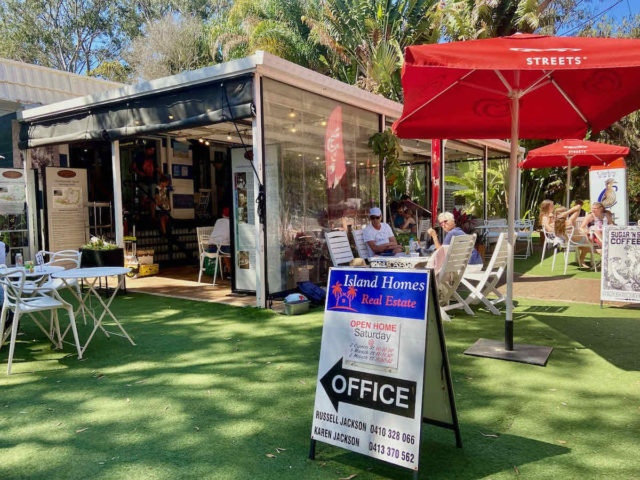 Dog-Friendly Accommodation on Coochiemudlo Island
There's a number of holiday homes available to rent on Coochiemudlo Island, including some pet-friendly options. One of the pet-friendly options is Coochiemudlo Island Beach Holiday Home, a three-bedroom home one block back from the main beach. Up to three dogs under 25kg are permitted, for an extra fee of $15 per pet per night. Pets need to stay however in the secure fenced yard or on the verandah.
You May Also Like