Charters Towers is one of the most charming cities in all of inland Queensland. With a collection of historic buildings and remains dating back to its initial days as a gold rush town, these days it's a delightful destination to spend a few days. Find out more about what to do when visiting Charters Towers with a dog.
Dog-Friendly Sightseeing in Charters Towers
Make sure you tick off these dog-friendly sightseeing highlights during your trip to Charters Towers.
1. Head Up Towers Hill
For a sensational view looking out over Charters Towers, plus plenty of information on its early gold mining days, I recommend heading up Towers Hill at the start of your visit. It's possible to climb it on the walking trail from the centre of town or the carpark at the base (see below for more details), or you can simply drive to the top, although caravans are not recommended.
It was at the base of Towers Hill that gold was first discovered in Charters Towers, and at one stage there were about 30 shafts and tunnels cut through the hill. The remains of the Pyrite Works are still visible below the lookout.
At the lookout there's plenty of informational panels describing what life was like in the rough and tumble days of the gold rush town. After dark, the Ghosts After Dark film screens at the amphitheatre. It was out of order during my visit, but I've been assured by other visitors that dogs are allowed to join you.
To explore more of the gold mining history of Towers Hill, consider the daily tours of Venus Gold Battery (although this isn't dog-friendly) or visit the Colombia Poppet Head Park.
2. Explore its WWII History
While visiting Towers Hill, make sure you stop and visit the WWII bunkers situated about half-way up the hill. Charters Towers played a significant role in WWII and there are still many remains around town, including its airfield that was originally built to host American squadrons flying to New Guinea and the Western Pacific.
Twenty-nine ammunition bunkers were built on Towers Hill and these days two of them are open to the public, containing an audio and visual presentation that brings the period to life. Open to the elements, your leashed pup is fine to join you inside. It's also possible to download the "Towers Hill in WWII" Augmented Reality app for free on your phone.
3. Stroll Around One Square Mile
During the late 19th-century Charters Towers was once the second largest town in all of Queensland. Its historic cityscape is known as One Square Mile, and a stroll through its streets is a great opportunity to appreciate how grand this city once was.
Perhaps stop in at the visitors centre located near the junction of Gill Street and Mosman Street to pick up a self-guided walk brochure. Alternatively, just go for a wander along these two main streets, where the majority of the city's well-preserved historic buildings are located.
One of the grandest edifices is the Stock Exchange Arcade, one of the few arcades in all of Queensland. Originally known as the Royal Arcade, from 1890 until 1916 the arcade housed the local stock exchange, in use during the heydays of gold mining investment. These days it houses multiple shops, a cafe and art gallery.
Don't also miss checking out the historic Post Office, the World Theatre (originally the Australian Bank of Commerce) and the mural on the wall of the Arthur Titley Centre.
4. Take a Day Trip to Ravenswood
Gold was first discovered in the region around Charters Towers a couple of years earlier, at the town of Ravenswood. However, while these days Charters Towers remains a thriving city and regional service hub, Ravenswood is almost a ghost town, although recently one of its gold mines reopened.
It's a one hour drive from Charters Towers to Ravenswood, making for a worthwhile day or afternoon trip. At Ravenswood follow the self-guided trail around town, with plenty of signs about its historic sites, from old gold mining workings to original miners cottages.
If you're after a cool spot to relax for awhile, two pubs are also still trading: the Railway Hotel and the Imperial Hotel, as well as the tea rooms in the historic Thorps Building. We ventured inside the Imperial Hotel to view its original details and found the owner quite relaxed about four-legged visitors.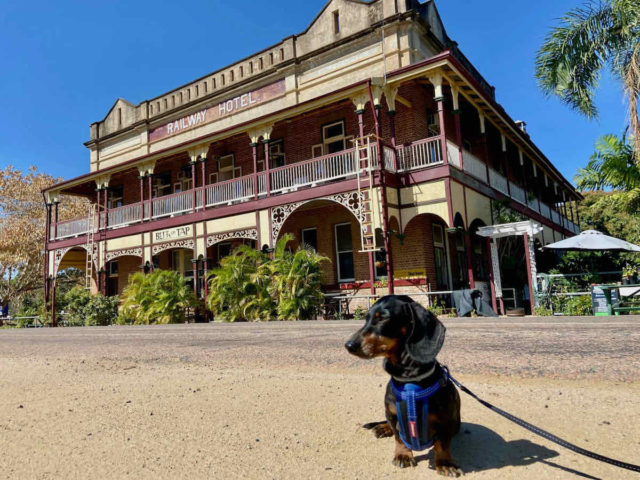 5. Enjoy a Night at the Drive-In
There's not many drive-in theatres still operating, but luckily Charters Towers is home to one of them, the Tors Drive-In Cinema, at the northeastern edge of town. Best of all, pets are welcome, as long as they stay quiet, and are restrained if they leave your car, with a request for them not to be brought up to the cafe and toilets.
There's two screens in operation at the drive-in, screening a mixture of the latest releases and classic movies. Usually a double feature is screened each night (except is the first movie is extra-long), on Friday, Saturday and Sunday nights.
One low price gains you admission to both movies. Note that currently only cash accepted, with no fee for dogs.
Dog-Friendly Parks in Charters Towers
Charters Towers is home to some beautiful parks, and luckily dogs don't miss out. In the southeastern corner of Lissner Park, a few blocks north of Gill Street, there's a fully-fenced dog park. With plenty of shade, seating, a water fountain and even some agility equipment, it's a great spot to head for some off-leash fun.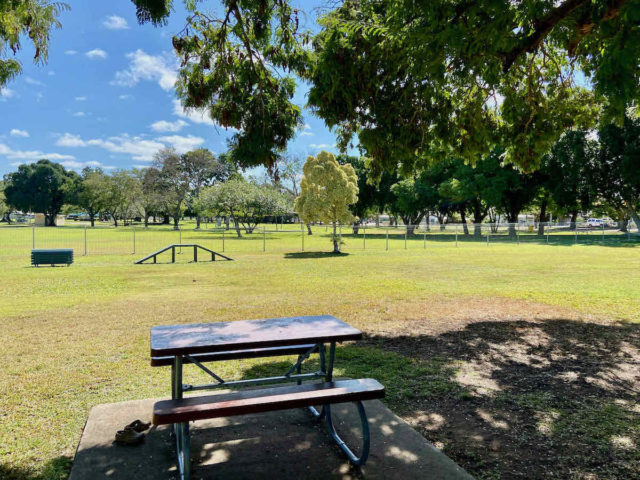 Dog-Friendly Walks in Charters Towers
Charters Towers is home to a number of walking paths that on-leash dogs are welcome to join you on.
The most scenic walk around town is the Towers Hill Walking Track. Starting at the base of the hill and the carpark, a paved footpath follows the road up to the lookout. It then loops back to the starting point along a gravel path, past the ruins of the Pyrite Works and Rainbow Mill. The total loop is 2.5km long, although it you'd prefer to stick to the paved footpath, it's a 2.8km return walk.
If you're after a longer but flatter walk, there's also a walk that connects the Towers Hill Walking Track to the city centre, then continues on to Defiance Mill Park. The initial section of the walk is about 1.4km long, although the full City Trail is 2.9km long.
Dog-Friendly Dining in Charters Towers
If you're after something light for lunch or a sweet snack, I recommend heading to Perry's Bakehouse Cafe on Mosman Street. They have a great range of pies and sausage rolls, and there's plenty of casual seats outside under the shade, along with water bowls for pups. The Ned Kelly pies are particularly popular.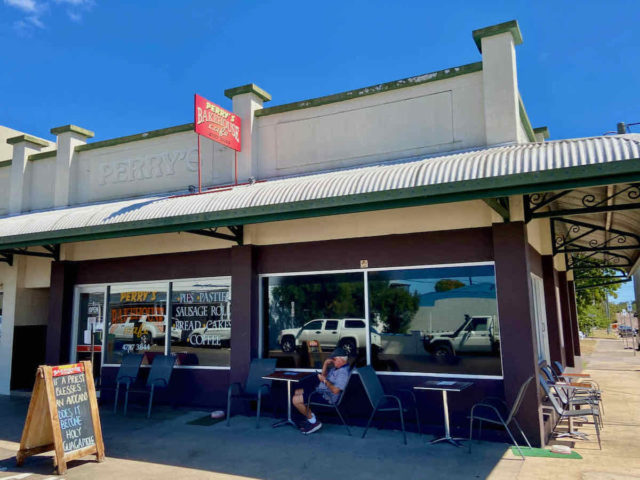 Alternatively, one of the most beautiful spots around town to enjoy lunch or a coffee with your pup is at the Stock Exchange Cafe, situated right inside the historic open-air Stock Exchange Arcade. The scones are particularly recommended by other diners.
Dog-Friendly Accommodation in Charters Towers
Note: This post contains affiliate links, which means I may receive commission if you make a purchase using the links. See my full disclaimer.
There's no shortage of dog-friendly accommodation in Charters Towers, with all three caravan parks in town pet-friendly, plus multiple motels offering pet-friendly rooms.
We stayed at the Dalrymple Tourist Van Park. The park has lovely grassy sites and a large camp kitchen, with plenty of socialising each evening around the communal fire pit. The park backs onto the golf course, a defacto off-leash area, and there are pet-friendly cabins available.
If you're looking for a pet-friendly motel in Charters Towers, check out the Hillview Motel. This highly-rated motel on the outskirts of town with a freshwater pool is pet-friendly in selected rooms. Make sure you book well in advance to nab one! There are also outdoor secure kennels.
Another pet-friendly option just 20 minutes outside of Charters Towers is the Macrossan Park Camping Area, next to the Burdekin River. This basic camp ground provided by the local council is free of charge, with stays of up to one week permitted. Dogs on leash are allowed.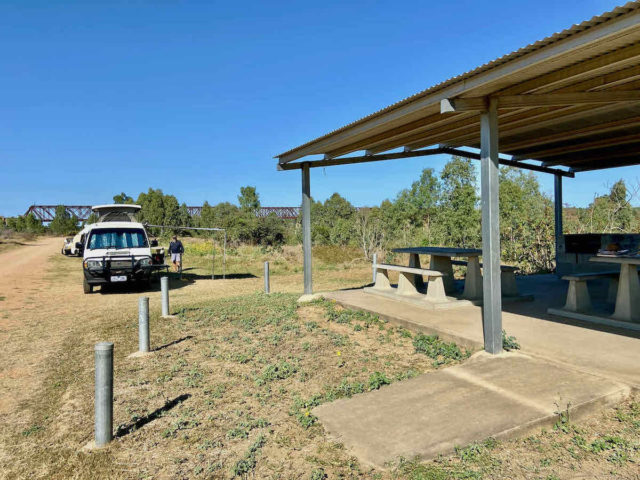 Head Next To