Queensland is a wonderful state for travelling in, thanks to its stunning beaches, gorgeous rainforest and waterfalls, its fascinating Outback towns, and more. But what is it like travelling in Queensland with a dog? How dog-friendly is Queensland compared to other parts of Australia?
After having spent over two months road tripping all around Queensland with our dog, I share our tips and experiences. There are certainly some destinations and towns that are more dog-friendly that others, but there's still plenty of dog-friendly places to stay, things to do and places to dine out all over the state.
For starters, check out this bucket list of dog-friendly things to do in Queensland…
Note: This post contains affiliate links, which means I may receive commission if you make a purchase using the links. See my full disclaimer.
Dog-Friendly Holiday Ideas for Queensland
Whether you're a local Queenslander or visiting the state with your dog, these are just some of the many dog-friendly holiday options all around the state you can do with your pup.
1. Drive All the Way to Cape York
Driving to the tip of Cape York is a bucket list item for many Australians visiting Queensland. Luckily, there's no need to leave your pup behind when attempting this, with dogs able to join you on the journey and for the final photo stop at the tip of Cape York.
Naturally there are some restrictions on where dogs can and can't go on Cape York, so plan your journey in advance and check the rules. There's plenty of other travellers with dogs who can share recommendations.
Unfortunately, we haven't yet done this bucket list experience as it we didn't have a 4WD on our recent lap around Australia. If you also just have a 2WD drive, I recommend driving as far as the tropical outpost of Cooktown, a surprisingly dog-friendly town.
2. Explore the Beautiful Beaches
Even if you don't make it all the way to Cape York, or even half way up the Queensland coastline, along the way you'll still pass by countless beautiful beaches, many of which are dog-friendly, with dogs permitted on-leash or even off-leash. Don't miss stopping at plenty of them, for a dip in the water or just a stroll along the sand. It's an easy item to tick off your bucket list!
After driving the entire eastern coastline of Queensland with my dog, I put together this list of the best dog-friendly beaches in Queensland, stretching from Tropical North Queensland to the Gold Coast. For each beach I detail the rules for visiting with a dog (with most allowing off-leash dogs), although always double check the latest signs.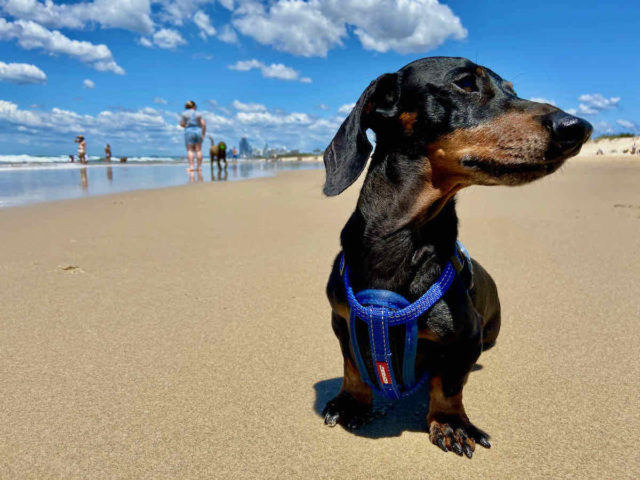 Just take care when visiting beaches in Northern Queensland with your pup. From about Gladstone north, both crocodiles and marine stingers are a risk. Check out the signs at local beaches, and if in doubt stick to playing on the sand away from the water's edge.
3. Hunt for Dinosaurs
The best place to go hunting for dinosaurs in Australia is Outback Queensland, specifically the area between Winton, Richmond and Hughenden. While not all the attractions and museums are dog-friendly, there's still plenty that you can do with a dog
The most dog-friendly option is visiting the Flinders Discovery Centre in Hughenden. This small local museum welcomes dogs to join you inside, with a wall of photos of four-legged visitors.
The highlight of the museum is 'Hughie', a life-size replica of a 7m Muttaburrasaurus skeleton found locally. There's also an extensive collection of fossils, including several dinosaur bones. The museum recently reopened following an extensive renovation, with new displays and a cafe.
In Richmond, you'll be restricted to taking a selfie with your dog of the Kronosaurus statue outside of Kronosaurus Korner, Australia's premier marine fossil museum. However, enquire about purchasing a permit to visit the local fossil hunting sites, where dogs are reportedly allowed to join you. Fossil hunting is also possible at Hughenden.
Winton is the star attraction of the three towns. Not far outside of town is the Age of Dinosaurs Museum of National History, containing an impressive collection of fossils from Australia's largest dinosaurs. Kennels are available on site, but have mixed reviews.
Perhaps instead engage a dog sitter for the day (ask at the information centre or vet). Also take advantage of a dog sitter to make the trek to the Dinosaur Stampede National Monument at the Lark Quarry Conservation Park, where dogs are not allowed.
4. Go Island Hopping
Queensland is home to countless islands, from the very large to the very small. While dogs aren't allowed to visit many of the islands, some of which are within national parks, there are still a variety of Queensland islands that you can visit with your dog.
Close to Brisbane, three of the most dog-friendly islands to visit are Bribie Island, North Stradbroke Island and Coochiemudlo Island. It's easy to drive across to Bribie Island, home to one of the best dog-friendly beaches around Brisbane. If you've got a 4WD, North Stradbroke Island is perfect for a weekend away, camping next to the beach with your dog. While the small Coochiemudlo Island makes for an easy day trip from Brisbane.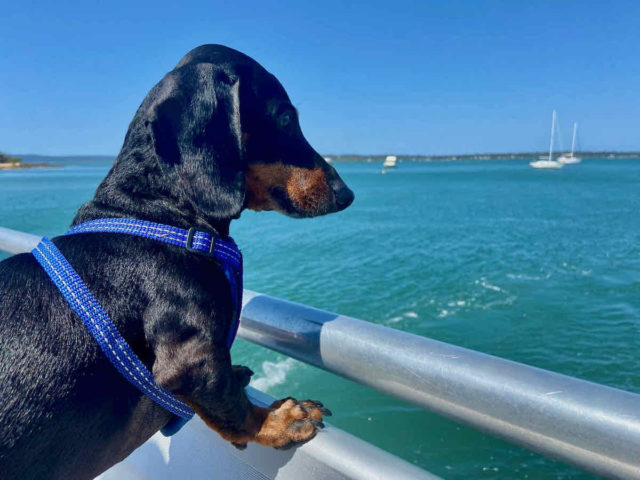 Further up the coast, two tropical dog-friendly islands are Great Keppel Island and Magnetic Island. My pick is Great Keppel Island, which is perfect for a dog-friendly day trip from Yeppoon, enjoying the sun, sand and water with your pup by your side. Magnetic Island is better suited for visiting with your dog if you take your car across, perhaps staying a few nights in a dog-friendly Airbnb.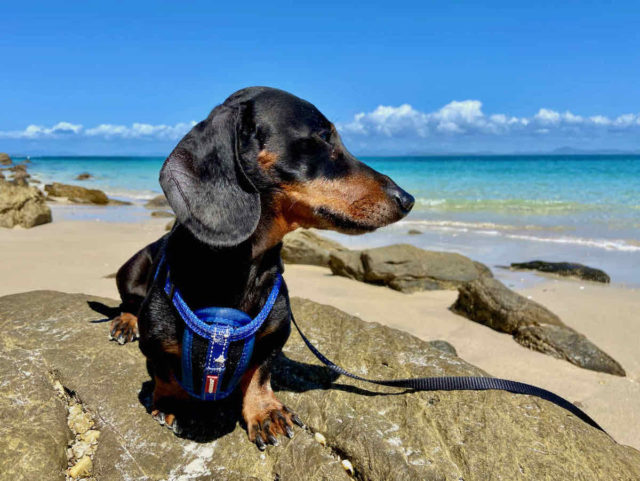 Find out more about visiting these dog-friendly islands in Queensland, including getting there, what to do with your dog and pet-friendly accommodation.
5. Explore the Queensland Outback
While the Queensland coastline stretches for thousands of kilometres, the Outback region of Queensland is even vaster. Dotted throughout are countless Outback towns and outposts, perfect for a dog-friendly road-trip.
With names such as the Overlander's Way and the Matilda Way, the local tourism authorities have put together a list of Queensland road trips that criss-cross the Outback. There's recommendations on places to see and towns to visit along each route, with detailed brochures and maps available at tourist information centres.
Keep in mind that temperatures can get very high during the summer months, so perhaps head inland to the Outback during the cooler months of the year – your dog will certainly appreciate the milder temperatures!
6. Enjoy the Local Produce
In many ways Queensland is the food bowl of Australia, with a huge variety of fruits, vegetables and more grown in this state and heading to supermarkets all over the country. However, what's even better is sampling some of the local produce from roadside stalls, sometimes at cheaper prices, with your dog often permitted by your side.
Some of my top recommendations include buying bananas around Mission Beach, sampling the coffee around Mareeba on the Atherton Tablelands and looking out for mangos around Bowen. (The Kensington Pride Mango is also known as the Bowen Mango; if visiting outside of mango season, buy the mango gelato from the Big Mango just south of town.)
7. Visit the Historic Village Herberton
Now, for most of the items on this bucket list I haven't singled out just a single place to visit. But I can't resist specifically including the Historic Village Herberton.
This historic museum complex on the Atherton Tablelands, not far from Cairns, is the largest privately owned historic village in Australia. As well as a collection of over 60 buildings, each of the buildings is bursting full of historic memorabilia, from classic cars and carriages to sewing machines to bottles. You'll need at least a full day to explore everything, will tickets valid for up to three days.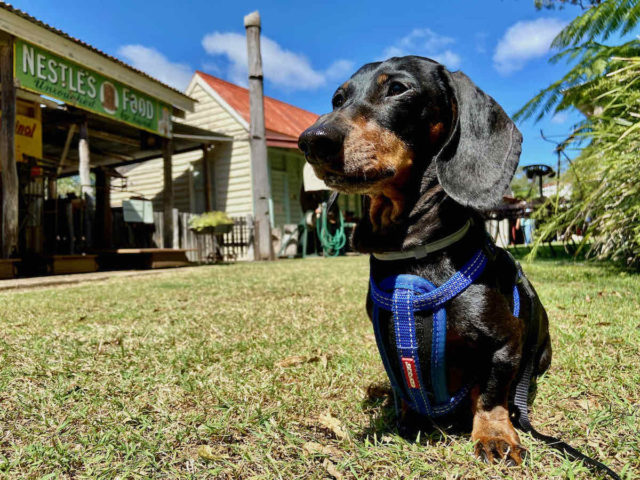 Best of all, dogs on a leash are welcome to join you, including inside of the buildings! It's a fun experience wandering around with your pup, with plenty of water bowls dotted around. Dogs are also welcome to join you for a coffee and light meal on the verandah of the tearooms, plus on the regular steam train rides, running every Sunday.
It's well worth making the trek to Far North Queensland to visit this wonderful historic museum, with your dog by your side.
8. Go on a Dog-Friendly Cruise
If you prefer the sedate pace of a cruise, where you can view the scenery passing you by, perhaps accompanied by commentary from the captain, there's a number of dog-friendly cruises that you can hop aboard in Queensland.
In Far North Queensland, at least one of the Daintree river cruise companies permits dogs on board, with advance notice. Alternatively, head to St George in Outback Queensland and enjoy the sunset cruise with Sandytown River Cruises.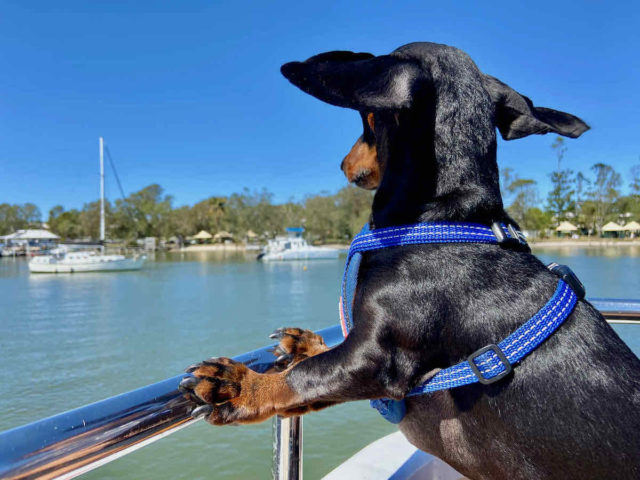 We had a wonderful morning out on the Noosa River thanks to the dog-friendly Noosa Ferries. However, this option is limited to small dogs that can fit on your lap. In Brisbane, you can also take a ride on the Brisbane River ferries and CityCats with any size dog, as long as you avoid peak hour and your dog wears a muzzle.
While many of the most beautiful places to visit in Queensland don't permit dogs, I'm sure you'll agree that there's still plenty of dog-friendly options!
Dog-Friendly Guides to Queensland
I've put together a number of dog-friendly guides to Queensland, covering everything from dog-friendly beaches and botanic gardens, to guides to many of the cities and regions that we visited. For more information, including recommendations for pet-friendly accommodation and dining options, check out these guides.
Dog-Friendly Southeastern Queensland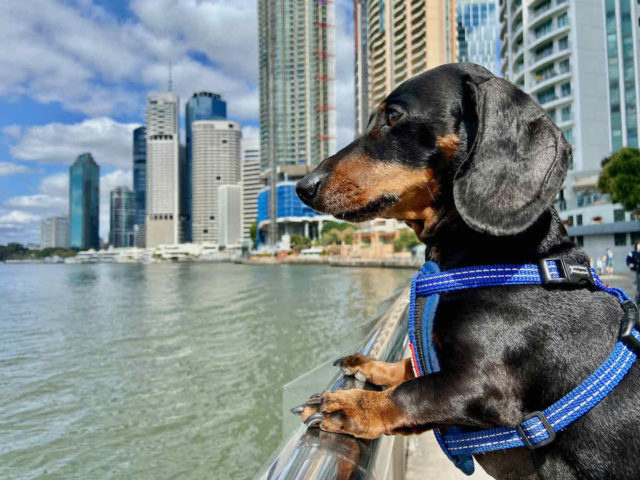 Dog-Friendly Central Queensland
Dog-Friendly Northern Queensland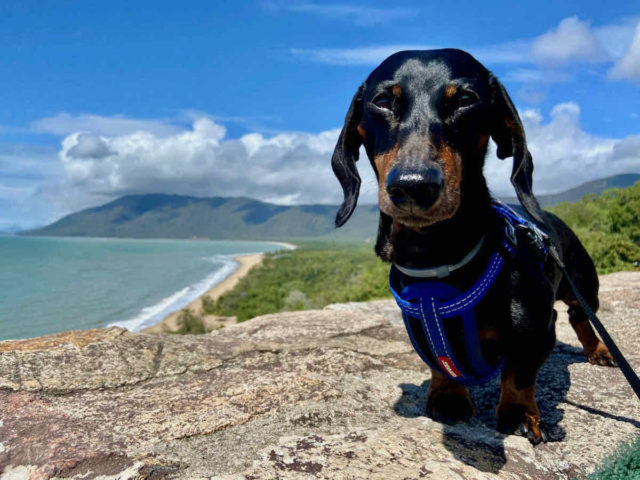 Keeping Your Dog Safe in Queensland
When visiting Queensland with your dog, be aware that there are some dangers that you may not need to worry about back at home. This especially applies if you head further north into the Tropics.
Top of the list of dangers in Queensland are estuarine crocodiles, also known as saltwater crocodiles or salties. From about Gladstone north, these may be present in coastal waterways and along beaches, especially near creek mouths. There have been numerous fatal attacks on humans in recent years, and dogs are even more at risk, especially small dogs.
The best safety measure is to keep your dog out of the water, even well away from the water's edge. Check out the local signs and follow the warnings. Be particularly wary if signs warn of recent sightings. Only let your dog swim in waterways that are well known to be crocodile-free – check with locals if you are not sure.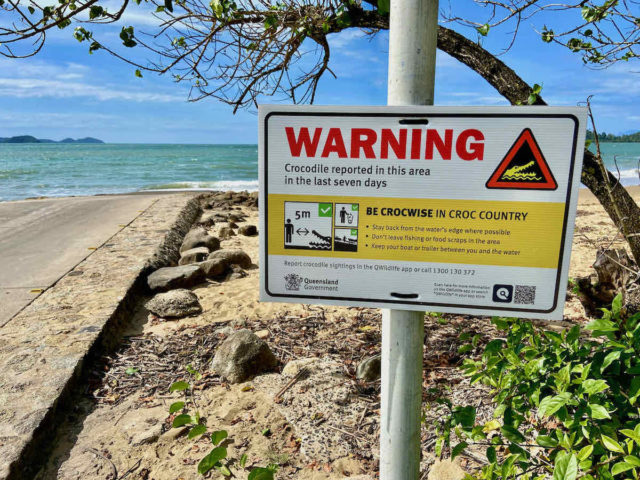 Crocodiles aren't the only danger lurking in the tropical waters of Queensland, with marine stingers also a risk. Stingers are traditionally associated with the summer months, but can be present year round. Dogs are not immune to them, so keep them out of the water if stingers are around.
Another danger that is present in rural Queensland but not in most of Australia, is the danger of leptospirosis. This disease is usually spread by rat urine, and is most common around cane fields.
If you will be spending a lot of time around cane growing areas, consider having your dog vaccinated for leptospirosis. There are multiple variants – check with your vet that you dog is vaccinated for the correct one. Alternatively, keep your dog away from cane fields, and in particular don't let them drink from puddles.
Another recent disease that has been reported in Queensland is Ehrlichiosis. This tick-borne disease is present in northwestern Queensland , with the first case reported in the Mt Isa area in late 2021. There is the potential for it to spread across all of Queensland.
To keep this potentially fatal disease at bay, make sure you use tick protection, ideally a collar as well as a monthly chew. The Seresto collar is available for both puppies and small dogs and medium and large dogs.
Also keep your dog out of long grass and check them daily for ticks. Double check the latest media and government reports for how far this disease has spread into Queensland.
Some of the other dangers to be aware of when travelling with your dog in Queensland include 1080 baiting, poisonous cane toads, paralysis ticks and the heat. Check out my complete guide to keeping your dog safe when travelling in Australia.